#Women's Fashion
Garba Hairstyle: Achieve Show-Stopping Styles This Festival
Garba hairstyles are more than just a hairdo. They are a blend of tradition, flair, and festivity, perfect for the exuberant dance form celebrated during Navratri in India. Every year, as the festival season approaches, dancers and enthusiasts start hunting for the ideal look to match their colorful chaniya cholis and embroidered kurtas. And what better way to complete the ensemble than a captivating Garba hairstyle?
Now, you might be thinking about the right hairstyle that suits both your attire and face structure. Look no further. The beauty of hairstyles is their versatility. From intricate braids to ornate buns adorned with traditional hair accessories, the options are plenty. Each style mirrors the energy and vibrancy of the Garba dance.
The right hairstyle can uplift your entire look. Imagine swirling and twirling with your locks styled in an elegant updo, accentuated with flowers or beads. The compliments will flow, and you will feel confident in the spotlight. For those who prefer a minimalist approach, even a simple braid with a twist can do wonders.
To assist in your quest, this blog dives deep into the trendiest hairstyles. We'll explore classics, modern twists, and easy DIY options that anyone can pull off. Whether you're a seasoned dancer or just there for the fun, the right hairstyle is waiting for you.
So as the beats of the dhol start playing and the nights become a blur of colors, make sure your Garba hairstyle stands out. Embrace the festival spirit, and let your hair make a statement. Dance your heart out and shine bright!
Trendsetting Garba Hairstyle for the Festive Season
Garba season is here. And with it comes the excitement of dressing up and dancing the nights away. One element that can elevate your festive look is the right hairstyle. It's more than just hair. It's an expression of joy and celebration. This year, the trends are leaning towards a blend of tradition and modern flair. From elegant braids to playful waves, there's something for everyone. Dive into the trendsetting hairstyles this season and stand out in the crowd. Let's get started and make this Garba the most stylish one yet!
Ethnic Braided Crown
The Ethnic Braided Crown is a classic symbol of elegance and grace. This hairstyle takes inspiration from royal Indian aesthetics and suits the festive Garba vibe perfectly. By braiding your hair and wrapping it around the top, you create a crown-like appearance. It's not just a hairstyle. It's a statement. The beauty of this style is that it showcases your hair's volume and length. If you have an oval or round face, this hairstyle will complement your features beautifully. The uplifted braids draw attention upwards, adding balance to your face.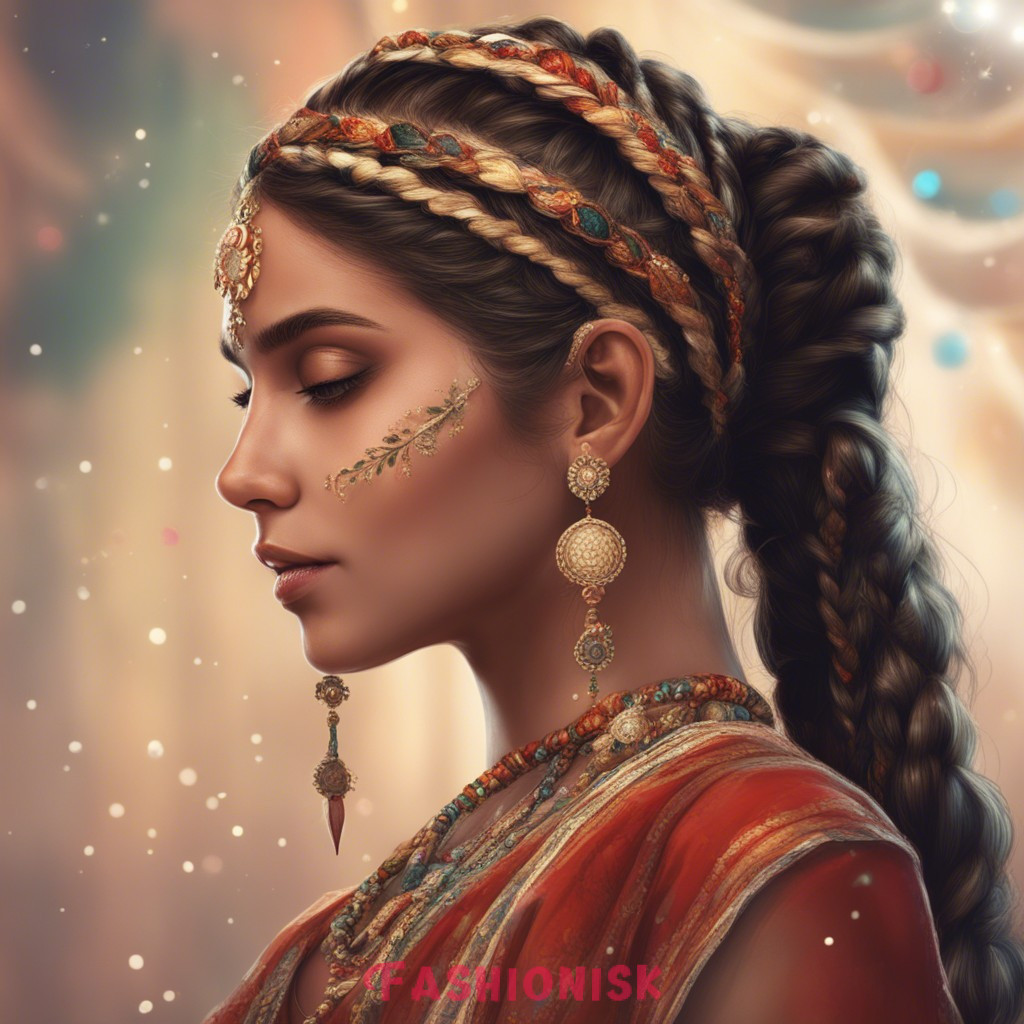 Floral Bun Twist
Floral Bun Twist is where tradition meets modern beauty. Buns have always been a go-to hairstyle for Indian festivities. Adding flowers brings freshness and an aromatic touch to your appearance. Flowers intertwined in a bun also give an earthy appeal. This style is particularly flattering for heart and square-shaped faces. It accentuates the cheekbones and gives a delicate finish to the jawline.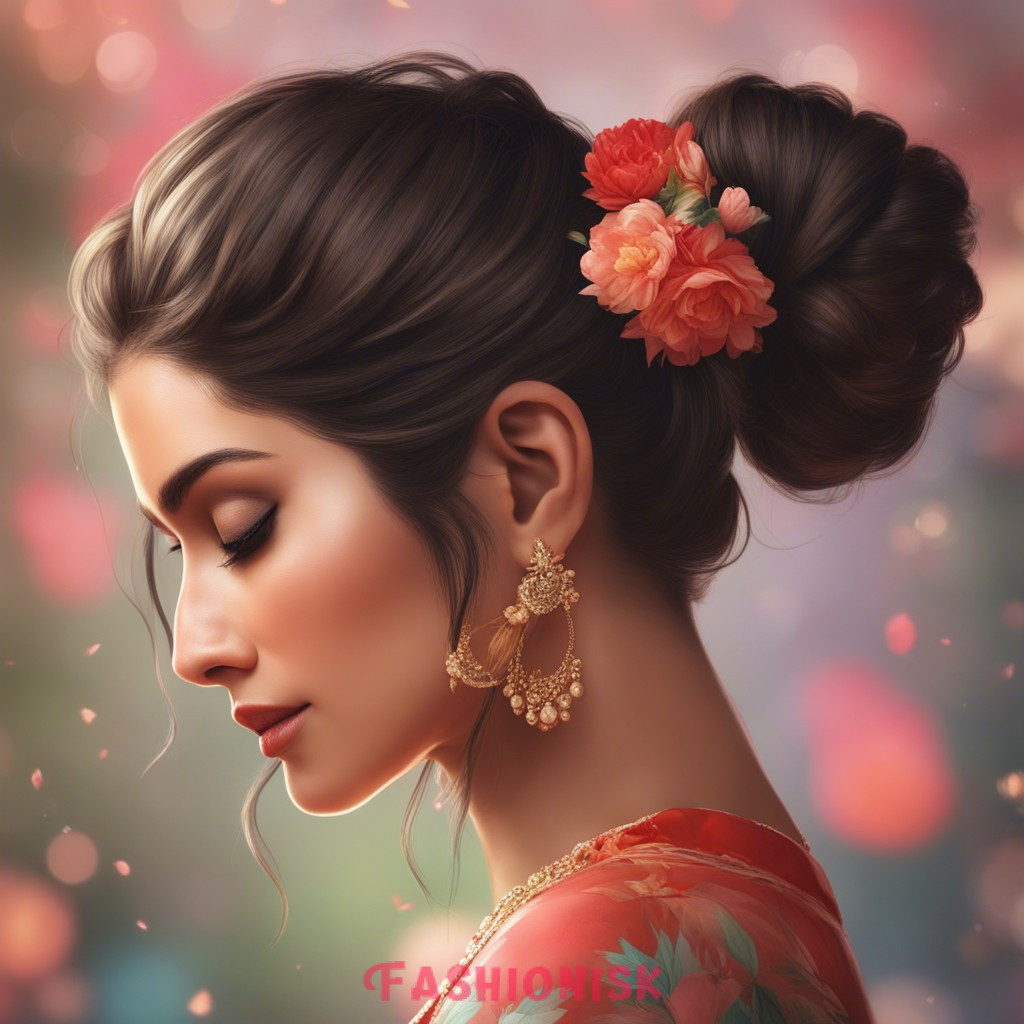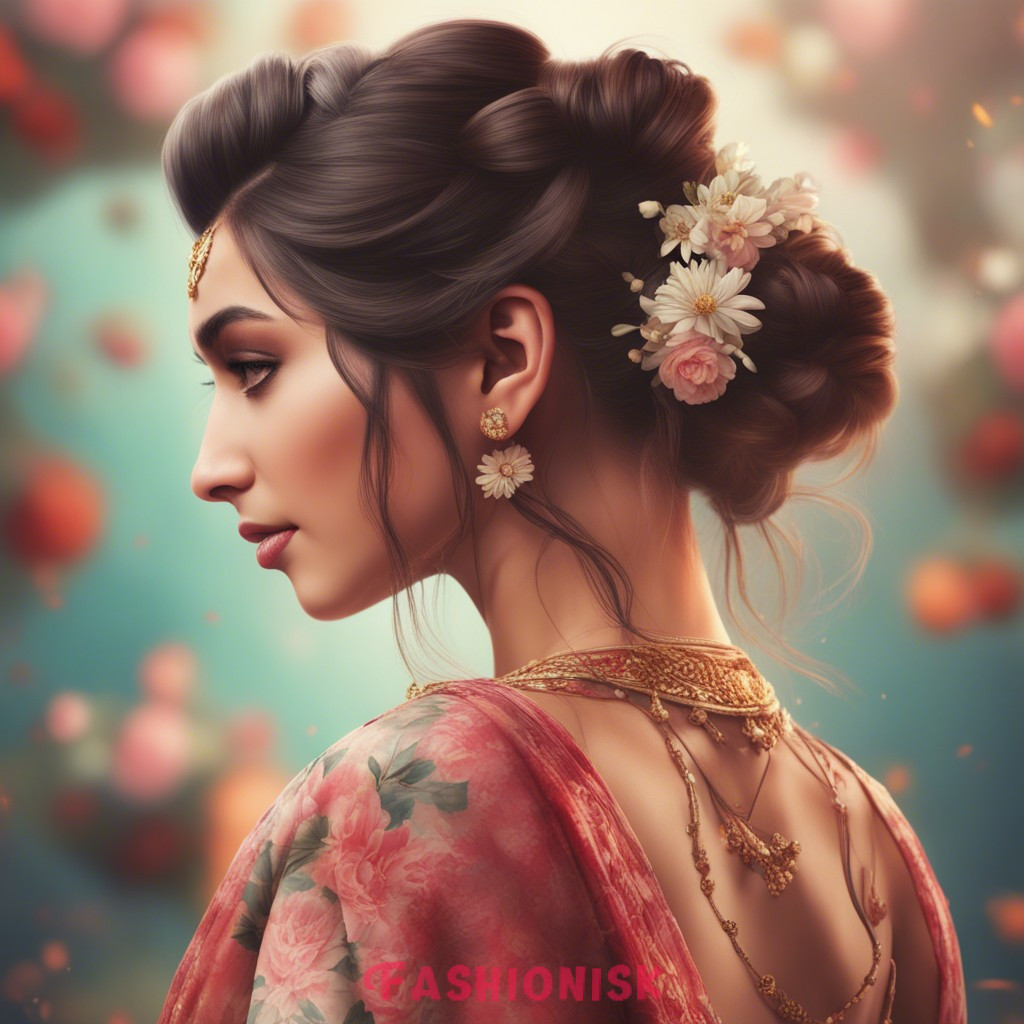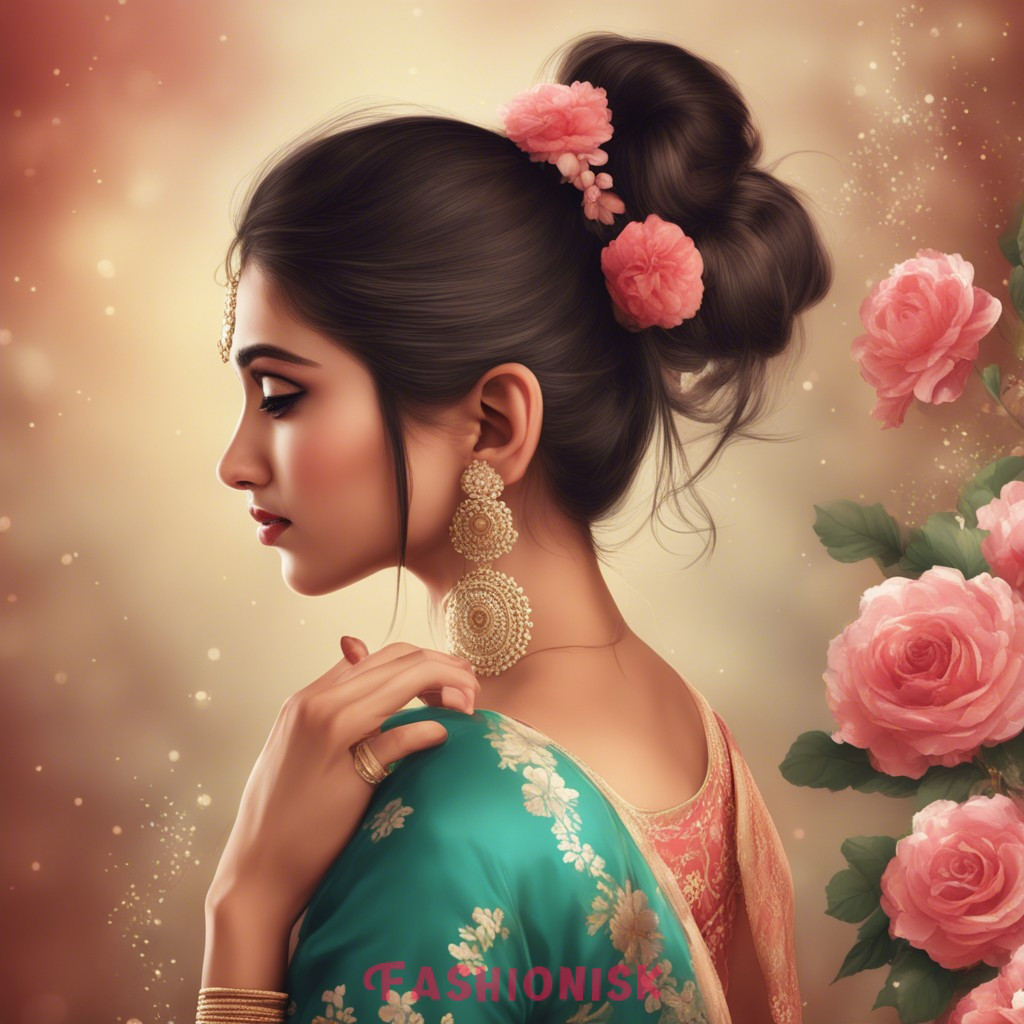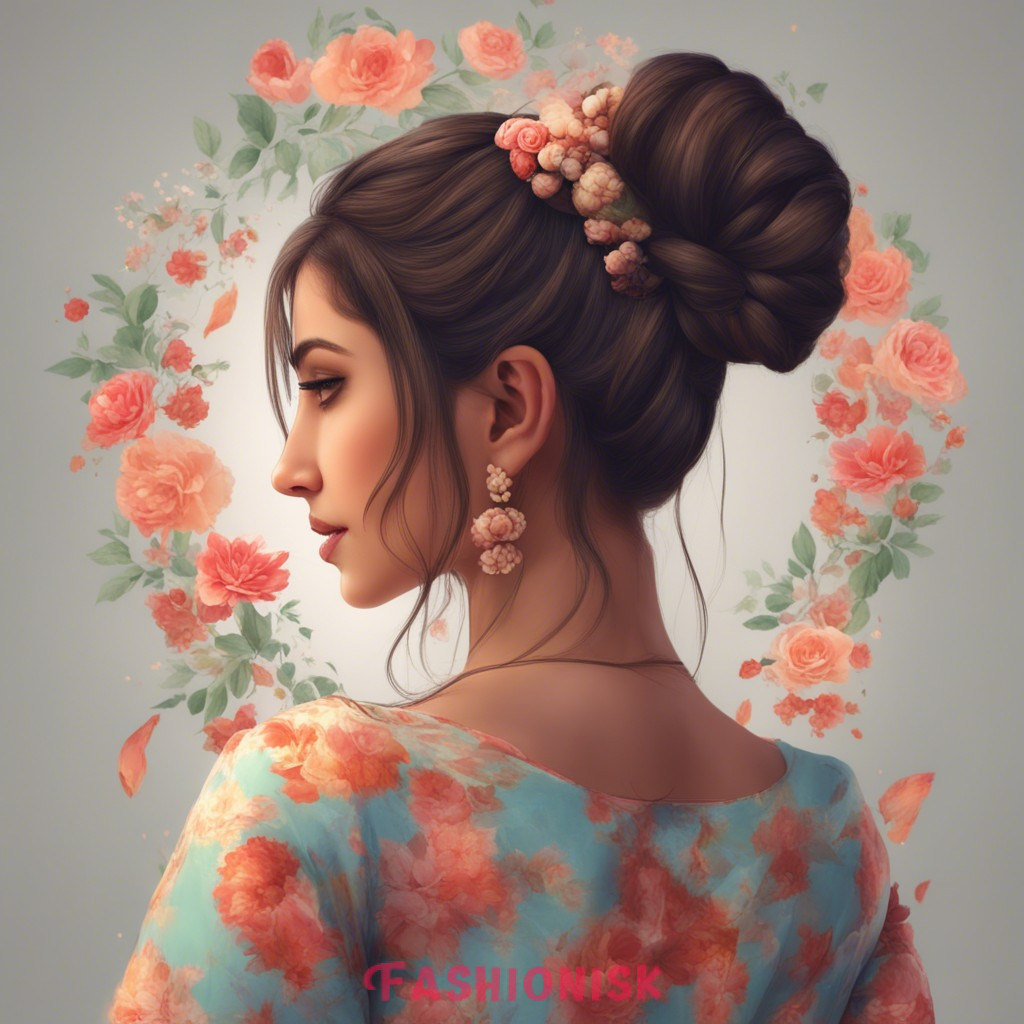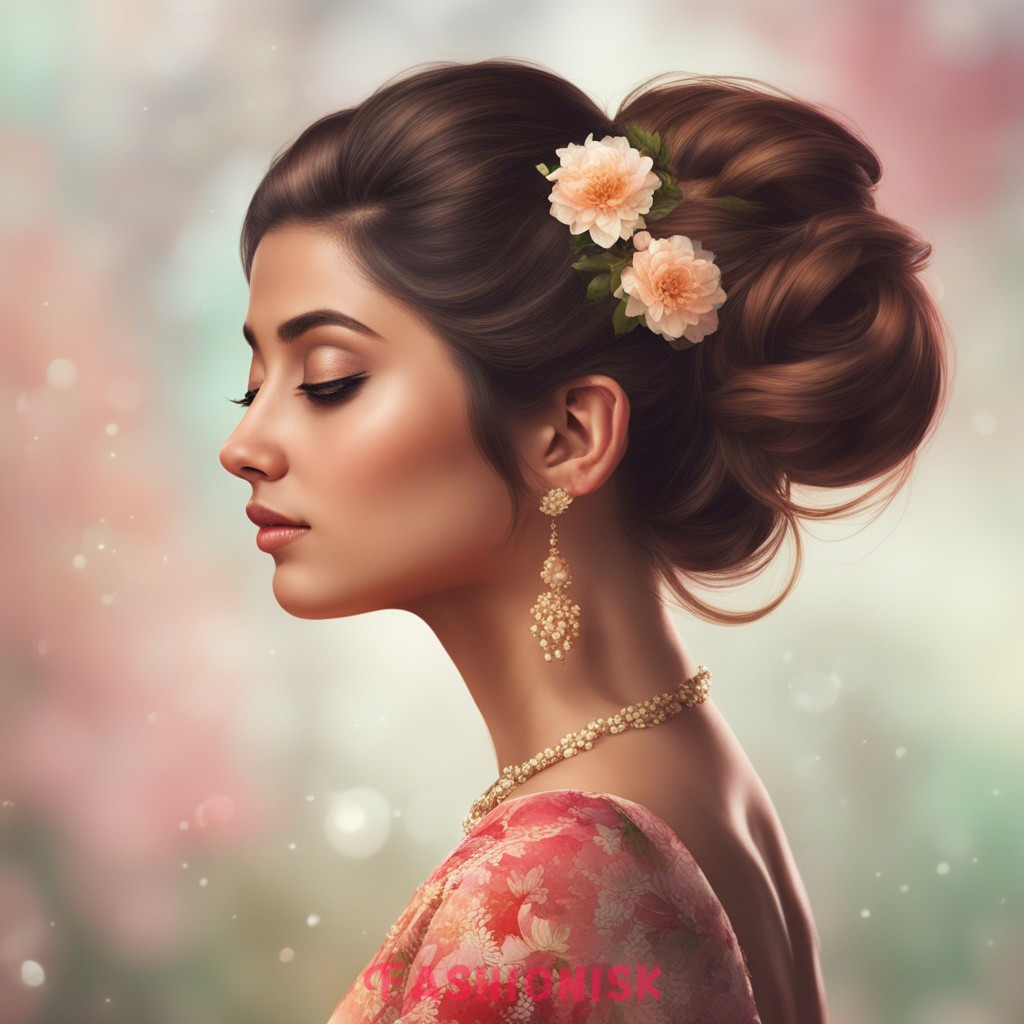 Side-swept Waves Garba Hairstyle
Side-swept Waves are effortlessly chic. Perfect for those who prefer a more relaxed yet stylish look for Garba nights. This hairstyle lets your locks flow beautifully on one side. It's romantic and adds a touch of whimsy to your dance moves. Ladies with a long or rectangular face will find this style especially appealing. The waves add width and soften the longer facial features.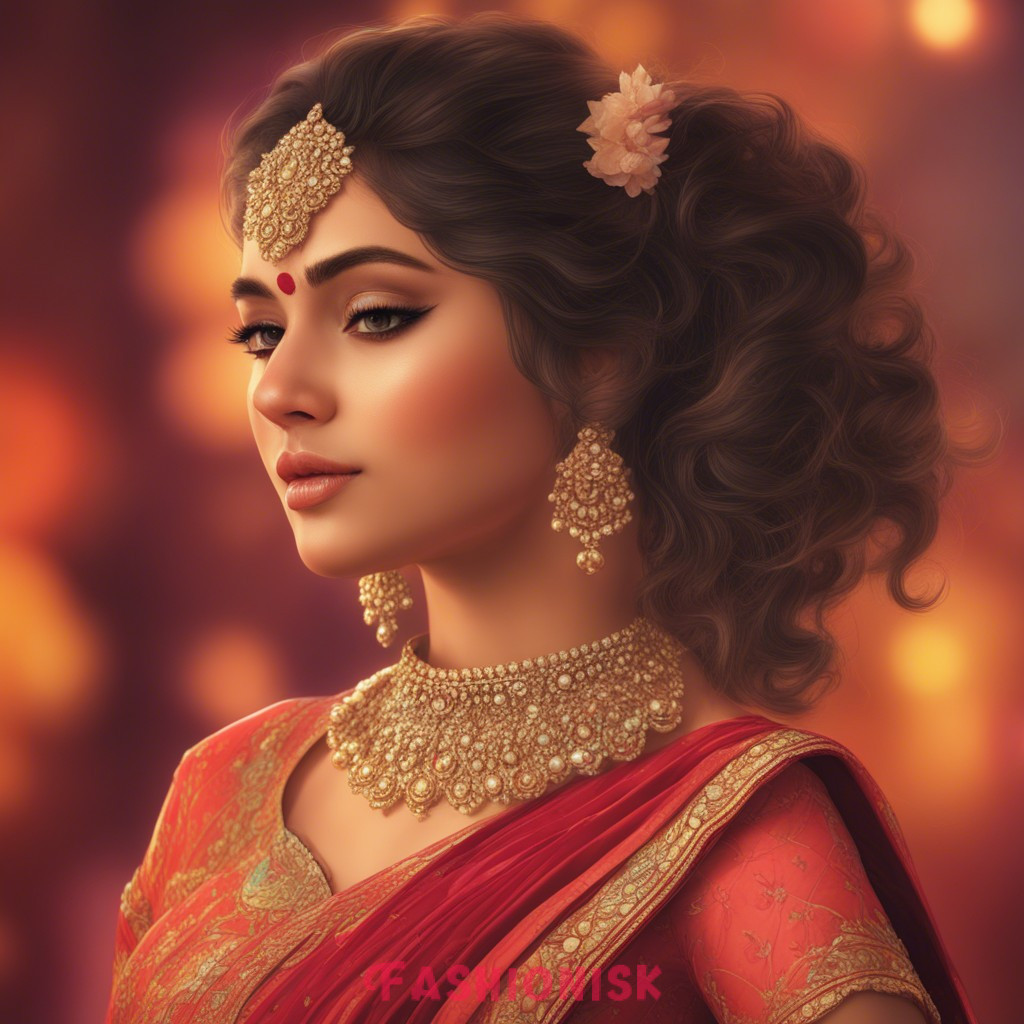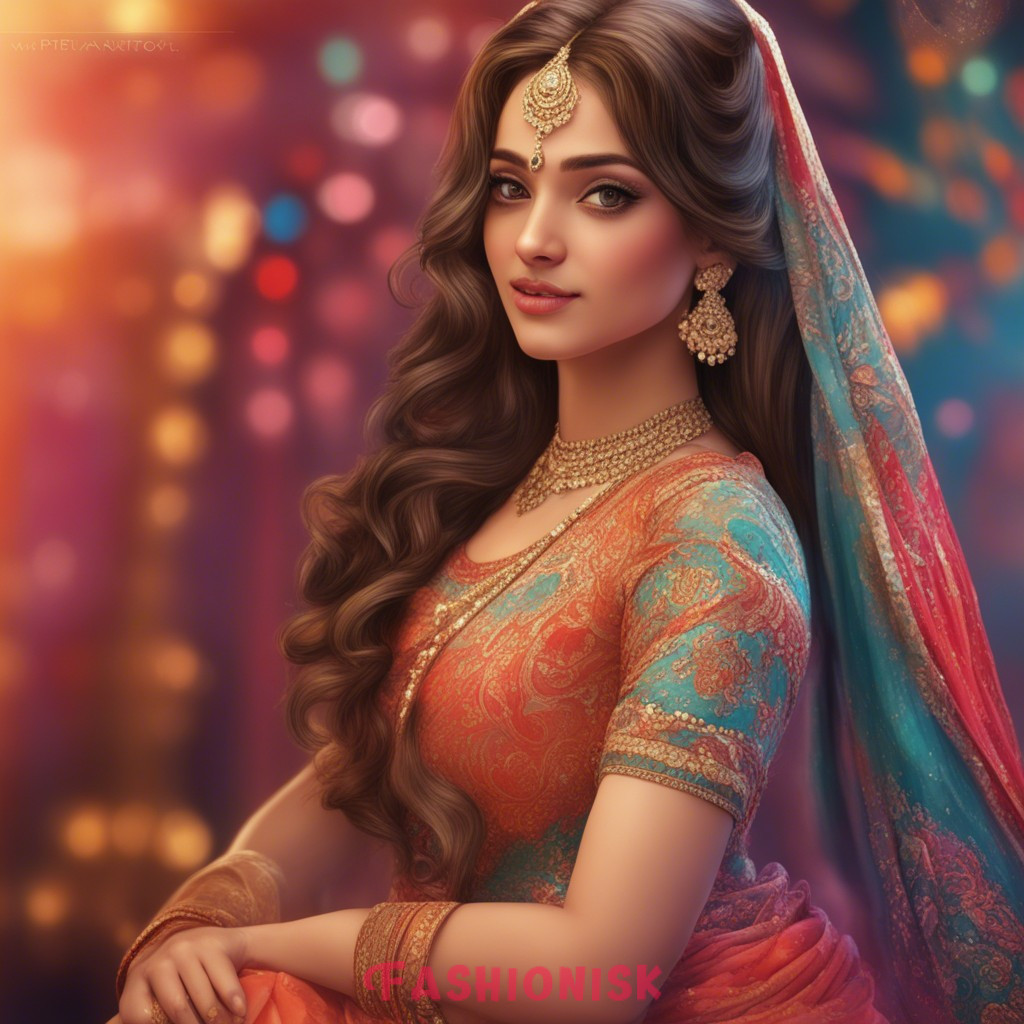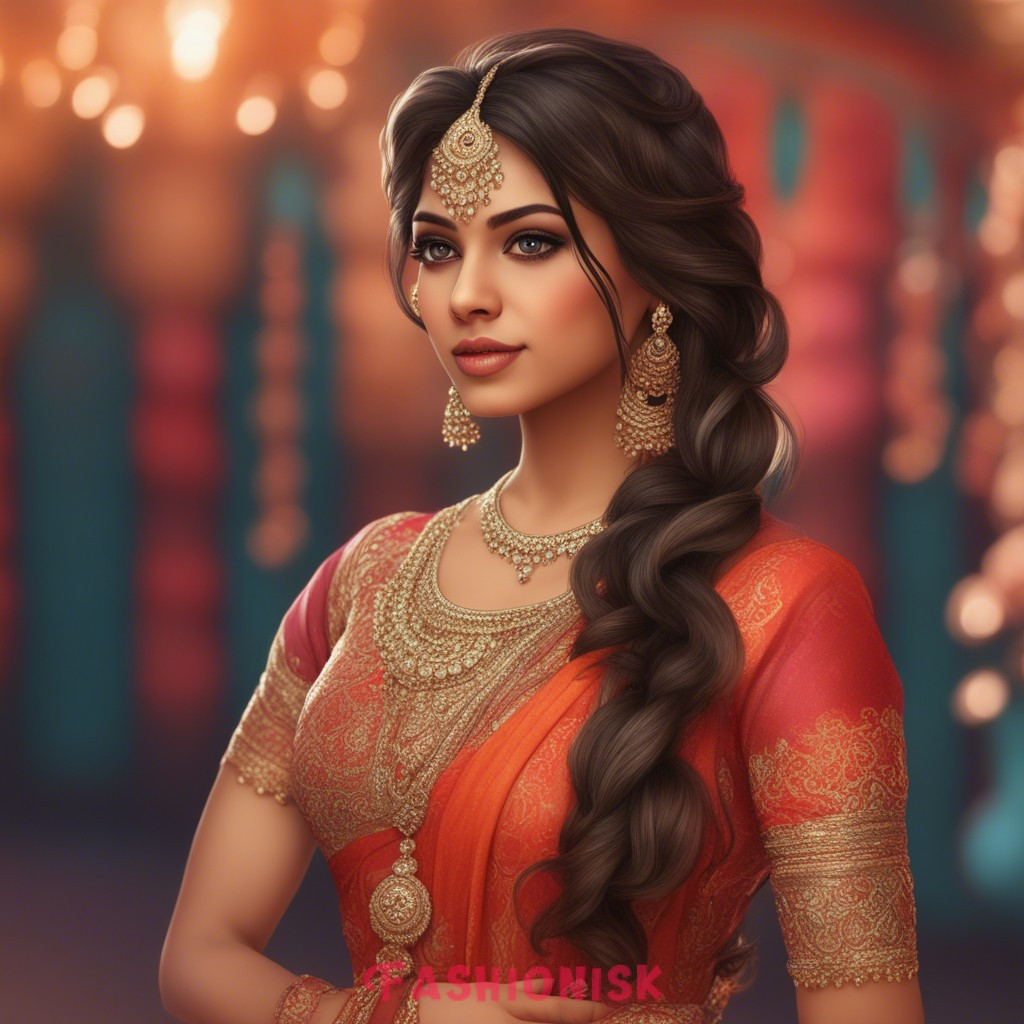 Boho Fishtail Braid
For a modern twist, the Boho Fishtail Braid is a winner. It brings a bohemian vibe to your Garba attire. The intricate weaving in this braid showcases the depth and texture of your hair. It's playful yet holds a touch of elegance. This braid works wonders on diamond and oval face shapes. It brings out the symmetry and adds charm to the facial structure.
Pouf with Open Curls
The Pouf with Open Curls screams volume and bounce. This hairstyle combines a subtle lift at the crown with cascading curls. It's perfect for dancing the night away. The volume balances and suits round and square face types. The pouf adds height while the open curls give a soft framing effect.
Traditional Gajra Bun Garba Hairstyle
The Traditional Gajra Bun is the epitome of classic Indian festivities. The fragrance of jasmine woven around a neat bun brings memories of countless celebrations. This hairstyle is more than just an aesthetic choice. It speaks of tradition, grace, and the spirit of Garba. For those with heart or oval-shaped faces, this hairstyle is a boon. The bun highlights the cheekbones and the gajra adds a touch of delicateness.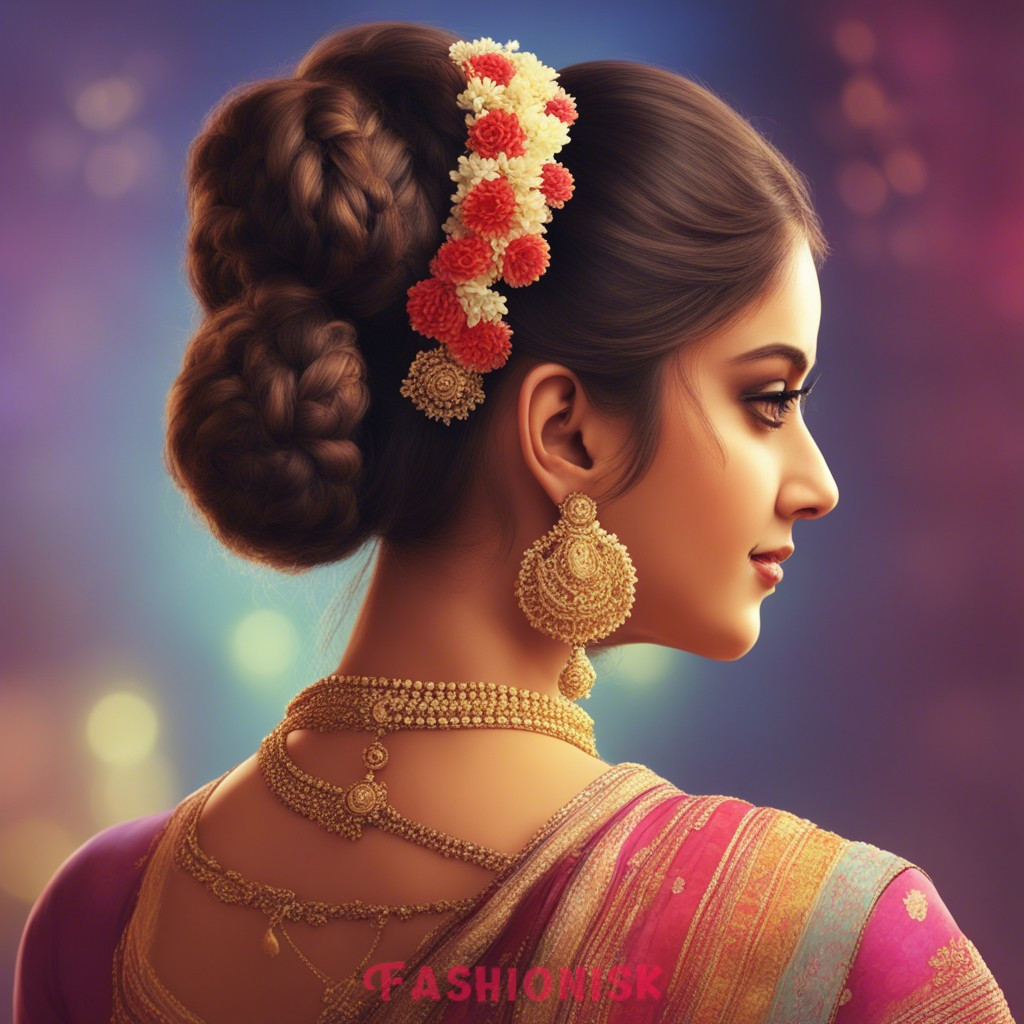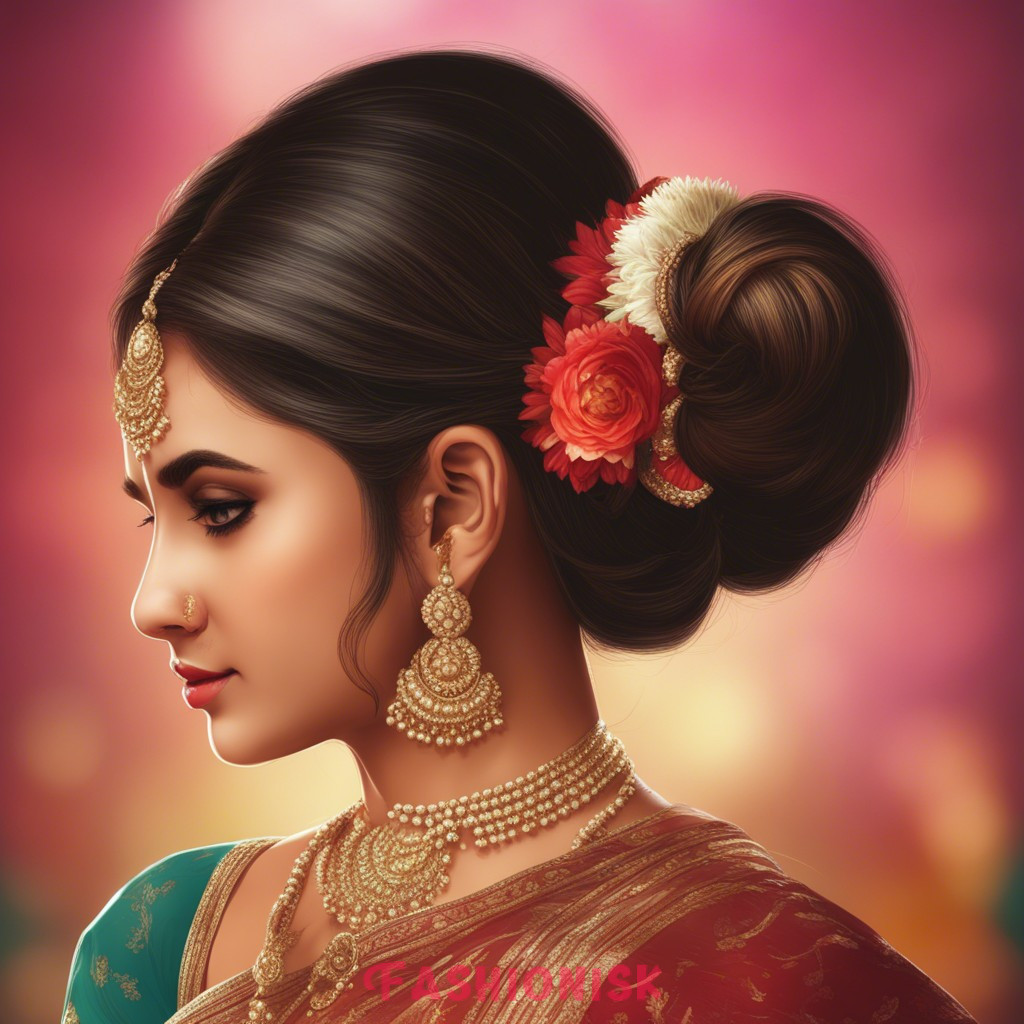 Twisted Half-Updo
The Twisted Half-Updo is all about merging style with comfort. It gives the freedom of open hair with the elegance of a pinned style. This hairstyle involves twisting sections of hair and pinning them at the back. The rest of the hair flows freely. It's chic, simple, and fits the festive mood. Women with round or square faces will find this style particularly flattering. The twists add height and the flowing locks give a soft finish.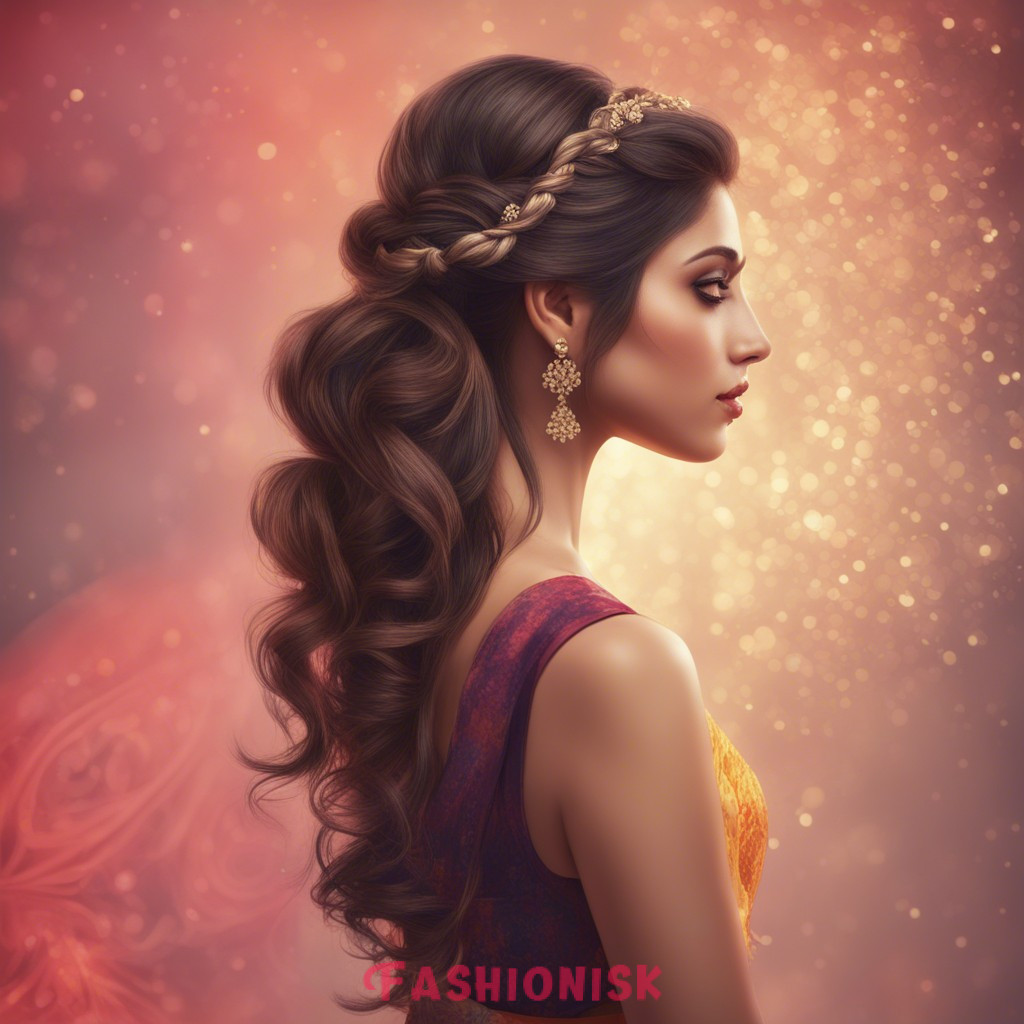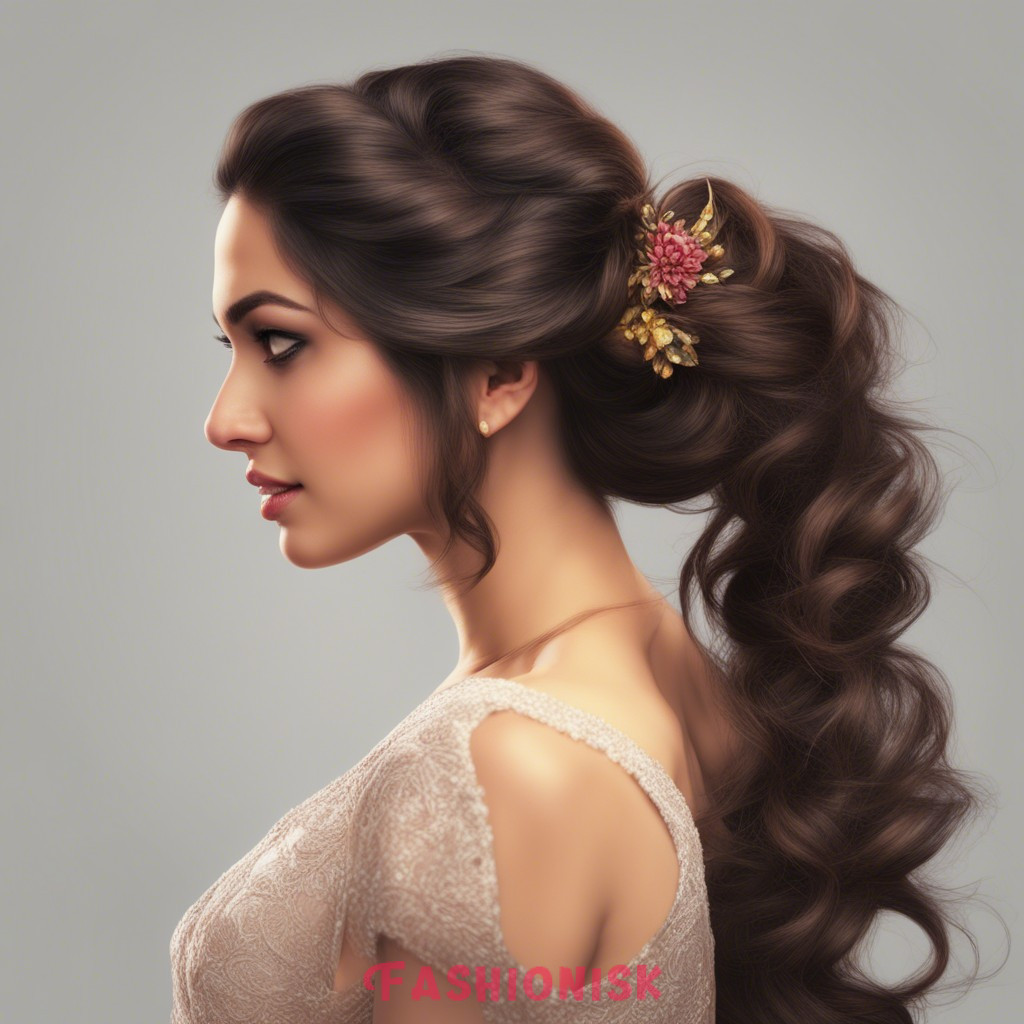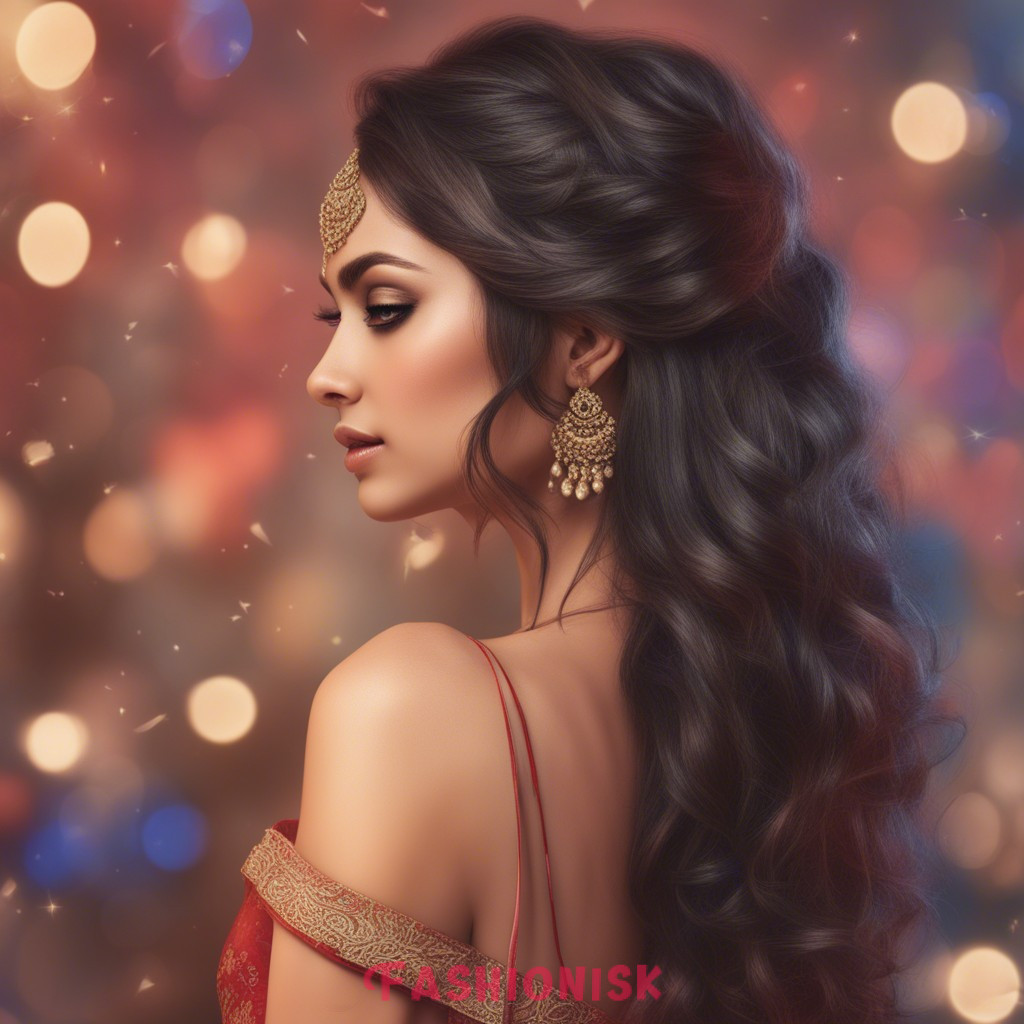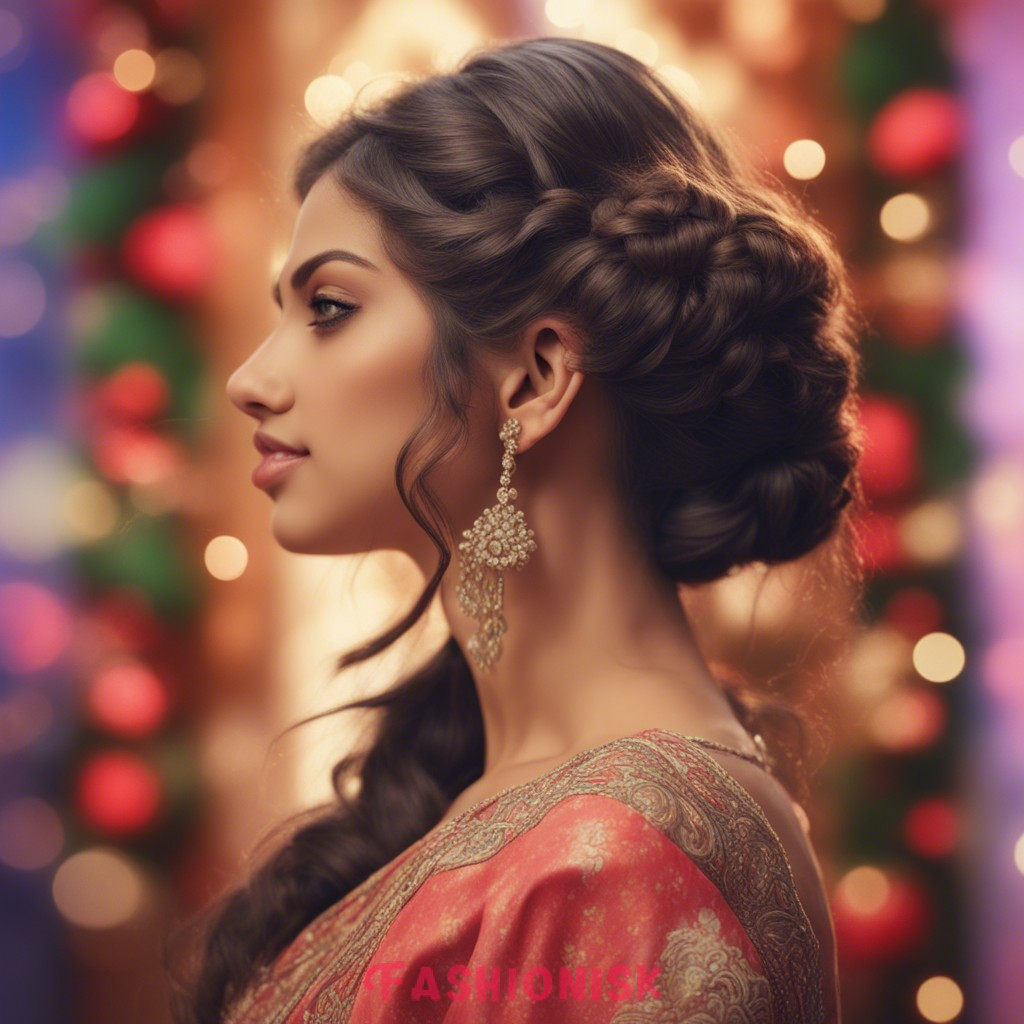 Jeweled Braids
Jeweled Braids are where tradition meets glamour. Weaving jewelry or metallic strings into braids adds an element of surprise and shimmer. This hairstyle is a conversation starter. It's rich in texture and sparkles with every turn. Ladies with long and rectangular faces will find this hairstyle accentuating their features. The length and adornments of the braid bring out the best in such face types.
Pinned Back Tousled Waves Garba Hairstyle
Pinned Back Tousled Waves bring a breezy charm to Garba nights. By creating beachy waves and pinning one side back, you achieve a look that's modern yet rooted in festival vibes. It's perfect for those who love a mix of simplicity and style. This hairstyle is a dream come true for women with diamond or heart-shaped faces. The waves add volume on the sides and the pin-back creates a balance.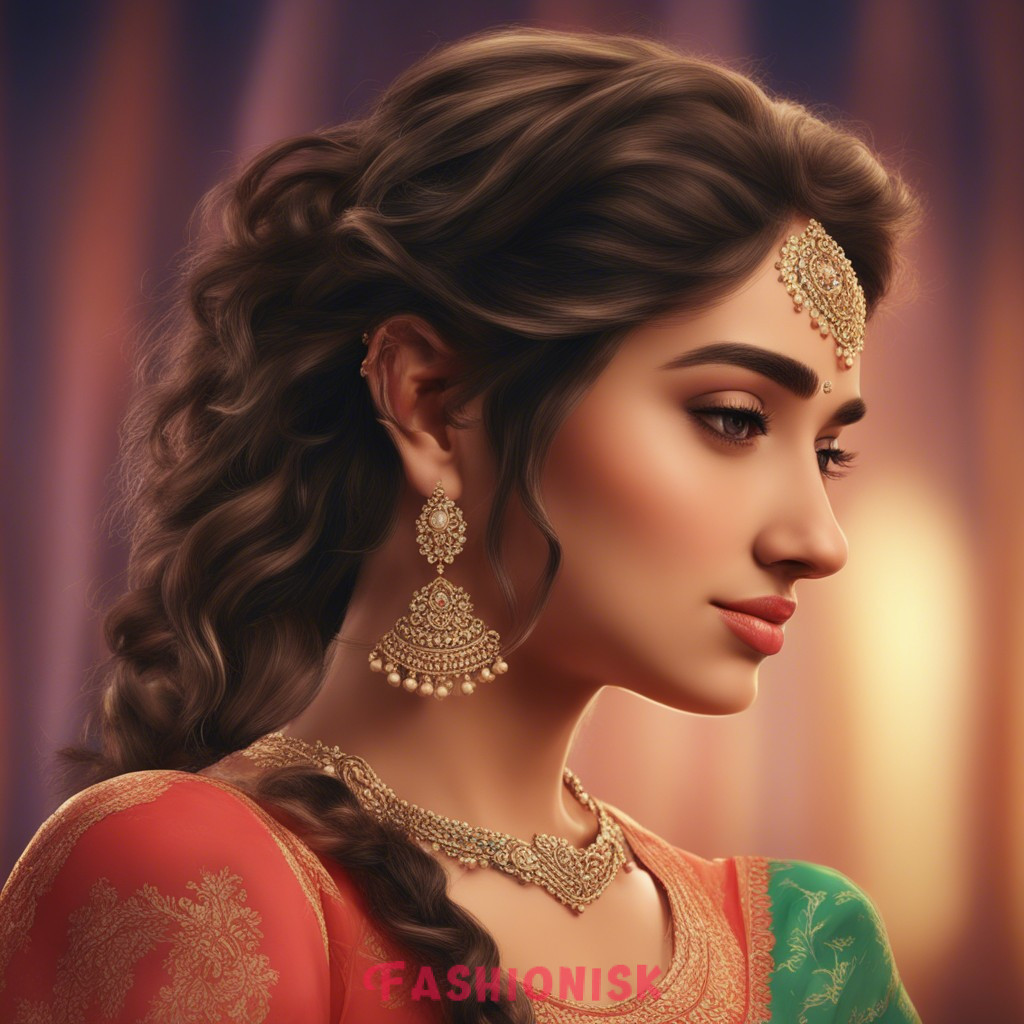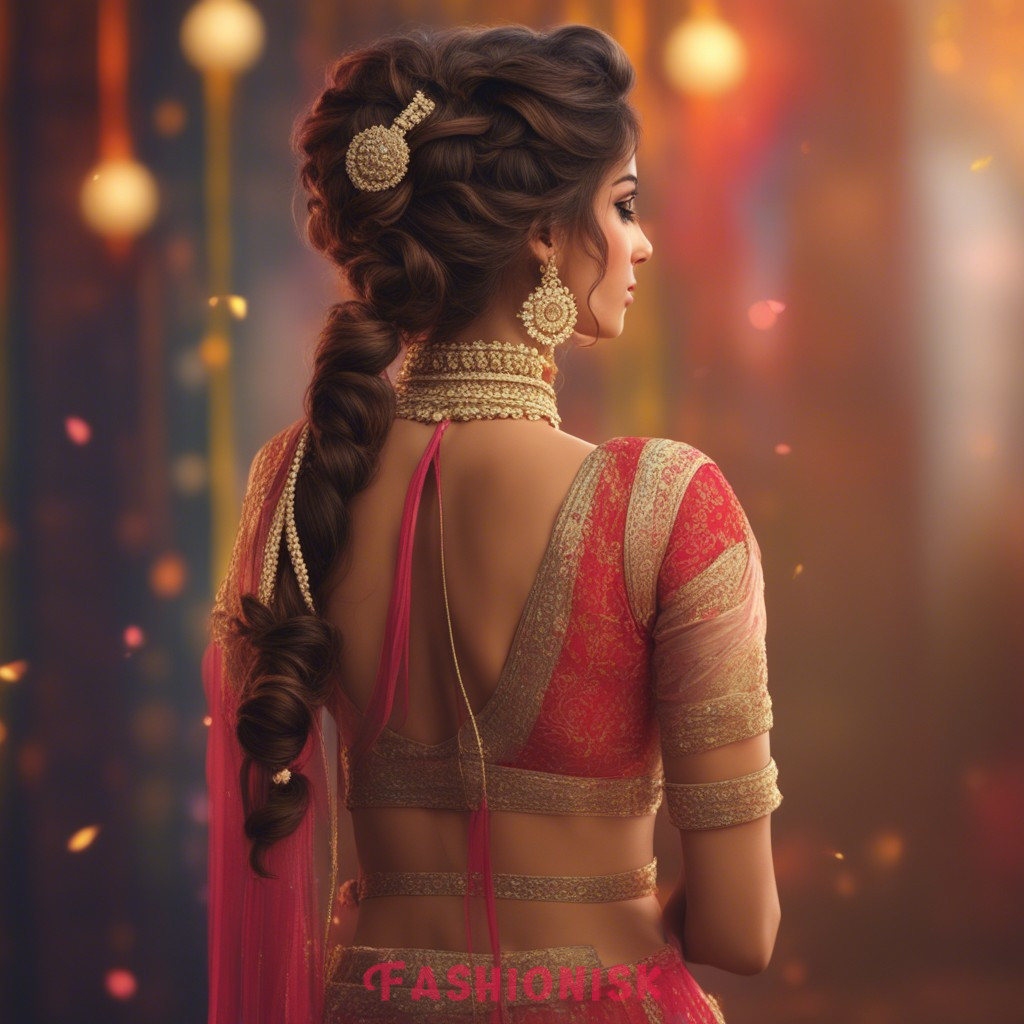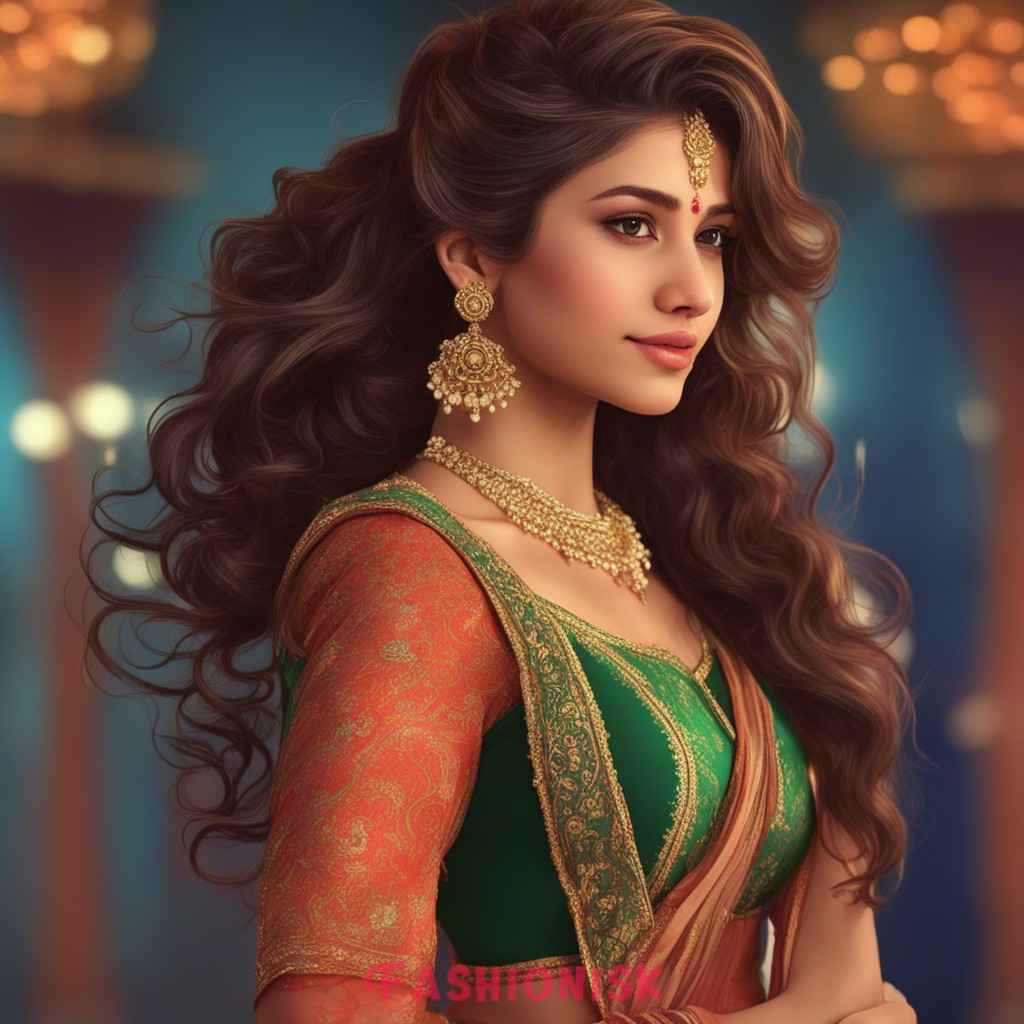 Double Dutch Braids
Double Dutch Braids are both sturdy and stylish. They offer a comfortable fit for those who dance with all their heart. This hairstyle keeps hair in place and looks intricate. It's a blend of strength and beauty. Those with oval or round faces will find the braids adding a touch of symmetry and grace. The dual braids frame the face beautifully and highlight its natural contours.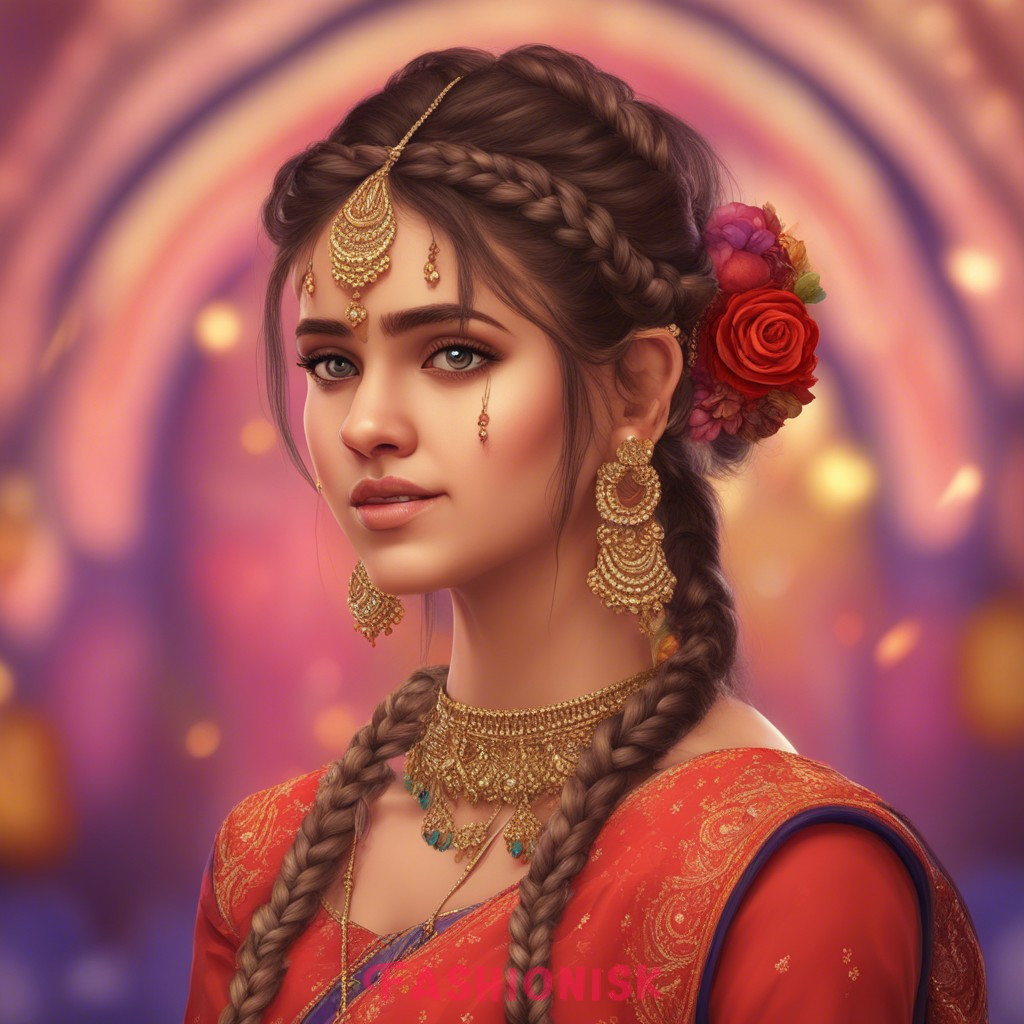 Choosing the Perfect Garba Hairstyle: Key Considerations
Face Shape: Opt for a style that complements and accentuates your unique face structure.
Hair Length: Ensure the style you choose suits the length of your hair, be it short, medium, or long.
Attire and Accessories: Coordinate your hairstyle with your outfit and the jewelry you'll be wearing.
Comfort Level: Pick a style that allows you to dance freely without constant adjustments.
Hair Texture: Consider if your hair is straight, wavy, curly, or coily when choosing a style.
Weather Conditions: Opt for weather-friendly styles, especially if the event is outdoors.
Skill Level: Choose a hairstyle that matches your hairstyling abilities or consider professional help for intricate styles.
Duration of the Event: For longer events, opt for secure hairstyles that last without much touch-up.
Traditional vs. Contemporary: Decide if you want a classic look or a modern twist based on your personal preference.
Additional Accessories: Consider using hairpins, beads, flowers, or other accessories to enhance the look.
Frequently Asked Questions
What is the most traditional Garba hairstyle?
The most traditional is the bun adorned with a gajra (jasmine flower garland).
Can short hair be styled for Garba?
Absolutely! Short hair can be styled in waves, adorned with pins, or accessorized with headbands and maang tikkas.
How do I keep my hairstyle intact while dancing?
Use good-quality hair products like hairspray, gel, or mousse, and ensure secure pinning for braids and buns.
Can I mix contemporary and traditional elements in my Garba hairstyle?
Definitely! Mixing elements gives a unique touch, combining the best of both worlds.
Are hair accessories essential for Navratri hairstyles?
While not essential, hair accessories like pins, flowers, and beads can elevate and enhance the overall look.
Shine Bright with Your Garba Hairstyle
Garba season brings with it vibrant colors and ecstatic dances. And what makes it more memorable is the right hairstyle. Each choice you make adds to the charm of the celebration. So, delve into the trendiest styles we've discussed. Consider the key points. Read through the frequently asked questions. And most importantly, choose a hairstyle that makes you feel confident and beautiful. With the right Garba hairstyle, you'll not only look stunning but also feel the rhythm of the festival in every strand. So step onto the dance floor. Shine bright. And let your hair dance with you.
People Also Searched For
Comments