#Women's Fashion
Blouse Sleeves Design To Elevate Your Look
If you're passionate about style, you already know how vital details are. One aspect often overlooked is blouse sleeves design. We focus on necklines, embroidery, or fabric. But the truth is, the design of your blouse sleeves can make or break your entire outfit.
Think about it. Sleeves can add drama. They can keep things casual or make them formal. A simple shift in the length or pattern of a sleeve can change the vibe. So let's dive into the world of sleeves to give your outfit that extra oomph.
Start by choosing the right type. Bell sleeves, puff sleeves, or the classic long sleeve are all options. Each brings a unique style and flair to the blouse. Next, consider the material. Whether it's silk, cotton, or chiffon, the fabric will decide how the sleeve flows.
Then we look at embellishments. Lace trims, buttons, or even a dash of sequins can enhance your sleeves. These additions contribute to your overall look. They can take a simple blouse from day to night in a snap.
Now let's talk occasions. Planning to wear your blouse at a corporate event? Stick to something subtle but chic. Going for a romantic dinner date? Opt for more dramatic and eye-catching designs. So next time you shop or decide to design your blouse, don't forget about the sleeves. With just a bit of thought, you can make a world of difference.
When you take the time to focus on your blouse sleeves design, you elevate your entire ensemble. From casual to chic, the sleeves you choose set the mood. So go ahead and give your blouse sleeves the attention they deserve. Make them the statement piece of your outfit.
New Blouse Sleeves Design
New is always better when it comes to fashion, and sleeves design is no exception. Today, the sky is the limit when choosing a new and innovative sleeve design. We have moved from traditional long sleeves to more contemporary styles. Think asymmetrical cuts, ruffles, or even detachable sleeves that switch your look in an instant. These fresh designs not only captivate eyes but also add a unique twist to your outfit. So next time you're shopping, don't settle for the ordinary. Go for the latest in sleeves design to make sure you stand out.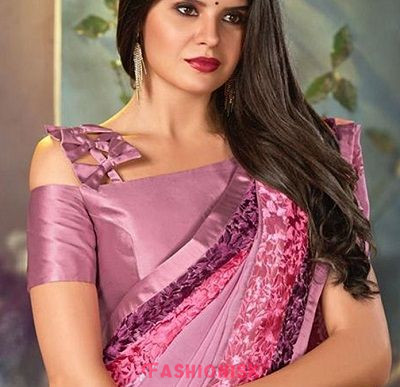 Hand Blouse Sleeves Design Latest
Hand designs on blouse sleeves are taking the fashion world by storm. Imagine delicate hand-embroidery or intricate lacework that's been done by skilled artisans. These hand designs are not just art; they're a way to show off your personality. They can be as simple or as elaborate as you want. Hand designs add a touch of luxury and elegance to any blouse. From floral patterns to geometric shapes, the options are endless. Trust me, once you try the latest design, you'll ditch machine-made designs for good.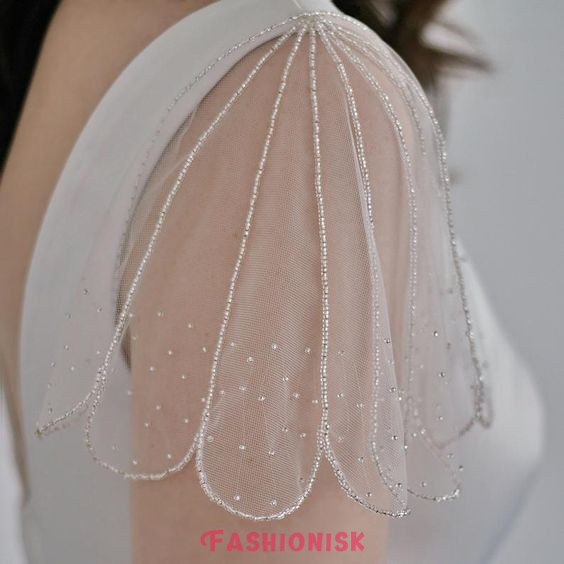 Fancy Blouse Sleeves Design
Picture yourself with crystal-studded sleeves or a design featuring dramatic frills. These aren't just clothes; they're statement pieces. Ideal for grand events or parties where you want to be the center of attention. Fancy designs let you showcase your style in an extravagant way. Whether you opt for heavy embellishments or voluminous structures, you're sure to make heads turn.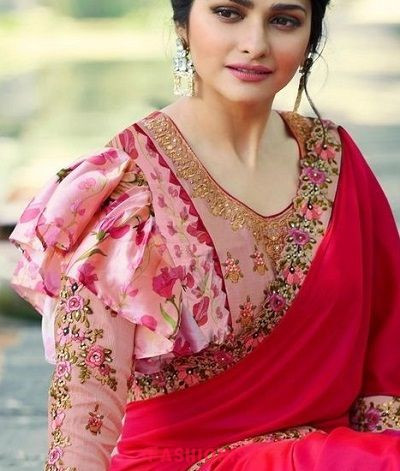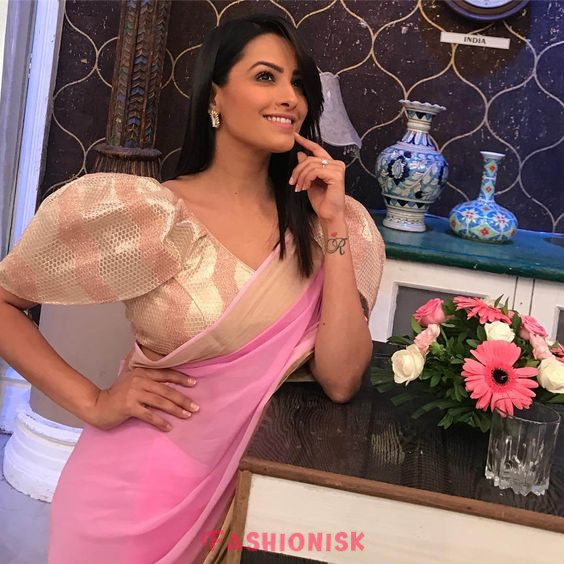 Full Sleeve Blouse Design
Full sleeves bring a whole new level of sophistication to blouses. They can make even the simplest outfit look elegant. This design isn't just for colder months; it's a timeless classic. The beauty of full sleeve blouse design lies in its versatility. You can keep it plain for a business meeting or go all out with designs for a festive occasion. What's more, full sleeves are flattering for every body type. They can elongate your arms and give a sleek look. Definitely, a full sleeve blouse is a must-have in your wardrobe.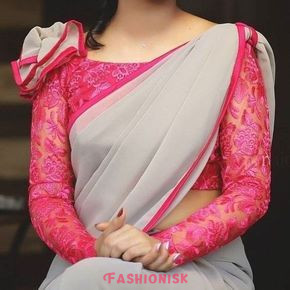 Simple Blouse Sleeves Design
Less is often more, and that holds true for simple sleeves design. If you're someone who prefers minimalism, then simple designs are for you. Imagine a clean-cut elbow-length sleeve or a classic cap sleeve. Simple designs work well for daily wear or any casual setting. They let you look polished without trying too hard. What's great is that they offer comfort along with style. And let's not forget, simple blouse sleeves can be the perfect canvas for accessories. So if you appreciate the beauty in simplicity, opt for these designs.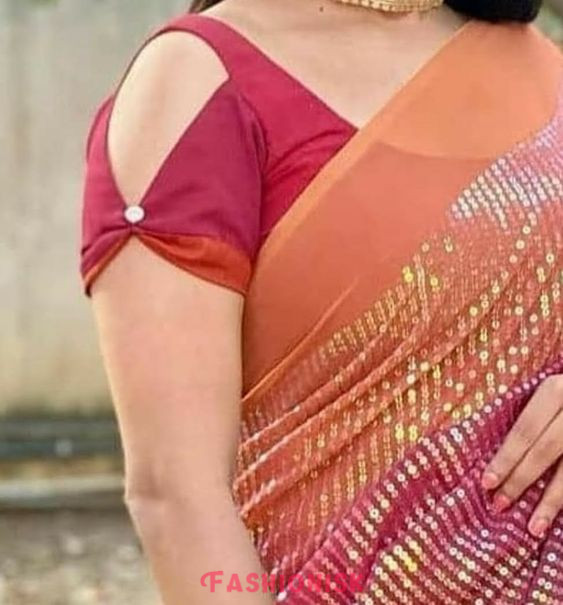 Ruffle Sleeves Blouse Design
Ruffles are the game-changer in the world of fashion. Especially when it comes to ruffle sleeves, they steal the show. This style is all about drama and flair. Imagine adding these playful sleeves to a simple blouse. Instantly, you go from ordinary to fabulous. Ruffles can be subtle for a touch of femininity. Or go bold with multi-layered ruffles for a grand effect. Either way, you become the center of attention. Ideal for parties or any event where you aim to make a statement. Let's be honest; if you want to turn heads, ruffle sleeves are your best bet.
Half Sleeve Blouse Sleeves Design
The beauty of half sleeves is in their balance. They offer the best of both worlds. These designs cover just enough while still letting you flaunt your arms. Half sleeve is perfect for those who want comfort with style. Great for work settings, family events, or casual outings. They look sleek and go well with almost any type of bottom wear. What's more, you can play around with designs like scallops or embroidery to add an extra edge. So the next time you need a go-to blouse, consider half sleeves. They never disappoint.
Puff Sleeve Blouse Designs
Puff sleeves are back and how! This retro style is now a modern trend, making waves in today's fashion scene. Puff sleeve blouse designs add a youthful energy to your look. These sleeves give a voluminous effect that stands out. Ideal for those who want to go playful and daring. You can pair them with skirts or high-waisted pants for a chic look. Don't forget, puff sleeves work well in various fabrics like cotton, silk, or chiffon. So whether you aim for a casual or elegant look, puff sleeves got you covered.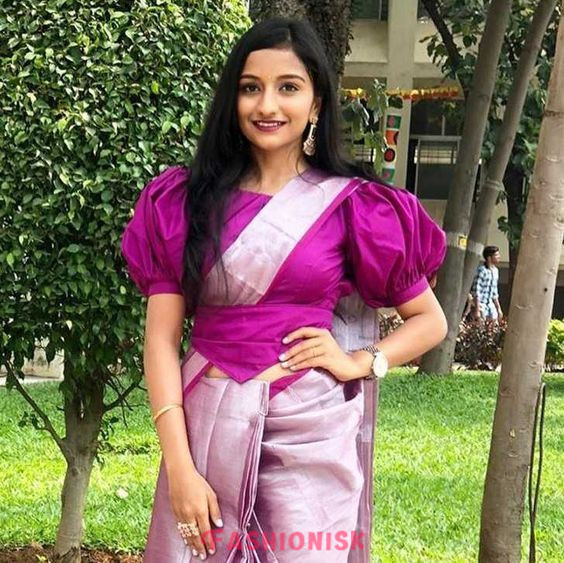 Cut Sleeves Blouse Design
Cut sleeves bring a sense of boldness to your style. These designs are for those who dare to be different. With cut sleeves design, you add an unexpected twist to your outfit. The cuts can be angular, curved, or even asymmetrical. The result is always a striking look that grabs attention. Perfect for summer parties or any occasion where casual meets chic. Pair it with jeans, shorts, or even a maxi skirt for a unique outfit. So go ahead, embrace the edginess of cut sleeves.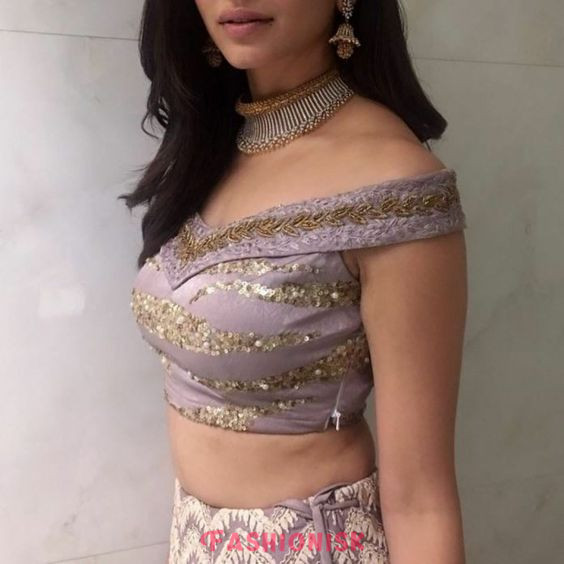 Latest Blouse Sleeves Design
Staying up-to-date is crucial in fashion. When it comes to the latest sleeves designs, the trends are always evolving. One day it's all about minimalistic sleeves, and the next day, extravagant designs are in. Today we see a mix of traditional and modern styles taking over. From bell sleeves with a twist to unique lacework, the options are endless. Keep an eye out for unexpected materials and colors too. The latest designs are not just about looking good; they're about making a statement. So when you decide to update your wardrobe, make sure you're in the know about the latest designs.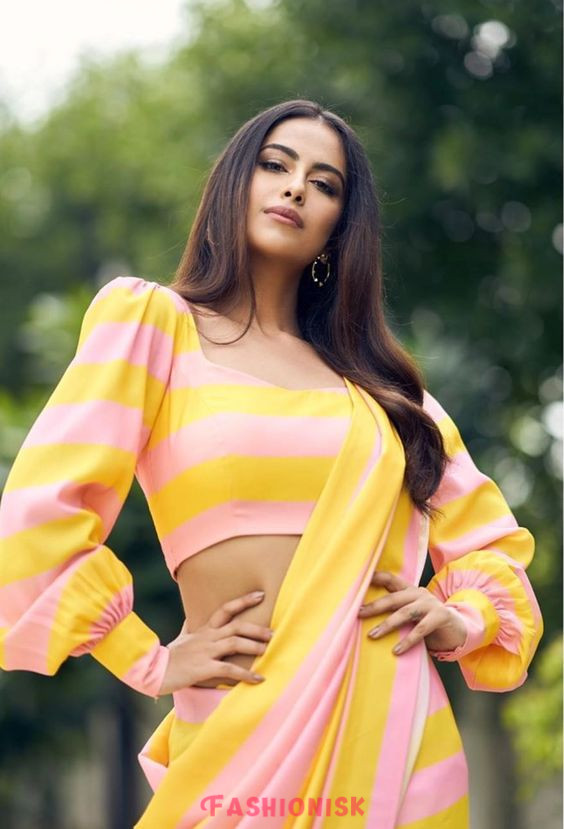 Net Blouse Sleeves Design
Net sleeves are the epitome of grace and elegance. When you choose a net sleeves, you're making a fashion statement. The beauty of net fabric is that it gives an illusion effect. This elevates the look to a whole new level. You can go for intricate embroidery on the net or leave it simple for a classy touch. Ideal for events like weddings or cocktail parties where you want to look glamorous. The net material allows room for creativity too. You can add sequins or even pearls to make it more lavish. So, if you're looking to add a dash of sophistication, go for net sleeves.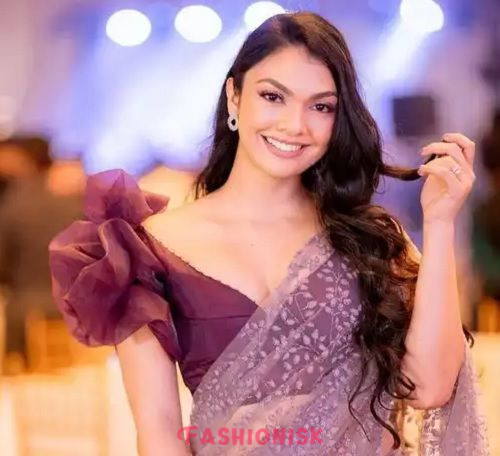 Unique Blouse Sleeves Design
When it comes to fashion, standing out is the key. This is where unique designs comes into play. These are not your everyday sleeve styles. We're talking unconventional cuts, unexpected fabric combinations, and bold patterns. Think angular designs or sleeves with cutouts that make people do a double take. This trend is perfect for those who love to experiment. It allows you to showcase your personal style. So if you want to break away from the norm, opt for unique blouse sleeves. They are the true showstoppers.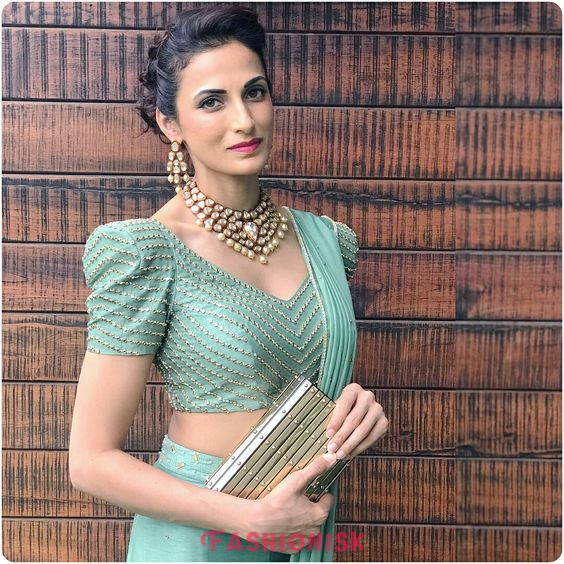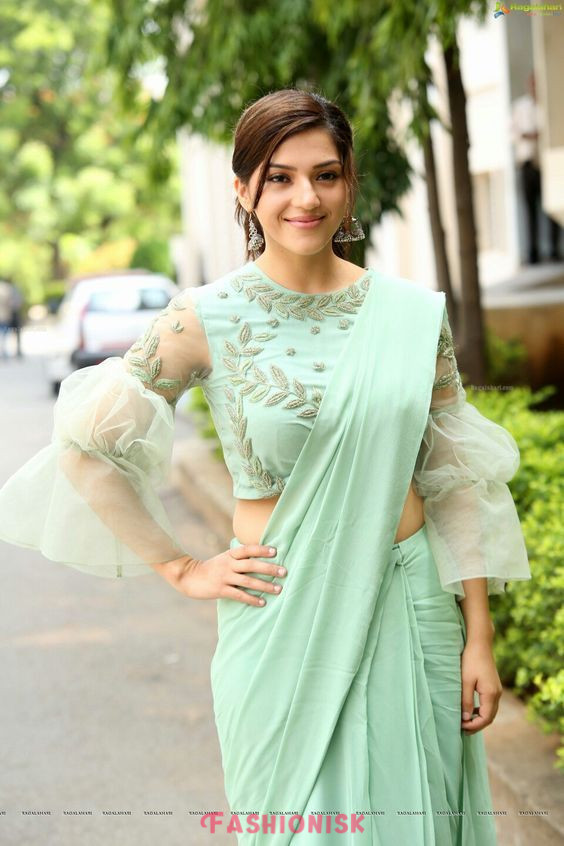 Lehenga Blouse Sleeves Design
Lehengas are all about grandeur and tradition. The blouse plays a crucial role in completing this look. Lehenga sleeves can range from rich embroidered patterns to simpler elegant cuts. They can be long, adding a touch of royalty, or short to keep it modern. They often feature detailing like mirror work, sequins, or even elaborate lace designs. These sleeves are not just pieces of fabric; they are artworks. Best suited for festive occasions like weddings or grand celebrations, they define your style and enhance the grandeur of the lehenga. So when you pick a lehenga, give special attention to the blouse sleeves.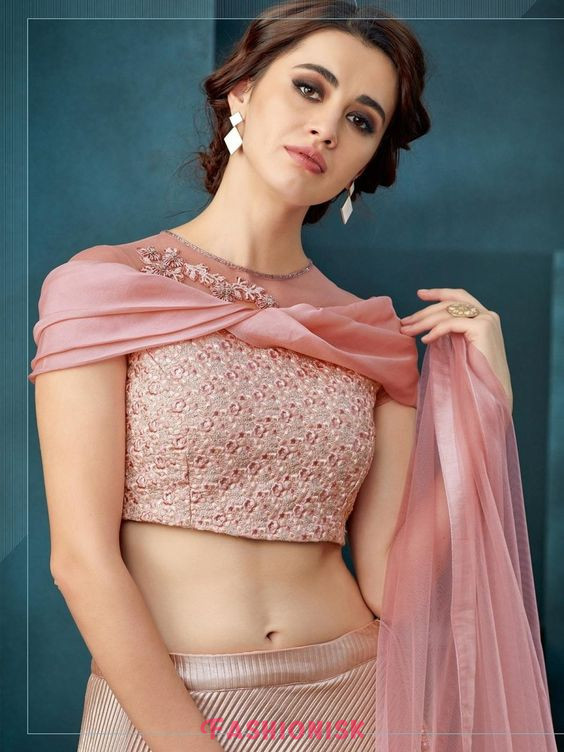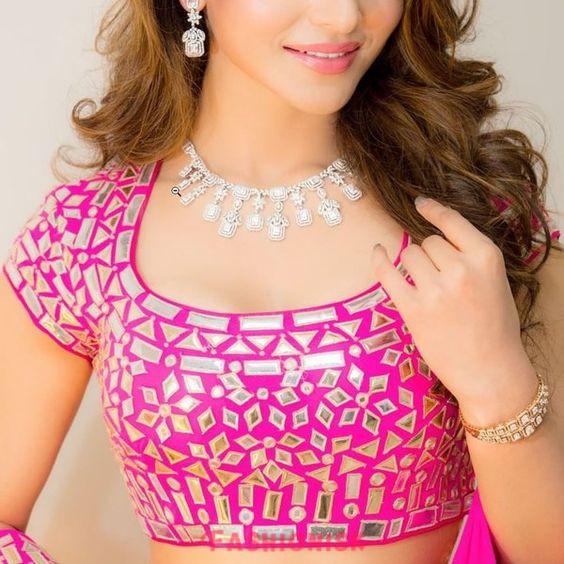 Blouse Sleeves Design Frill
Frills are all about fun and flair. When you choose a blouse sleeves with frills, you're adding a playful element to your look. Frills can be subtle, with just a single layer, or more extravagant with multiple tiers. They go well with both casual and formal outfits. This design adds movement and texture, making the blouse more eye-catching. Pair it with a simple skirt or jeans to let the sleeves do the talking. Trust me, frill sleeves are a great way to add a lively touch to your outfit.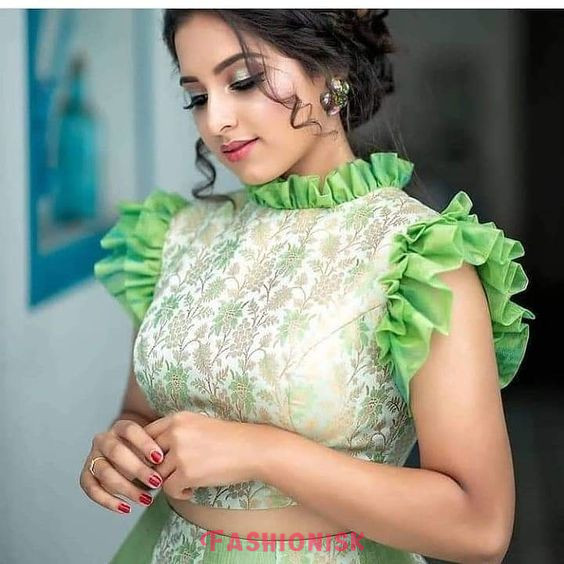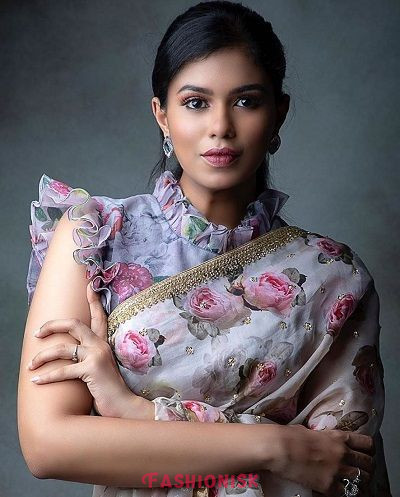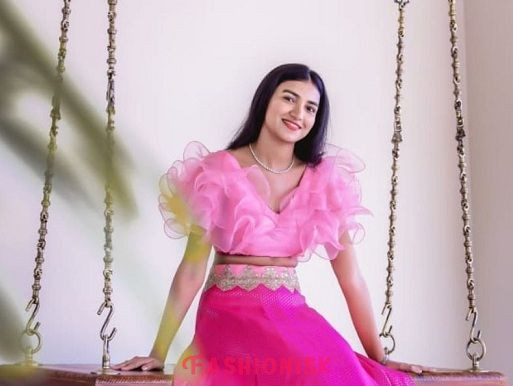 Balloon Sleeves Blouse Designs
Balloon sleeves are making a big comeback. These designs give a vintage yet modern look that screams style. When you opt for a blouse with balloon sleeves, you're going for drama and volume. The sleeves puff out and then cinch at the wrist, creating a balloon effect. They're a great choice if you want to add a dramatic touch to a simple outfit. You can keep the rest of the blouse simple to let the sleeves stand out. Ideal for casual hangouts or formal gatherings, balloon sleeves blouse designs are versatile and stylish.
Your Ultimate Guide to Choosing the Perfect Blouse Sleeves
Understand Your Body Type: The first step in choosing the right sleeves is understanding your body type. Different sleeve styles can accentuate or downplay certain body features. For example, if you have broad shoulders, you might opt for raglan or dolman sleeves to create a balanced look.
Consider the Occasion: Different events call for different sleeve styles. For a formal business meeting, you might choose full-length or three-quarter sleeves. On the other hand, cap sleeves or sleeveless designs might be more appropriate for casual outings.
Fabric Matters: The material of the sleeve can drastically change how it drapes and feels. Cotton sleeves offer a more structured look, while chiffon or silk sleeves can add a flowy, elegant touch.
Seasonal Choices: The season can influence your sleeve length and style. Light, short sleeves or sleeveless options are great for hot summer days, while longer sleeves in heavier fabrics are ideal for colder months.
Personal Style: Always consider your personal style. If you lean towards a minimalist aesthetic, you might go for simple, straight sleeves. If you're more into trends, dramatic styles like puff or balloon sleeves could be more up your alley.
Think Versatility: Ideally, you want a sleeve style that pairs well with different types of bottoms, from skirts to trousers. A simple long sleeve or three-quarter sleeve often offers the most versatility.
Detailing and Embellishments: Lace, embroidery, or sequin details can transform an otherwise simple sleeve into a statement piece. However, make sure not to overdo it if the rest of your blouse is already heavily detailed.
Comfort is Key: Regardless of how stylish a sleeve may look, if it's not comfortable, you won't enjoy wearing it. Always prioritize comfort, especially if you plan to wear the blouse for extended periods.
FAQ's
What are the trending styles in blouse sleeves design for 2023?
The trending styles for 2023 include puff sleeves, balloon sleeves, and net sleeves with intricate embroidery. Frill and ruffle designs are also making a comeback.
Can sleeve design change the overall look of a blouse?
Absolutely. The design of the sleeve can dramatically alter the appearance and style quotient of a blouse. For instance, ruffle sleeves can add a playful, feminine touch, while full sleeves can offer a more elegant and formal look.
What factors should I consider while choosing the fabric for blouse sleeves?
The fabric should align with the occasion, the weather, and the overall style you're aiming for. Lighter fabrics like chiffon are great for casual or summery looks, while richer fabrics like silk or velvet work well for formal events.
Are long sleeves a good choice for summer?
It depends on the fabric and personal preference. Long sleeves made from breathable fabrics like cotton or linen can be comfortable even in warm weather. However, many prefer short sleeves or sleeveless designs for summer.
How can I add a modern twist to traditional blouse sleeves?
You can modernize traditional blouse sleeves by incorporating contemporary elements like cutouts, asymmetrical designs, or contrasting fabric panels. Adding embellishments or modern embroidery patterns can also update the look.
Sleeve Your Mark
In summary, the blouse sleeves can make or break your outfit. Choose wisely based on your body type, occasion, and personal style. Experiment with trending styles like puff or net sleeves to stay ahead of the fashion curve. Always remember that comfort is key. No matter how stylish a design looks, it has to feel good on you. So take a chance, get creative and let your sleeves do the talking. With the right choice, your blouse sleeves design can become the highlight of your ensemble.
People Also Searched For
Comments