#Women's Fashion
Back Hand Mehndi Design: Transform Your Hands into Art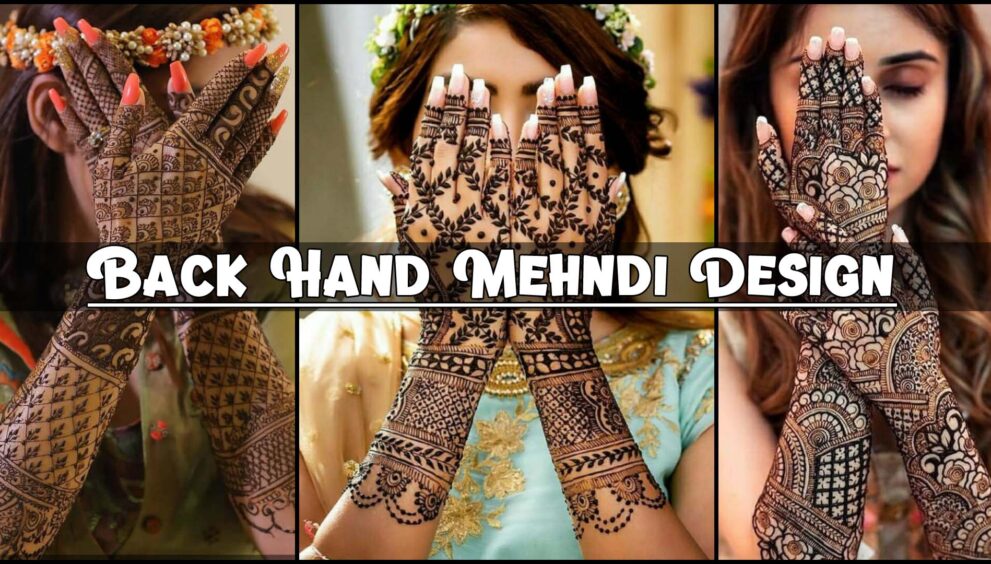 This ancient art form has graced the hands of brides, festival-goers, and art lovers for centuries. Henna is more than just a temporary tattoo. It represents beauty, joy, and tradition all rolled into one. But why stick to only the palms when you can transform the entire hand into a canvas? That's where back hand mehndi design come into play.
The back of the hand is a perfect area to showcase intricate patterns and bold designs. Whether you prefer floral motifs, geometric shapes, or a blend of both, the options are endless. Traditional patterns are a classic choice. They often feature delicate paisleys and vines stretching across the back of the hand. But if you like to walk the modern path, chic and minimal designs might be your calling. Think of sleek lines and edgy patterns. They offer a contemporary twist while maintaining the essence of this time-honored art form.
Why stop at just a few fingers or a small motif? Go ahead and let your imagination soar. Opt for full coverage designs that span from your wrist to your fingertips. These designs create an impact that's hard to ignore. Celebrities and influencers are also catching on. They flaunt their back hand mehndi designs on social media, setting new trends in this age-old practice.
Creating these designs is not just an activity; it's an experience. It starts with selecting a pattern that speaks to you. Then you dive into the magical process of applying henna. The scent fills the air as you carefully trace the design.
So, let's embark on this artistic journey and explore the fascinating realm of Back Hand Mehndi Design together!
Captivating Styles of Back Hand Mehndi Design
From the elegance of Classic Floral Cascade to the modern touch of Geometric Glamour, there's something for everyone. Step into the cultural richness with Royal Rajasthani or celebrate individuality with Boho Vibes. Each style offers a unique blend of artistry and tradition. Whether you want a design that's intricate and regal or something simple and chic, the back of your hand can become a canvas for your expression. Don't miss out on this artistic journey that makes every occasion more special.
Classic Floral Cascade
This design is a timeless choice for many. It captures the essence of nature on the back of your hand. Imagine beautiful flowers flowing down from your wrist to your fingers. Each petal comes to life with the rich color of henna. This design never goes out of style. And why should it? It's perfect for weddings, festivals, and even casual events. Classic Floral Cascade can be both intricate and simple. You can opt for full coverage or go minimal. Either way, the design will look stunning.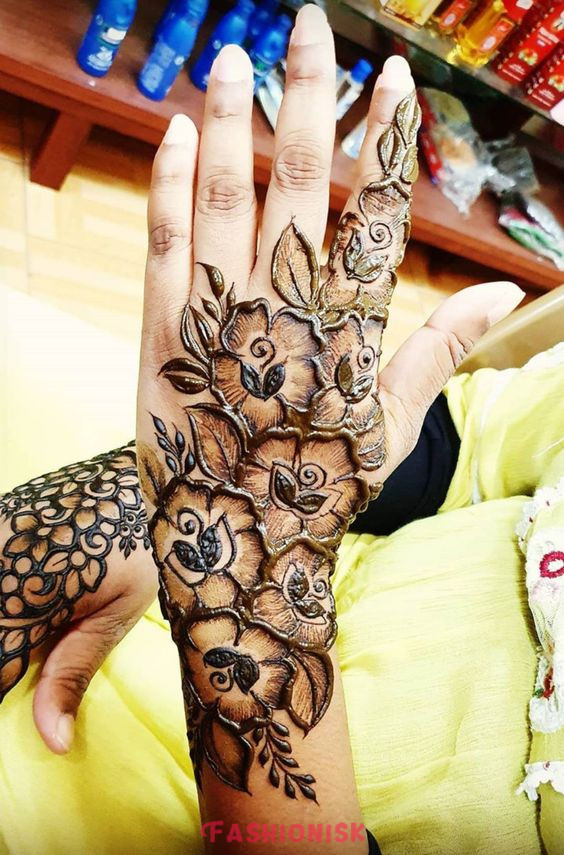 Geometric Glamour
This back hand mehndi design is for those who love symmetry. It features straight lines, angles, and shapes. The result is a sleek and contemporary look. Perfect for those who want to break from tradition. Geometric Glamour fits well with any modern attire. You can wear it to parties or even corporate events. The design gives a sense of balance and style. It's a unique way to make a statement. So why not try Geometric Glamour for your next mehndi session?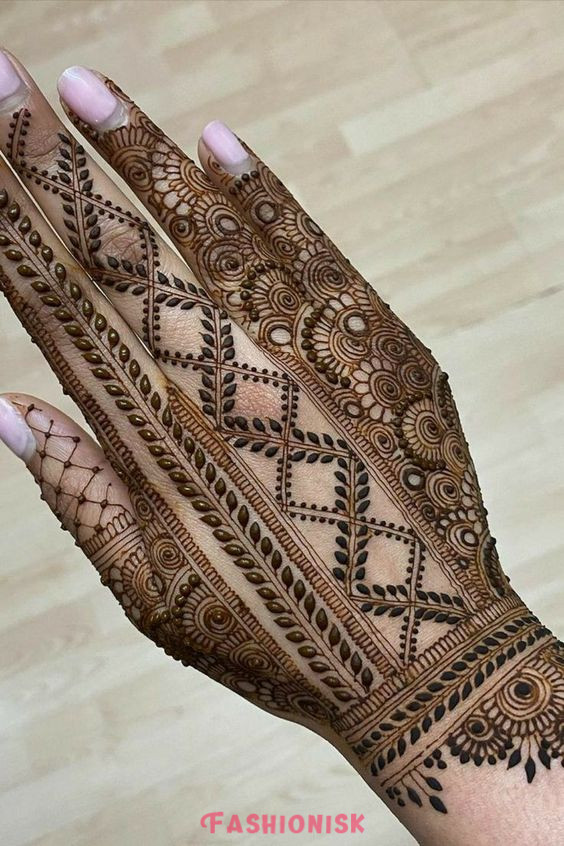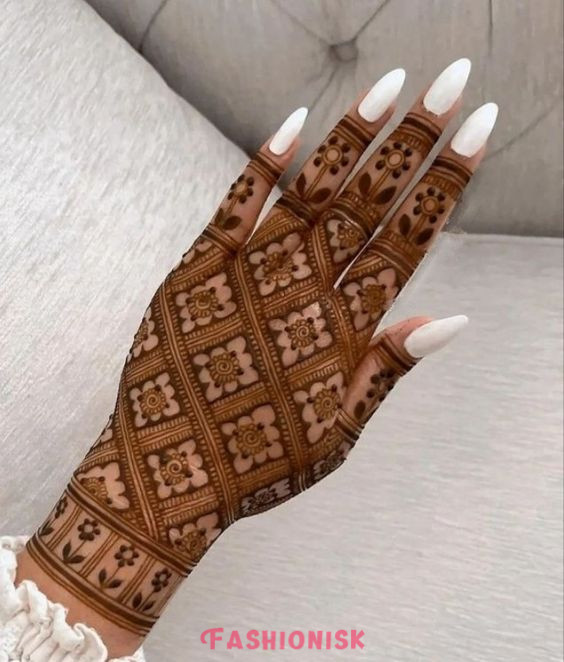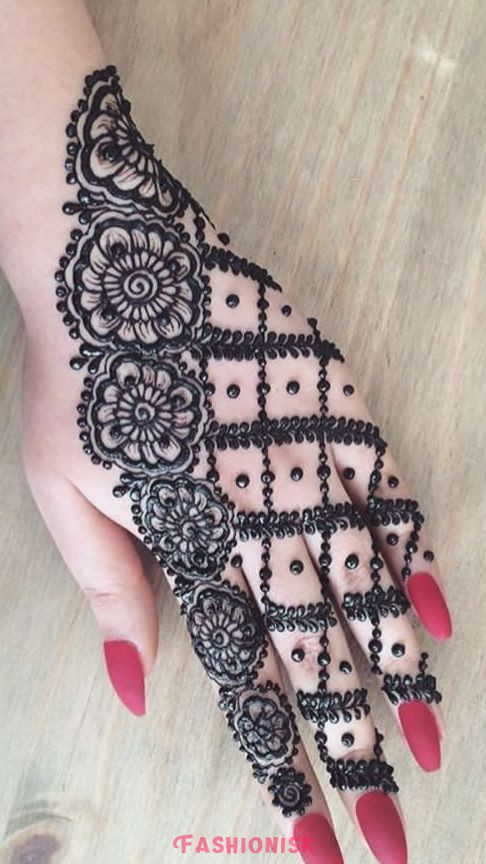 Paisley Passion
This design is a fan favorite. It features the iconic paisley pattern. This design looks stunning on the back of your hand. It offers intricate details that make you stand out. Paisley Passion is a blend of culture and artistry. Perfect for traditional events like weddings or Diwali celebrations. The design is versatile. You can pair it with a saree or a western gown. It's all about bringing your style to life. Paisley Passion is a design you won't regret choosing.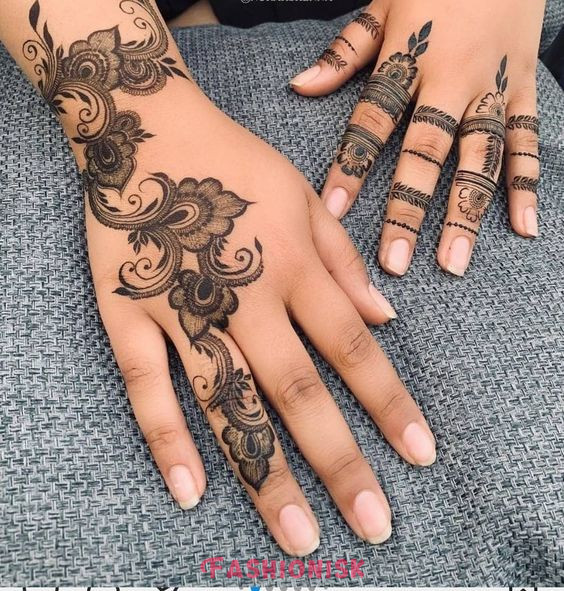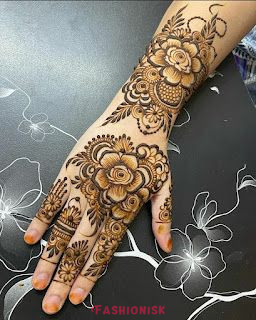 Royal Rajasthani
This mehndi pattern is rich in cultural heritage. It features elements like elephants, peacocks, and intricate vines. Royal Rajasthani is the epitome of grandeur. It's perfect for brides or for anyone who wants to feel like royalty. This design will make you the center of attention. It captures the essence of Indian traditions. Royal Rajasthani is more than just a design. It's an experience that makes you feel like a queen.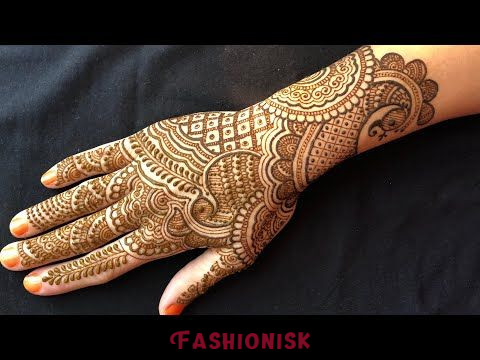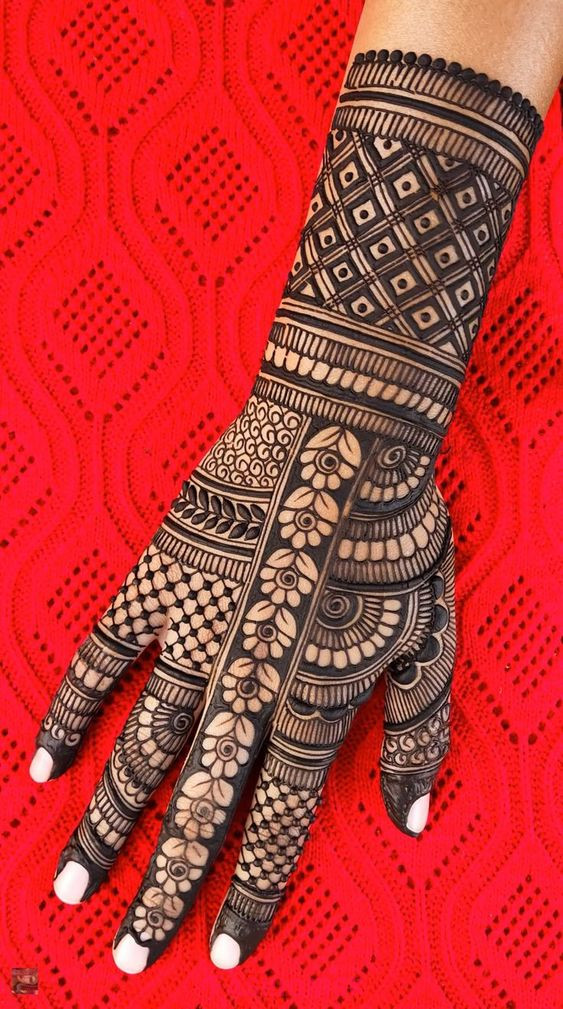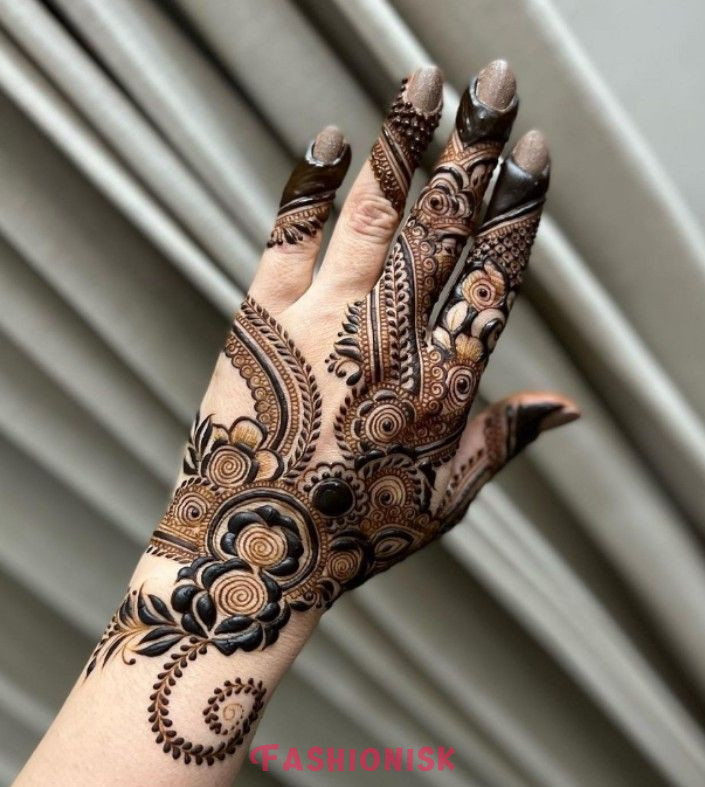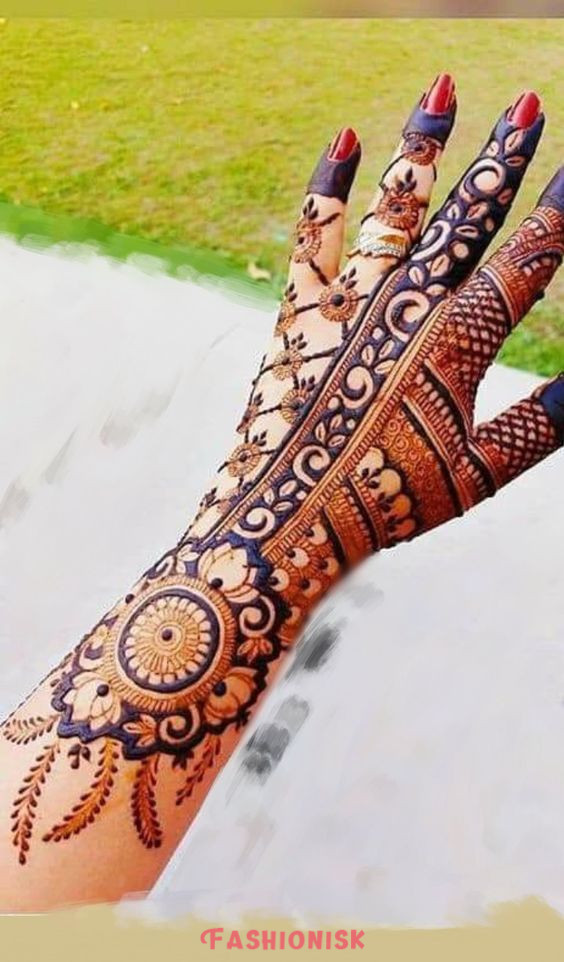 The Fusion Fantasy
This back hand mehndi design is for the adventurous soul. It combines various elements like floral motifs, geometric patterns, and even paisleys. The result is a stunning visual treat. The Fusion Fantasy is all about breaking the rules. Why stick to one style when you can have them all? Perfect for those who love to experiment. This design works well for all kinds of events. It brings out your fun and creative side. The Fusion Fantasy lets you have the best of all worlds.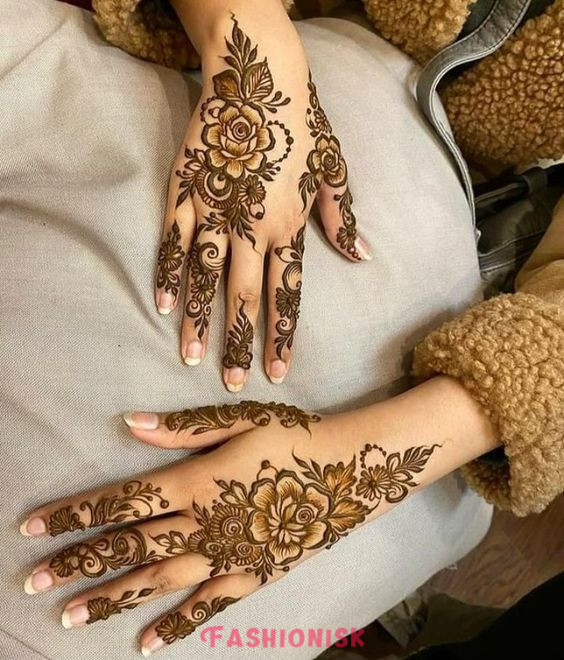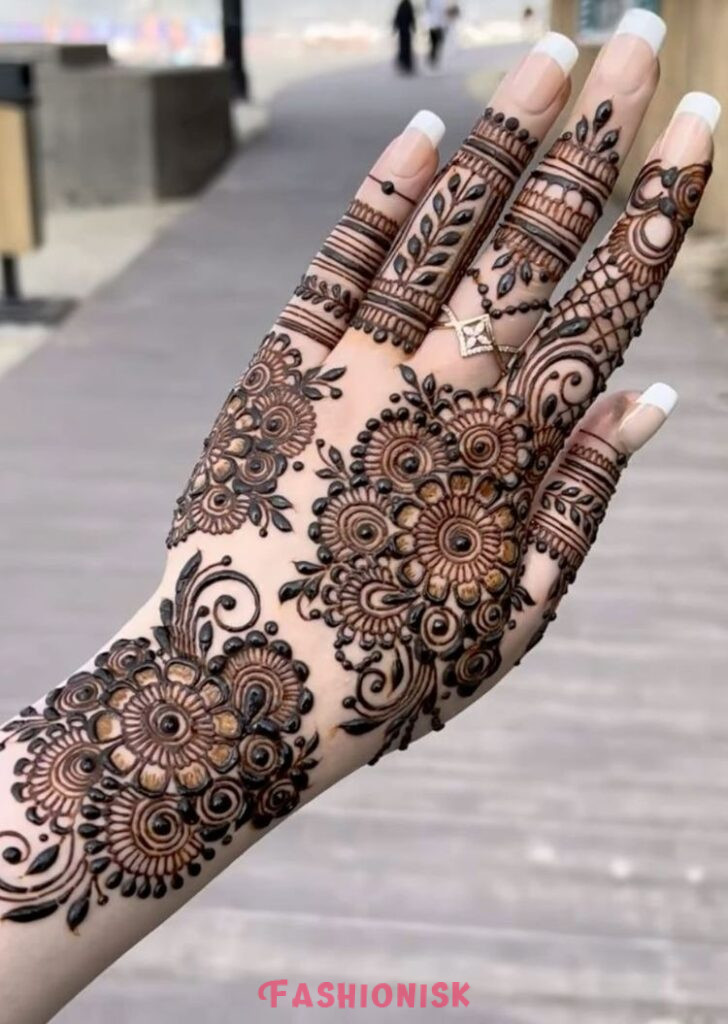 Minimalist Chic
This back hand mehndi design is for those who love the phrase "less is more." Picture delicate lines and tiny motifs gracing your hand. This design is versatile. You can wear it to casual outings or to formal events. Minimalist Chic is elegant and understated. The focus is on simplicity. Yet it never fails to grab attention. This style is growing in popularity. Especially among those who like to keep things sleek and stylish. Minimalist Chic is a perfect choice if you want a light yet impactful design.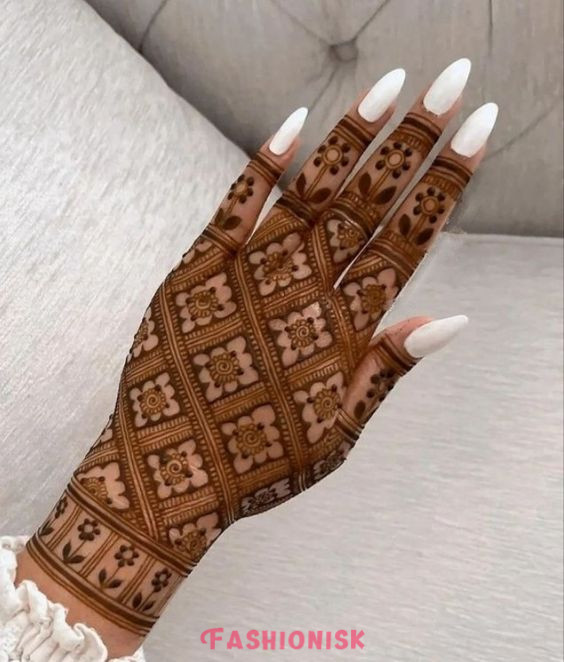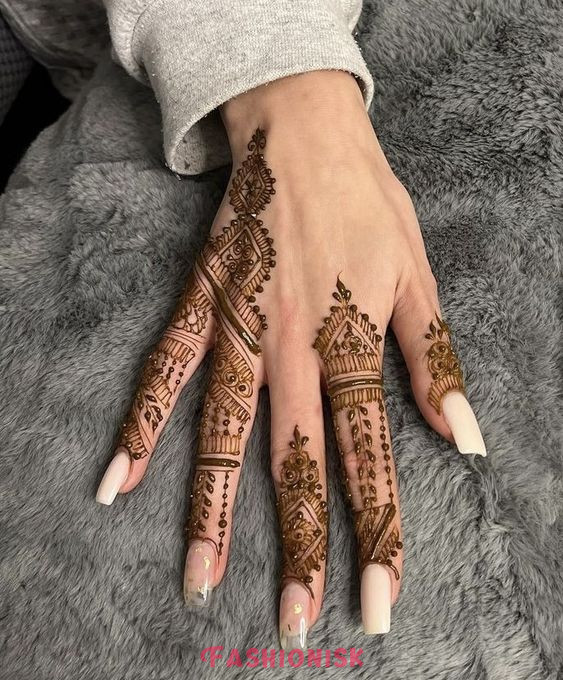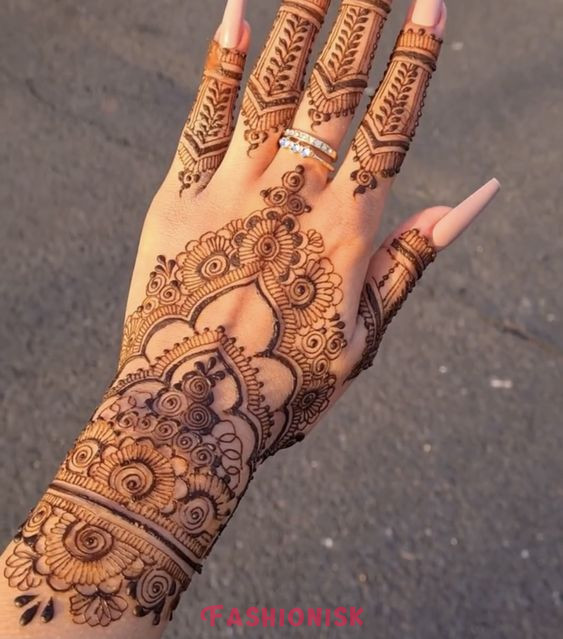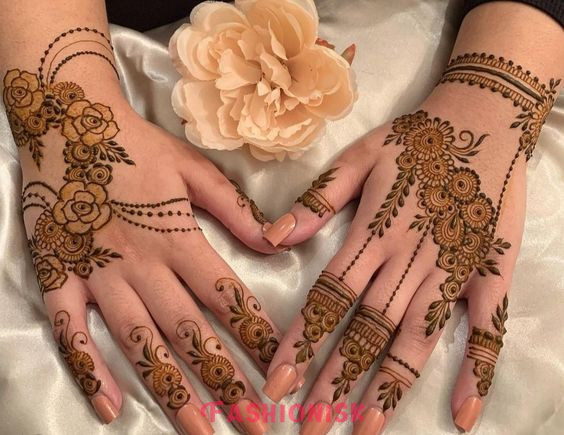 Boho Vibes
This design is all about whimsy and imagination. Envision feathers, dream catchers, and unique shapes adorning your skin. This design is perfect for festivals and beach parties. It brings out the adventurer in you. Boho Vibes let you express your individuality. It takes inspiration from bohemian and tribal art. This design is for those who dare to be different. So go ahead and embrace your inner bohemian with Boho Vibes.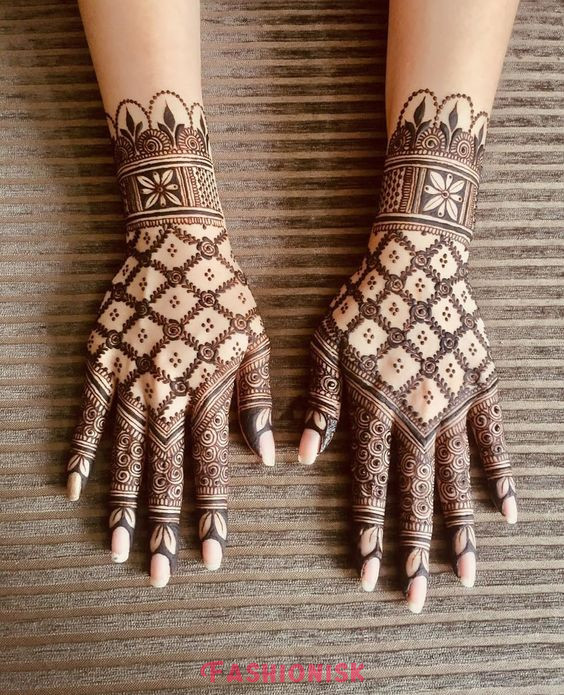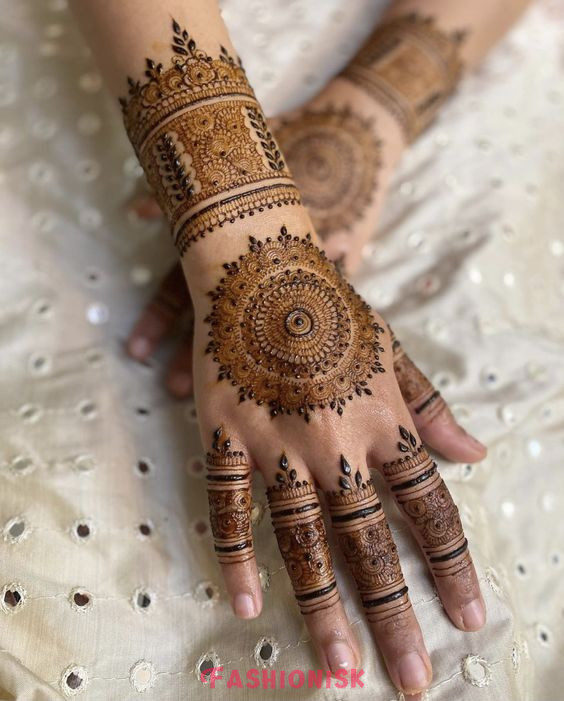 Mandala Magic
This design features a central focal point. From there, patterns radiate outward. The result is a sense of balance and harmony. Mandala Magic is steeped in symbolism. It's more than just a pretty pattern. This design is perfect for spiritual events or yoga retreats. It brings a sense of calm and serenity. People who love symmetry will find this design appealing. Mandala Magic is a perfect way to bring peace and beauty into your life.
Ethnic Elegance
This back hand mehndi design takes you on a global journey. Think of patterns inspired by African, Middle Eastern, or Indian art. This design celebrates cultural richness. Ethnic Elegance is perfect for cultural events or global festivals. It shows that beauty has no borders. This design lets you showcase your appreciation for different cultures. And it does so in a stunning and artistic way. Ethnic Elegance is a true representation of global beauty.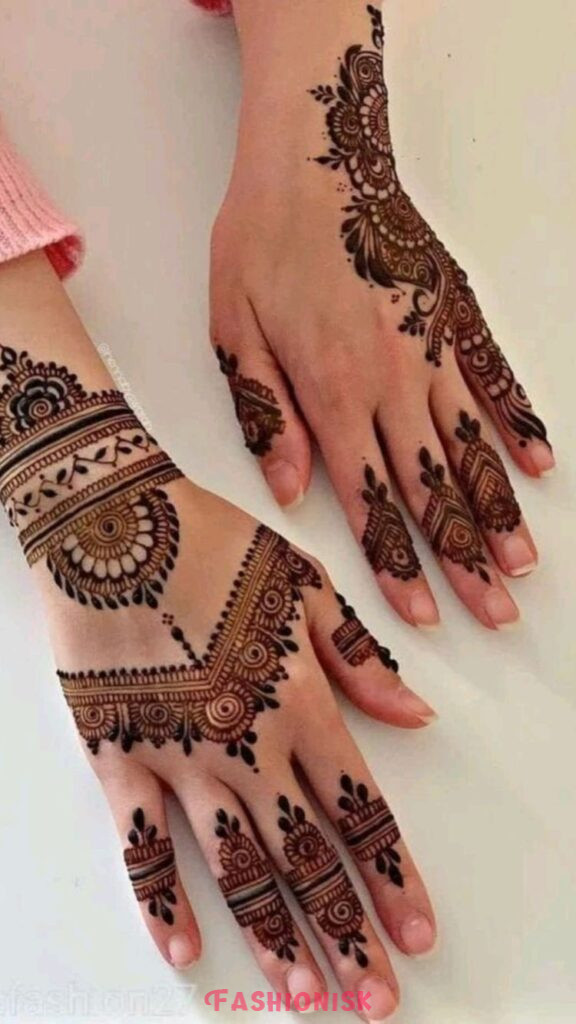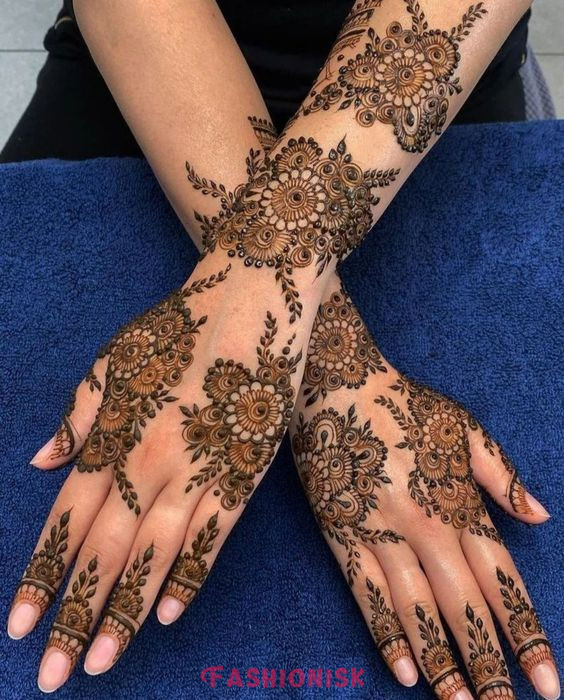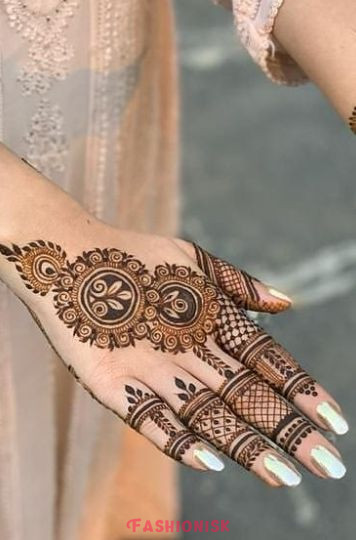 Celebrity-Inspired Glam
This design is for those who love to follow the stars. Picture glamorous patterns that you've seen on your favorite celebrities. This design is perfect for high-profile events or red carpet moments. It makes you feel like a star. Celebrity-Inspired Glam is all about luxury and trend-setting styles. If you want to make a bold statement, this is the design for you. It's not just about imitating what you see on screen. It's about bringing that glam into your own life. Celebrity-Inspired Glam turns you into the trendsetter you've always wanted to be.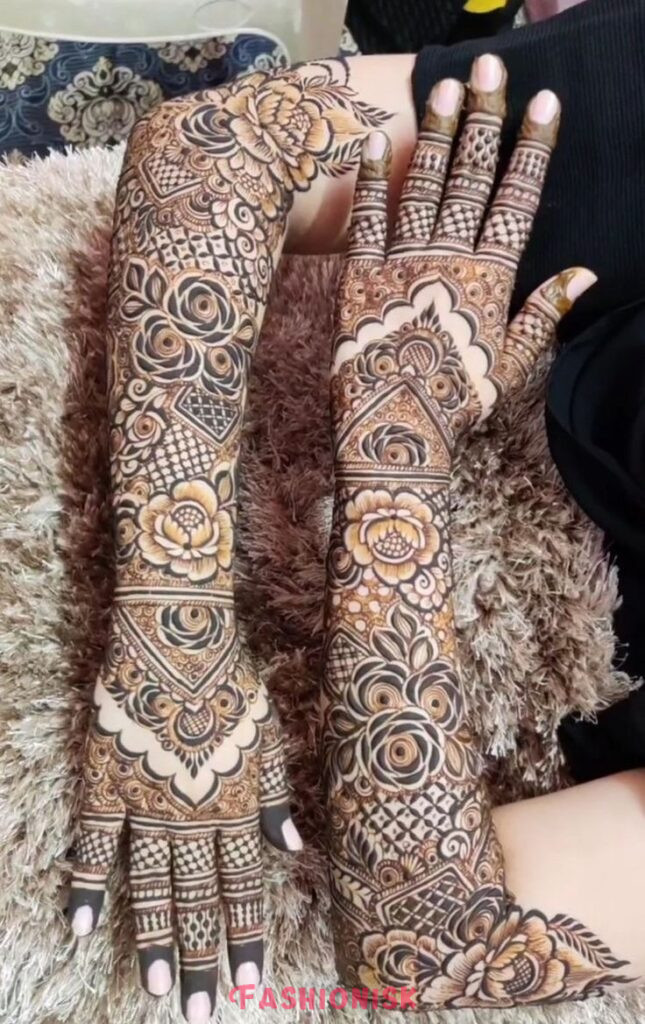 The Lacey Look
This back hand mehndi design is inspired by intricate lace patterns. Imagine delicate vines and tiny flowers gracing your hand. This design is perfect for those who love sophistication. The Lacey Look is often the go-to choice for brides. But it's also a hit at formal parties and high-profile events. Each stroke of the henna adds to the complexity of the pattern. Yet the end result is always graceful. This design brings a touch of Western flair to the traditional art of mehndi. So why wait? Let The Lacey Look bring a touch of refined elegance to your next special occasion.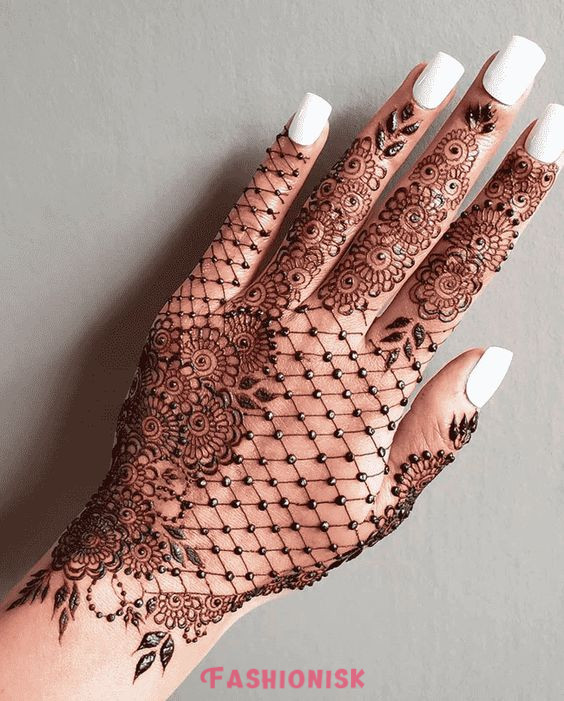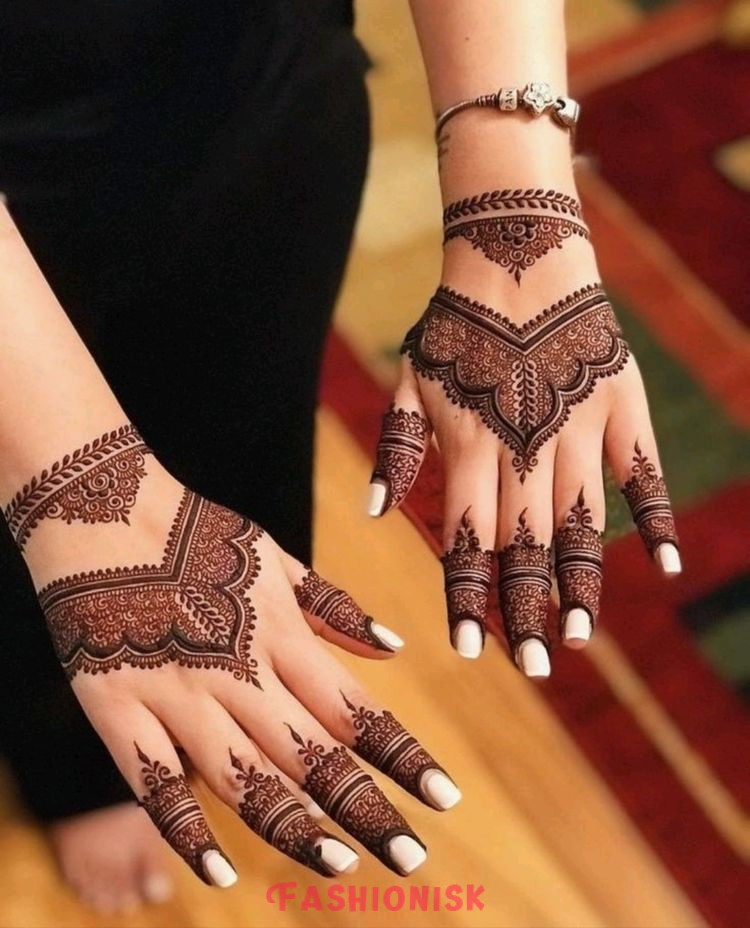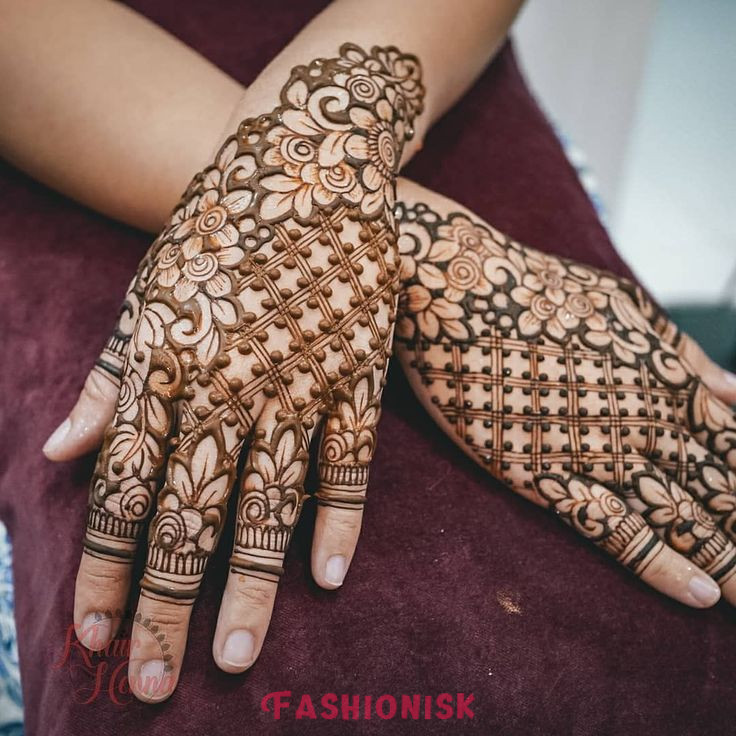 Arabic Artistry
This design showcases the allure of Arabic patterns. Picture bold lines and mesmerizing loops adorning your skin. The design flows from your wrist to your fingertips. It's a continuous stream of art. Arabic Artistry is perfect for festive celebrations like Eid or even casual get-togethers. The design is versatile. It goes well with both traditional and modern attire. What makes it stand out is its ability to capture attention without being too overwhelming. Arabic Artistry balances detail with space. This creates a stunning visual contrast. So go ahead and add a touch of Arabic elegance to your look.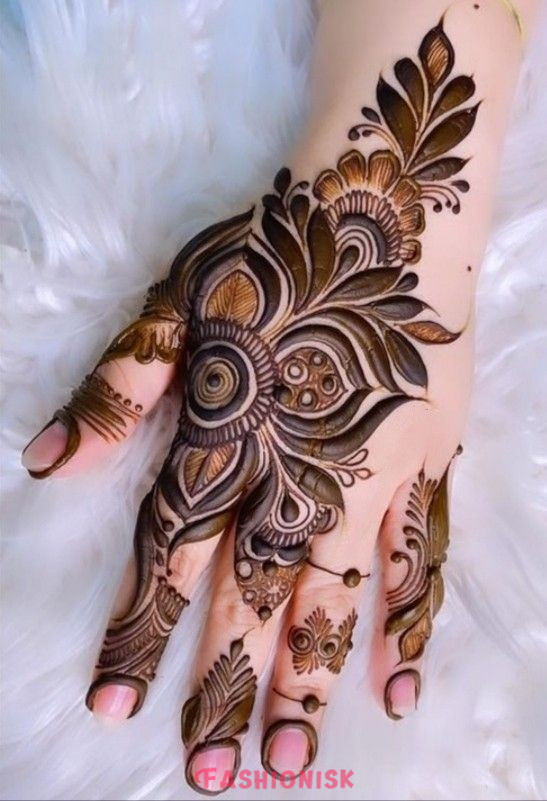 Key Points to Consider for Your Back Hand Mehndi Design
Know Your Event: Choose a design that matches the occasion, be it a wedding, festival, or casual outing.
Consider Complexity: Decide between intricate designs that cover the whole hand or simpler motifs for a minimalist look.
Reflect Your Style: Make sure the design resonates with your personal aesthetic, whether it's traditional or modern.
Time Constraints: Remember, complex Back Hand Mehndi Design require more time to apply and dry, so plan accordingly.
Artist's Skill: Ensure your mehndi artist is skilled in the style you select, as this will affect the final result.
Ink Quality: Opt for high-quality, organic henna for a richer color and safer application.
Skin Sensitivity: If you have sensitive skin, perform a patch test to ensure the henna doesn't cause irritation.
Budget Boundaries: Keep your budget in mind when selecting a design, as more elaborate patterns may cost more.
Trending or Timeless: Decide if you want to follow the latest trends or stick to a classic design that never goes out of style.
Longevity: Think about how long you want the design to last; darker stains and denser patterns usually stay longer.
Check Inspiration: Look through design catalogs, social media, or blogs to get inspired before making a final choice.
Personal Touch: Don't hesitate to add elements that hold personal significance, like initials or symbols.
Quick Answers to Your Burning Questions
How long does Back Hand Mehndi Design last?
Typically, it can last anywhere from one to three weeks, depending on the quality of the henna used and how well you take care of it.
Is it safe to apply henna on the back of the hand?
Yes, applying henna on the back of the hand is generally safe, but it's always a good idea to do a patch test first, especially if you have sensitive skin.
Can I customize my Back Hand Mehndi Design?
Absolutely! Most artists are open to customization, so you can add personal elements like initials, symbols, or even incorporate patterns that hold special meaning for you.
How long does it take to apply a design on the back hand?
The time can vary greatly depending on the complexity of the design. Simple patterns might take 15-30 minutes, while intricate designs can take up to 2 hours.
How can I make my mehndi design darker?
To achieve a darker stain, keep the henna paste on for a longer time and avoid washing your hands immediately after removal. Some people also recommend applying a mixture of lemon and sugar to the drying henna for a darker stain.
Wrapping Up the Wonders of Back Hand Mehndi Design
We've covered the key points on how to pick the perfect design. We've also listed the trending styles that are turning heads. Not to forget, we answered the top FAQs you might have. Choosing a back hand mehndi design can be fun and exciting. Just remember to consider your personal style, the event, and your budget. By keeping these tips in mind, you can turn the back of your hand into a stunning canvas. Let's make your next mehndi application an unforgettable experience!
People Also Searched For
Comments