#Lifestyle
Rangoli Design for Diwali: Crafting Cosmos on the Floor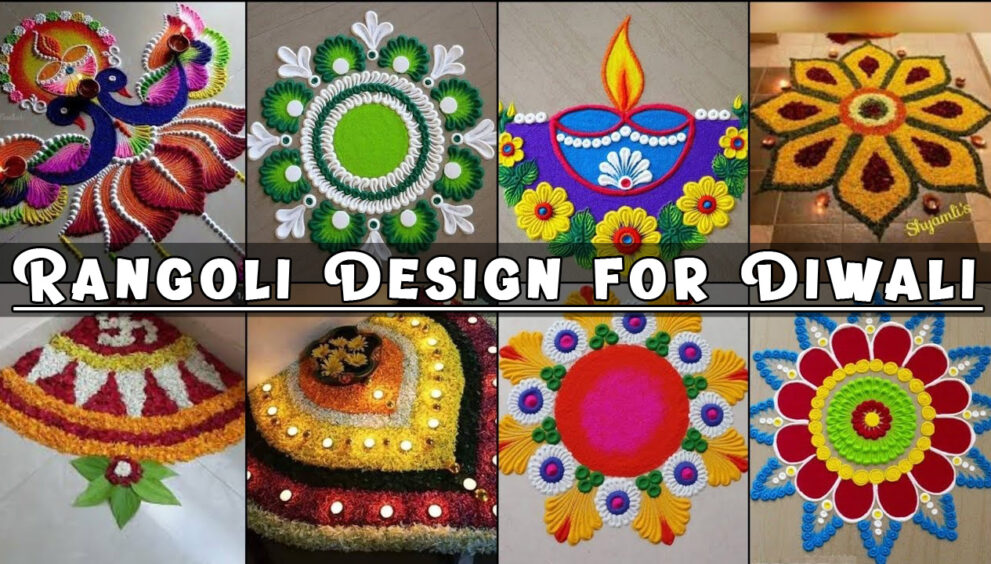 Rangoli Design for Diwali stands as a cherished emblem of India's grand celebrations. Rangoli, a traditional art form, breathes life into homes and courtyards during festive occasions. Drawing inspiration from nature, artists craft patterns of flowers, peacocks, and other elements to create vivid and intricate designs. These patterns serve more than just visual appeal. They channel an aura of positivity and warm welcomes.
Diwali, popularly known as the Festival of Lights, is one of India's most awaited festivals. As families light up their homes with diyas and candles, the Rangoli designs at their doorsteps beckon prosperity and ward off negativity. Making Rangoli is a ritual. People arise early in the morning, cleanse the ground, and then begin crafting their masterpiece. Colors play a key role. They bring the designs to life and invite vibrancy into the surroundings.
With time, the art of Rangoli has evolved. Traditional motifs mingle with contemporary designs, offering a wide array of choices for everyone. From simple geometric shapes to intricate portraits, the range of possibilities is immense. This art form is not just about creating beauty. It is about unity, love, and the joy of celebrating together.
So as Diwali approaches and preparations begin, ensure that your entrance beams with the most beautiful patterns. Dive into the vibrant world of Rangoli Design for Diwali and let your creativity shine.
10 Rangoli Design for Diwali to Light Up Your Celebrations
Diwali is a festival of lights and colors. And nothing captures its spirit better than Rangoli designs. These intricate patterns on the floor set the festive tone right at the doorstep. Some embrace traditions while others showcase modern twists. Each pattern radiates with colors, beckoning joy and prosperity. As you gear up for Diwali, explore these 10 Rangoli designs. Let them light up your celebrations and make every corner shine with festive energy. Dive in and let the floor art begin!
Floral Fantasy
Flowers bring nature into our spaces. They symbolize freshness, growth, and beauty. In the realm of Rangoli Design for Diwali, the Floral Fantasy theme captures these very elements. During Diwali, many artists prefer to create patterns inspired by roses, sunflowers, and daisies. These designs breathe life into spaces and set a vibrant tone for the celebrations. As you explore Floral Fantasy, you'll see how petals and leaves can transform a space. Dive into this theme and let nature's beauty adorn your floors.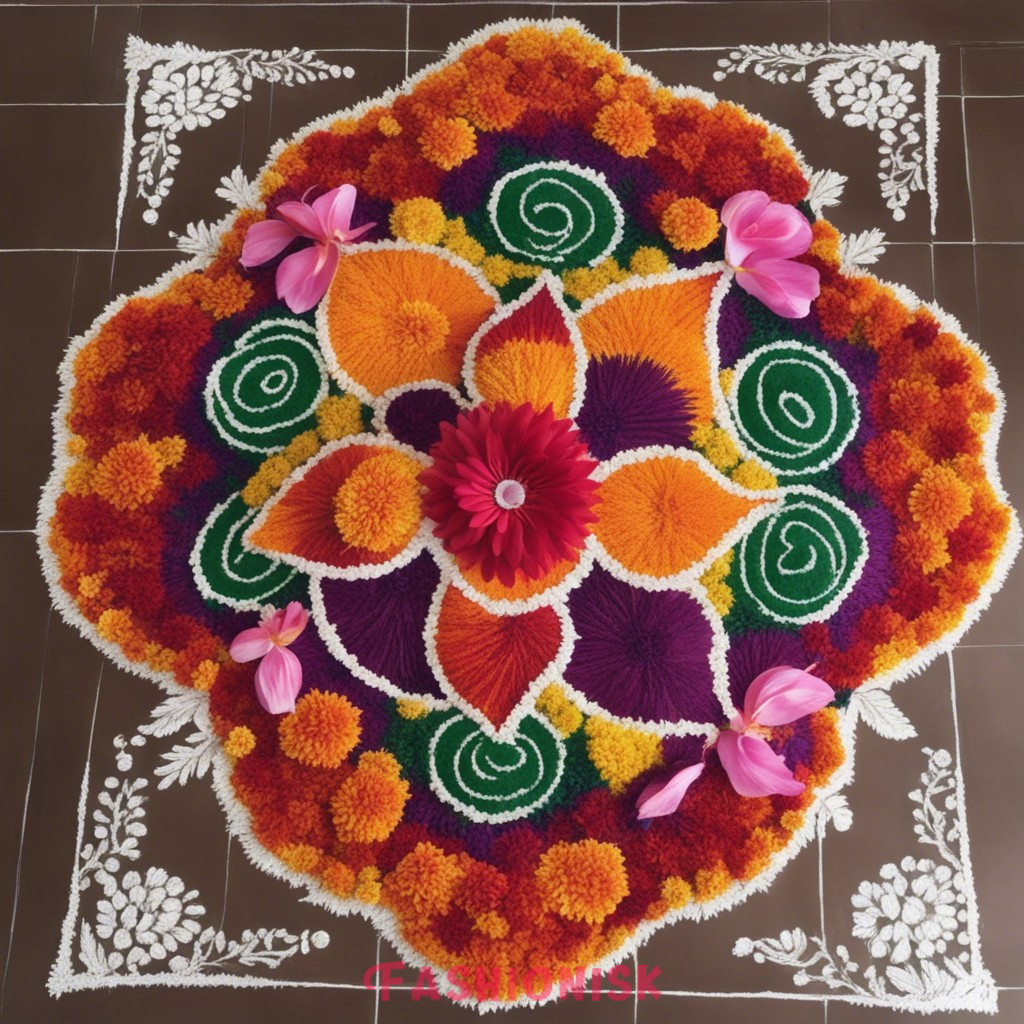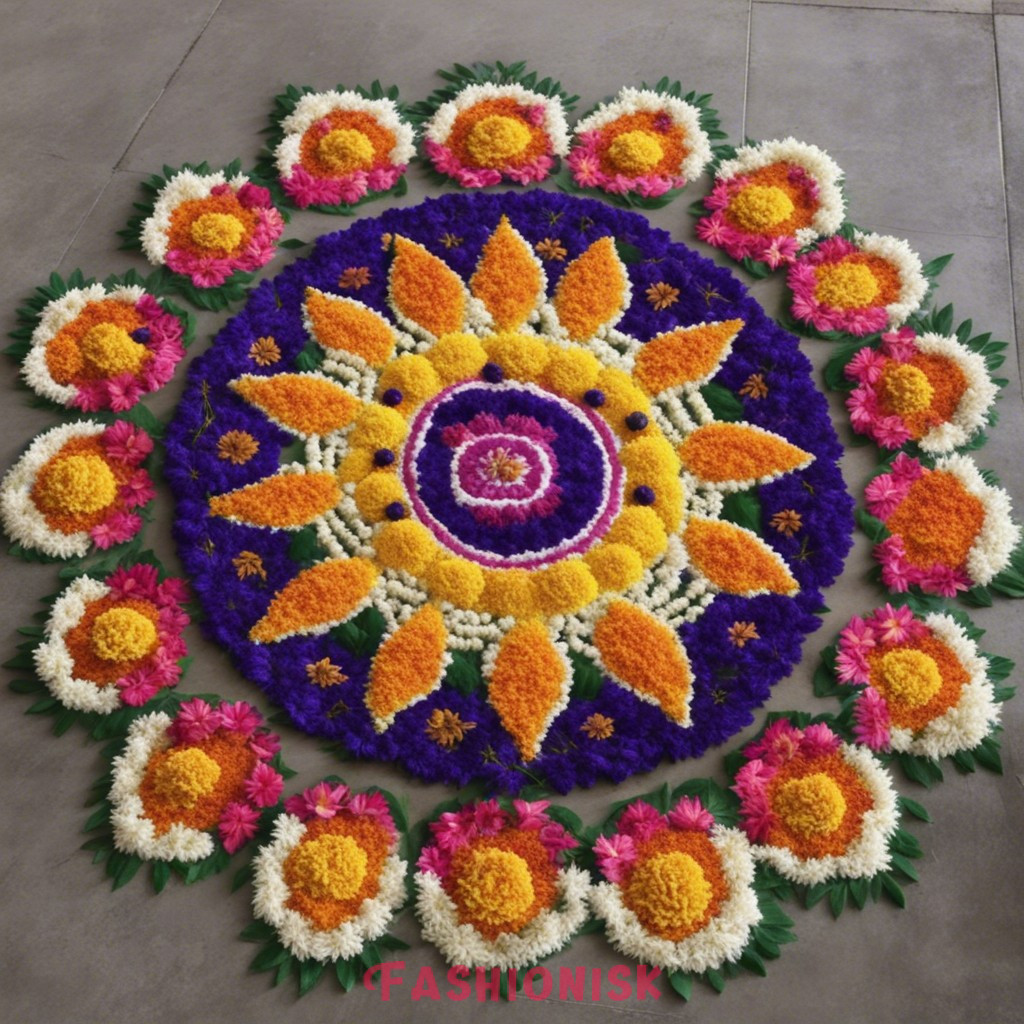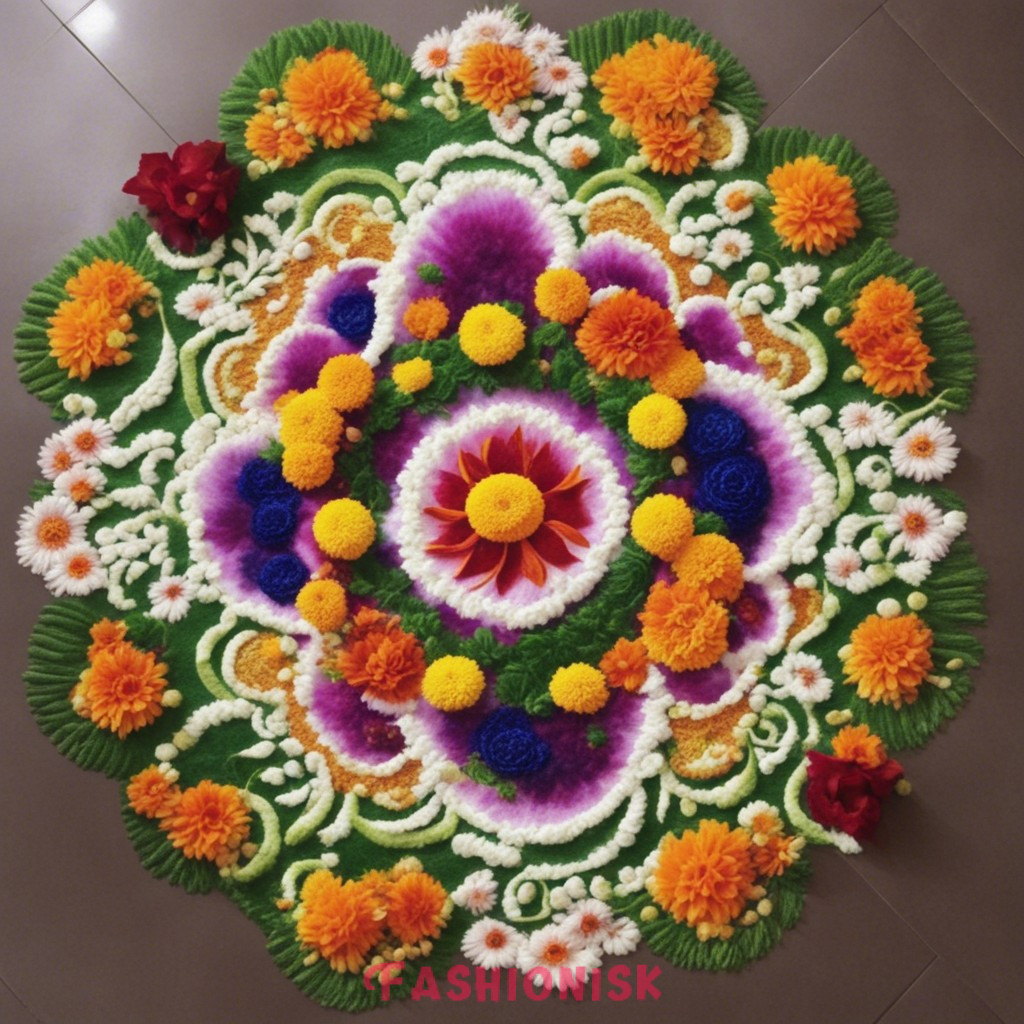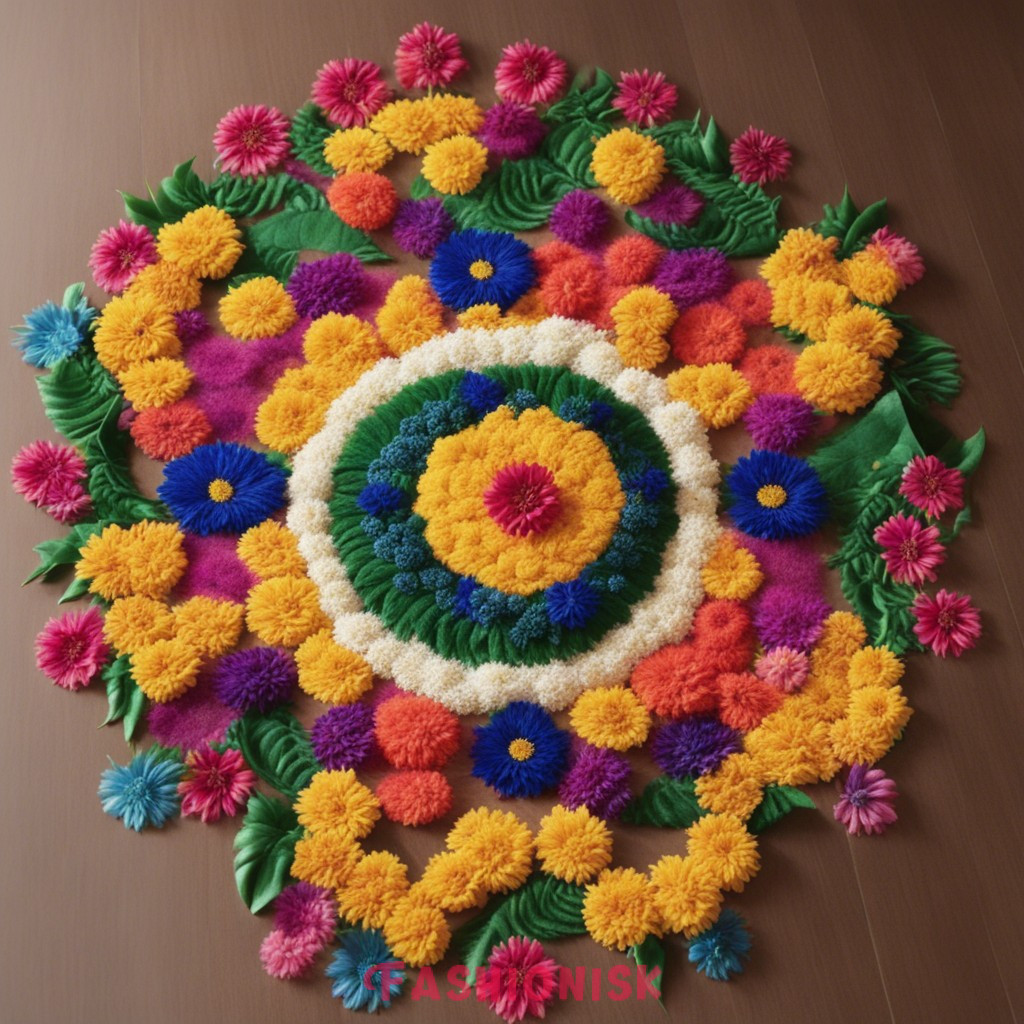 Peacock Parade
The peacock is a symbol of grace and majesty. Its vivid colors and elegant stance make it a favorite in art and design. Peacock Parade in Rangoli Design showcases the bird in all its glory. During Diwali, having a peacock themed Rangoli at your doorstep can be seen as a mark of pride and beauty. Embracing this theme means welcoming elegance and charm right at your doorstep. Let the royal bird inspire your festive decorations.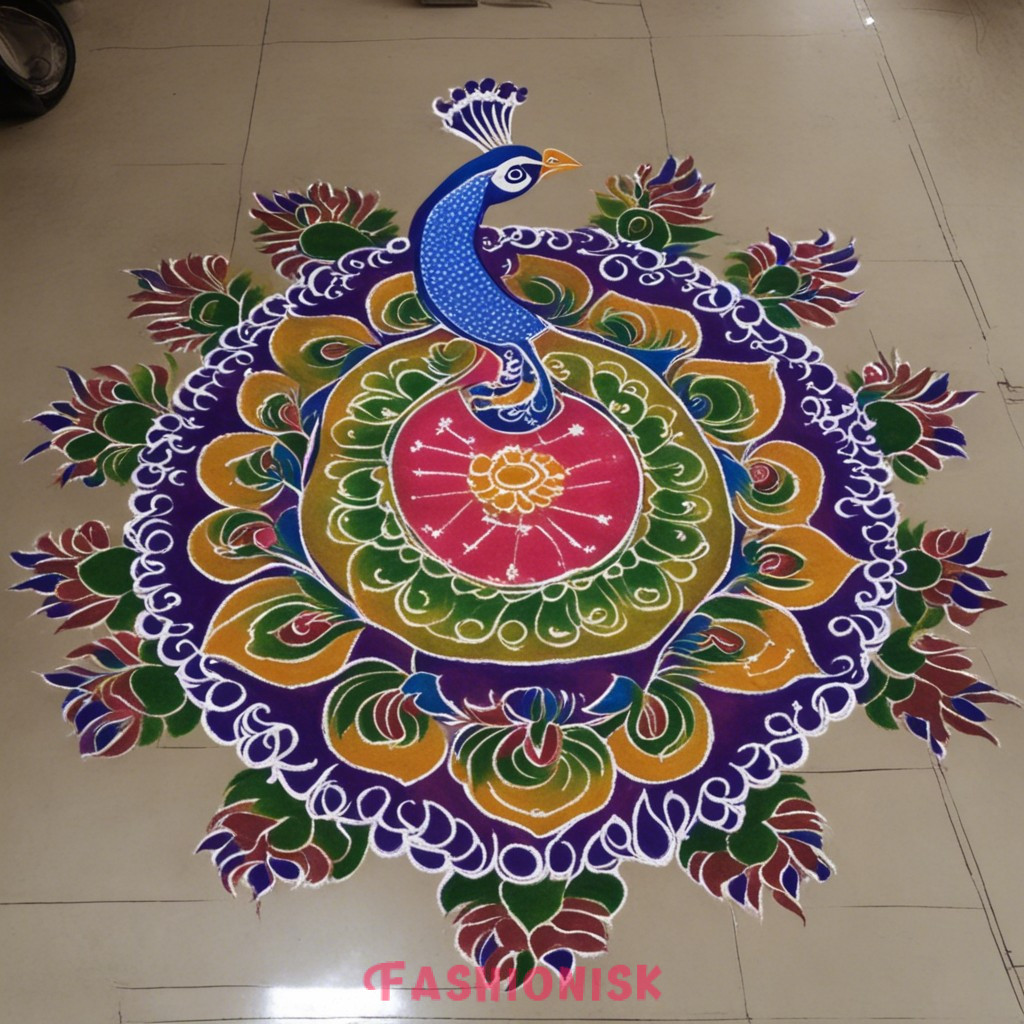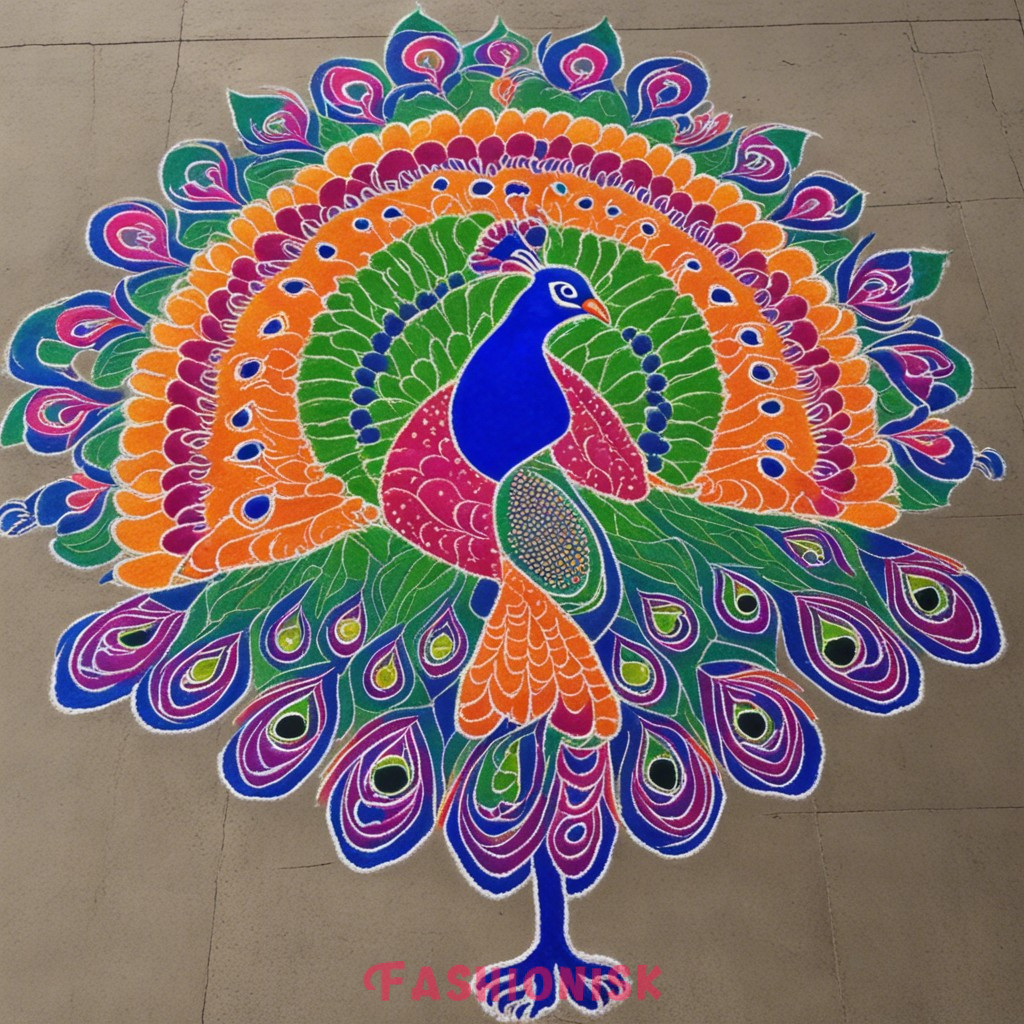 Geometric Glow Rangoli Design for Diwali
Shapes have their own language. They convey order, precision, and modernity. Geometric Glow in Rangoli design offers a blend of tradition with a modern twist. Simple circles, squares, and triangles merge in innovative ways. For those who love minimalistic charm, this theme is a perfect fit. It brings a unique style to Diwali celebrations. So let lines and shapes tell their story this season.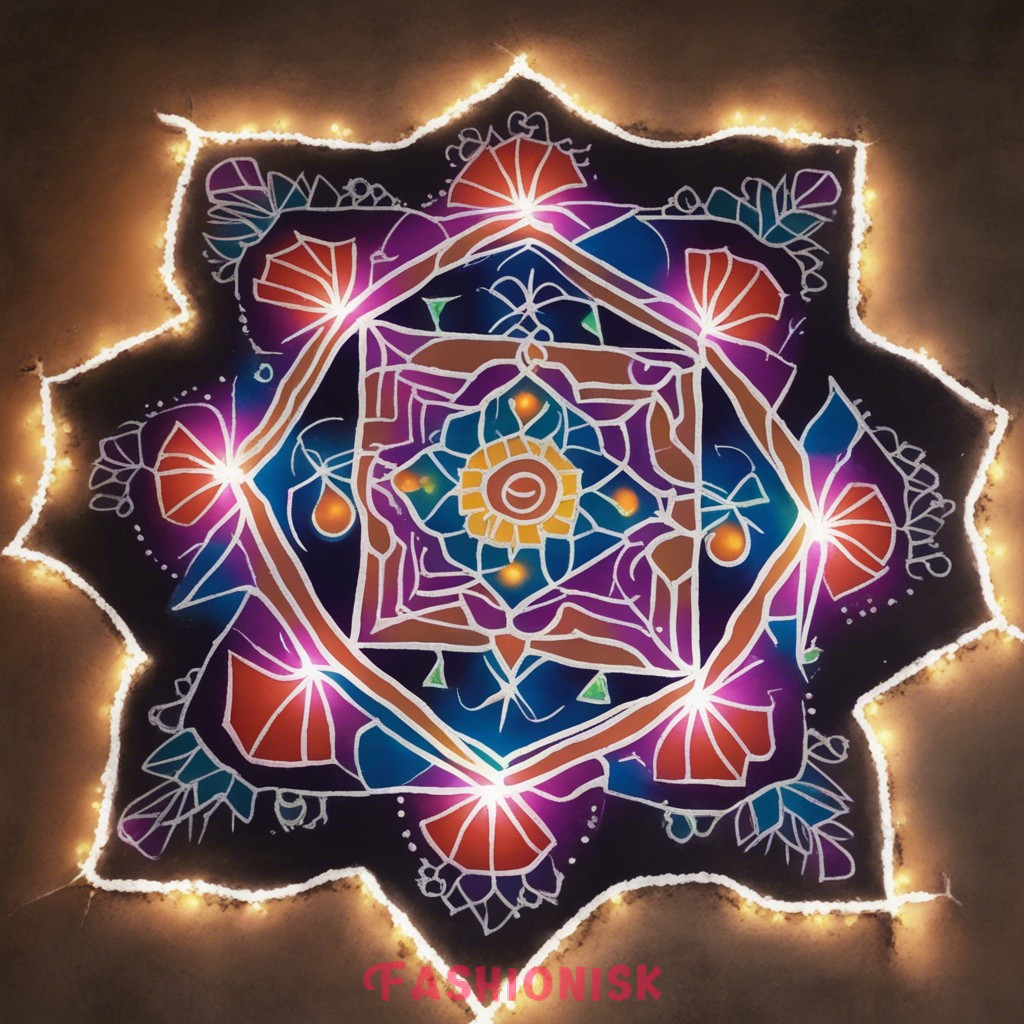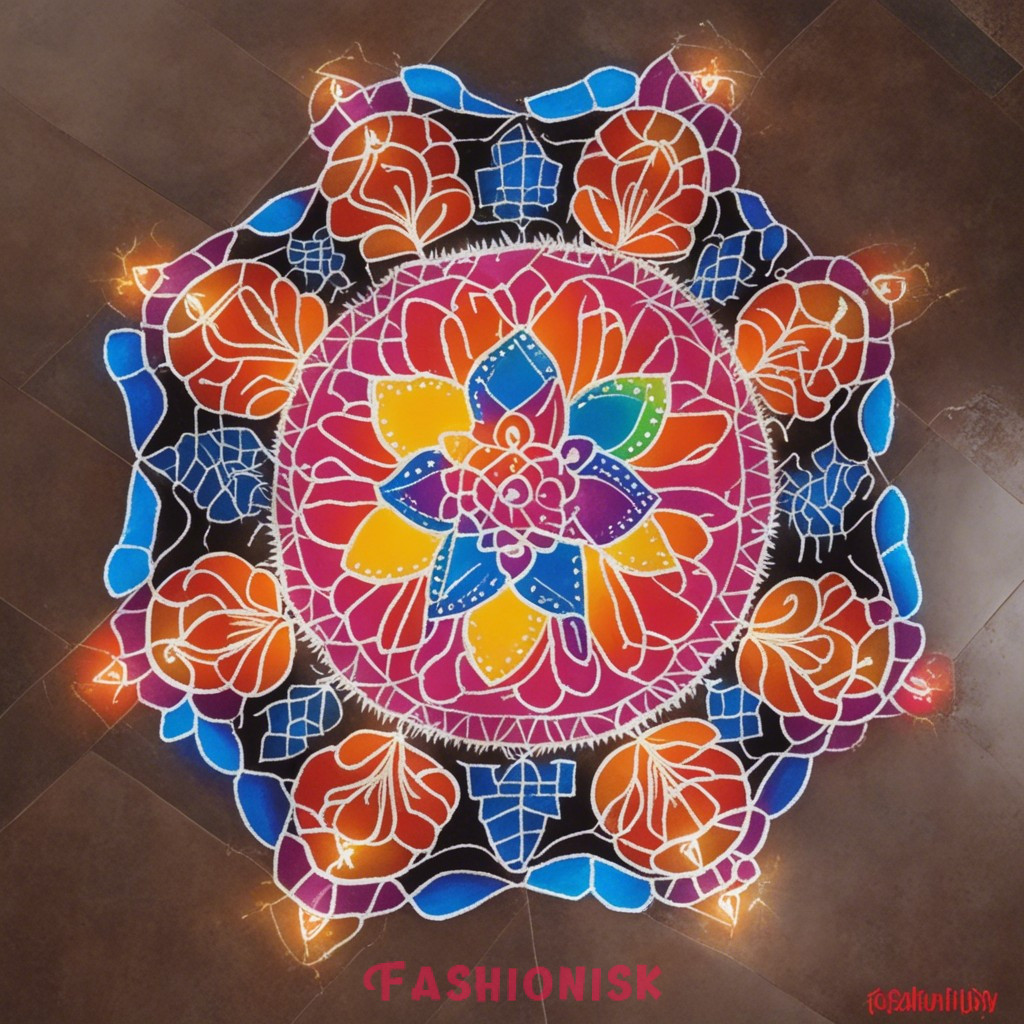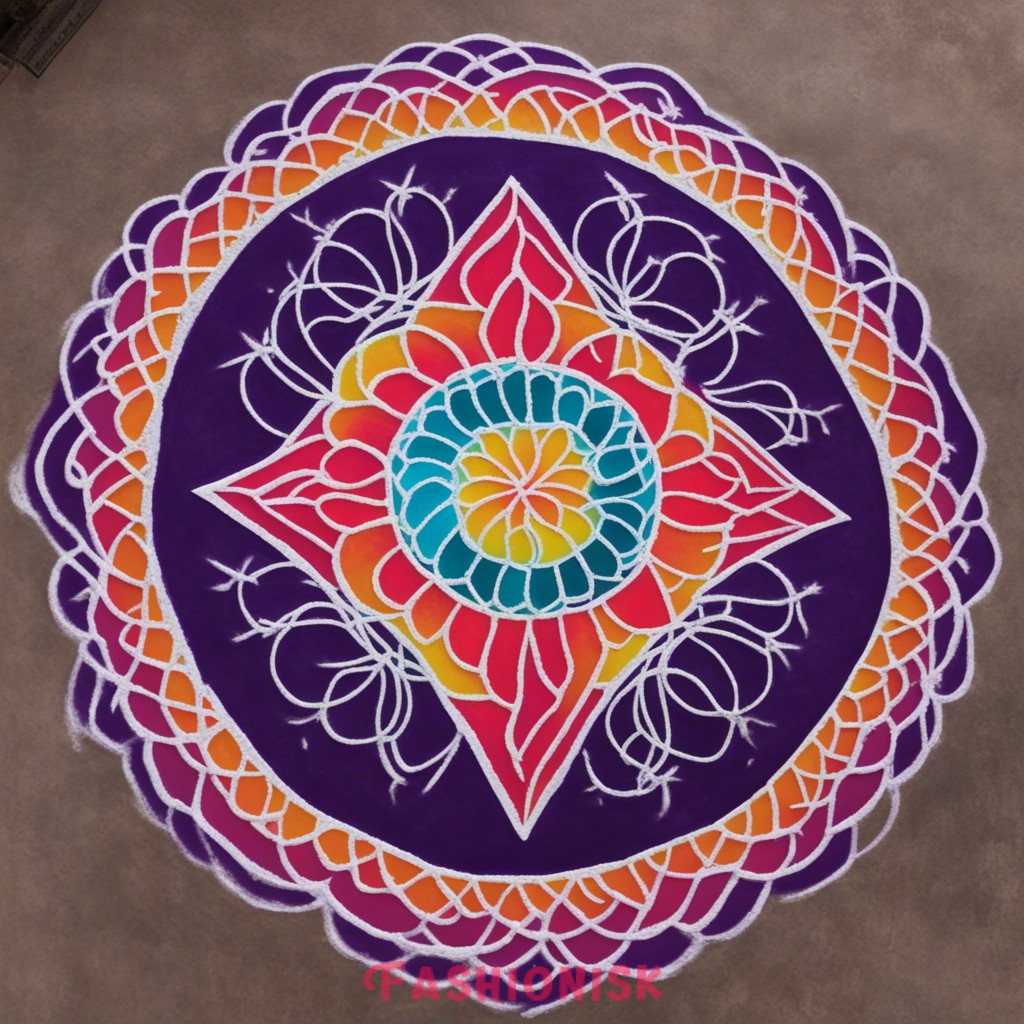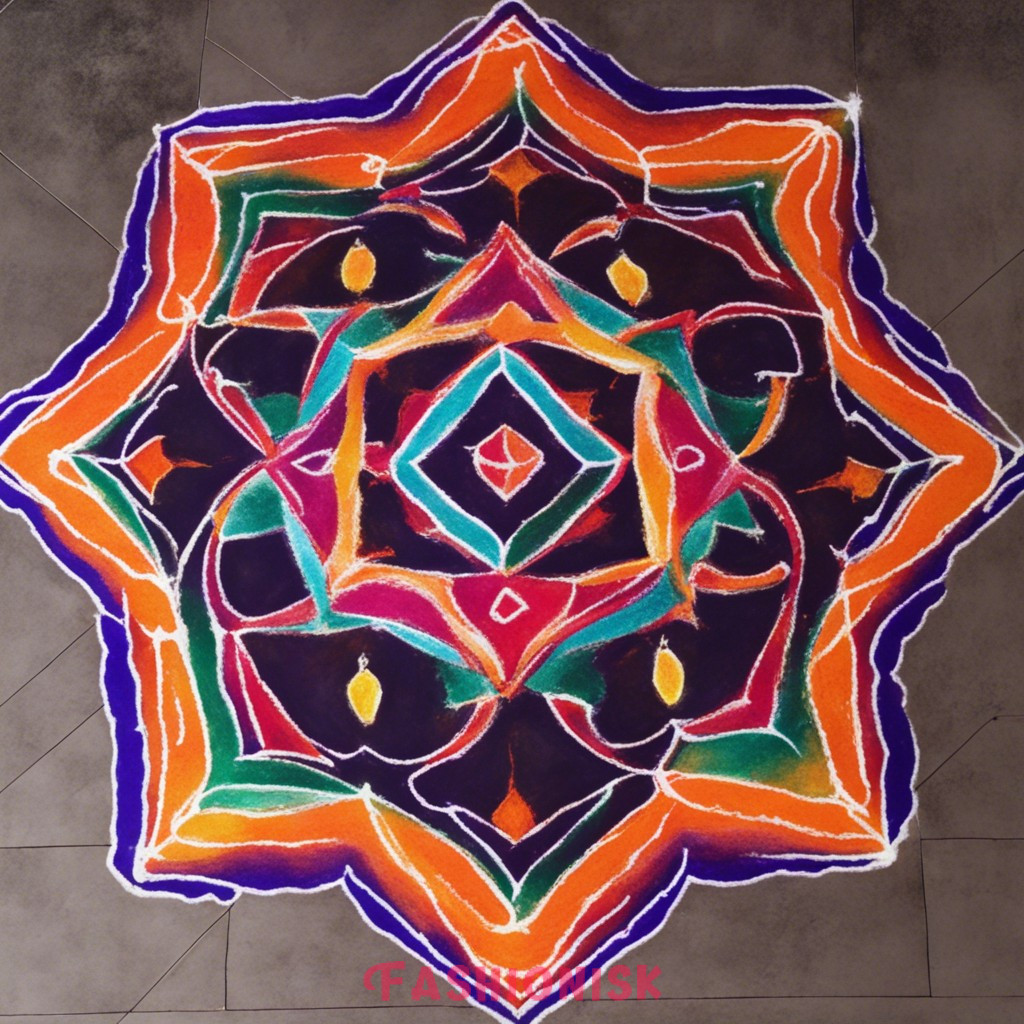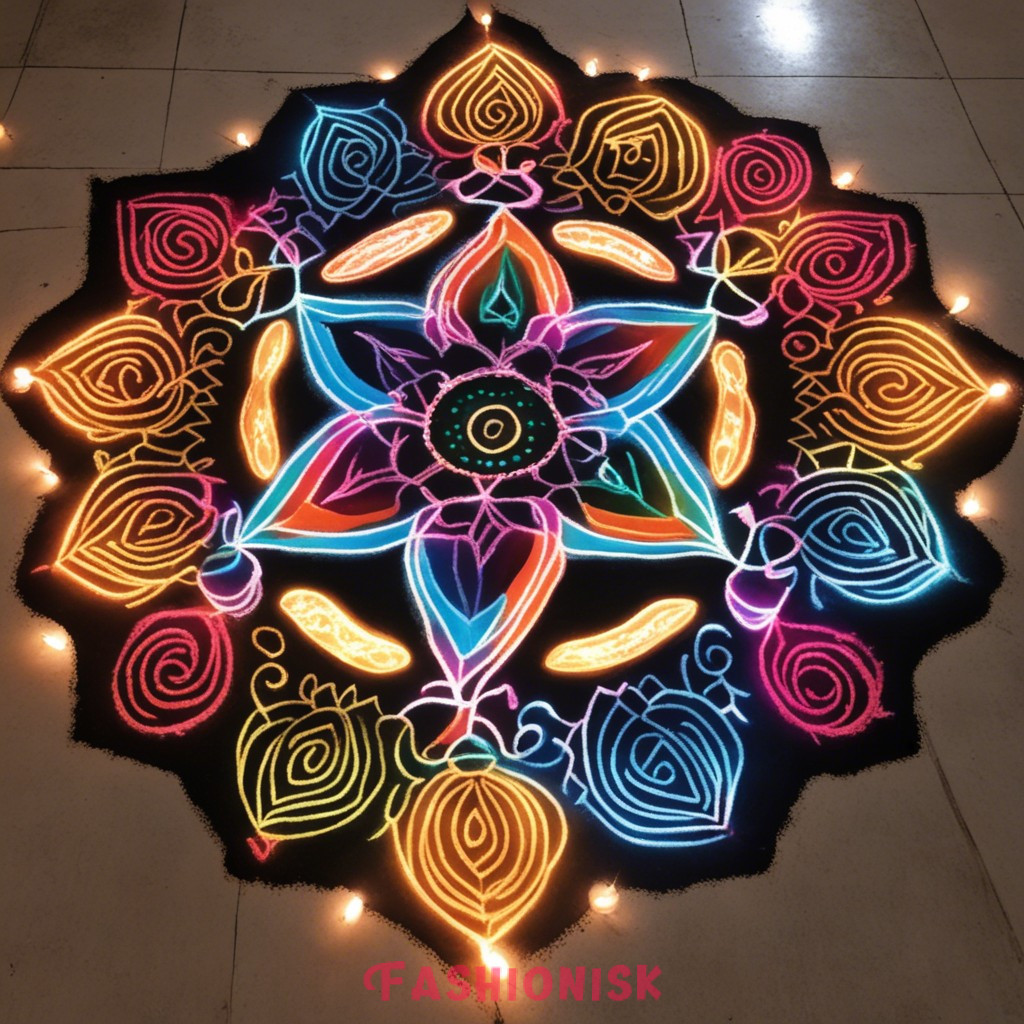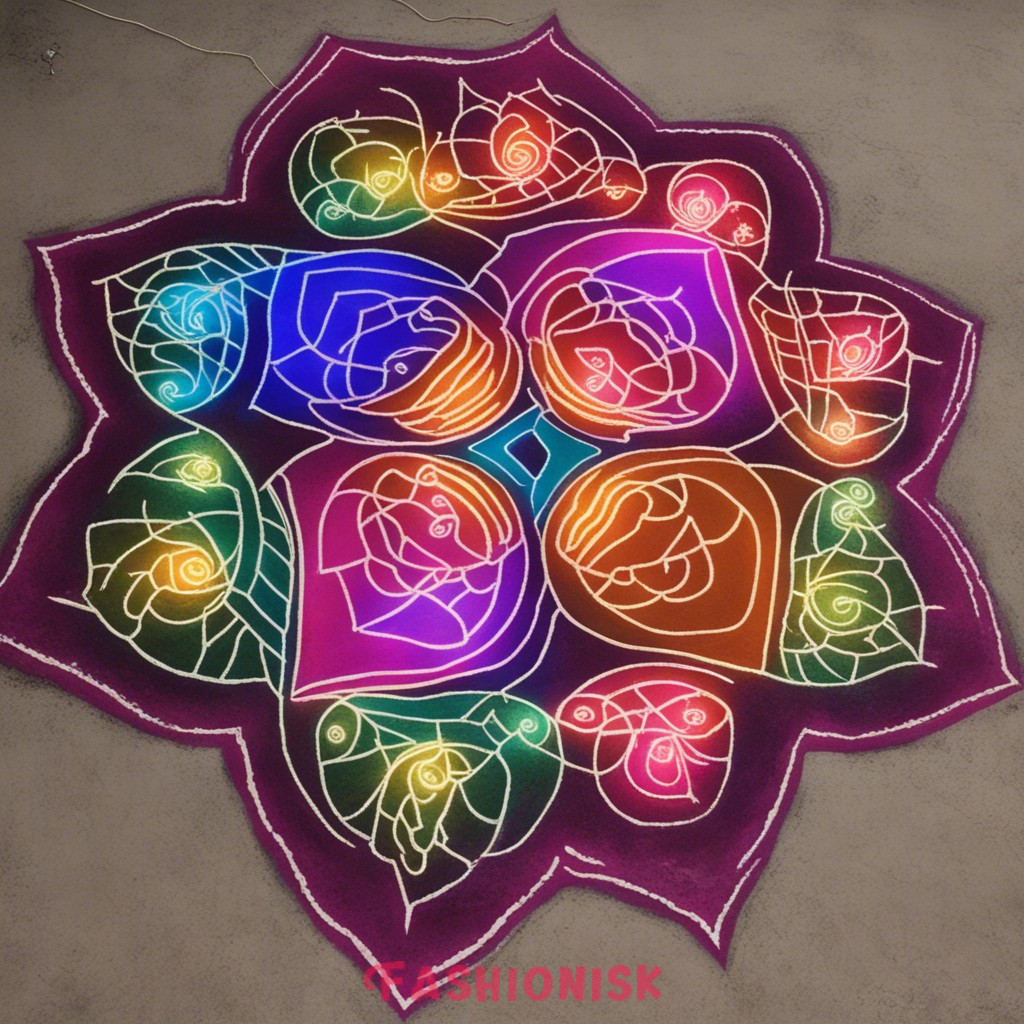 Divine Diya
Diwali is the festival of lights. And what better way to represent it than with the symbol of a lamp or diya. Divine Diya as a Rangoli theme embodies the spirit of the festival. It lights up spaces with patterns of radiant diyas. This design not only looks beautiful but also holds deep cultural significance. By adopting this theme, you're letting light and positivity fill your home.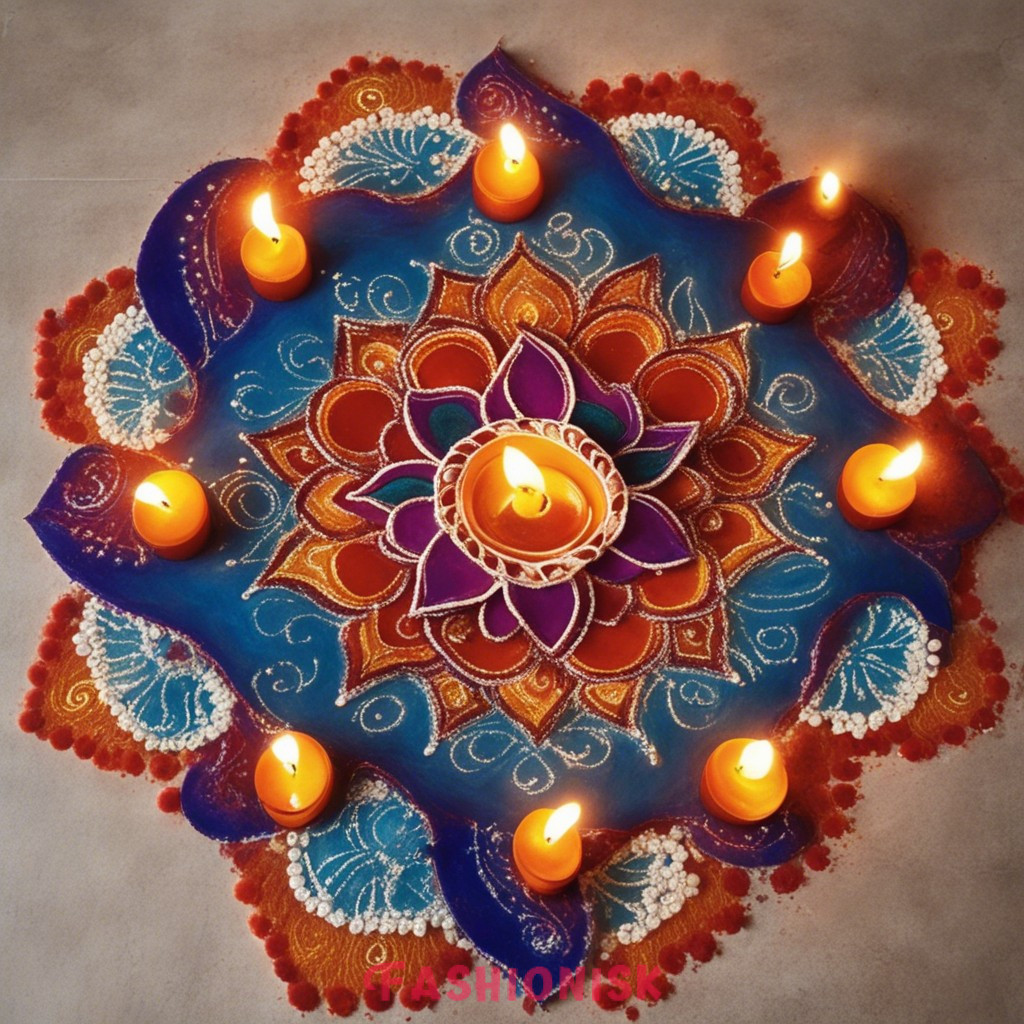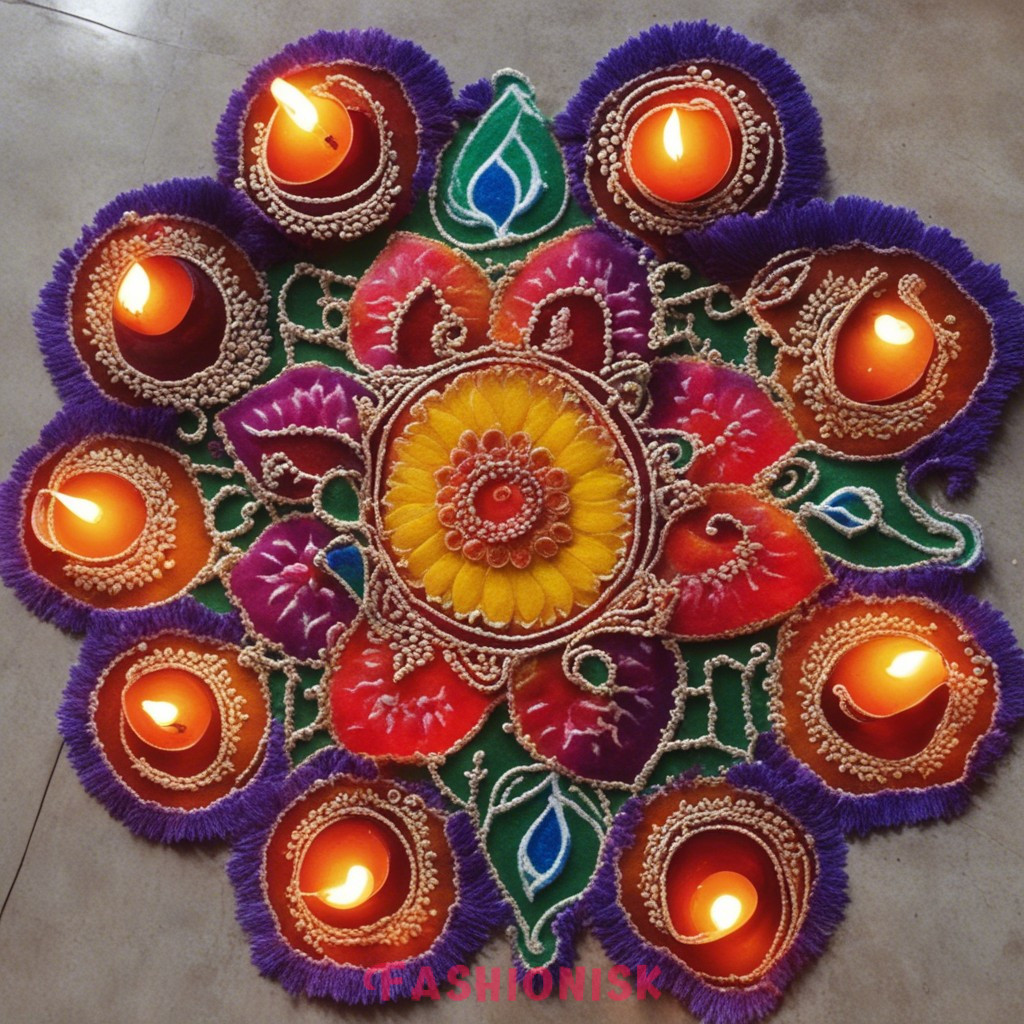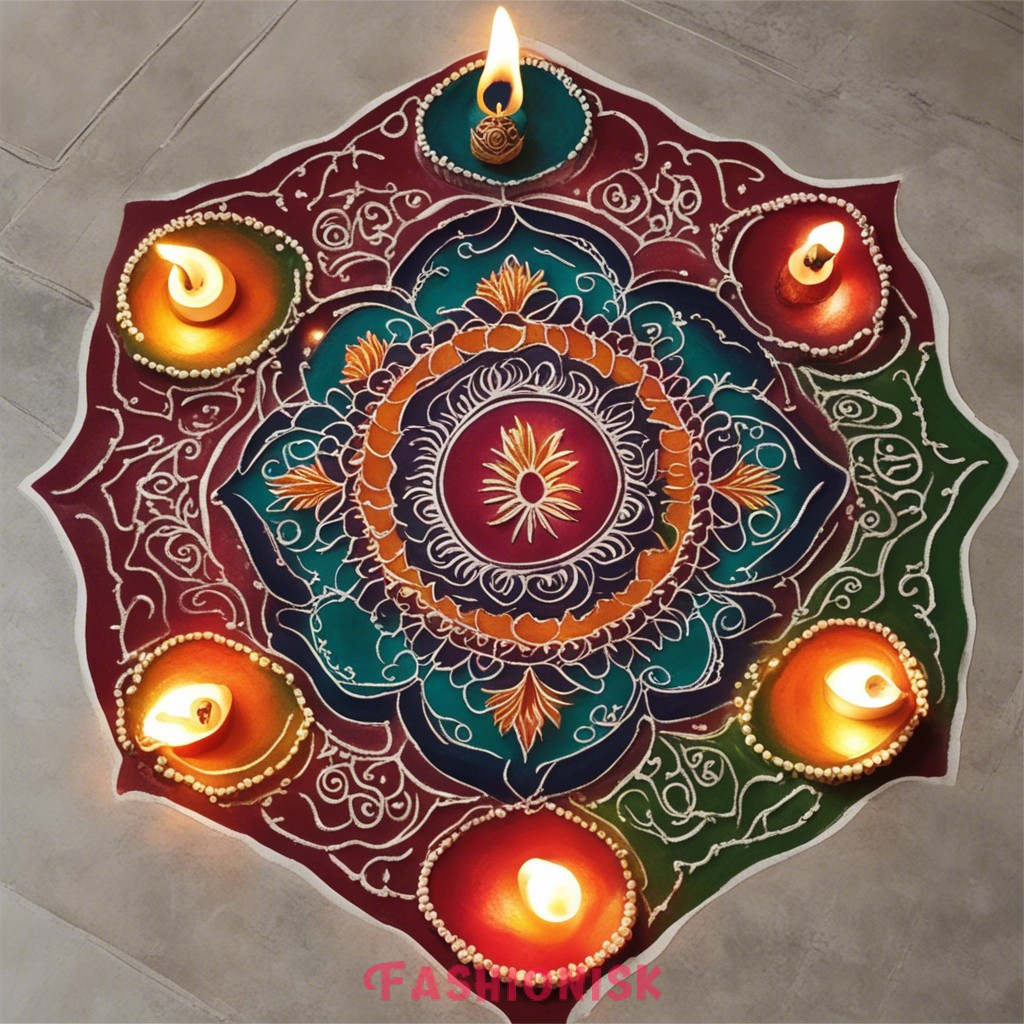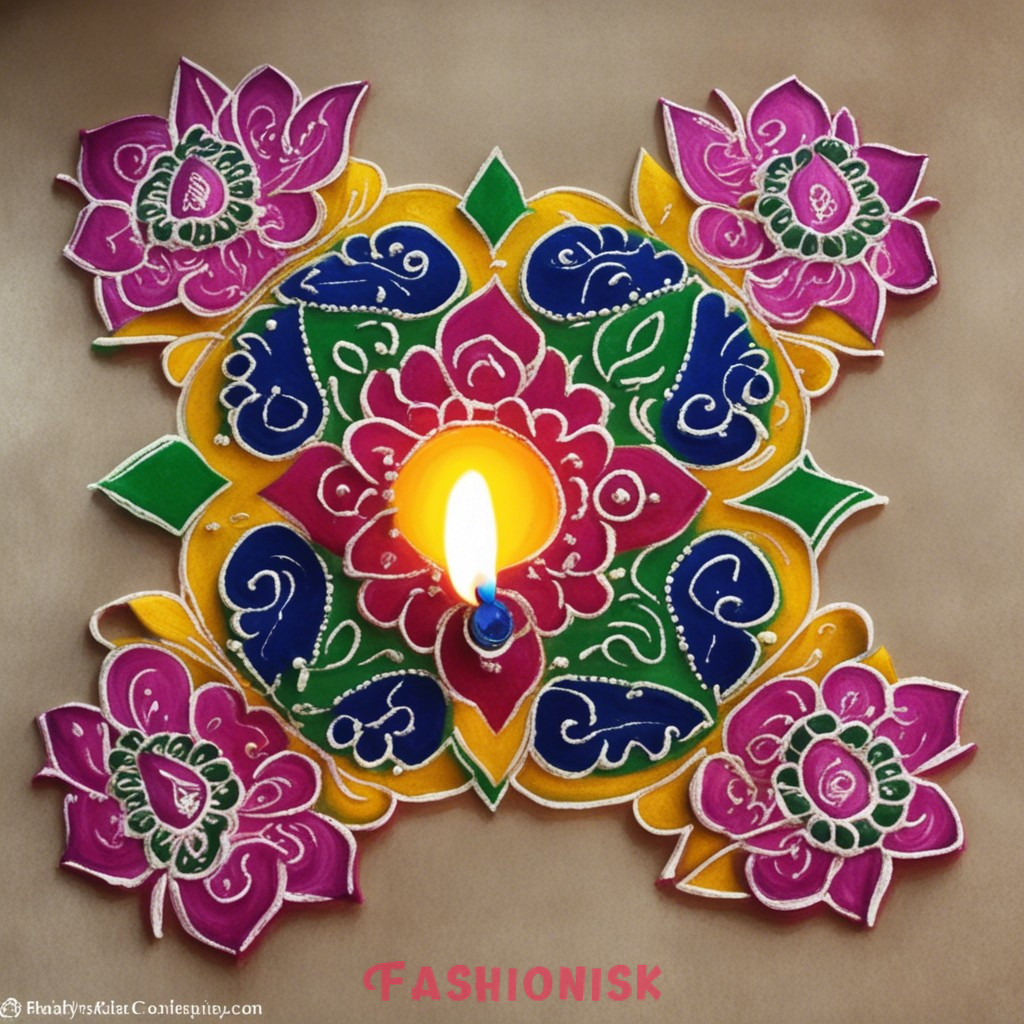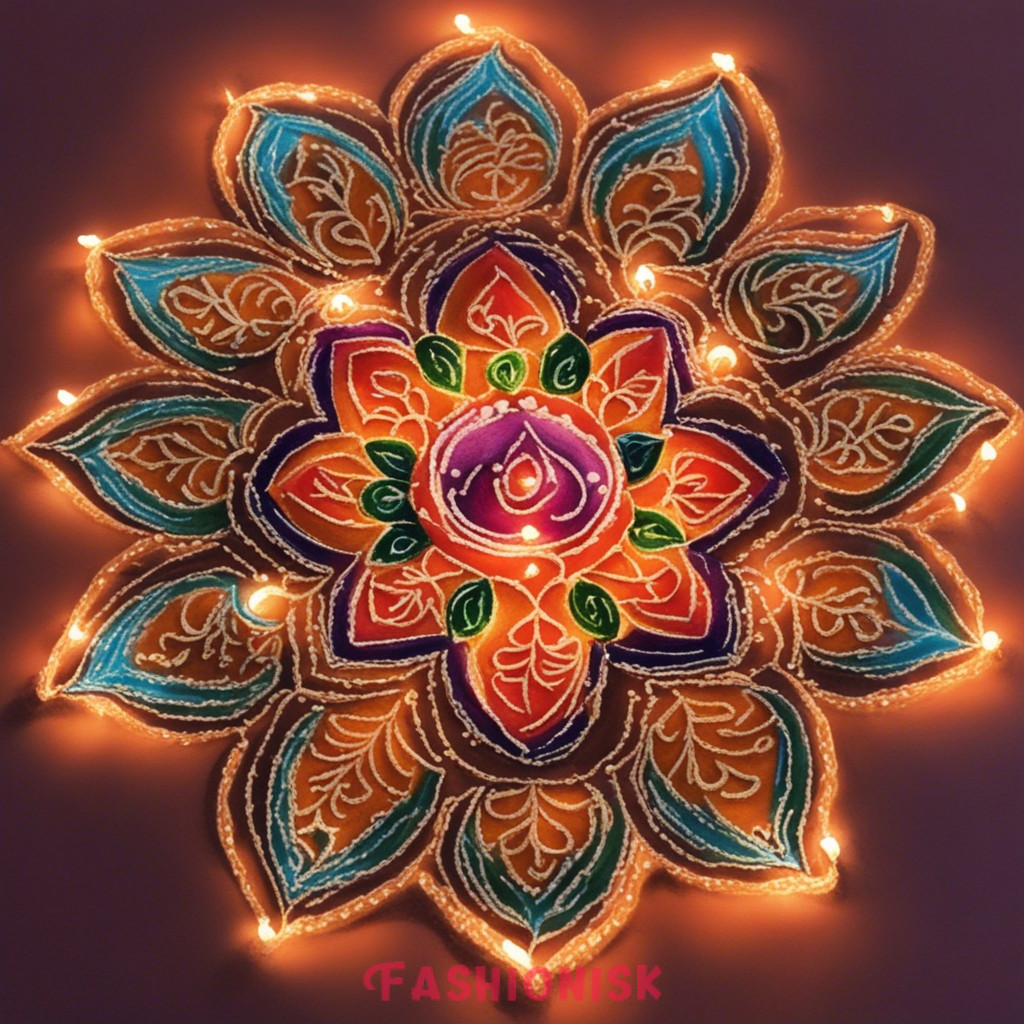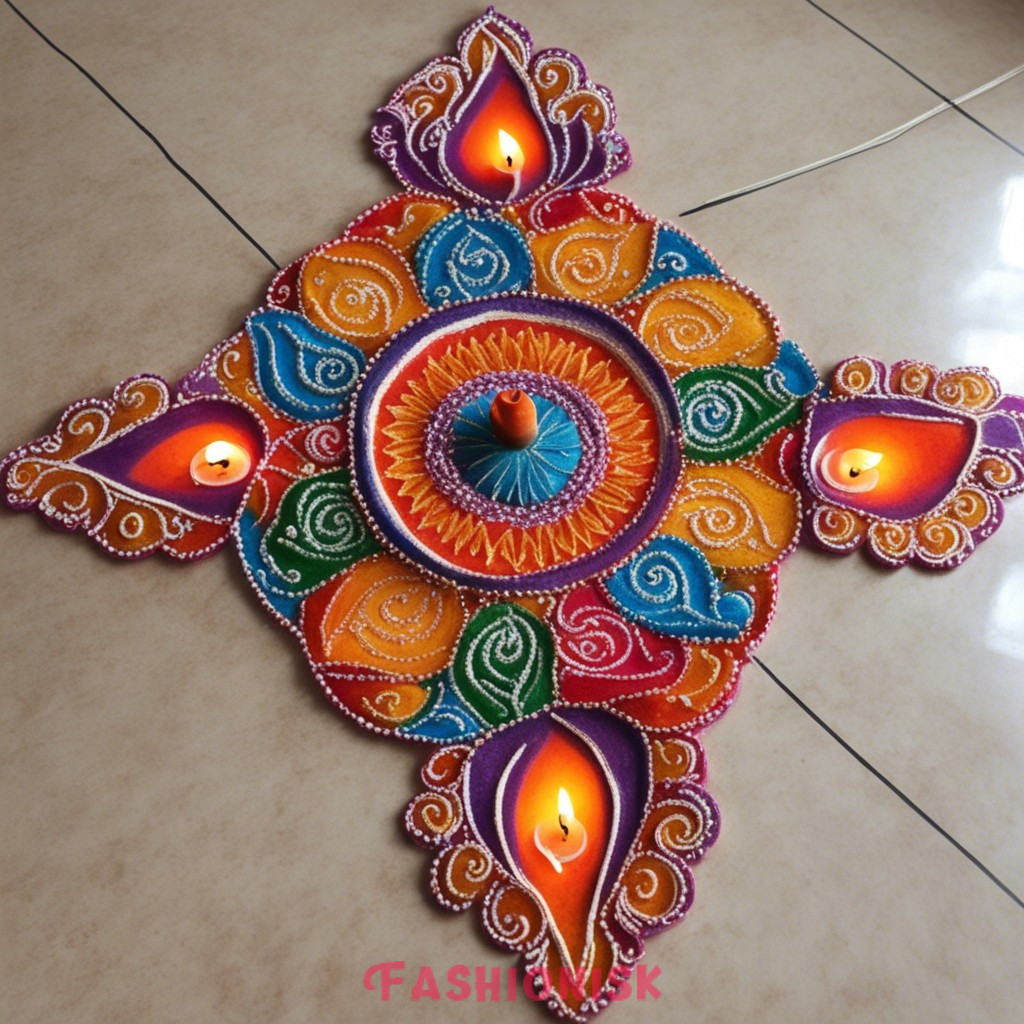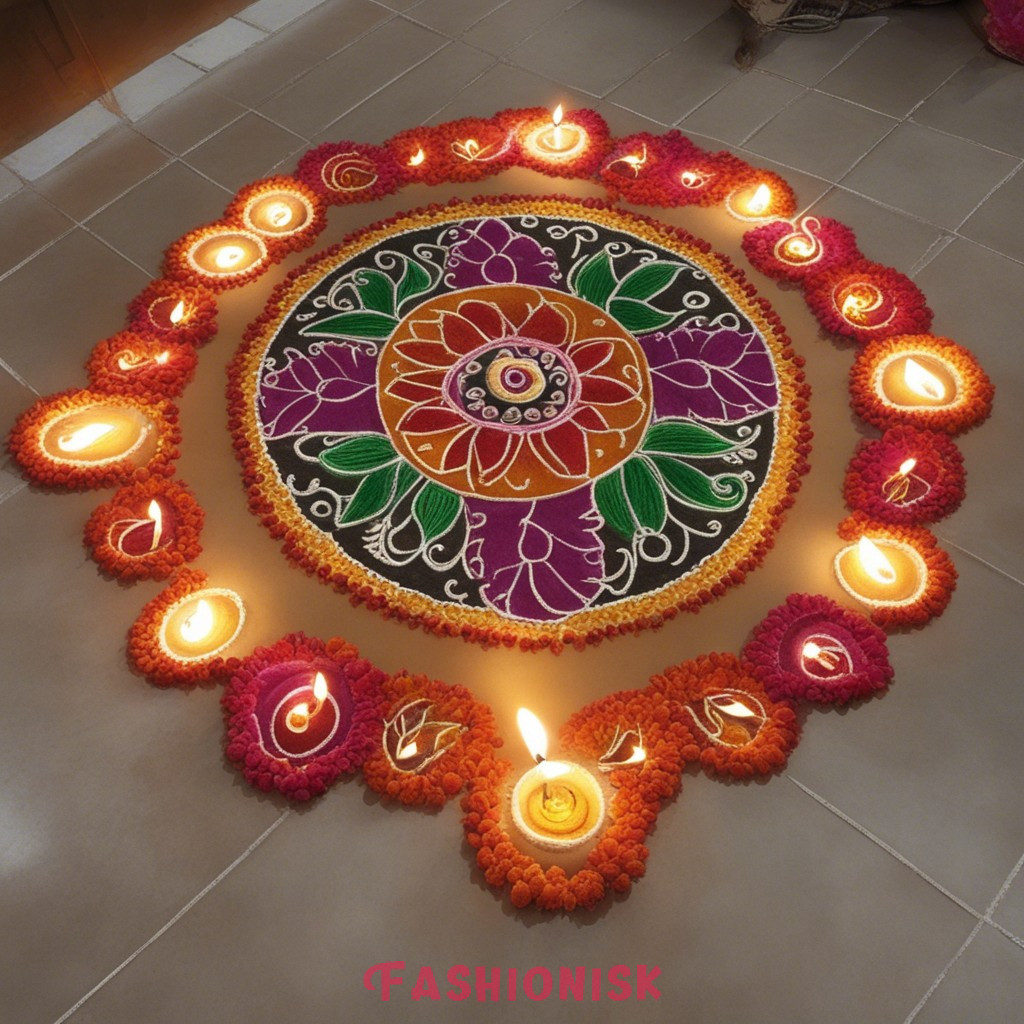 Kolam Connection
Originating from South India, Kolam designs have a charm of their own. These designs, often crafted with white powder, are intricate yet meaningful. They represent cycles of life, seasons, and even daily routines. Kolam Connection in Rangoli design for Diwali brings forth these beautiful patterns. They are not just designs on the floor but stories of tradition and daily life. Embrace the Kolam Connection and add a touch of South Indian allure to your Diwali decor.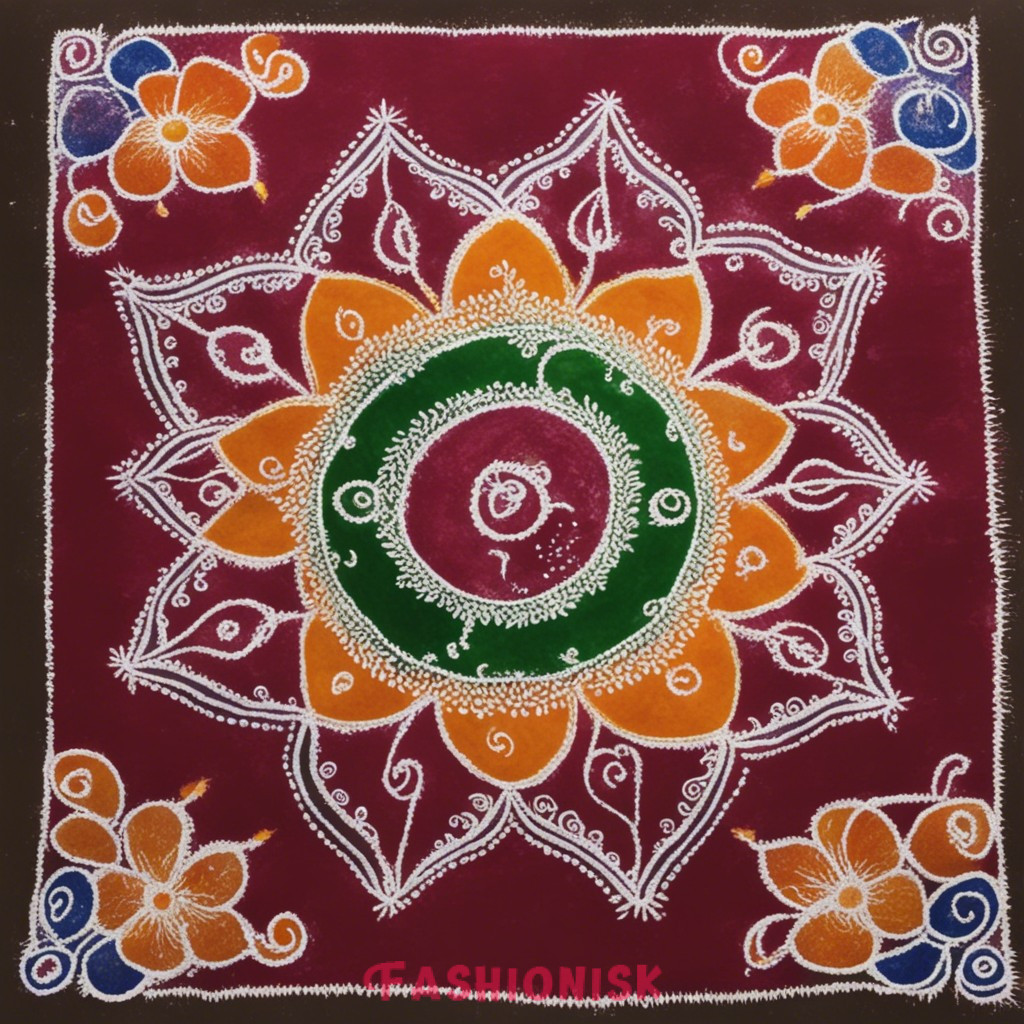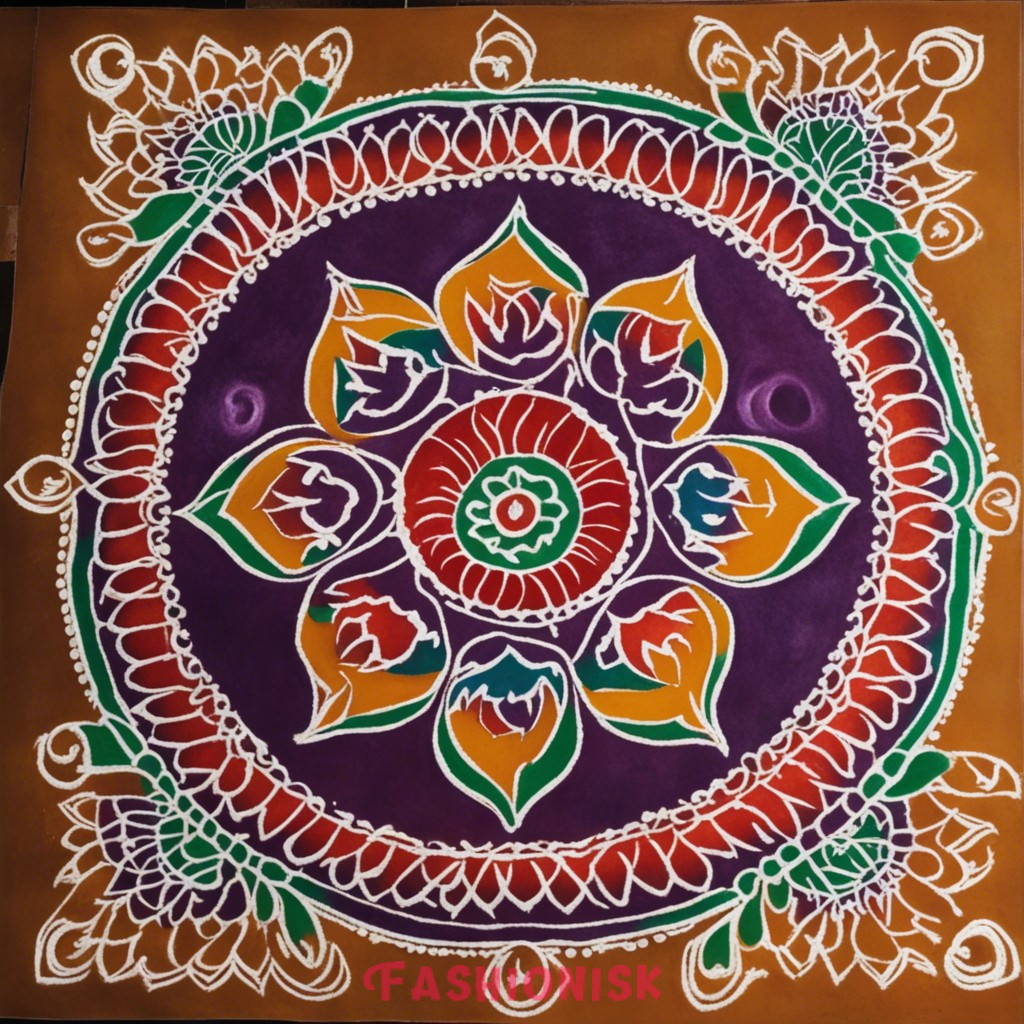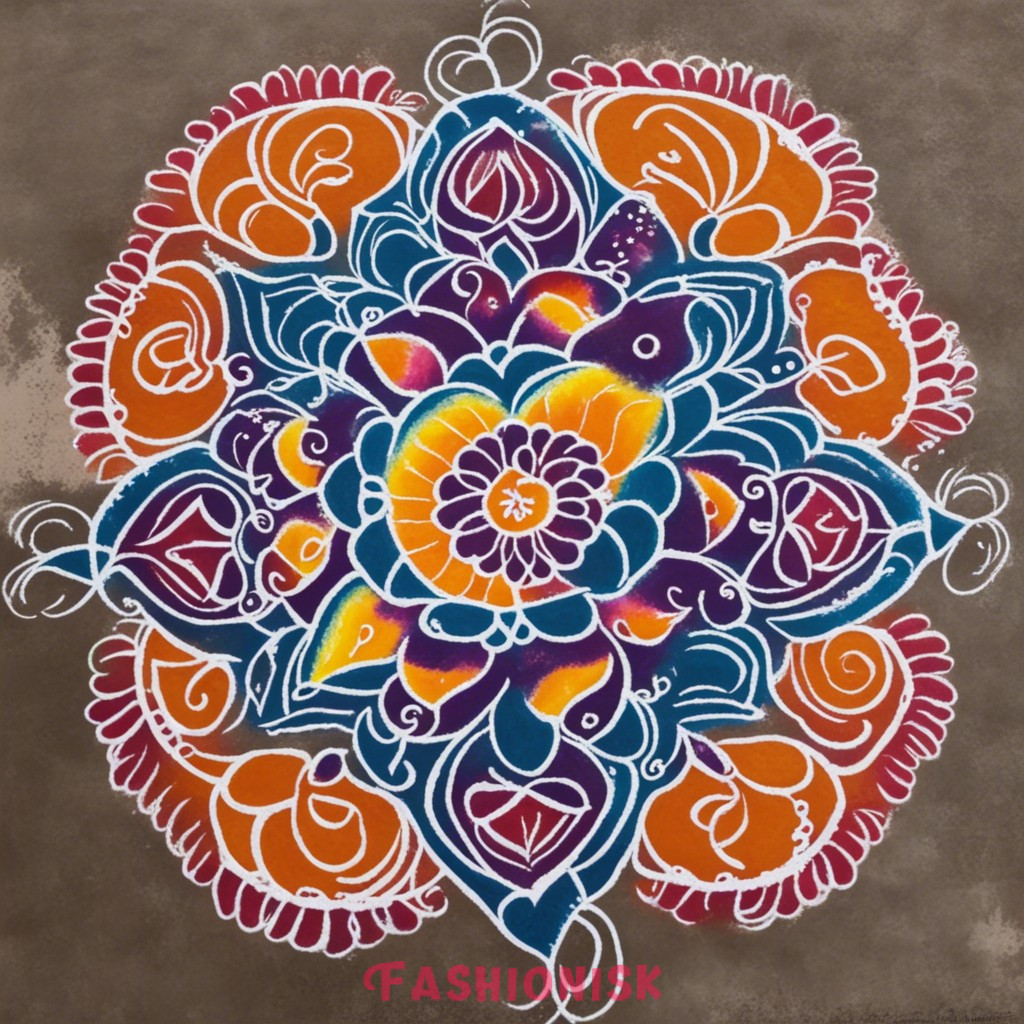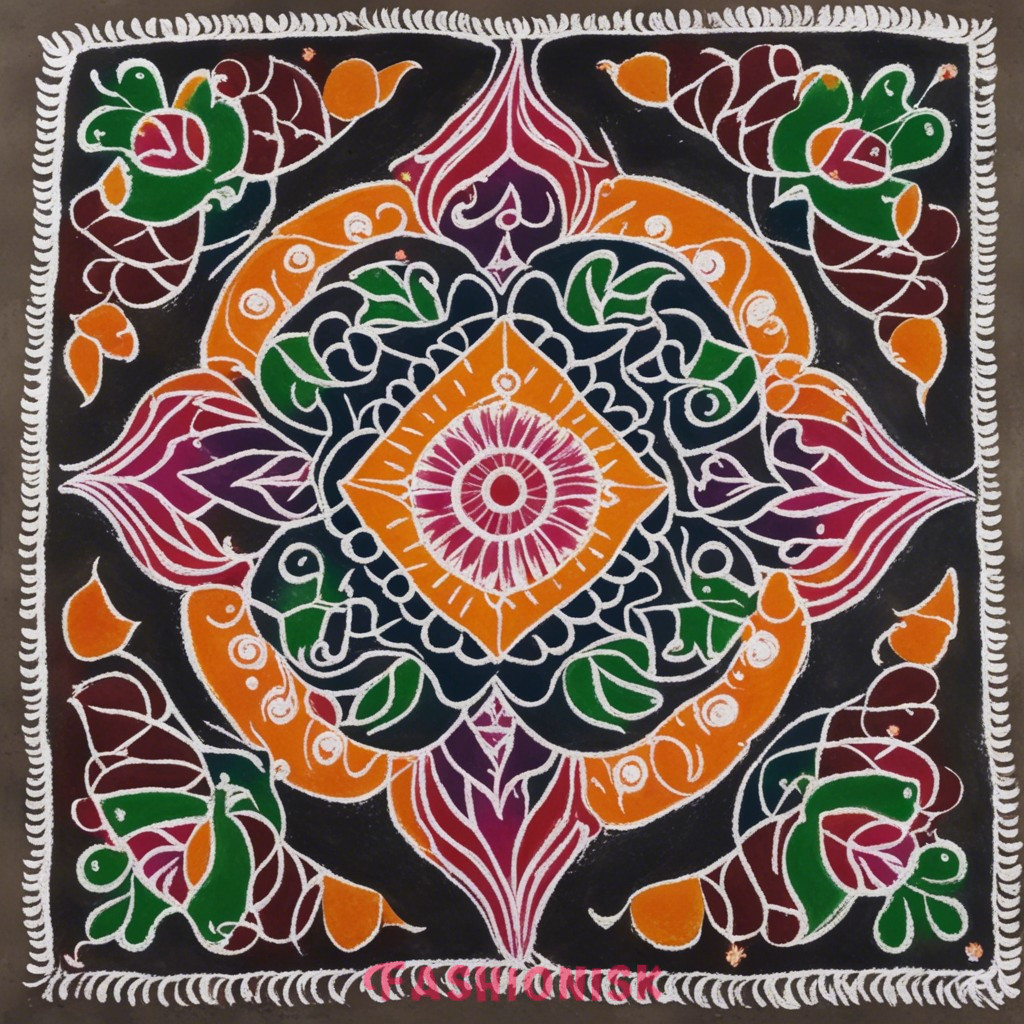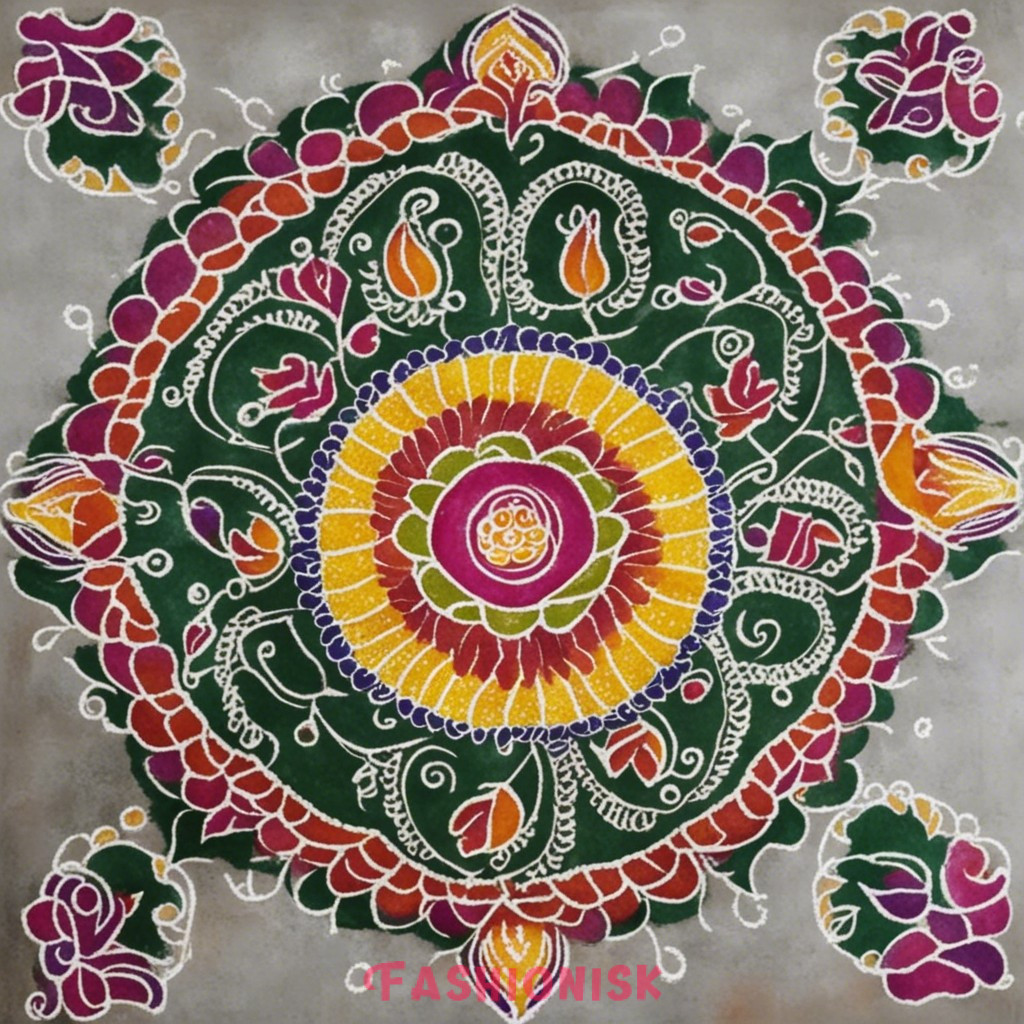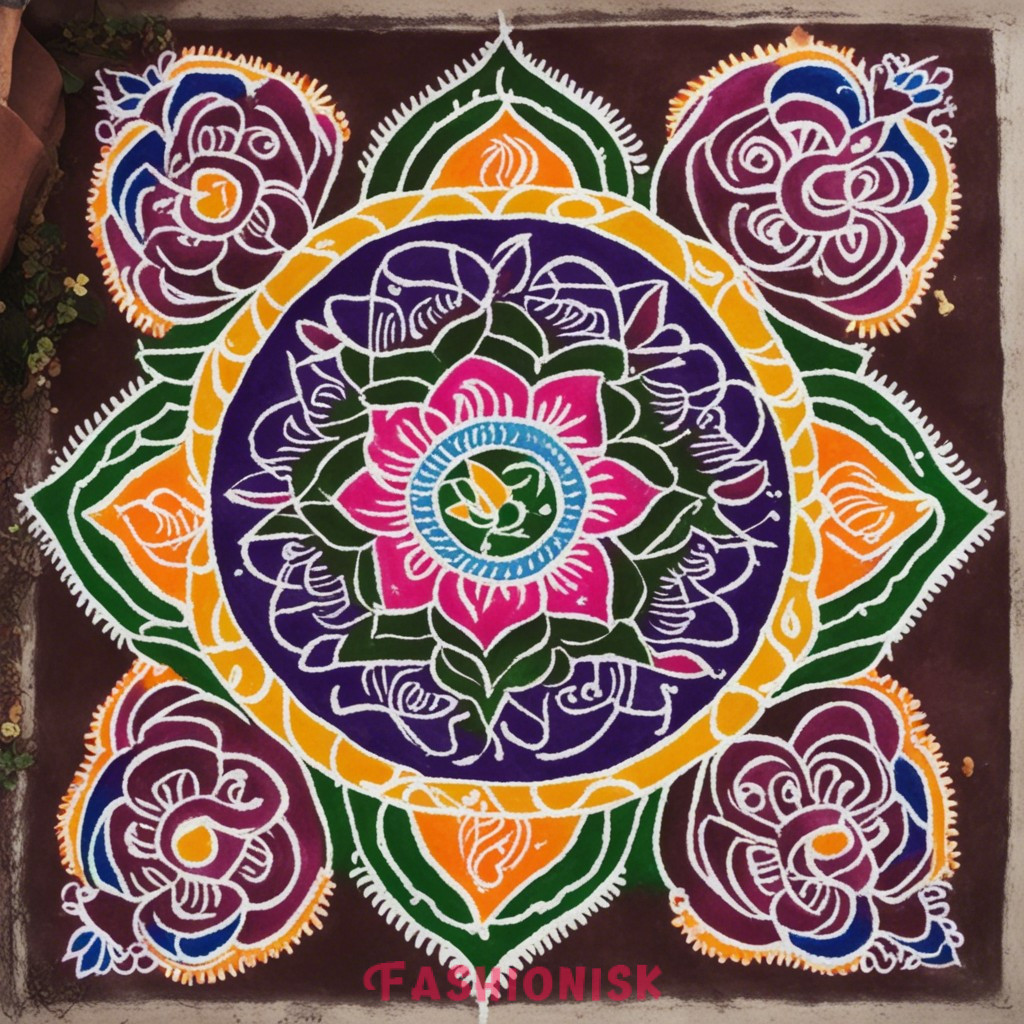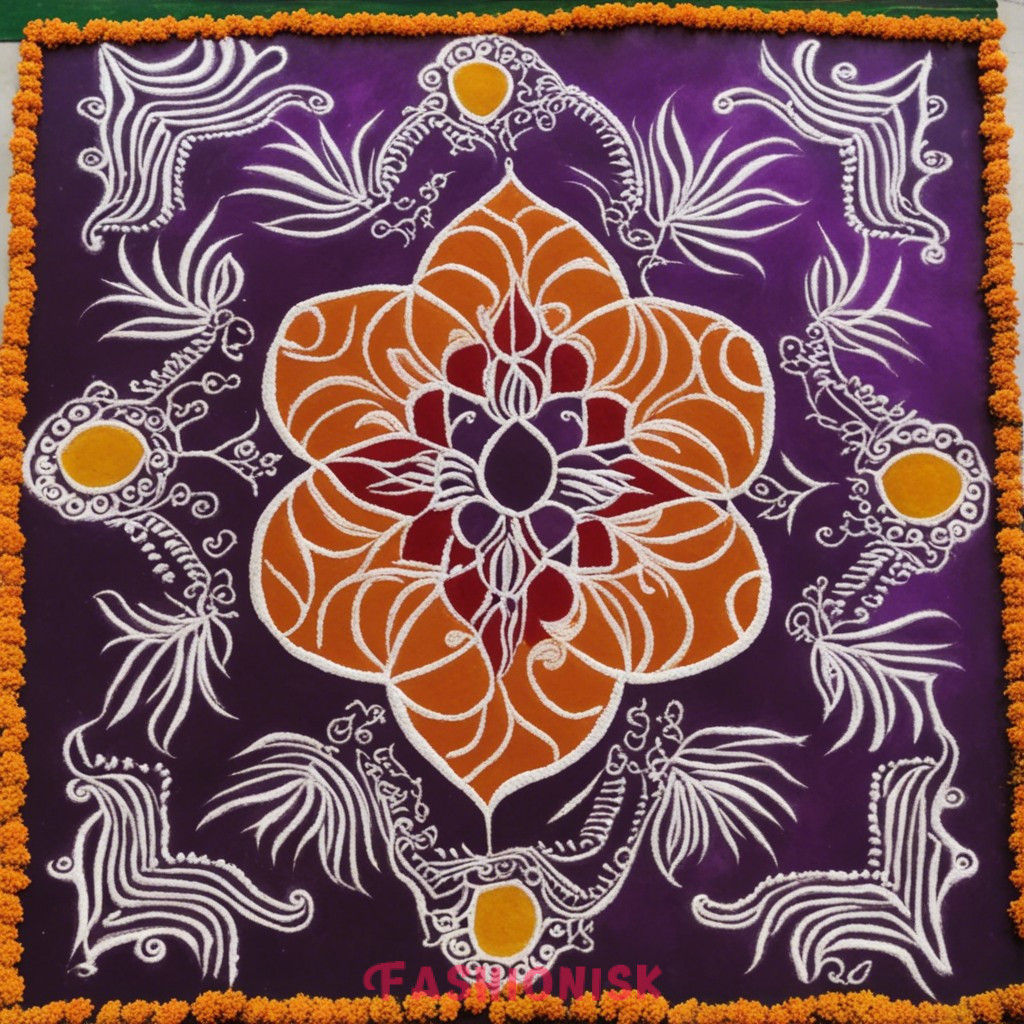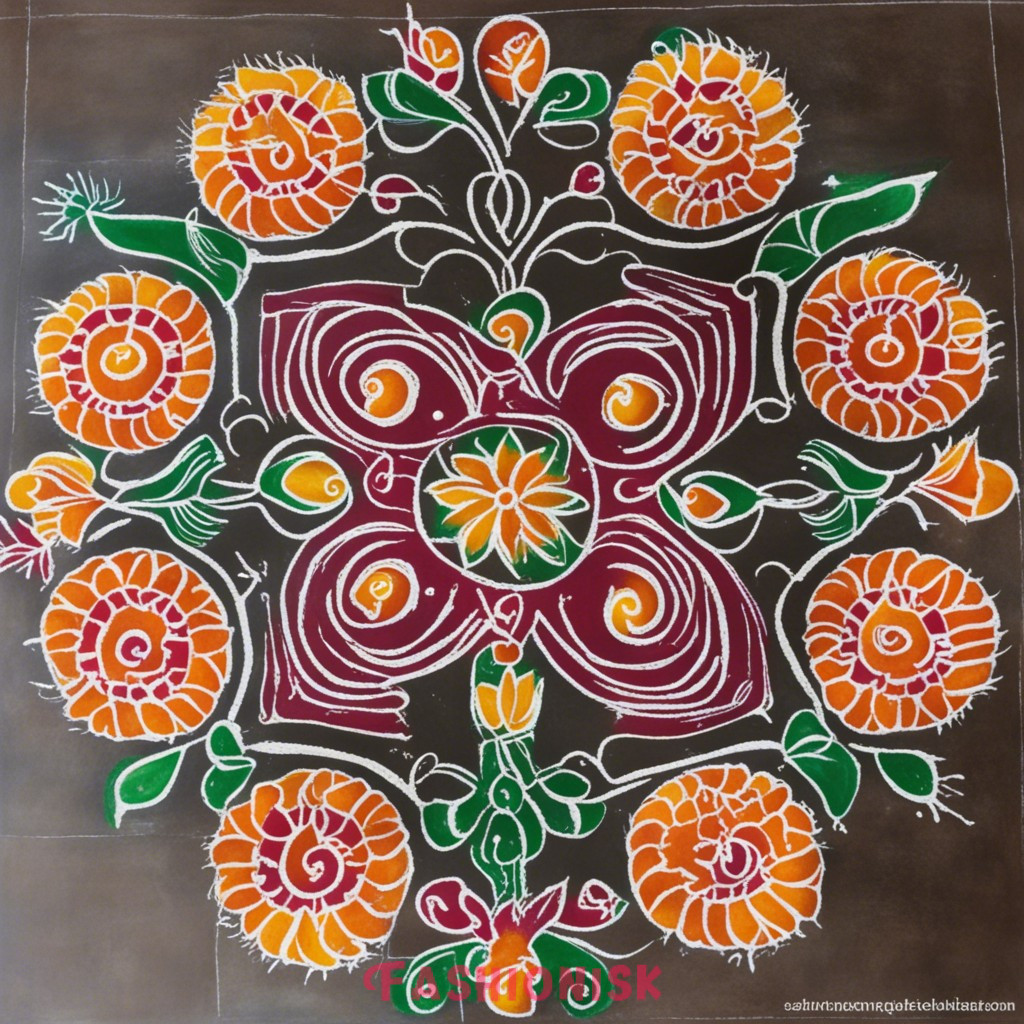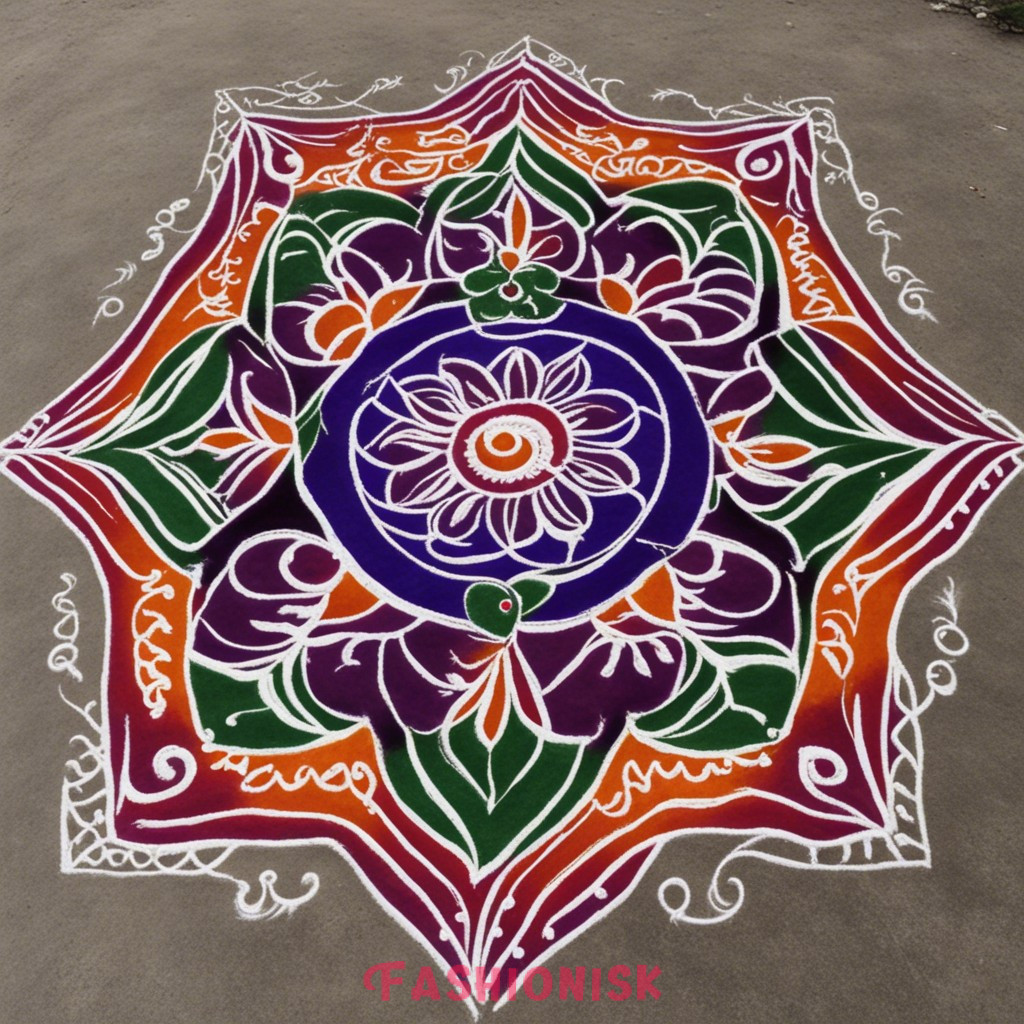 The Om Ovation Rangoli Design for Diwali
The sacred Om symbol holds a special place in Indian culture. It signifies peace, spirituality, and the universe's essence. In the Rangoli realm, The Om Ovation theme showcases this powerful symbol with reverence and grace. When you embrace this design for Diwali, you invite not just beauty but also divine energy. Drawing the Om in your Rangoli connects your home to cosmic vibrations. Let this Diwali be one where tradition meets artistic splendor.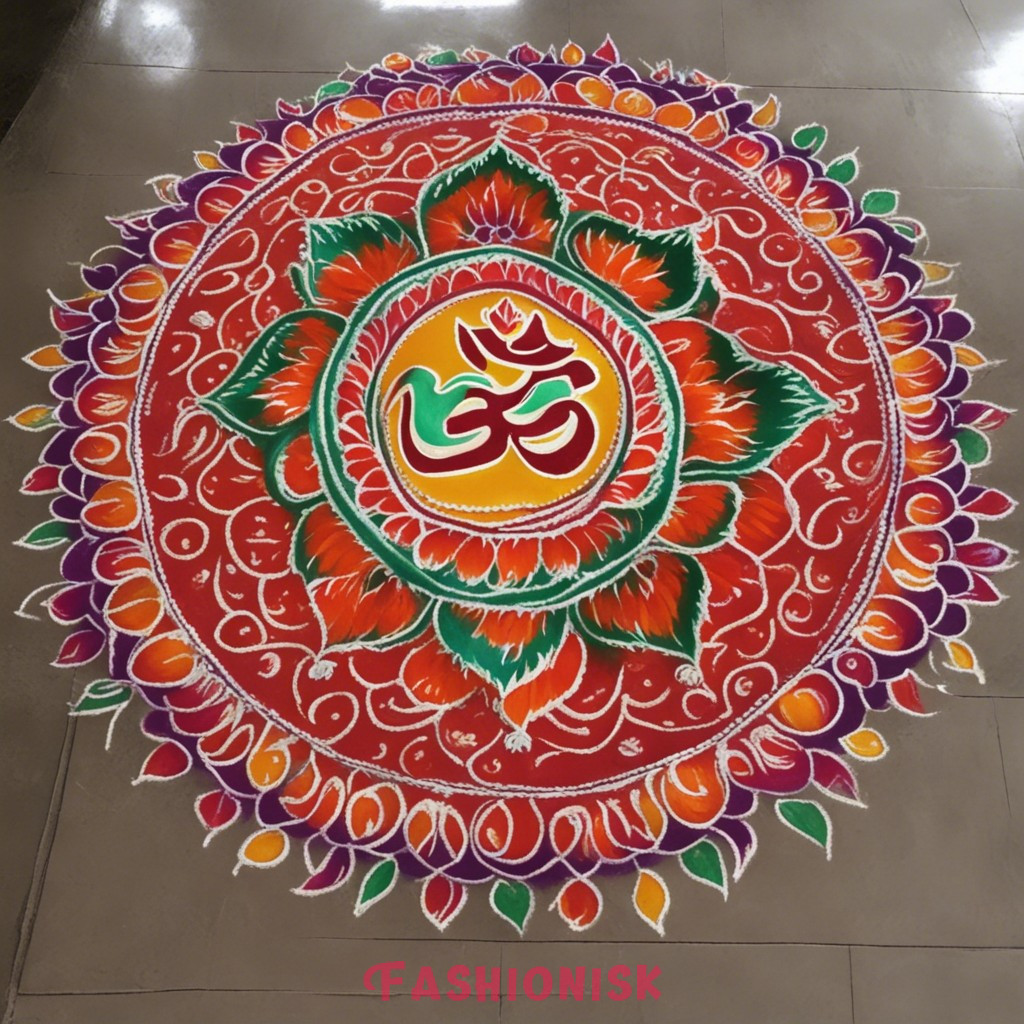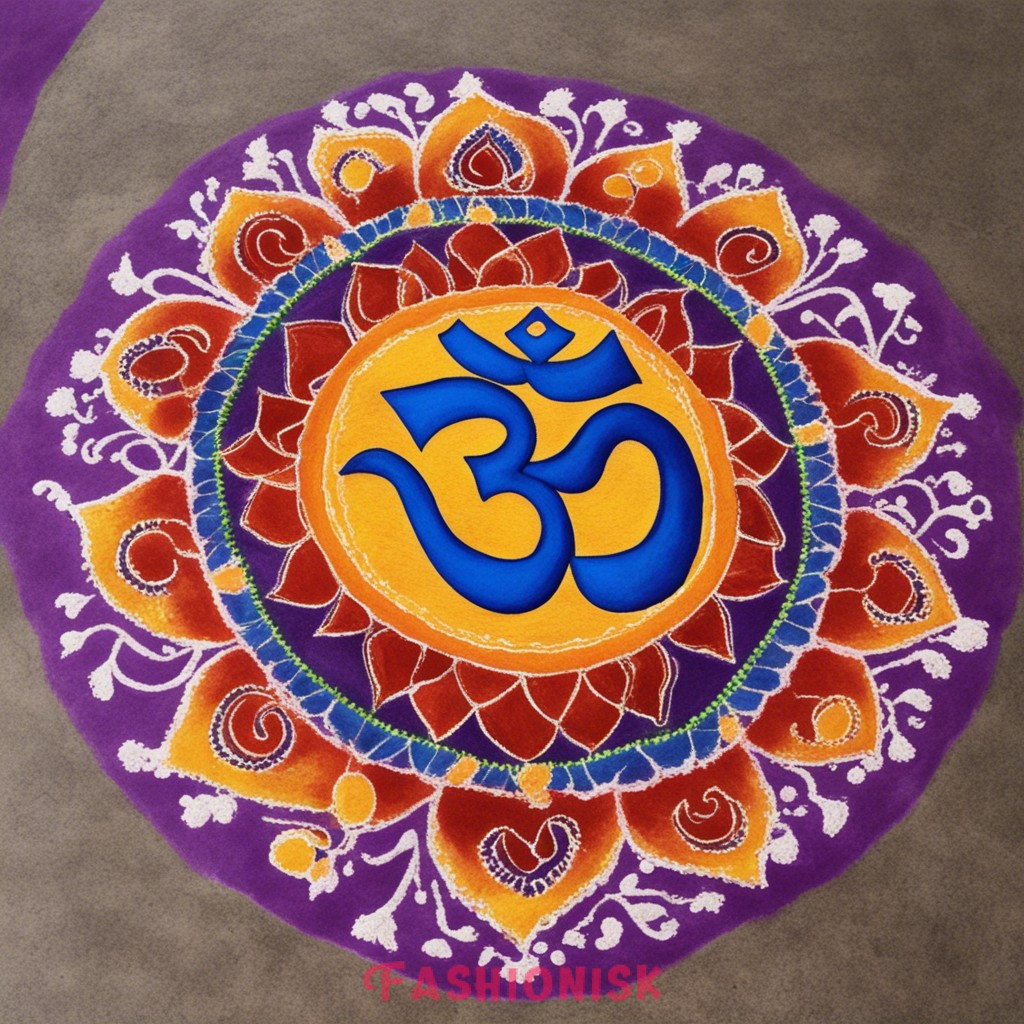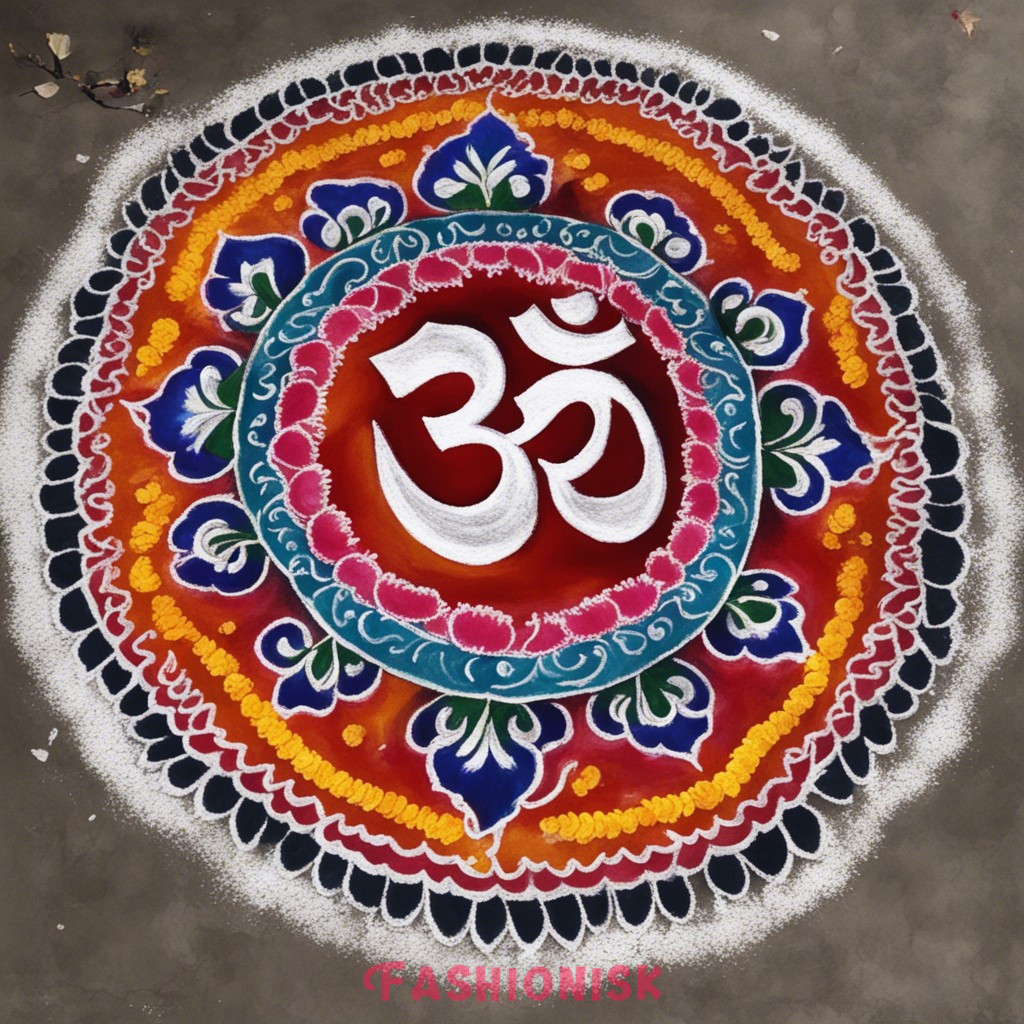 Swirls and Spirals
Movement and flow are the essence of Swirls and Spirals in Rangoli Design for Diwali. These patterns seem alive and add dynamism to the celebration space. They don't follow strict rules. Instead, they meander and play. During Diwali, such designs can be both modern and mesmerizing. They are a true reflection of energy and festivity. So let your Rangoli twist and turn and bring a sense of fluidity to your decor.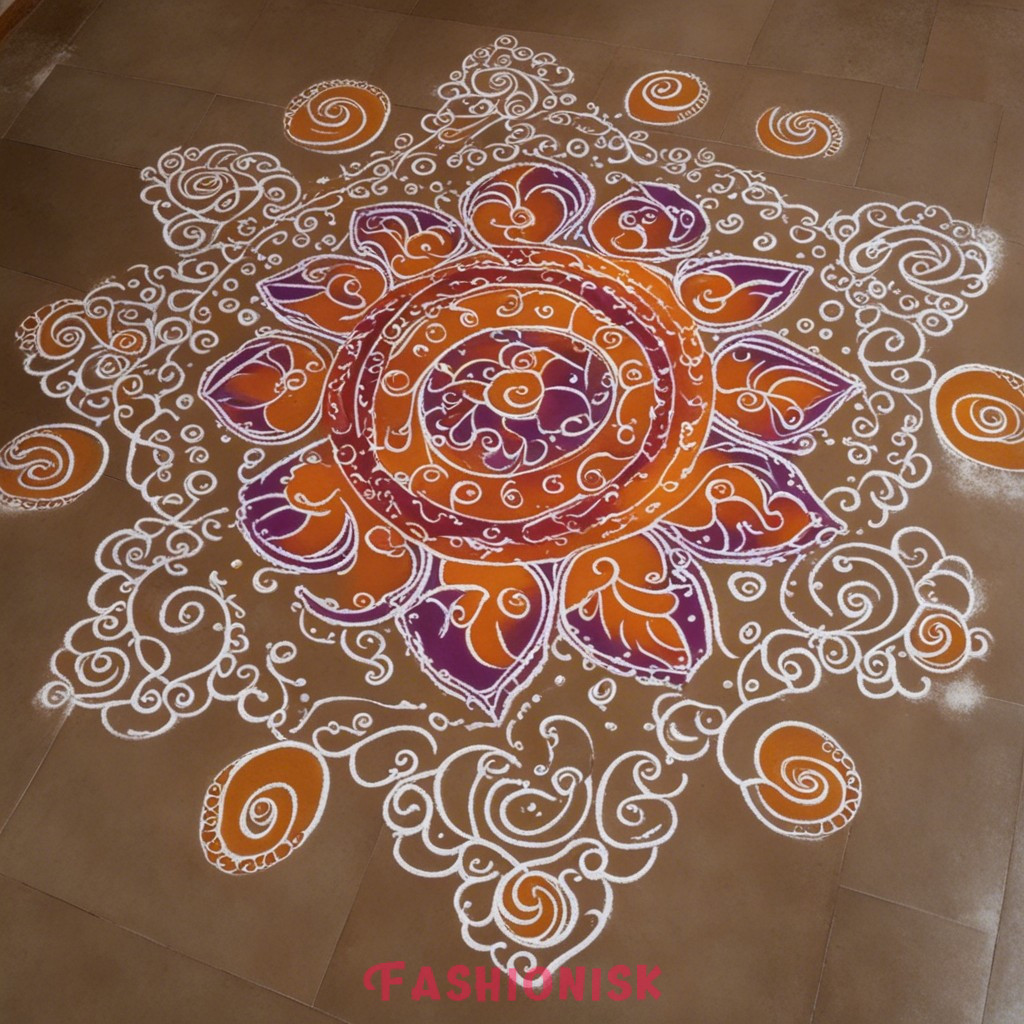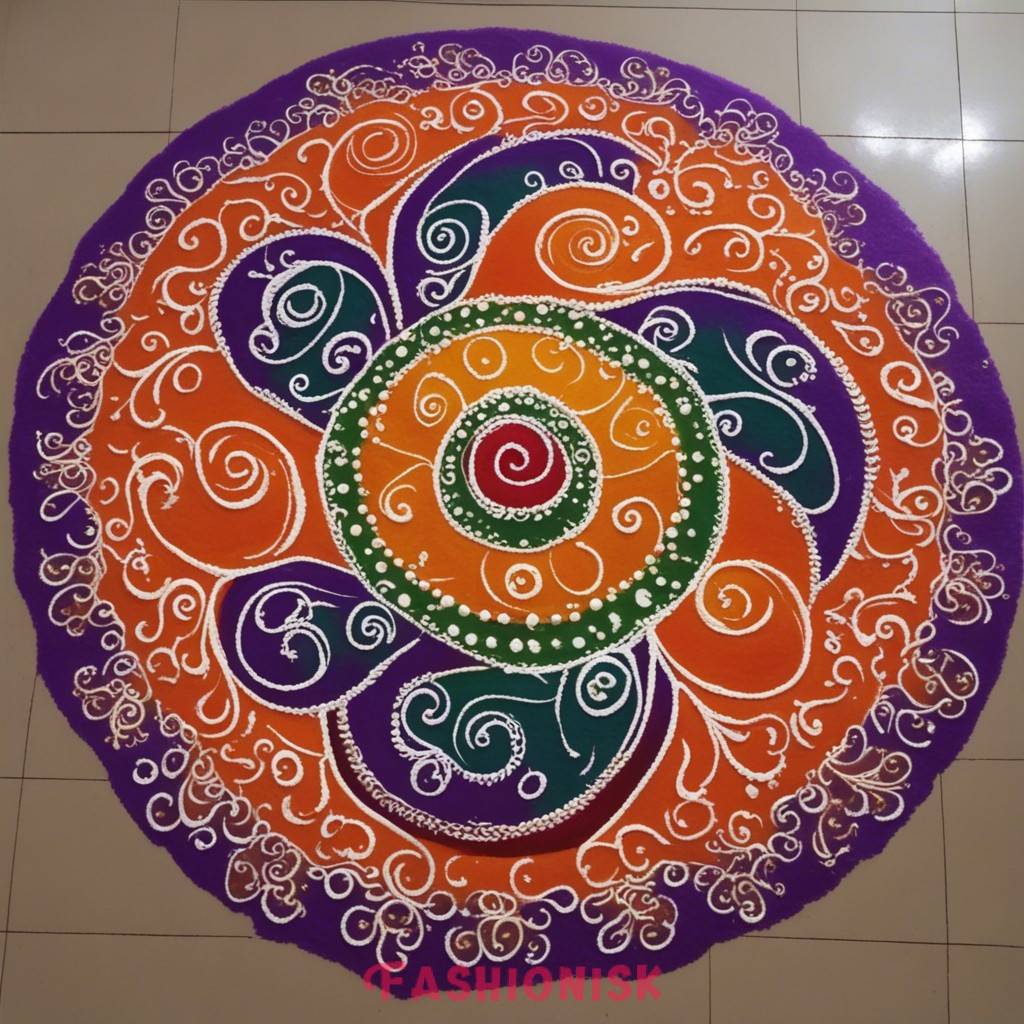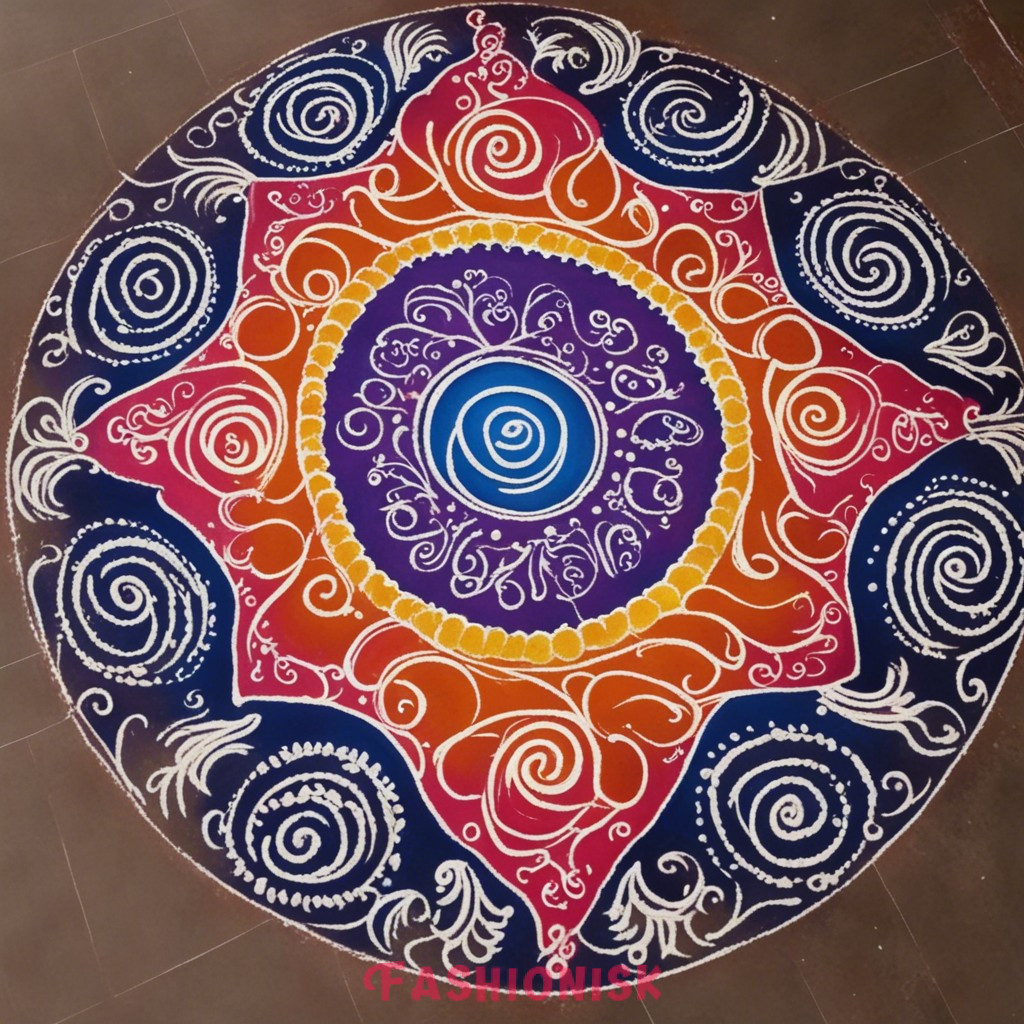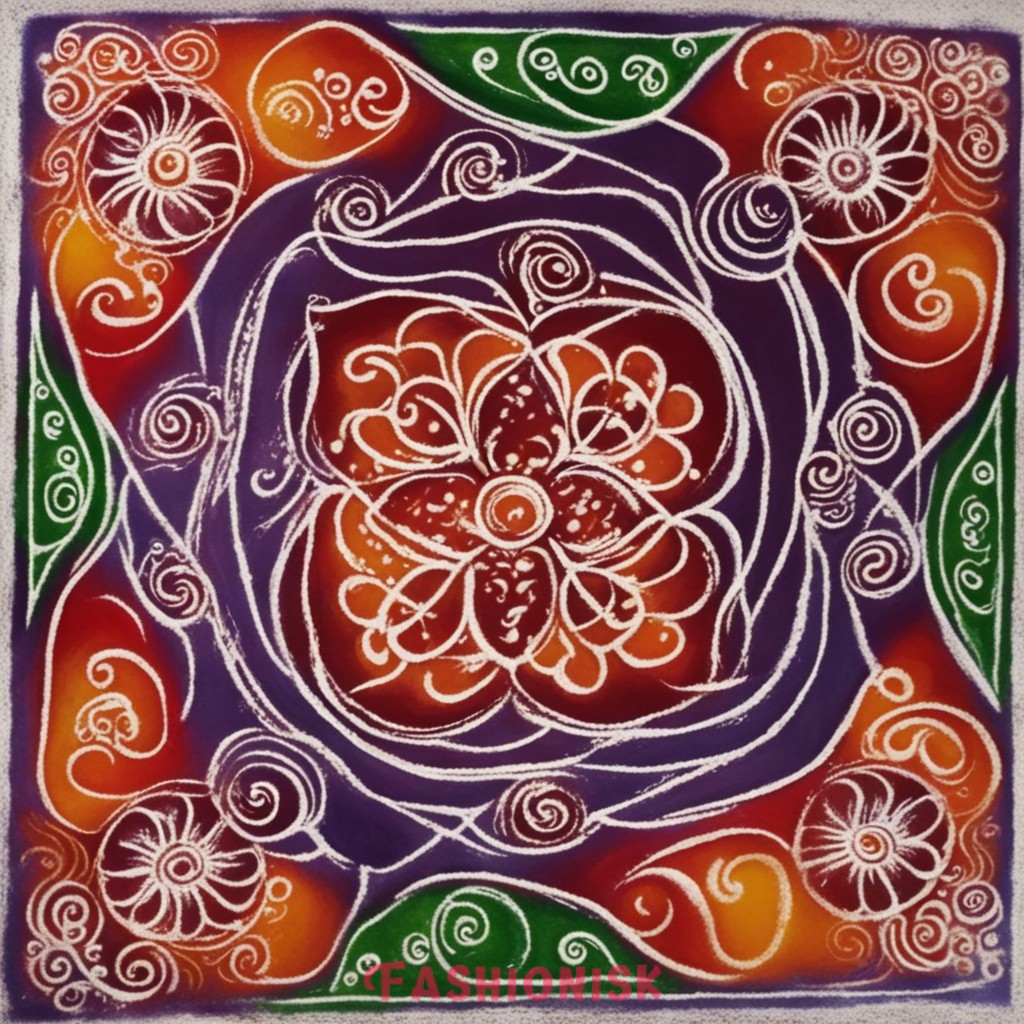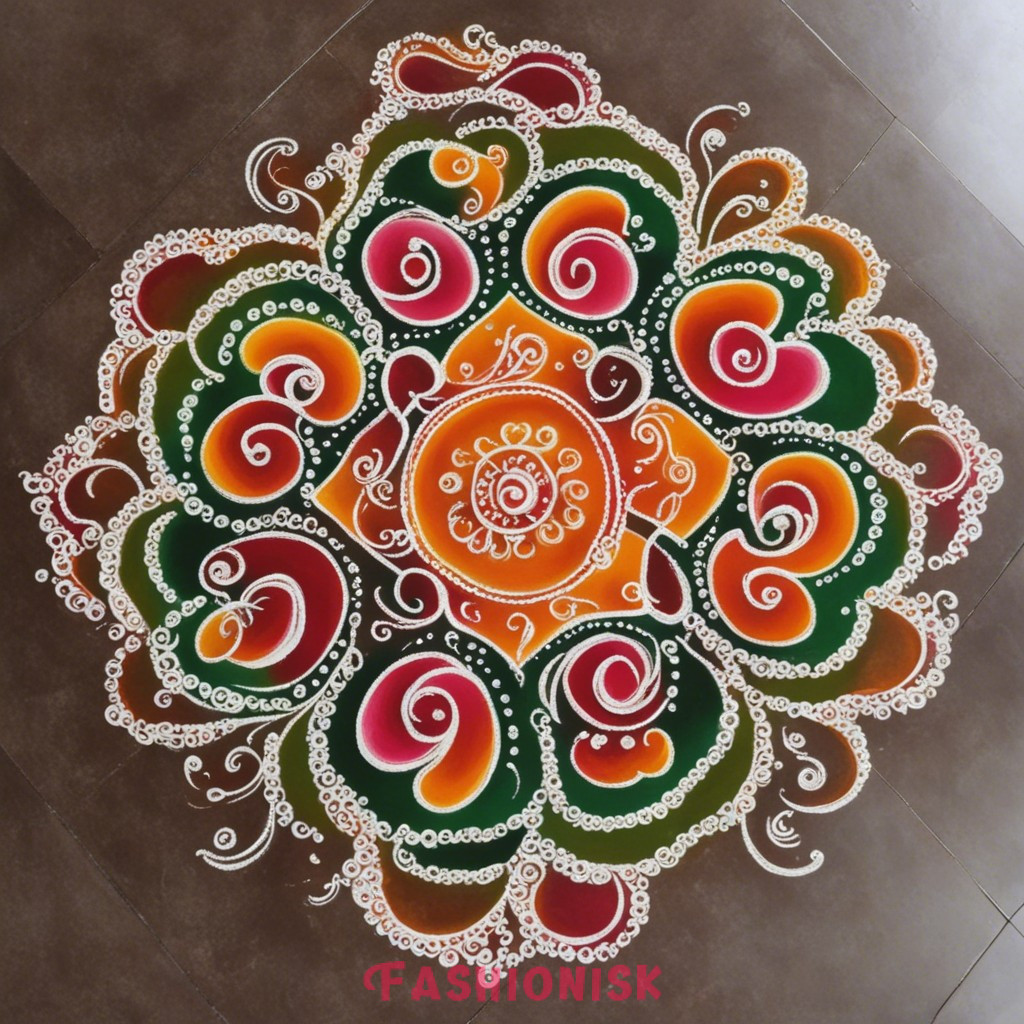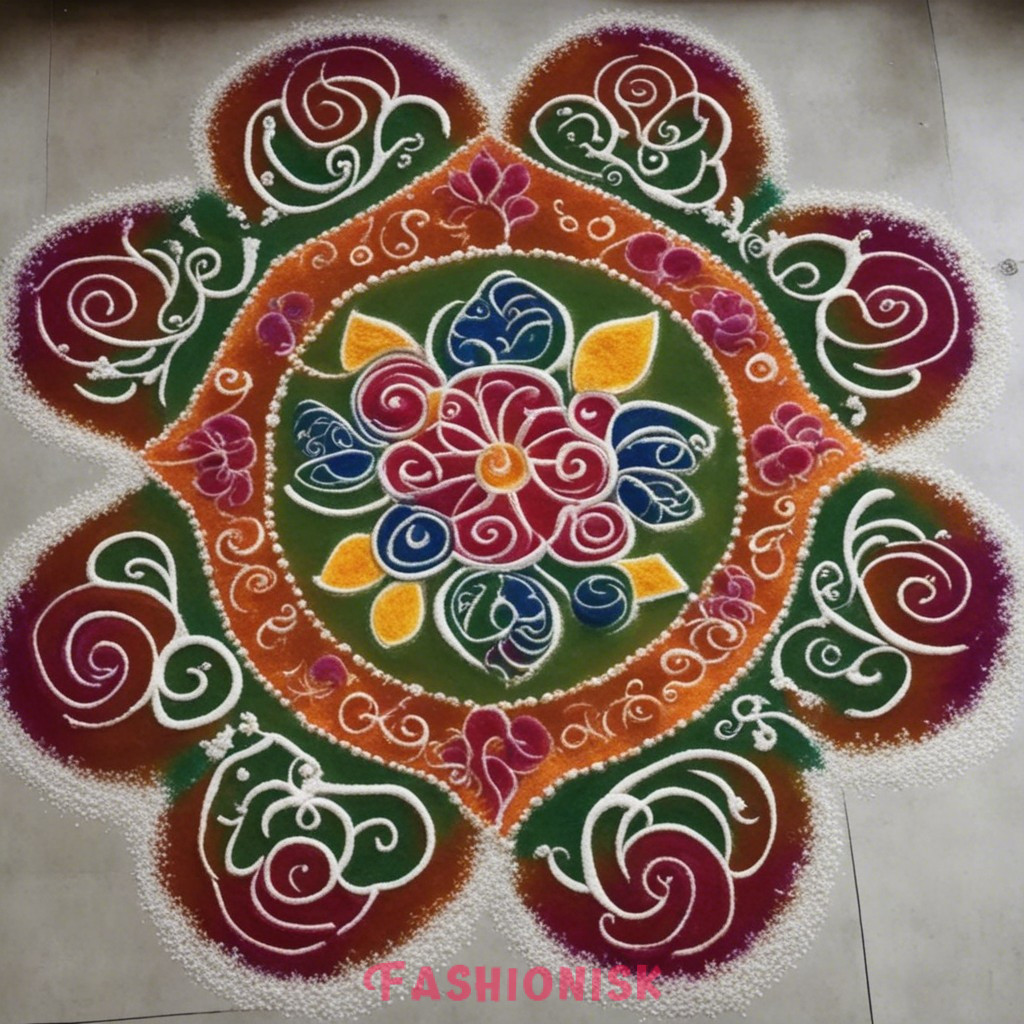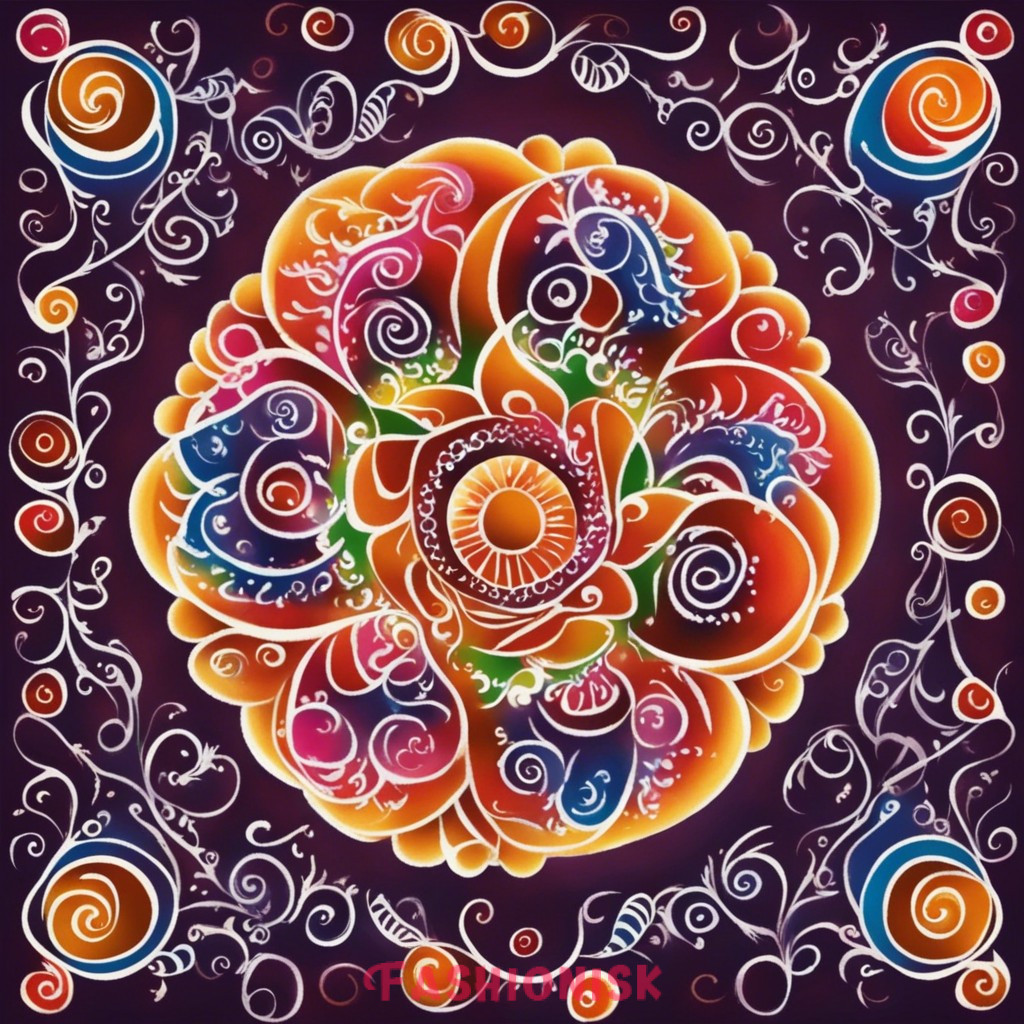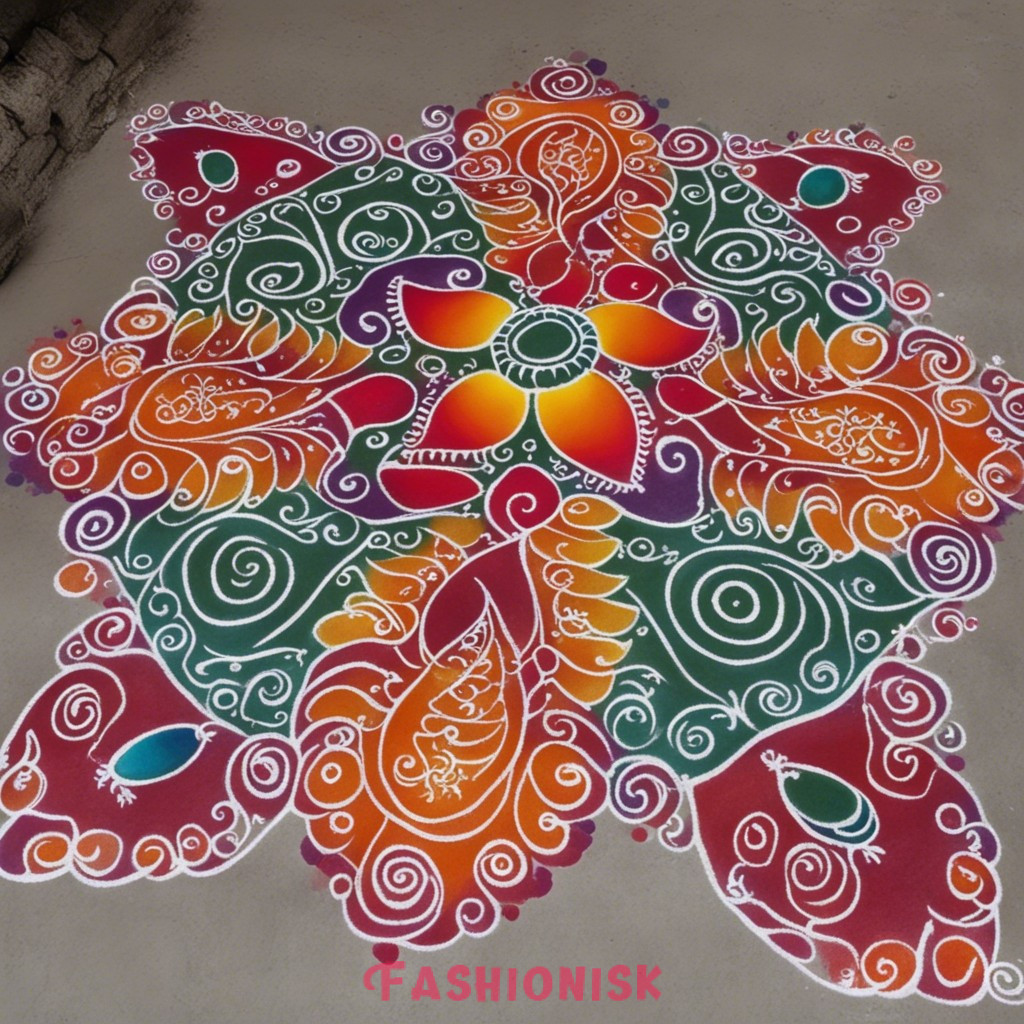 Mandala Magic
Mandalas represent wholeness. They are intricate designs that draw the eye inward. With Mandala Magic as your Rangoli theme, you are choosing a design that signifies unity and completeness. Perfect circles filled with detailed patterns symbolize the universe and our place in it. During Diwali, a Mandala Rangoli becomes a focal point. It binds the space and the celebrations together. Dive into this theme and let your space radiate with cosmic energy.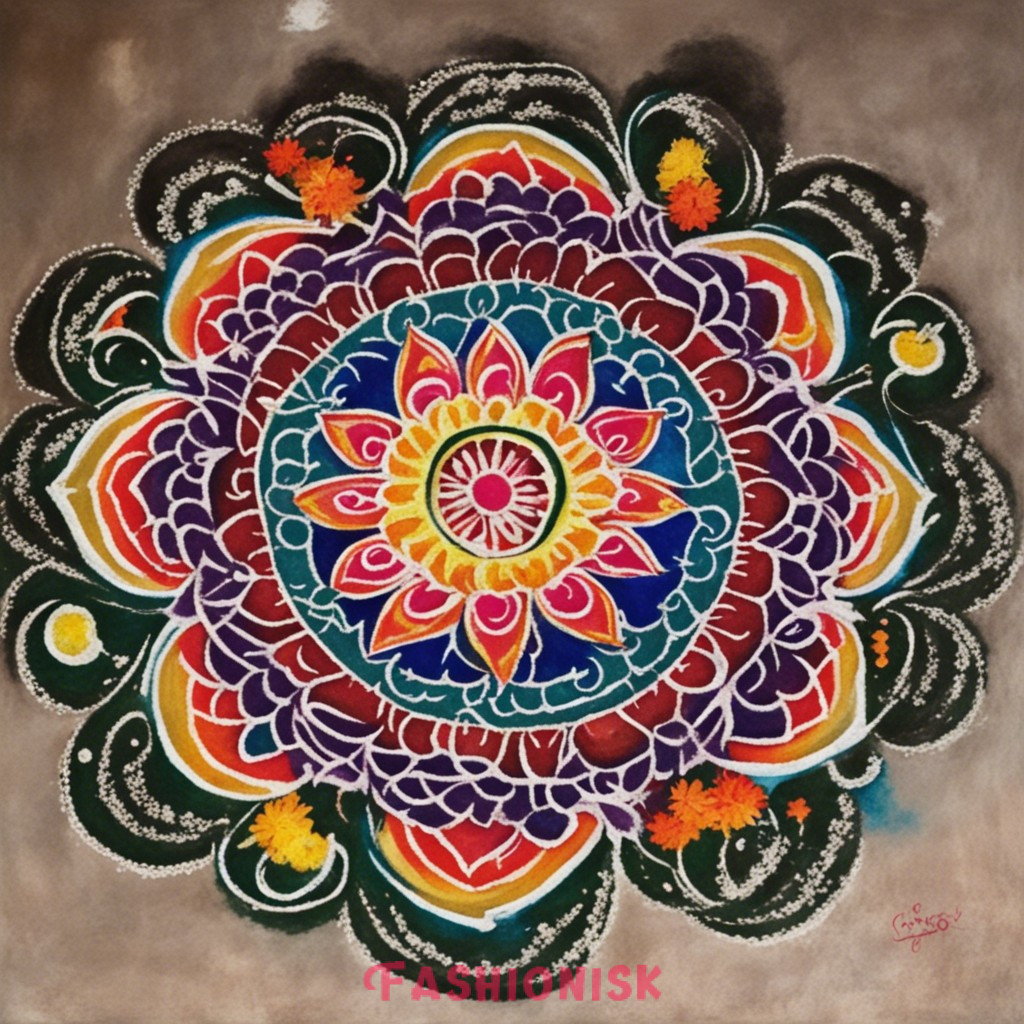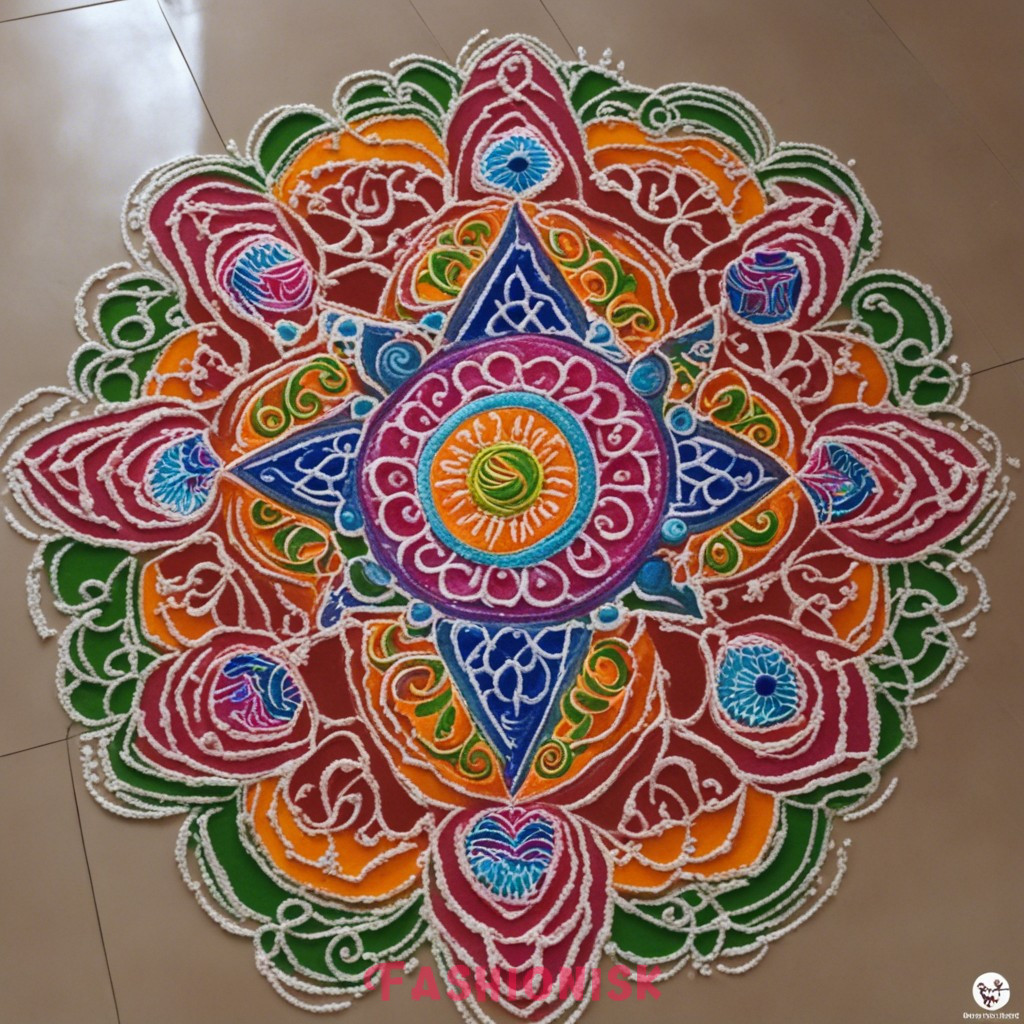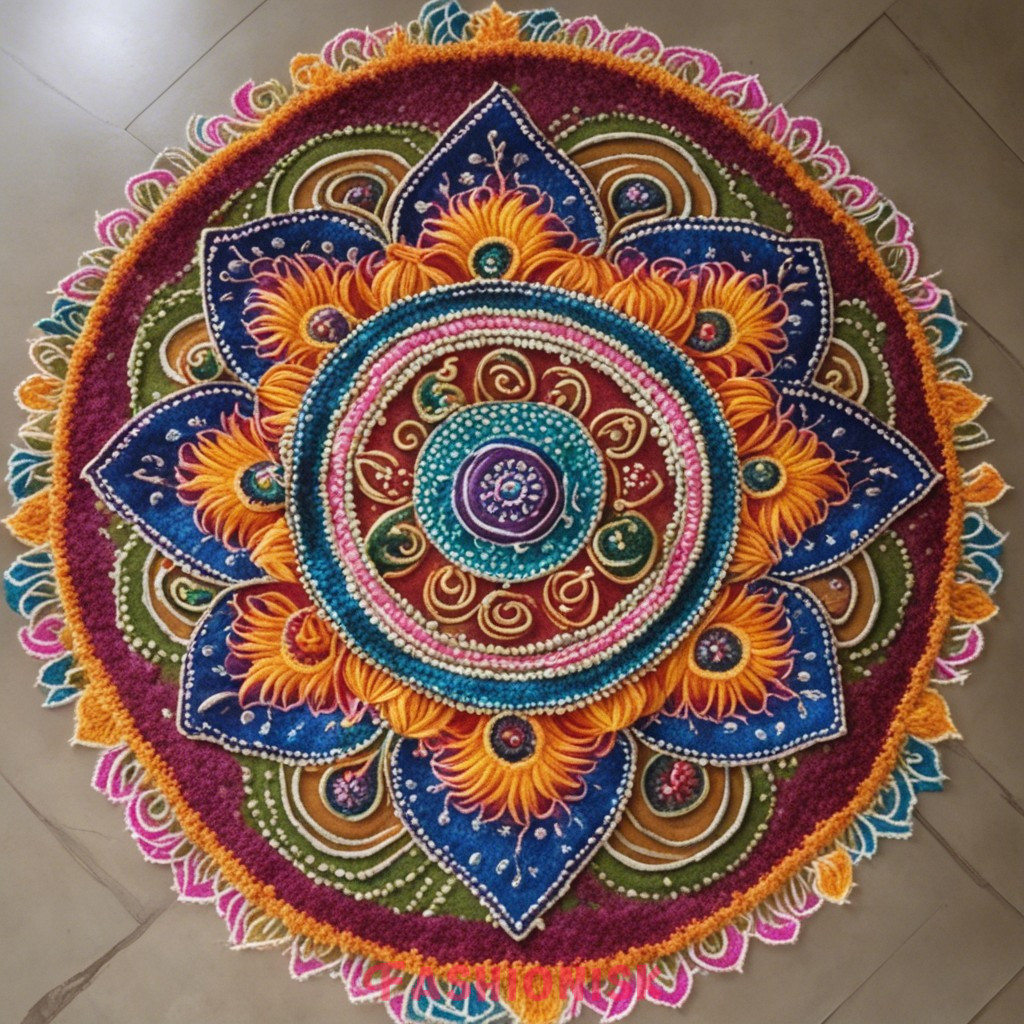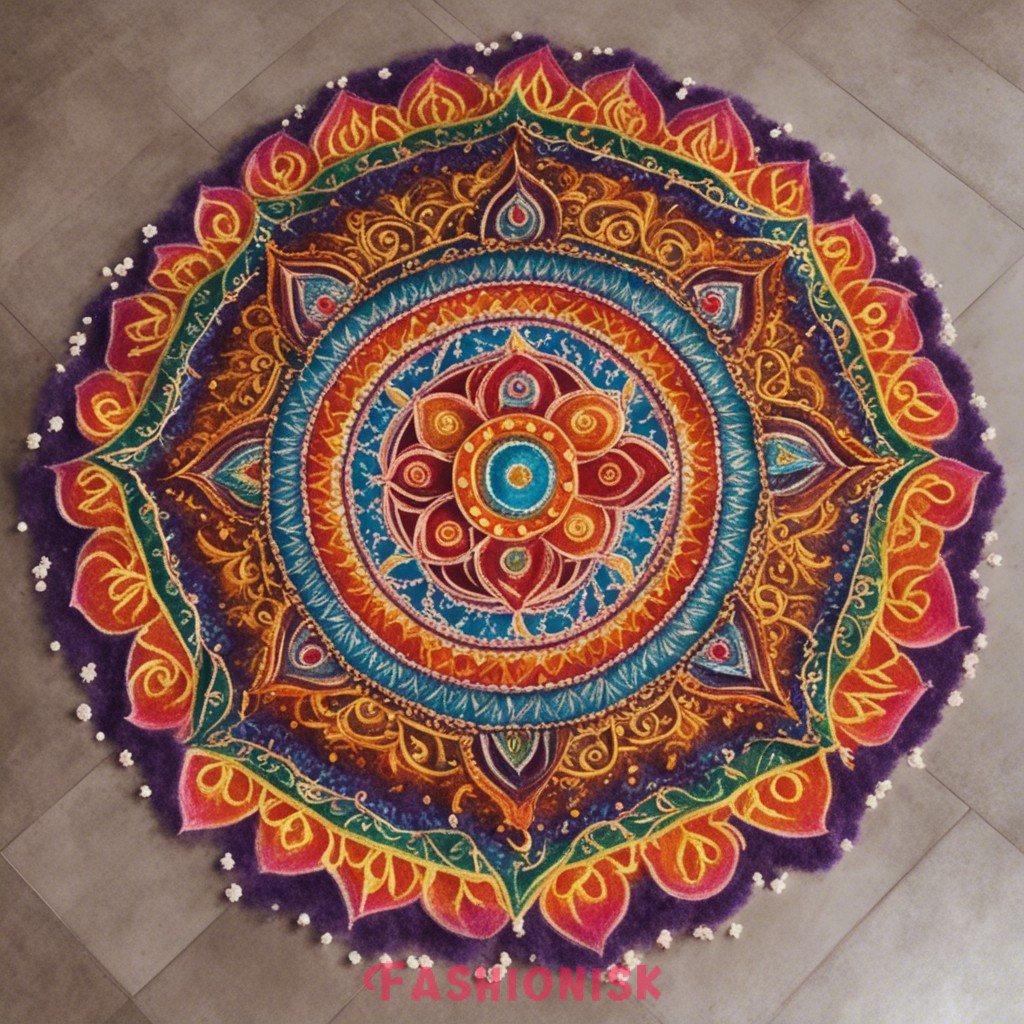 Footprints of Fortune Rangoli Design for Diwali
Every step of Goddess Lakshmi brings prosperity and blessings. The Footprints of Fortune theme captures this belief. When you draw these divine footprints at your entrance, it's a symbol of inviting wealth, luck, and positivity. Diwali is a time of hope and new beginnings. And what better way to start than by beckoning good fortune into your home. Choose this Rangoli theme and walk the path of blessings.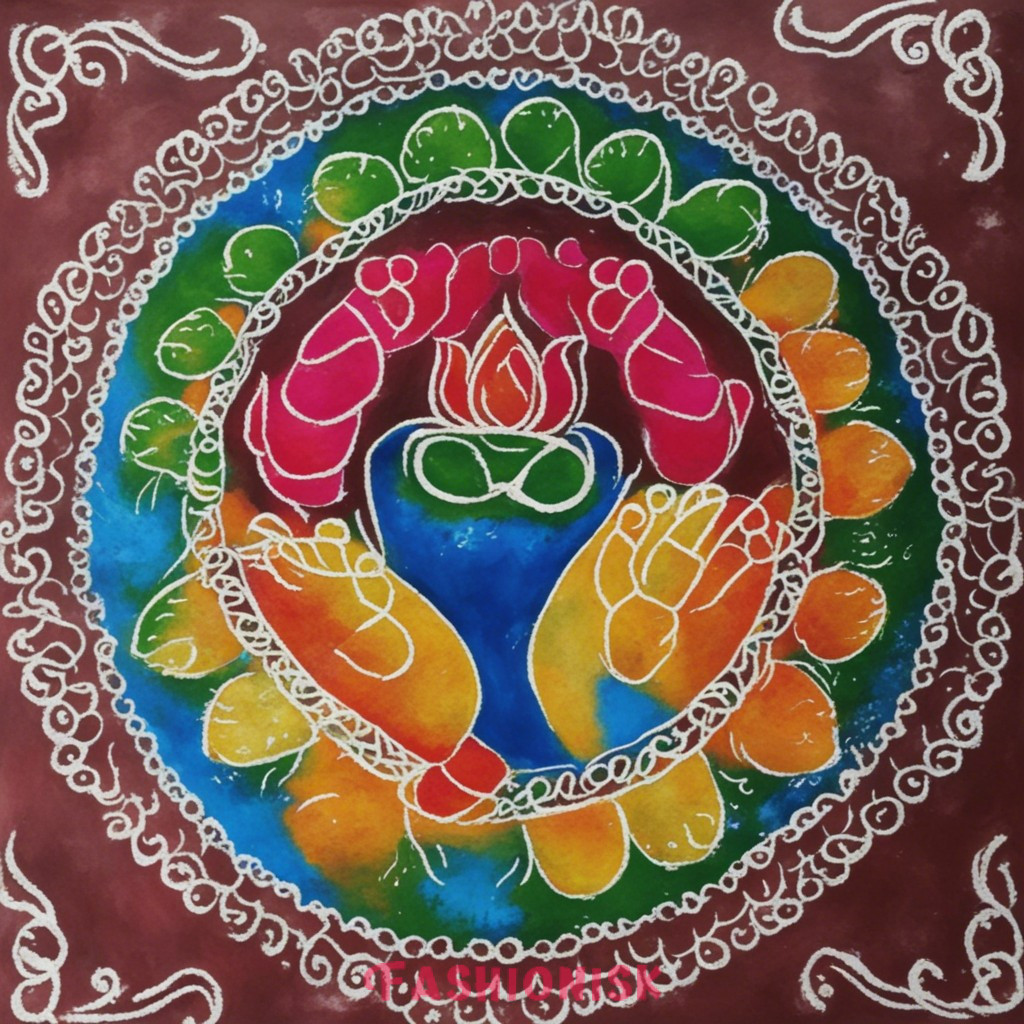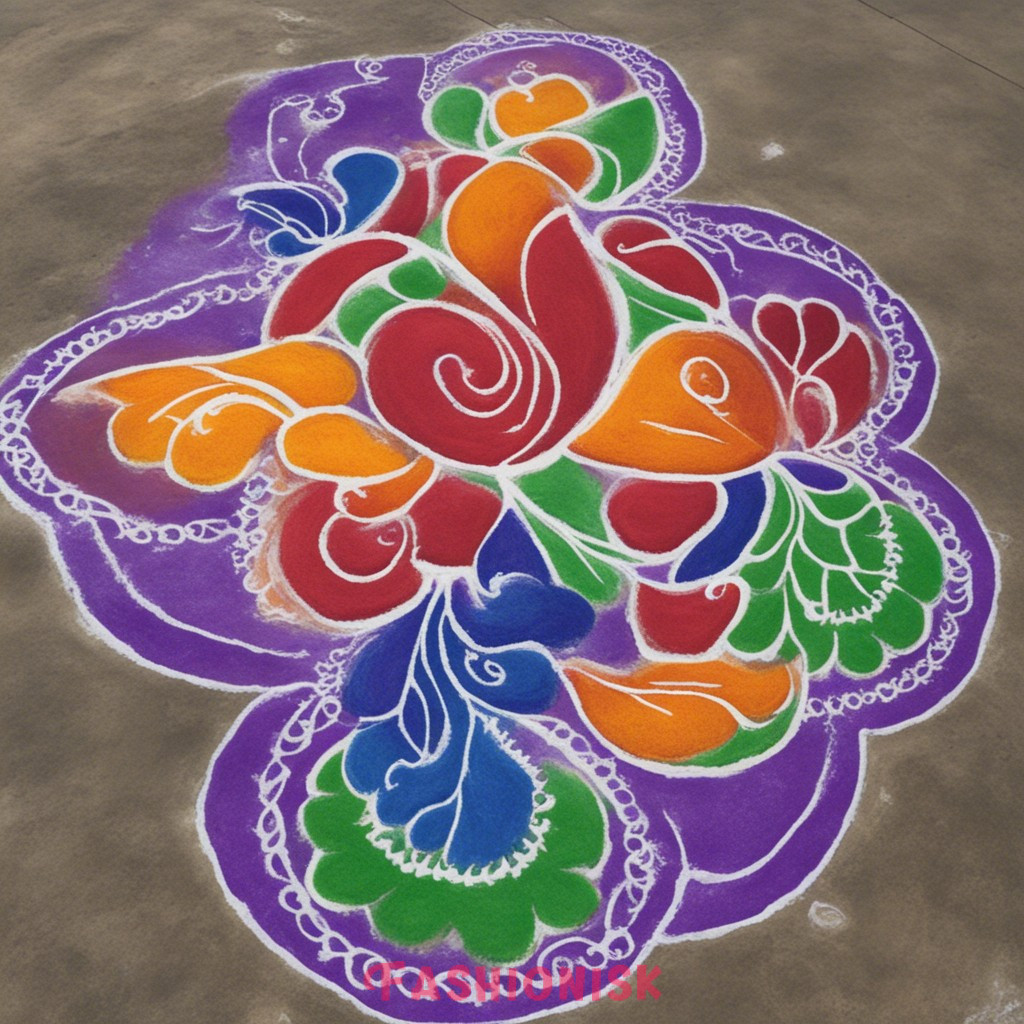 Kaleidoscope of Colors
Colors have their own language. They express emotions, set moods, and add vibrancy. The Kaleidoscope of Colors theme for Rangoli is a celebration of hues. Reds, blues, greens, and yellows come together in harmonious patterns. During Diwali, such a Rangoli design speaks of joy, diversity, and life's vivid moments. Embrace this theme and let your floor burst with a festival of colors.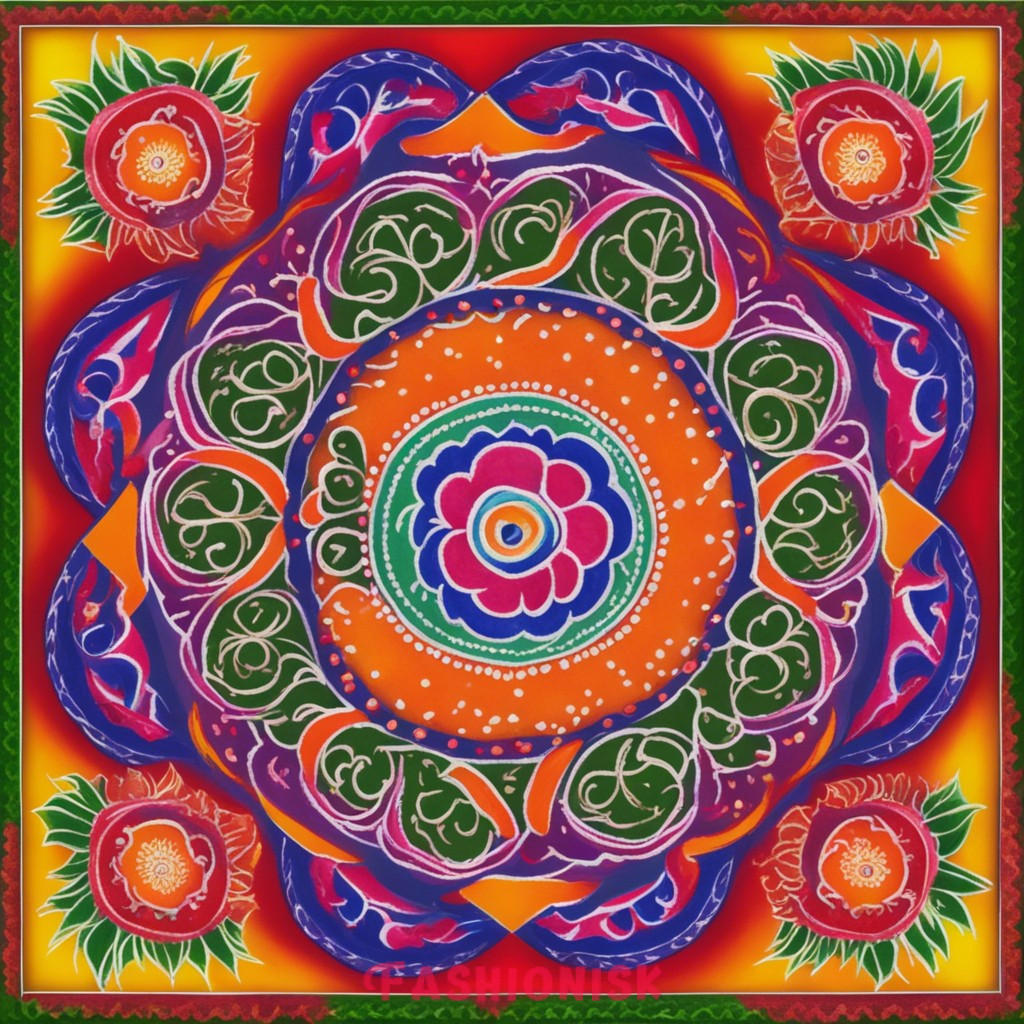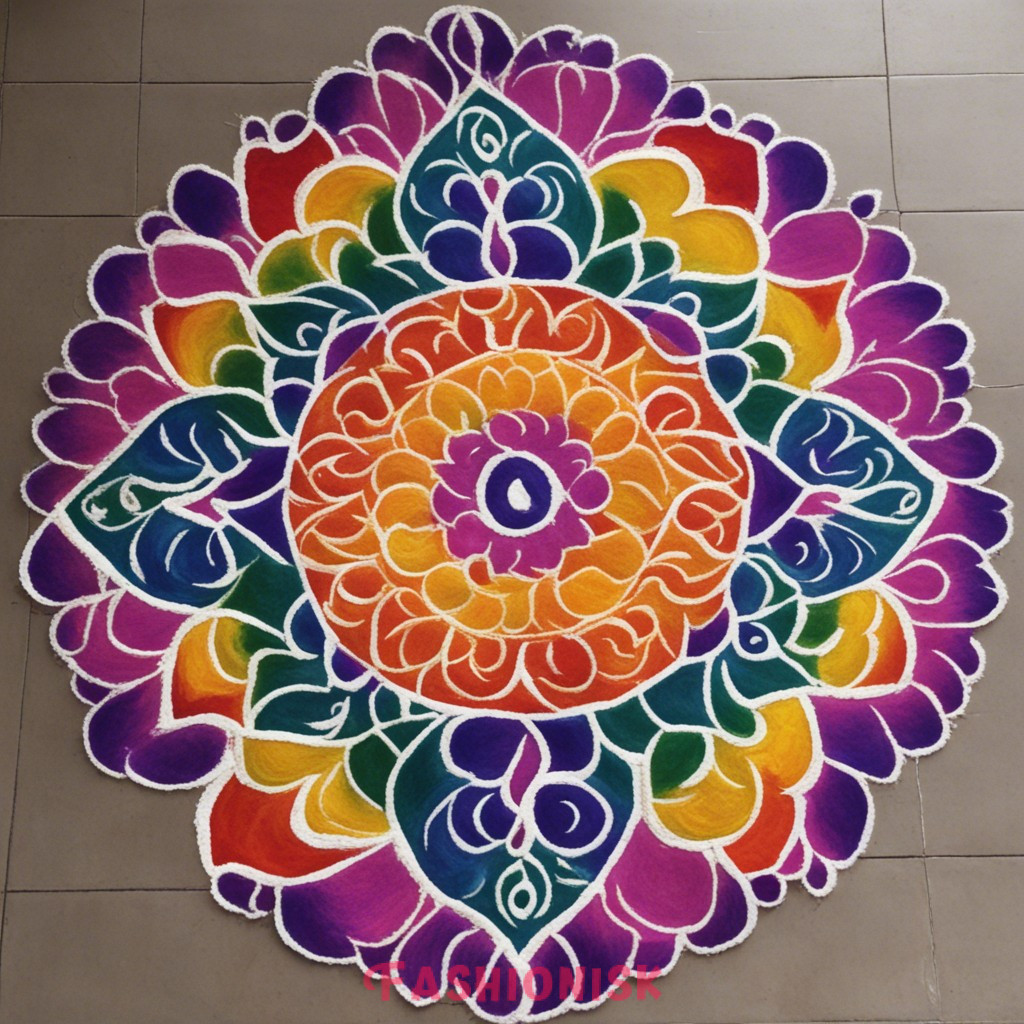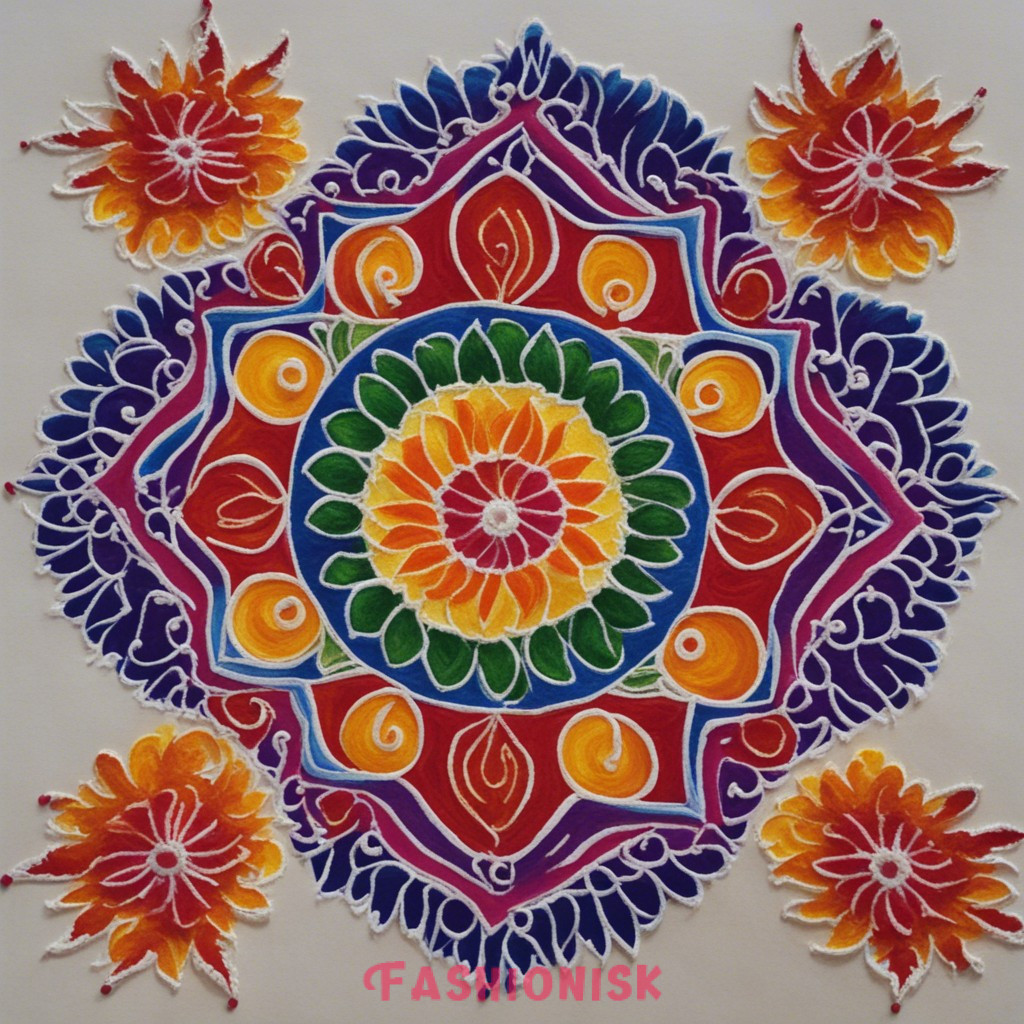 Steps to Designing Your Diwali Rangoli
Choose Your Spot: Identify a clean, flat surface, preferably at the entrance or center of your courtyard. It's where your Rangoli will shine brightest.
Gather Materials: Collect rangoli powders in various colors, stencils (if you're a beginner), white chalk, and some candles or diyas for added allure.
Design Drafting: Sketch your chosen design lightly with white chalk. This will act as a guideline and ensure symmetry in your design.
Start Central: Always begin from the center and move outward. This ensures uniformity and balance in your Rangoli.
Color Filling: Carefully start filling in the colors. Use a pinch of powder at a time and gently spread it within the outlined areas of Rangoli Design for Diwali.
Tools to the Rescue: For intricate designs, use tools like sieves for uniformity or funnels for precise application.
Layering: For a 3D effect, layer colors on top of one another. This adds depth and makes the design pop.
Borders and Embellishments: Outline your Rangoli with white or black to make it stand out. Add decorative elements like diyas, flower petals, or small beads to enhance its beauty.
Preservation: If you want your Rangoli to last longer, lightly spray it with water. This sets the powder, ensuring it doesn't scatter easily.
Safety First: Ensure that the Rangoli area is not too crowded. If placing candles or diyas, ensure they are securely positioned to avoid accidents.
Frequently Asked Questions: Rangoli Design for Diwali
What is the significance of making Rangoli during Diwali?
It symbolizes joy, prosperity, and welcomes the blessings of the deity Lakshmi. It also adds color and vibrancy to the festive celebrations.
Which materials can be used for creating Rangoli designs?
Commonly used materials include colored Rangoli powders, rice flour, flower petals, sand, and even colored stones. Some also use stencils, chalk, and candles or diyas for added effect.
How long does a typical Rangoli last?
Depending on the materials used and environmental factors, a Rangoli can last from one day to a week. Spraying a light mist of water can help retain the design for a longer period.
Are there any specific colors preferred for Rangoli Design for Diwali?
While all colors are used, red, yellow, orange, and green are particularly favored during Diwali as they symbolize prosperity, happiness, and positivity.
Can beginners use stencils for Rangoli designs?
Absolutely! Stencils are great tools for those who are new to Rangoli or want to achieve intricate designs effortlessly.
The Art of Rangoli Designs
In wrapping up our journey into the world of Rangoli design for Diwali, it's evident that this art form is more than just colorful patterns. Each design tells a story. It resonates with traditions passed down through generations. As Diwali approaches, embrace this timeless craft. Let the vibrant hues reflect the joy of the festival. And remember, every grain of color adds to the festive spirit. So delve deep, get creative, and let your entrance shine with a captivating Rangoli this season.
People Also Searched For
Comments