#Women's Fashion
How To Buy Custom & Ready-Made Blouse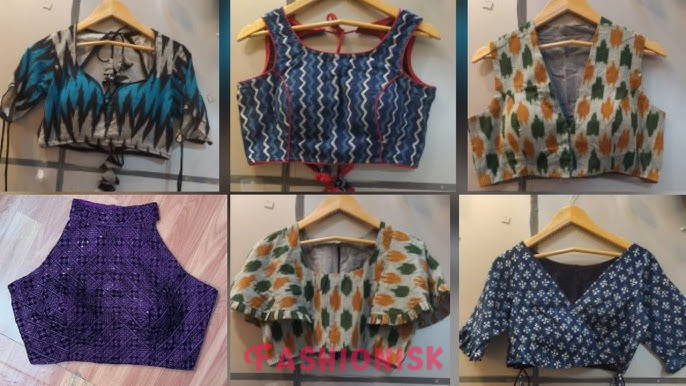 Blouse refers to the garment that is worn with saree or lehenga. It doesn't only give coverage of your body but also a perfect style.
Blouses can vary in design, ranging from simple cotton ones to ornately decorated pieces with heavy embroidery, sequins, and other embellishments. They can have different necklines, back designs, and sleeve lengths, giving wearers numerous style options.
In this article, we will explore the places where you can purchase readymade and custom-made blouses. We have categorized this into three parts: first, local stores for buying readymade blouses; second, online eCommerce platforms; and third, custom tailoring service providers who stitch blouses.
How To Get A Custom Made Blouse?
The best option for obtaining a custom-made blouse is to hire a women's tailor near your location. There's a growing demand for custom-made clothing that complements individual style and guarantees a perfect fit. In essence, custom tailoring ensures a blouse is tailored to your exact specifications, reflecting not only a flawless fit but also your personal style.
An experienced tailor can craft any style you desire. Whether you're in the market for a traditional blouse adorned with intricate embroideries or a contemporary design featuring chic cuts, they can bring your vision to life.
Local Markets To Buy Readymade Blouse
If you are the one who doesn't have time to get a custom-made blouse then you can go with readymade blouse. There are several markets in Delhi from where you can buy such blouse at an affordable price.
Here is the list of places from where you can buy a ready to wear blouse.
1 – Chandni Chowk
Chandni Chowk is well-known as the oldest shopping place in Delhi. It's best known for its variety of clothes, especially traditional Indian wear. Stores like 'Sunehree', 'Om Prakash Jawahar Lal', and many others offer a diverse range of readymade blouses.
2 – Lajpat Nagar Central Market
Lajpat Nagar Central Market is a popular shopping area in Delhi, India. It's a great place to buy clothes, shoes, accessories, and household items. The market is bustling with shops and street vendors selling colorful Indian wear and trendy fashion.
3 – Karol Bagh Market
Karol Bagh Market is a well-known shopping spot in Delhi, India. It's famous for its wide range of clothes, jewelry, and electronics. The market has both brand stores and local stalls, offering a mix of modern and traditional items. Stores like 'Meena Bazaar' and 'Frontier Raas' have a selection of readymade blouses. It's also a great place to buy Indian wedding attire and accessories.
4 – Sarojini Nagar Market
Sarojini Nagar Market is best known for affordable fashion. You can find trendy clothes, shoes, and accessories at low prices. The market is always packed with people looking for great deals. Apart from shopping, you can enjoy tasty street food. Remember to bargain to save even more! It's a shopper's paradise in Delhi.
5 – Shahpur Jat
Shahpur Jat is a vibrant area in Delhi, India. It's known for its unique boutiques and designer shops. Here, you can find custom-made clothes, trendy accessories, and beautiful jewelry. Many young designers have their studios in this area. It's a favorite spot for those seeking fashionable, one-of-a-kind items. If you're looking for something stylish and different, Shahpur Jat is the place to visit.
eCommerce Websites To Buy Readymade Blouse
AJIO: A fashion and lifestyle brand, owned by the Reliance Group. AJIO features both top brands and unique indie labels. They often have sales, giving great deals to shoppers. Its collection of readymade blouses is extensive, catering to both traditional and contemporary styles. The website is user-friendly, making online shopping easy.
Myntra: Myntra is a leading online eCommerce website in India. It's known for its vast collection of clothing, shoes, and accessories. They have items for men, women, and children. Many big brands and designers sell their products on Myntra. The platform often hosts sales, giving customers good discounts. The website and app are easy to use, so finding and buying items is simple. For those who enjoy fashion and convenience, Myntra is a top choice for online shopping.
Meesho is an online shopping platform in India. A relatively newcomer in the eCommerce world, Meesho operates on a reselling model. You can find a vast array of readymade blouses, often sourced from smaller vendors and manufacturers, offering unique designs at competitive prices. The platform offers a range of items like clothes, home goods, and electronics. The app is straightforward, making buying and selling easy. For those wanting to shop or earn, Meesho is a good choice.
Flipkart: One of India's largest online marketplaces, Flipkart's fashion section includes a variety of readymade blouses, catering to a broad audience. If you want to shop from home and get things delivered to your door, Flipkart is a great place to go.
Conclusion
If you want to buy a blouse, there are many ways. You can go to local shops to find ready-to-wear ones. If you like shopping online, many websites sell them. But if you want a blouse that fits just right, there are also tailors who can make one specially for you. Whether it's ready-made or custom-stitched, you have many options to choose the perfect blouse for yourself.
Comments