#Women's Fashion
50+ Blouse Back Design: The Key to an Eye-Catching Outfit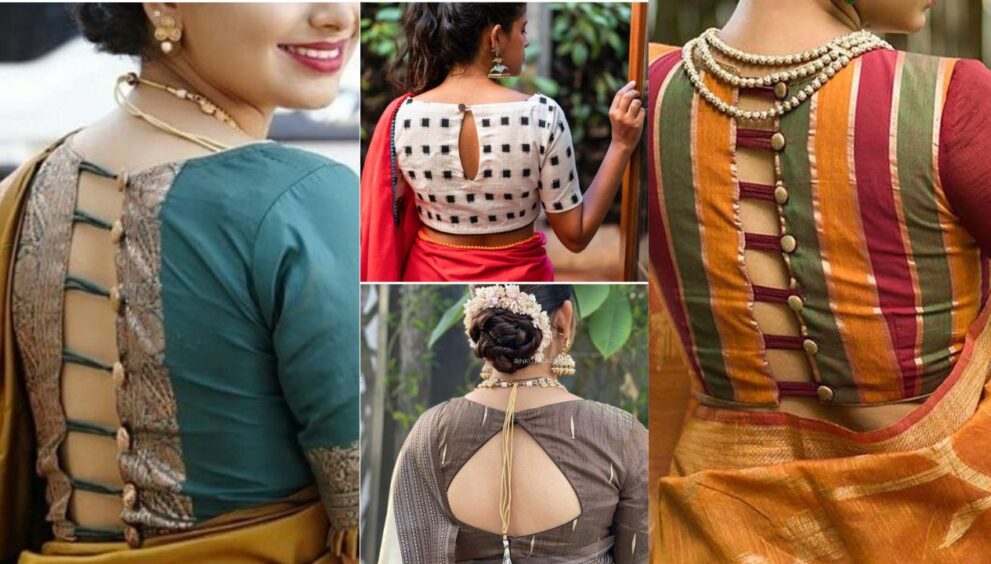 Blouse back design is my passion. It's that touch of innovation that turns a simple garment into a statement piece. Every fold, every cut, and every stitch can make a difference. In this realm of fashion, blouse back designs are evolving constantly. Today, we're not just talking about the traditional round or square cut. There are keyhole designs, tie-ups, tassels, and so much more. Each design adds a unique character to the blouse and enhances the overall look of the outfit. The right blouse back design can uplift your style, making you stand out in the crowd. Let's explore this fascinating world of blouse back designs together.
Simple Blouse Back Design
Simplicity doesn't mean boring. Quite the opposite, in fact. A simple, well-fitted blouse with a classic round or square back design can complement a heavily embellished saree beautifully. It's all about balance. When the front of the blouse or the saree is intricate, a simple back design lets the focus remain on these elements. Also, such designs are suitable for women of all ages and are perfect for every occasion, be it an office party or a family gathering. They're like the little black dress of the blouse world – always in fashion, always appropriate. Trust me, you can never go wrong with a simple blouse back design.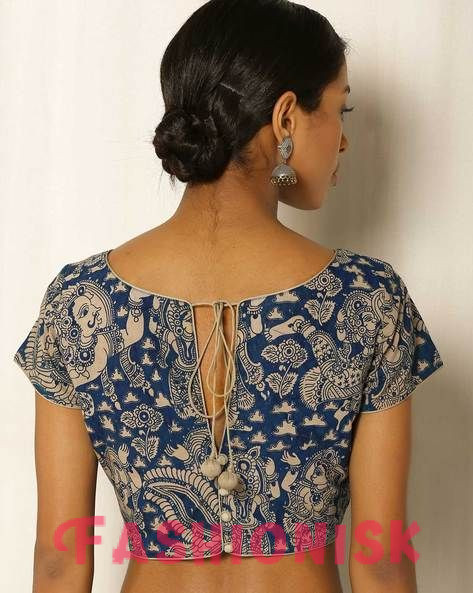 Modern Blouse Back Design
Today's trends blend tradition with a fresh perspective. We see playful cut-outs, daring backless styles, and intricate embroidery. The modern blouse is not shy about making a statement. It flirts with bold colors, indulges in unexpected patterns, and embraces unique materials like sheer net and lace. For instance, a high neck blouse with a dramatic diamond cut-out at the back can be a showstopper. It's a thrilling time to be in the world of blouse design, as we're constantly pushing boundaries and redefining fashion rules.
Back Boat Neck Blouse Designs
This design offers a subtle, stylish scoop at the back, mirroring a boat's hull, hence the name. It's sophisticated and versatile, working beautifully with both traditional and contemporary sarees. The best part? It suits all body types. The design has a way of elongating the neck and drawing attention to the shoulders. You can jazz it up with an interesting fabric or keep it simple and elegant. Either way, a back boat neck blouse always brings a sense of grace and class to your attire.
Lehenga Blouse Back Design
In the world of lehenga blouses, the back design is a focal point. It's where you can make a grand statement. Some prefer a deep plunge for a bold, dramatic look, while others choose an intricate netted back for a soft, romantic appeal. A trend that's quite popular is the inclusion of ornate details like mirror work, sequins, and embroidery. These elements enhance the design and add a regal touch to the lehenga. The best part? With lehenga blouse back designs, you can go as daring or as modest as you want, and still look fabulous. It's all about personal style and comfort.
Puff Blouse Back Design
Puff blouse back designs are all about adding a vintage charm to your outfit. The puff or balloon sleeves bring a touch of nostalgia and femininity to the blouse. But the back design can be a game-changer. A deep V-back on a puff blouse can balance the softness of the sleeves with a bit of edge. Alternatively, a round or square cut keeps things traditional and demure. Pair it with a bow or some lace detailing, and you've got a blouse that's both sweet and stylish. The puff blouse back design is a versatile trend that works with a variety of sarees and occasions.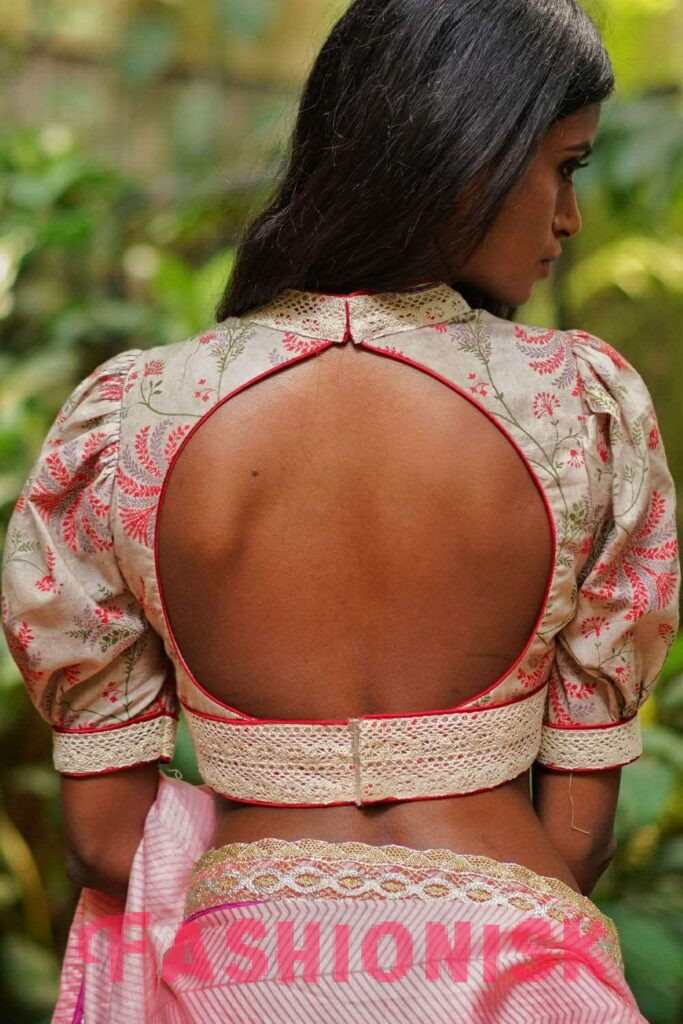 Fancy Blouse Design Back Side
When it comes to fancy blouse back designs, the options are endless. These designs often showcase a high level of craftsmanship and detail. You might find intricate embroidery, beautiful beadwork, or eye-catching sequins. Popular trends include elaborate cut-outs, lace panels, and even bejeweled motifs. Whether it's a low-cut back with tassel ties or a heart-shaped cut-out bordered with gold embroidery, a fancy blouse design at the back can truly elevate your ensemble. This attention to detail can transform an ordinary saree into a head-turning outfit. It's the perfect blend of elegance and glamor, all in one design.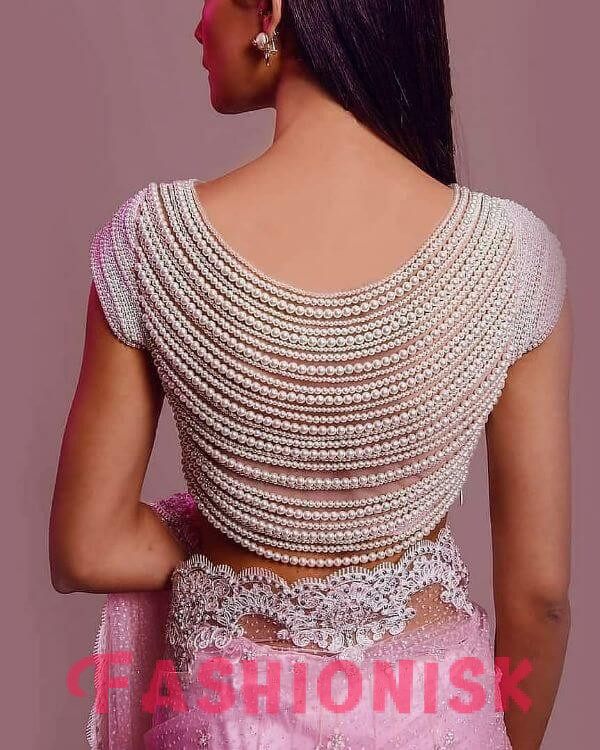 Net Blouse Back Design
In the realm of blouse design, the net blouse back design is a standout. This design uses a net fabric for the back, creating an effect that's both alluring and sophisticated. The sheer quality of the net allows for a peek-a-boo effect, adding an element of surprise. It's ideal for showcasing intricate embroidery or beadwork, which seem to float on the wearer's back. What's more, a net blouse back design can be paired with any saree and still look absolutely stunning. It's a versatile, trendy option that adds a touch of modern elegance to traditional attire.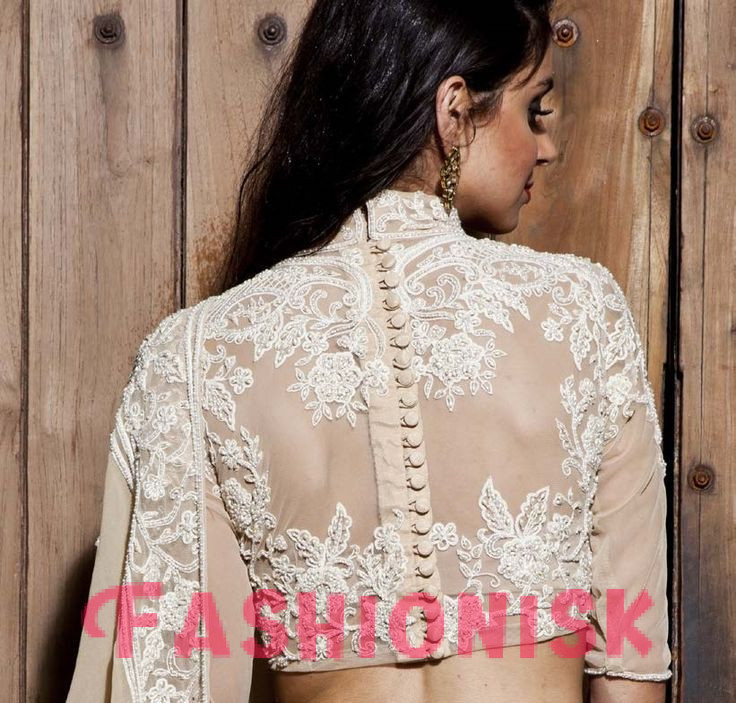 Traditional Blouse Back Design
Traditional blouse back designs have a charm that's timeless. These designs typically feature classic shapes such as round, square, or rectangular cuts. They are often paired with short sleeves or cap sleeves and showcase exquisite detailing like border piping, embroidery, or mirror work. Despite their simplicity, traditional blouse back designs never fail to exude elegance. They complement a wide range of sarees, from Banarasi silks to lightweight chiffons. More than just a fashion statement, these designs reflect the rich heritage of our clothing traditions, carrying a sense of nostalgia and cultural pride.
Paithani Blouse Back Design
Paithani blouse back designs are in vogue these days, adding a unique ethnic touch to the ensemble. These designs typically showcase intricate artwork, featuring the rich culture and heritage of Maharashtra. With a deep U, square or round cut, the blouse back draws attention. The highlight, however, is the beautiful embroidery work that mirrors patterns found on Paithani sarees. The combination of vibrant threads and real zari work creates a mesmerizing effect. This trendy blouse design, when paired with a matching saree, looks absolutely stunning.
Back Hook Blouse Design
Back hook blouse designs are currently in trend, offering both style and convenience. This design has hooks at the back, giving it a clean and elegant front look. It suits any kind of saree, whether silk, chiffon, or georgette. The number of hooks can vary, adding to the overall design aesthetic. Some blouses sport a row of small, delicate hooks, while others showcase fewer, larger hooks for a bolder statement. The fabric around the hooks often has detailed embroidery or beadwork, enhancing the elegance of the blouse. This versatile design is perfect for any occasion, be it formal or festive.
Back Less Blouse Design
Backless blouse designs are making a fashion statement in the world of traditional wear. They feature a daring cut at the back, providing a glamorous touch to your look. The edges of the back cut often carry intricate embroidery or sequin work, adding sparkle to the design. For a secure fit, they come with tie-ups or delicate strings at the back, usually at the neck and waist. These strings can have decorative elements like tassels or beads, further enhancing the style. Pair a backless blouse with a saree or lehenga for a chic, modern look at your next event.
People Also Searched For
Comments