#Women's Fashion
Disney Nail Art: Dazzling Designs for Every Fan
Nail art has always been a powerful medium for expressing individual style. And when it comes to merging that expression with fond childhood memories, Disney nail art stands out. It lets you carry a piece of Disney magic right at your fingertips. No wonder it's creating a buzz in the beauty world.
Imagine showing off Cinderella's glass slipper or flaunting the iconic ears of Mickey Mouse on your nails. Whether you are a die-hard Disney fan or just looking for a fresh nail design, Disney themes offer endless possibilities. Each character, each story brings a unique pattern, color, and vibe.
There's Ariel's shimmering green tail. Then there's Snow White's vibrant red apple. And don't get me started on Elsa's icy blue motifs! With so many stories and characters, you will never run out of nail art ideas.
Disney not only evokes nostalgia but also introduces a playful twist to your manicure. Plus, with the right design, it can suit any occasion. From casual day outs to elegant parties, you can tailor the art to fit the mood. And the best part? It's a conversation starter! Show off your nails and dive into talks about favorite Disney moments and memories.
Disney nail art does more than just beautify your nails. It celebrates a legacy of tales that have touched hearts for generations. So next time you think of a nail makeover, let the world of Disney inspire you. Dive into this magical journey and let your nails tell a fairy tale.
A Glimpse into Dazzling Disney Nail Art
Here every design tells a story. It's more than just polish on nails. It's a journey. Colors take form. They echo tales of heroes, villains, love, and adventures. From classic characters to modern marvels, Disney offers endless inspiration. Each nail becomes a canvas. A canvas that captures dreams, hopes, and childhood memories. So join me. Let's explore this enchanting world together.
Classic Mickey and Minnie Polka Dots
Mickey and Minnie Mouse are icons in the Disney world. Their charming simplicity has a timeless appeal. This is why the classic Mickey and Minnie polka dots nail art remains a favorite. With black and white or red and white patterns, your nails instantly transport to the cheerful world of these lovable characters. The design is cute. It's playful. And it captures the innocence of these cartoon legends.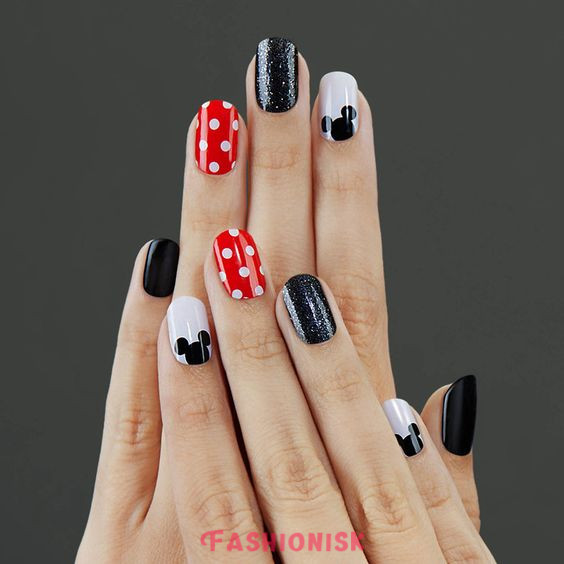 Cinderella's Glass Slipper Sparkle
Every girl dreams of her Cinderella moment. The beauty of Cinderella's story reflects in the glass slipper design. Imagine nails that shine with a crystalline blue. It's as if fairy tales have come alive on your fingertips. You don't need a ball to wear this design. Just a love for stories that promise a happily ever after. This nail art speaks of dreams, magic, and romance.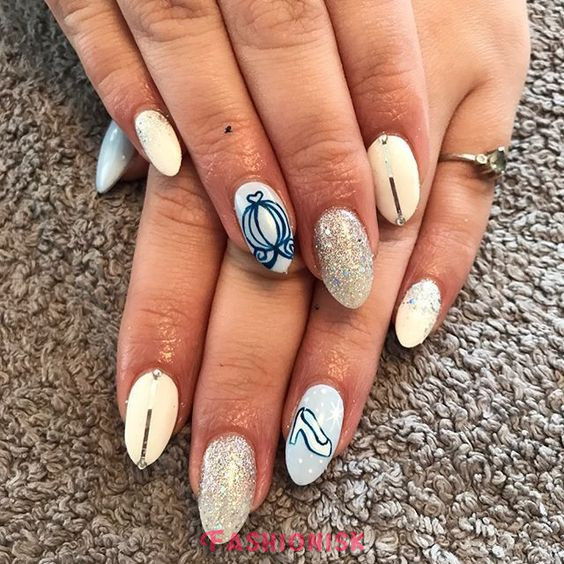 Enchanting Snow White's Apple Reds Disney Nail Art
The tale of Snow White is as old as time. The iconic red apple plays a pivotal role. And it serves as inspiration for a nail art that's bold and beautiful. A rich apple red design makes a statement. It reminds us of courage, temptation, and love. Choosing this design means embracing a story where love conquers all.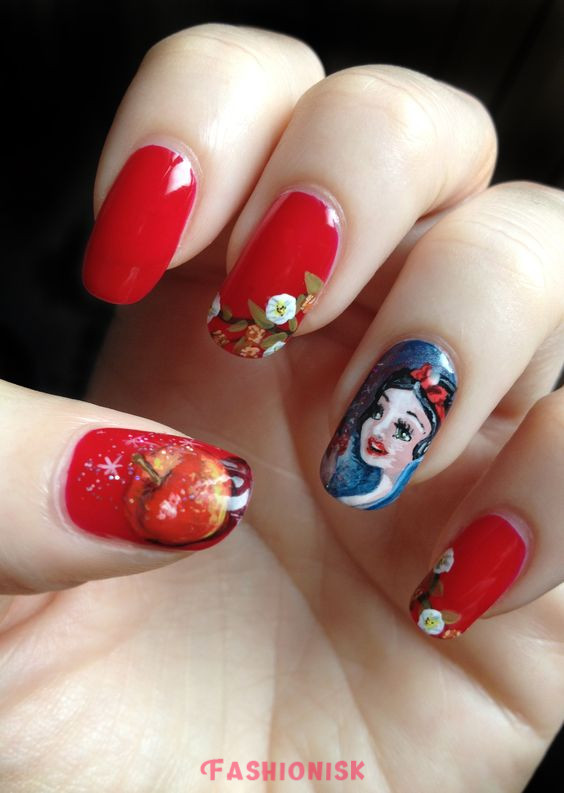 Ariel's Under-the-Sea Shimmers
The underwater world is mystical. It's vibrant and full of wonders. Ariel's story takes us on a journey beneath the waves. The under-the-sea shimmers nail art is a tribute to that world. It brings to life the deep blues and marine greens of Ariel's ocean realm. Each shimmer tells a tale. A tale of freedom, love, and discovery.
Pocahontas-inspired Earthy Tones
Pocahontas teaches us about nature, love, and unity. Her story is rooted deep within the Earth. The Pocahontas-inspired nail art captures this essence. Earthy tones like browns, greens, and rust dominate this design. They speak of forests, rivers, and winds. It's a nail art for those who feel connected to the land and its stories. For those who believe in dreams that the wind carries.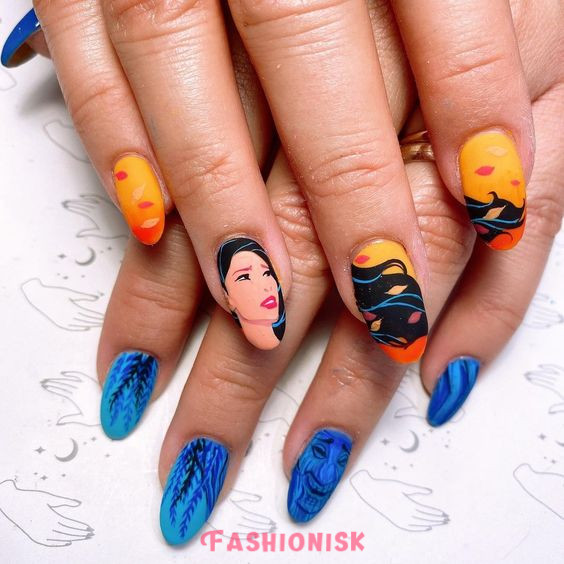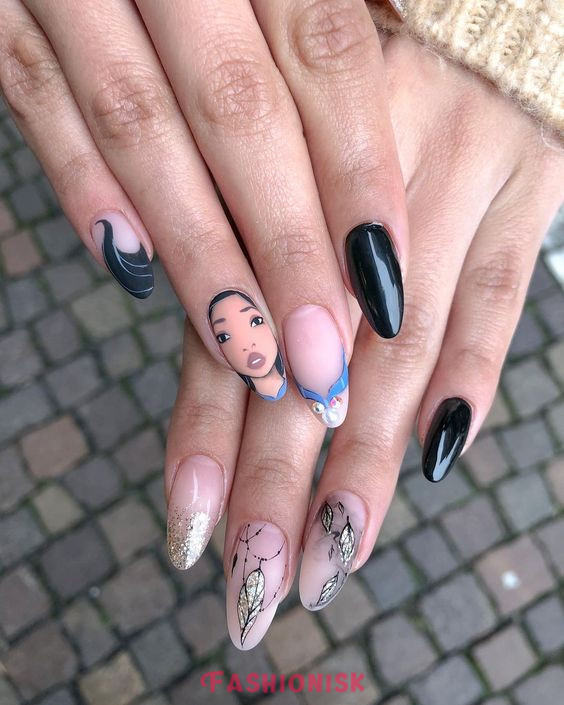 Tangled's Rapunzel Sunset Pastels Disney Nail Art
Magic fills the air when we think of Rapunzel. The world of Tangled is bright and colorful. Just like the sunset pastels that inspire this nail art. Soft pinks blend with dreamy purples. It paints a picture of evening skies and floating lanterns. It feels romantic. It's whimsical. Every brush stroke takes us on a journey with Rapunzel. A journey of freedom and self-discovery.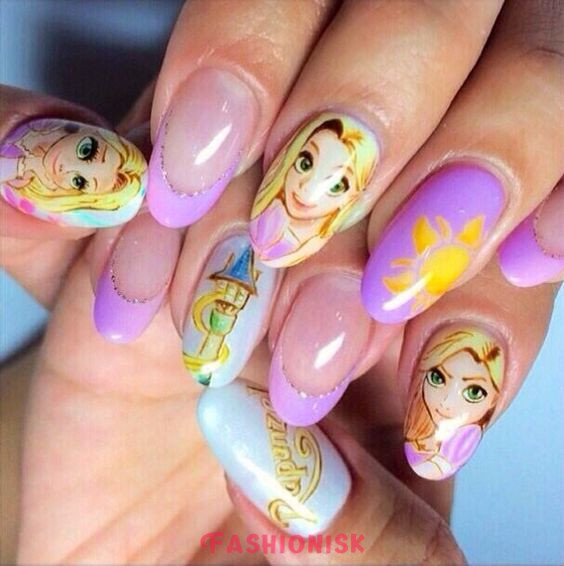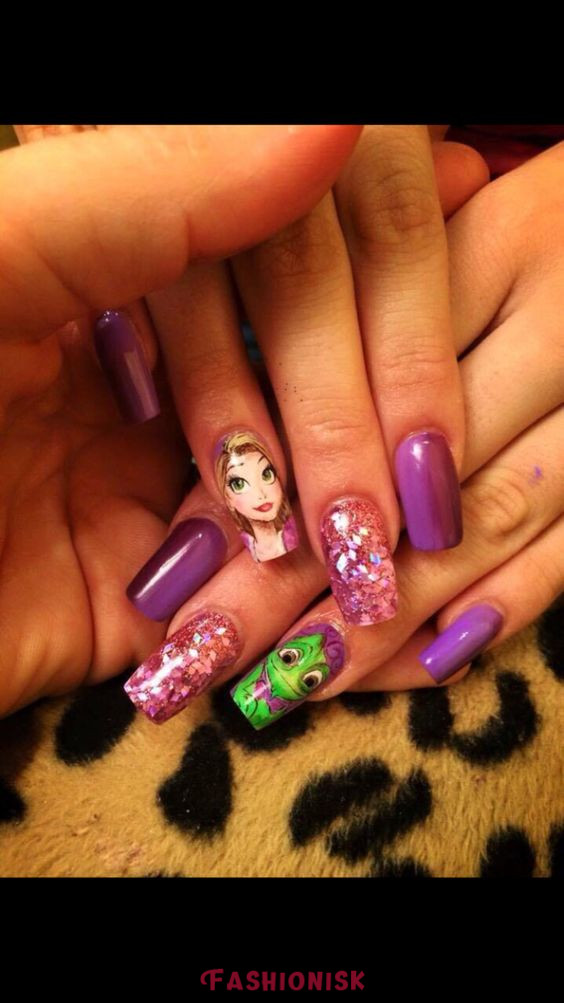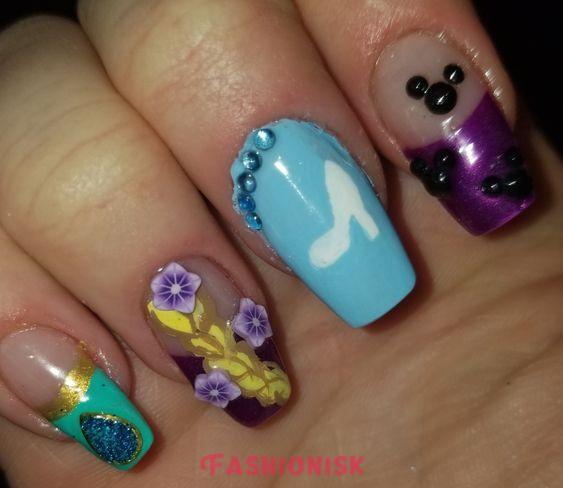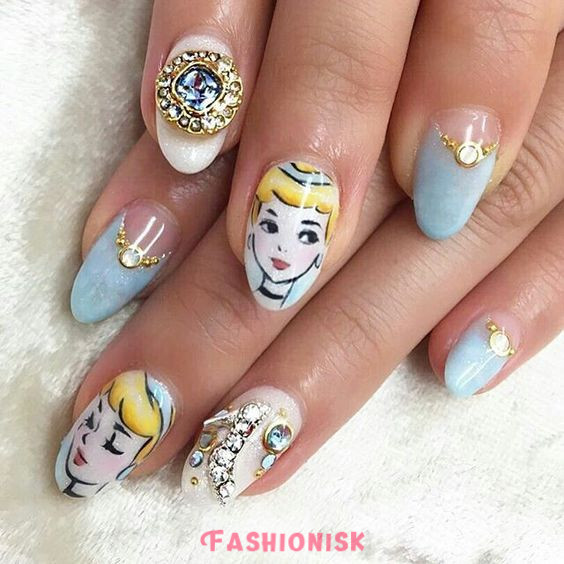 Simba's Pride Rock Gradient
The circle of life is profound. Simba's tale in The Lion King touches every heart. The Pride Rock gradient design pays tribute to the African savannah. Think of sunrises on vast plains. Colors shift from deep oranges to majestic golds. It's wild. It's regal. This Disney nail art connects us to the land. To the pulse of nature and the rhythms of life.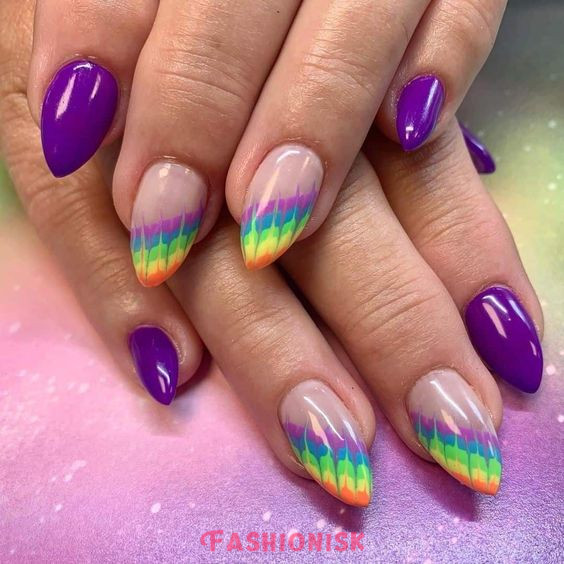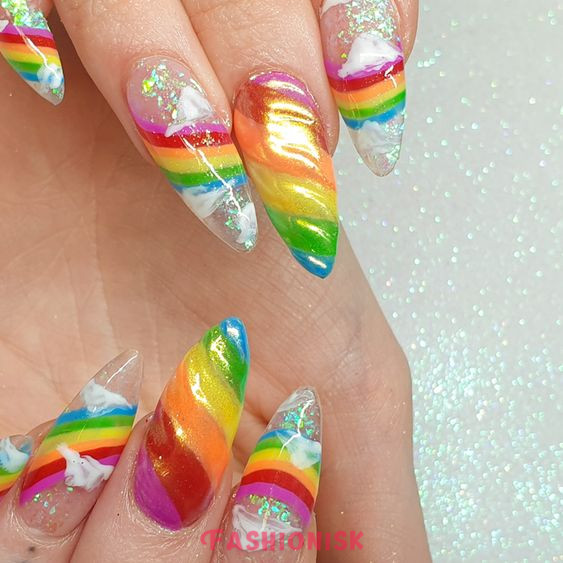 Frozen's Elsa Icy Blue Glitters
Cold can be stunningly beautiful. Elsa shows us that in Frozen. The icy blue glitters nail art embodies her magic. It's cool. It sparkles. It shines like an untouched snowy landscape. Wearing this design feels like wielding Elsa's power. It's an ode to bravery. To the strength that lies in embracing who you truly are.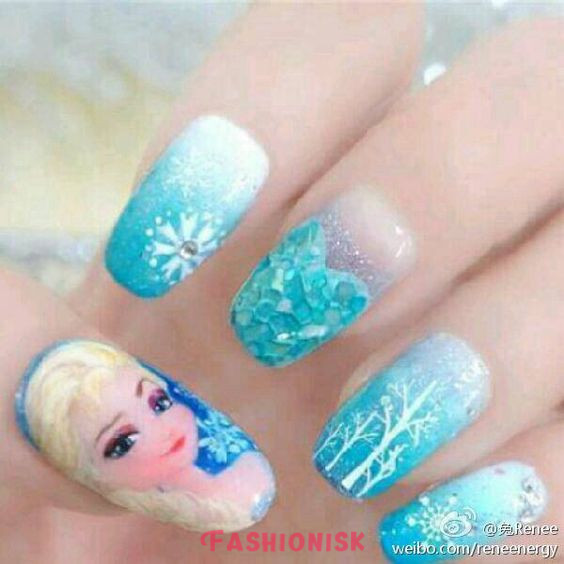 Moana's Ocean Wave Accents Disney Nail Art
Moana's spirit is indomitable. Her love for the ocean is deep. This design captures the essence of rolling waves and vast seas. Blues crash and swirl. It's dynamic. It's mesmerizing. Just like Moana's journey. This nail art sings of adventure. Of horizons yet to be explored and legends waiting to be told.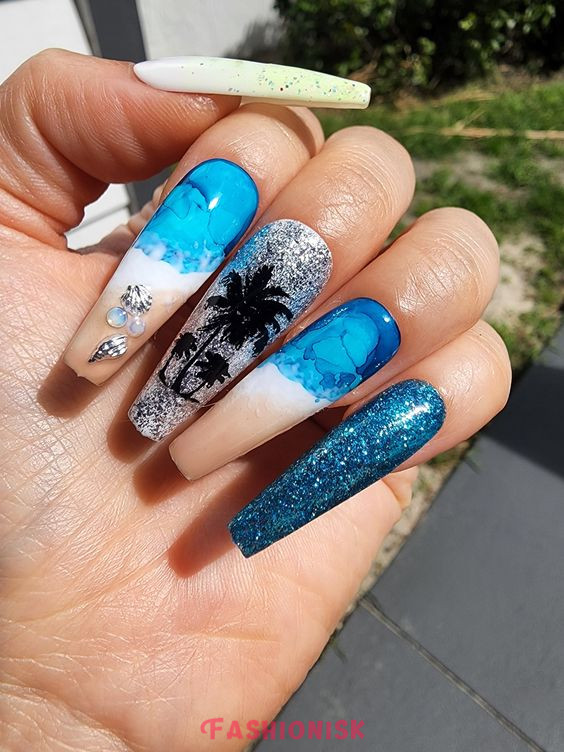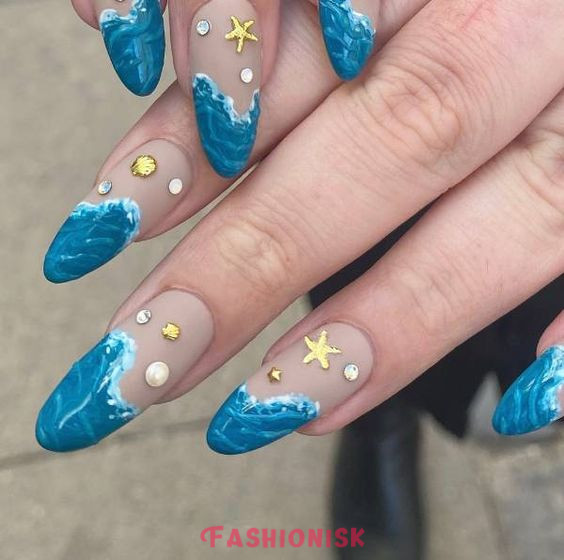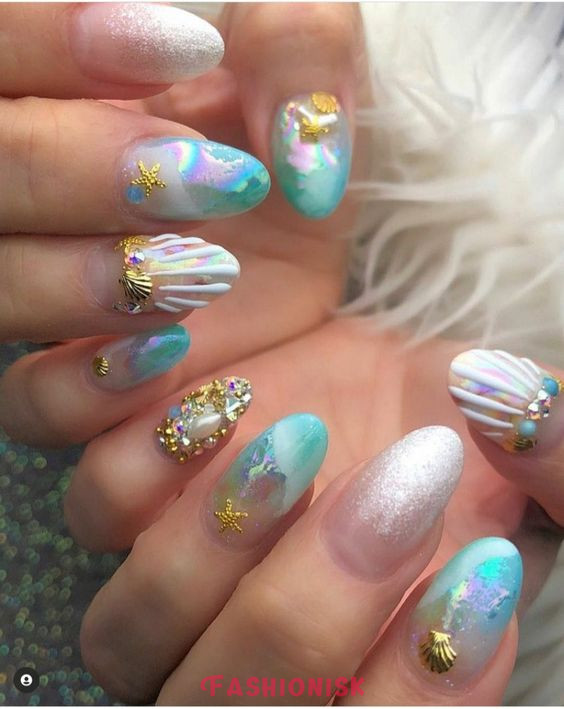 Sleeping Beauty's Rose Gold Elegance
Romance weaves through Sleeping Beauty's tale. The rose is a symbol. A beacon of hope and love. The rose gold elegance design reflects this. It's delicate. It's graceful. Gentle pinks shine with subtle gold. It feels like a dream. This Disney Nail Art is for moments when you wish to be whisked away into a world of fairy tales and castles. A world where true love's kiss changes everything.
Maleficent's Bold Black and Purple Contrasts
Darkness meets elegance in the world of Maleficent. This nail art is inspired by her power. Black represents her mystery. Purple showcases her royalty. The two shades collide in stunning contrast. Each nail tells a story of defiance. It speaks of misunderstood beauty. When you wear this design, you embrace the allure of the enchantress. You revel in her might.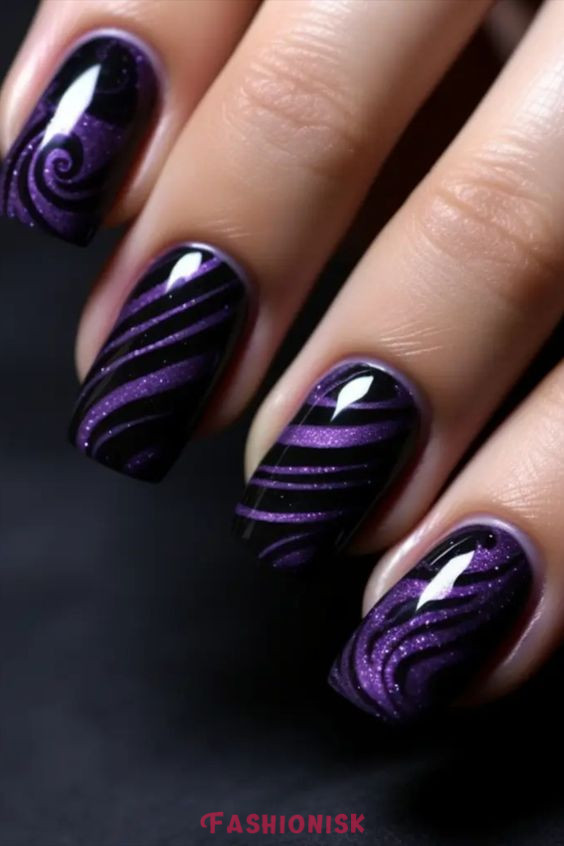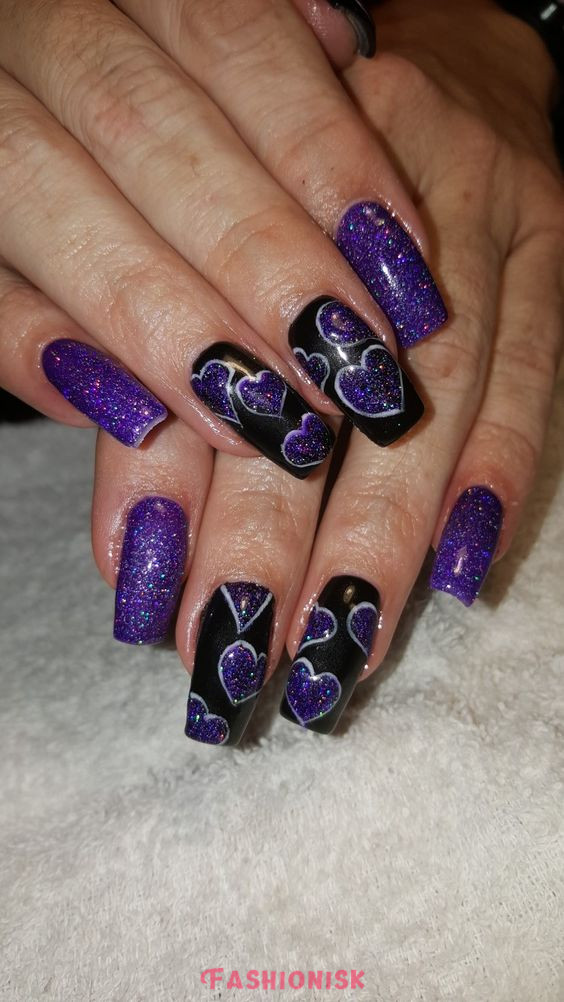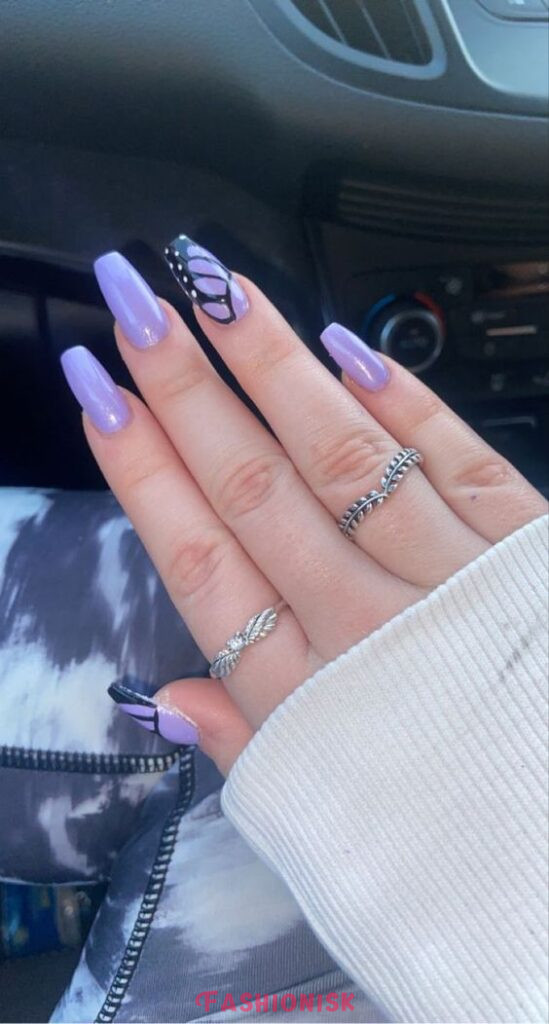 Aladdin's Magic Carpet Patterns Disney Nail Art
Aladdin takes us on magical rides. And the magic carpet is iconic. Think of intricate patterns. Visualize designs that speak of desert nights and starry skies. This nail art captures that charm. It's vibrant. It's rich in detail. Each nail becomes a tapestry of adventure. A canvas that reminds us of a whole new world waiting to be explored.
Beauty and the Beast's Enchanted Rose Details
The enchanted rose is a beacon of hope. It's a symbol in Beauty and the Beast that time is precious. This Disney Nail Art focuses on the rose's delicate petals. It plays with shades of reds and greens. It feels timeless. It's tender. With this nail art, you hold a piece of the tale. A tale of true love and redemption.
The Nightmare Before Christmas Gothic Touches
Jack Skellington's world is unique. It's a blend of spook and wonder. This nail art borrows from that realm. It plays with gothic themes. Blacks mix with whites. There are hints of grays. The designs feel otherworldly. They're haunting yet captivating. Every nail brings Halloween Town to life. It's a blend of the eerie and the magical.
Toy Story's Buzz and Woody Friendship Symbols Disney Nail Art
Toy Story is about friendship. Buzz and Woody teach us loyalty. This design celebrates their bond. Think of Woody's cowboy patterns. Add Buzz's futuristic designs. The two themes merge. It feels playful. It's full of heart. This nail art takes us back to childhood. To days of adventures with toys that became lifelong friends.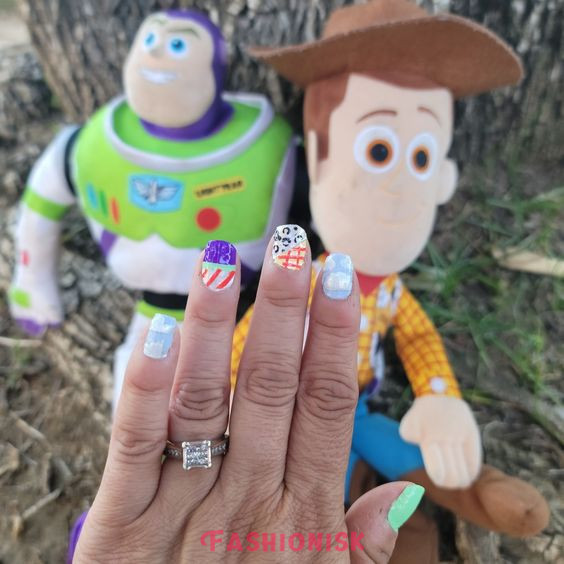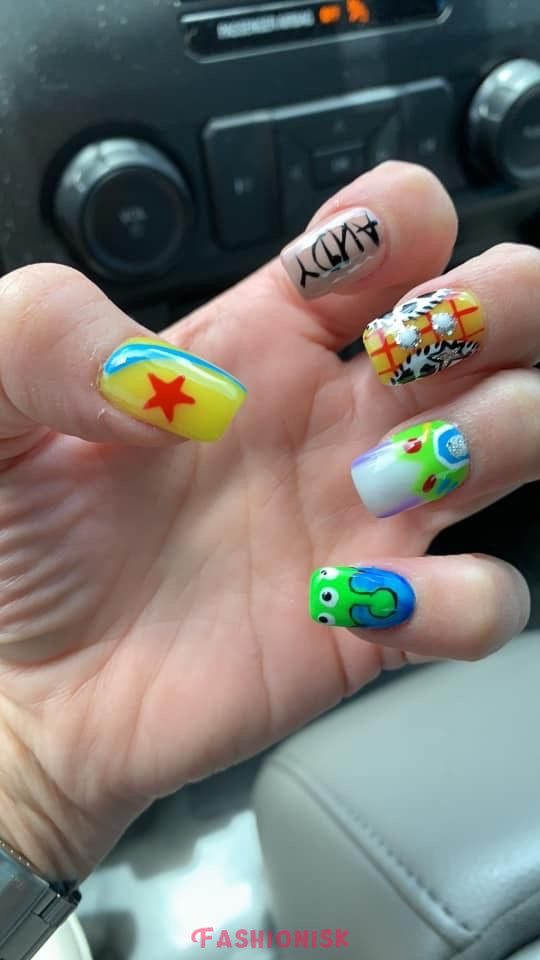 Finding Your Fairytale: Picking the Perfect Disney Nail Art
Reflect on your favorite Disney character or movie.
Consider the occasion: casual day or special event.
Match the color palette to your outfit or mood.
Think about the complexity: simple silhouette or detailed design.
Explore current trends in nail art for modern twists.
Decide between DIY or seeking a professional nail artist.
Opt for designs that resonate with your personal style.
Think about the longevity and choose long-lasting designs if needed.
Ensure you have the right tools or decals for intricate designs.
Take inspiration from Disney parks, merchandise, or events.
Always prioritize the health and condition of your nails.
Experiment, have fun, and let your imagination run wild!
Frequently Asked Questions
What tools do I need for Disney nail art?
At the basics, you'll need nail polishes in various colors, a set of fine brushes, dotting tools, and possibly nail decals or stickers with Disney themes. A top coat is also recommended to seal in your design.
How long does nail art typically last?
Depending on the quality of nail polish, your top coat, and daily activities, nail art can last anywhere from several days to two weeks.
Can I buy Disney-themed nail decals?
Yes, many online stores and beauty outlets offer Disney-themed nail decals or stickers, which are perfect for those who want a detailed design without the intricacy of hand painting.
Are there licensed nail salons that specialize in Disney designs?
While not every salon might have a specialist, many nail artists are skilled in Disney designs due to their popularity. Always check a salon's portfolio or ask about their artists' expertise.
Can I use regular craft glitter for a sparkly Disney nail design?
It's best to use nail-specific glitter as it's finer and safer for nails. Craft glitter might not adhere well and can be coarser, which may lead to chipping or discomfort.
Waltzing with Walt
Wrapping up our magical journey, it's clear that Disney nail art is more than just a trend. It captures our fondest memories. Each design tells a story. From the vibrant hues of princess gowns to the iconic symbols of our favorite characters, our nails become a canvas of dreams. So next time you're looking for that perfect manicure, let Disney be your muse. Dive deep into this enchanting world. Let your nails be the storytellers. And remember, in the realm of Disney, every brush stroke is a sprinkle of magic.
People Also Searched For
Comments