#Lifestyle
Karwa Chauth Thali Decoration Ideas to Charm and Delight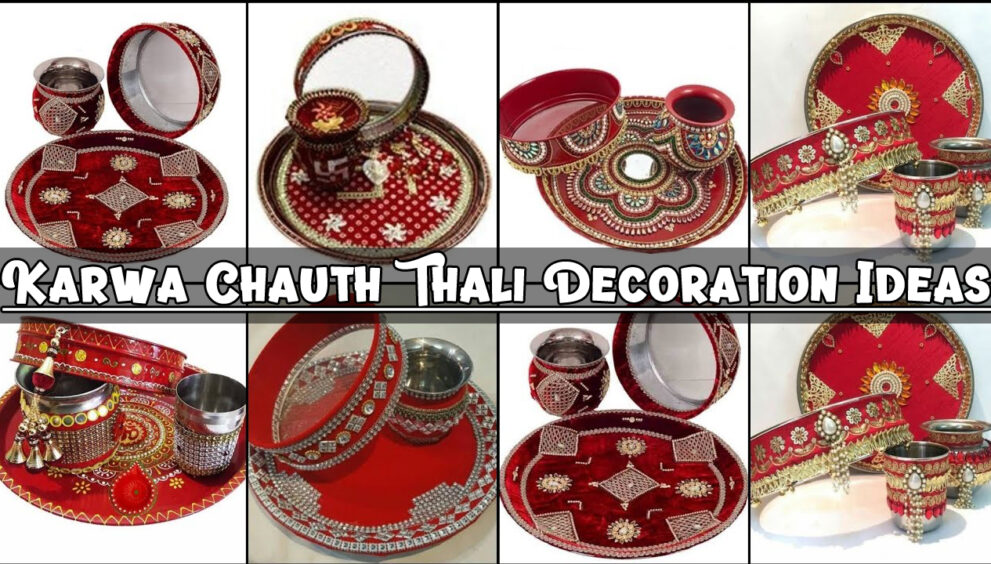 Karwa Chauth Thali Decoration Ideas are among the most sought-after during the festive season. Karwa Chauth is a beautiful festival. It celebrates the bond of marriage and the love between couples. On this day, married women fast from sunrise to moonrise for the well-being of their husbands. A significant part of the celebration is the decorated thali or plate. This plate holds great importance. It carries all the essentials for the evening rituals.
Now let's dive deep into the world of creativity. Decorating the thali isn't just an act. It's an expression of love and devotion. Every element on the plate holds symbolic meaning. From the diya to the sweets and the sieve used to view the moon, every piece tells a story. So why not make that story as beautiful as possible?
It's not about spending big bucks. With a touch of creativity and love, you can transform any regular thali into a piece of art. Think vibrant colors, traditional motifs, sequins and beads. There's so much you can do. And the best part? Every decorated thali will be unique. It will represent your personal touch and the love you pour into it.
So if you're keen on making this Karwa Chauth special, you're at the right place. Whether you're a pro at crafting or just starting out, these ideas will inspire you. Get ready to immerse yourself in the world of colors and designs. Let your imagination run wild and make this festive season truly memorable with our Karwa Chauth Thali Decoration Ideas.
Dazzling Designs: Karwa Chauth Thali Decoration Ideas
Karwa Chauth is a festival of love and devotion. With this special day around the corner, everyone seeks a touch of beauty for their celebrations. "Dazzling Designs" dives into this world of decoration. We'll explore the art of crafting the perfect Karwa Chauth thali. From traditional to modern, every idea tells a tale. It reflects the celebrant's dedication and artistry. As we journey together, you'll find inspiration for every style. So let's embark on this voyage of color, texture, and light. Welcome to the realm of Dazzling Designs for your Karwa Chauth thali.
Velvet Dreams
Velvet speaks of luxury. When we think of Velvet Dreams for Karwa Chauth thali decoration, we imagine a royal touch. Velvet offers a soft texture. It makes the thali look plush and opulent. Rich colors like deep maroons or royal blues can elevate the look. Pair it with gold or silver elements. The result is truly dreamy. A velvet base is an excellent choice for those who love sophistication. It adds an instant charm. With Velvet Dreams, your Karwa Chauth thali is sure to stand out.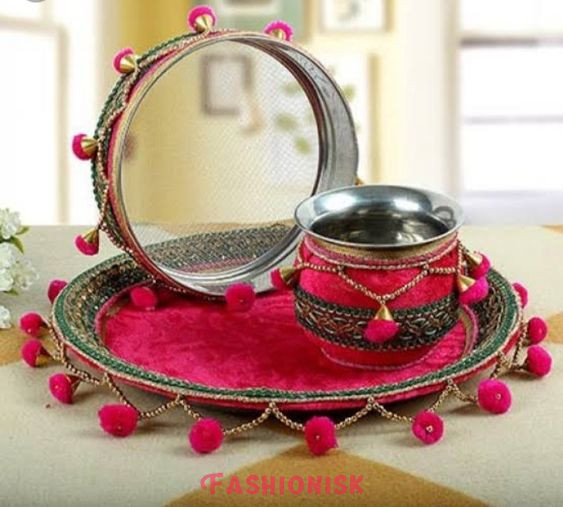 Golden Glitter
Golden Glitter is all about sparkle. It brings a festive shine to Karwa Chauth celebrations. A touch of golden glitter can transform a simple thali. It makes it look regal. The shimmer catches the eye and reflects the moonlight beautifully. Gold symbolizes prosperity. It adds an auspicious touch to the festival. By incorporating Golden Glitter, you ensure a radiant centerpiece for the evening.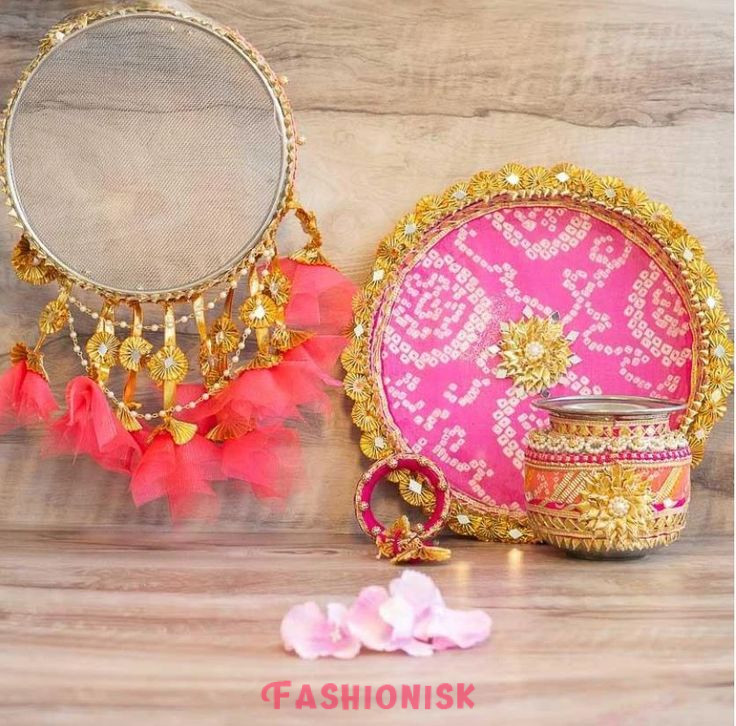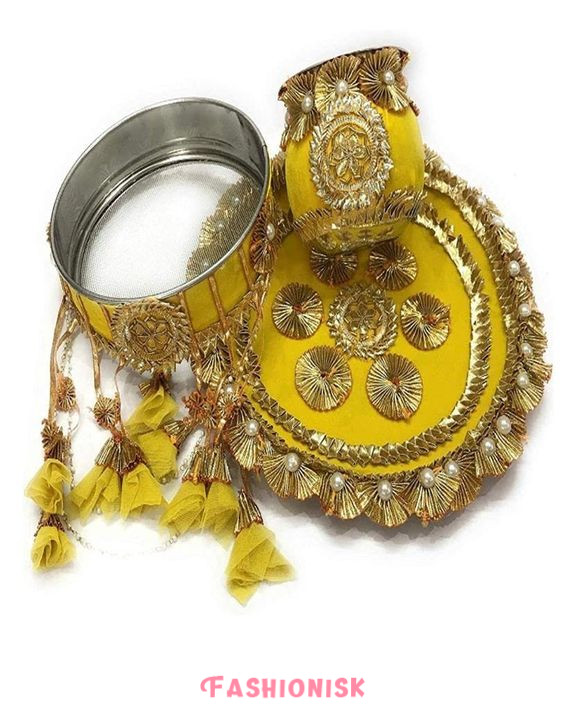 Sequin Splendor Karwa Chauth Thali Decoration Ideas
Sequins add a touch of glamour. They are small yet impactful. Sequin Splendor as a theme for Karwa Chauth thali means brilliance. Use sequins of various sizes. They can be sewn onto the thali cloth or glued directly. The play of light on sequins is mesmerizing. They twinkle with every movement. Sequin Splendor offers a modern twist to traditional decorations.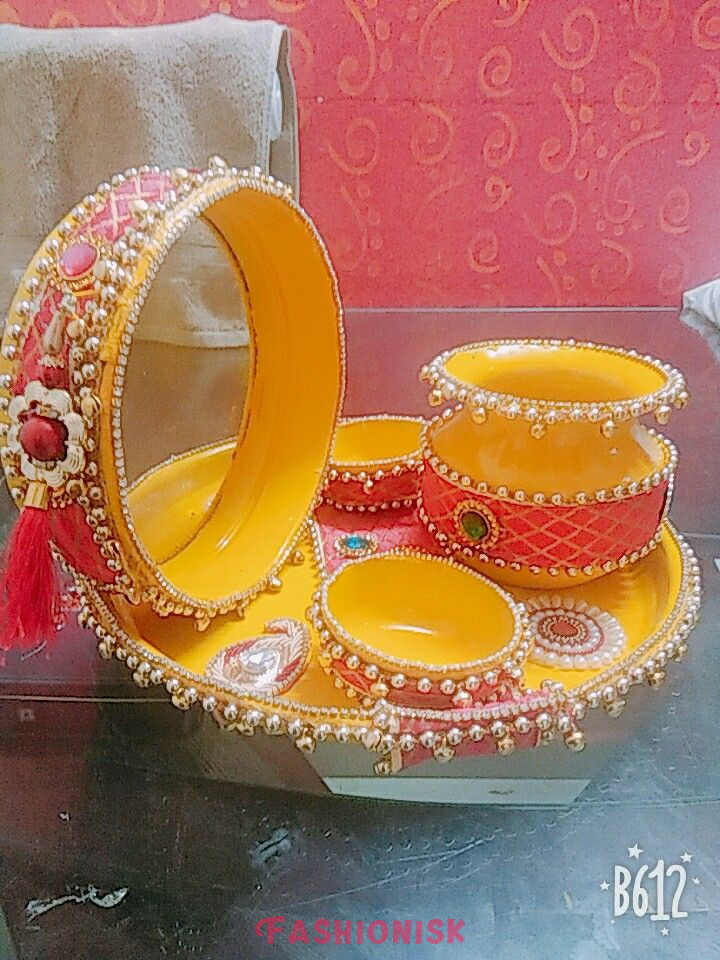 Floral Fantasy
Flowers are nature's jewels. Floral Fantasy is about bringing the garden to your thali. Fresh flowers like roses or marigolds are perfect. They add color. They bring in a fresh fragrance. Each flower carries a meaning. So the choice of blooms can tell a story. Flowers always uplift the mood. With Floral Fantasy, you bring in joy and beauty to your Karwa Chauth thali.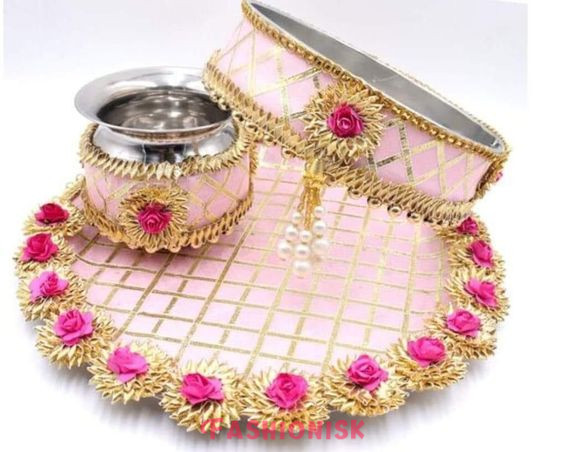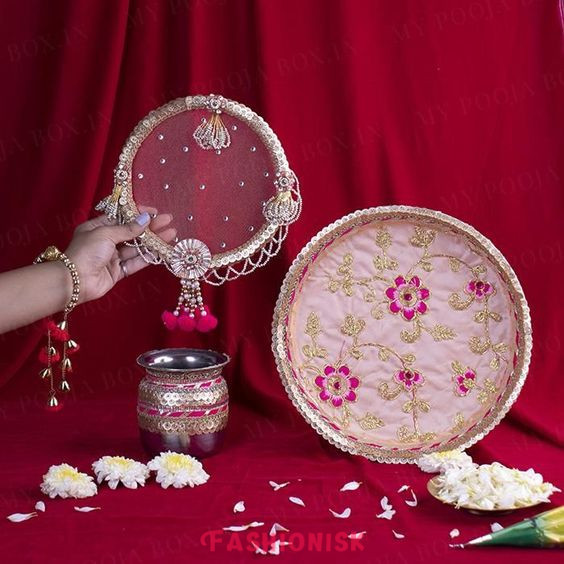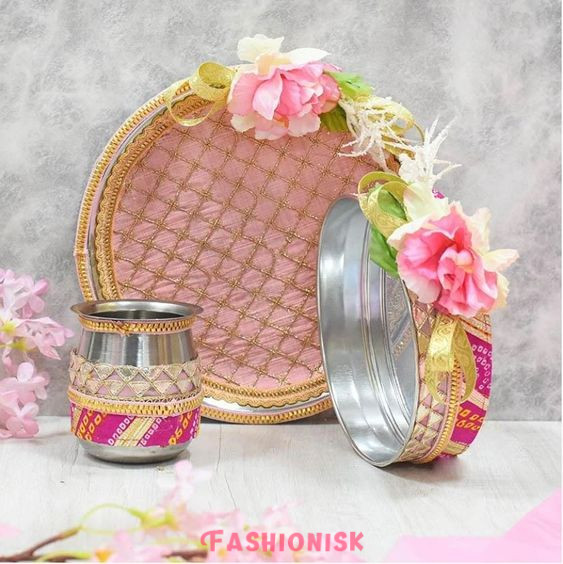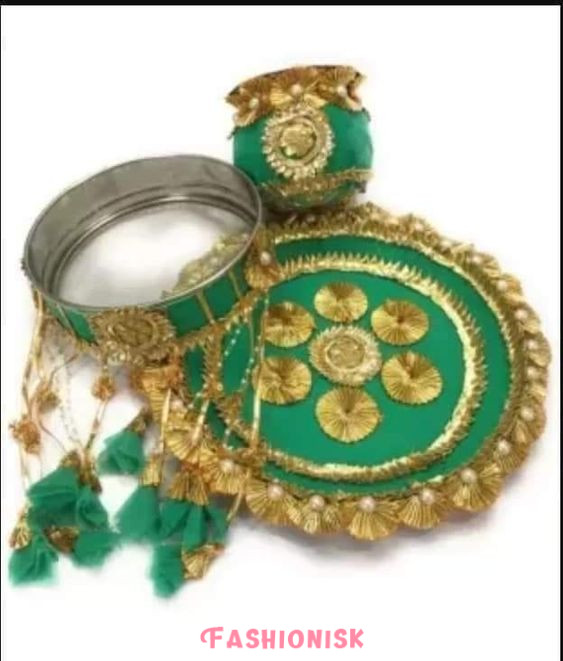 Beaded Beauty
Beads are versatile. They come in various colors and sizes. Beaded Beauty focuses on creating intricate patterns. Beads can be strung together. They can form the thali's border. Or they can be used to create designs on the base cloth. Beads lend an artistic touch. They look elegant. Choosing Beaded Beauty ensures a sophisticated and detailed look for your thali.
Lace and Elegance Karwa Chauth Thali Decoration Ideas
Lace signifies delicacy. It stands for vintage charm. Lace and Elegance is about adding that delicate touch. Lace can be used around the edges. Or as a base cloth for the thali. White or cream lace adds a touch of purity. It contrasts well with the colorful elements on the thali. Lace and Elegance is a nod to traditions. Yet it keeps things classy and timeless.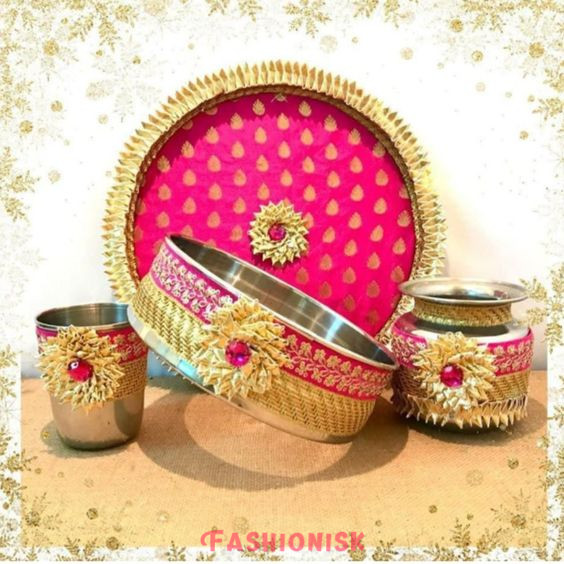 Mirror Magic
Mirrors have a mystique about them. Mirror Magic as a theme for Karwa Chauth thali decoration brings in reflection and light. Small mirrors can be attached to the thali. They sparkle under the moonlight. Each mirror adds a playful shimmer. Mirrors also symbolize clarity and reflection in life. Choosing Mirror Magic means adding a dynamic and luminescent touch to the festivities.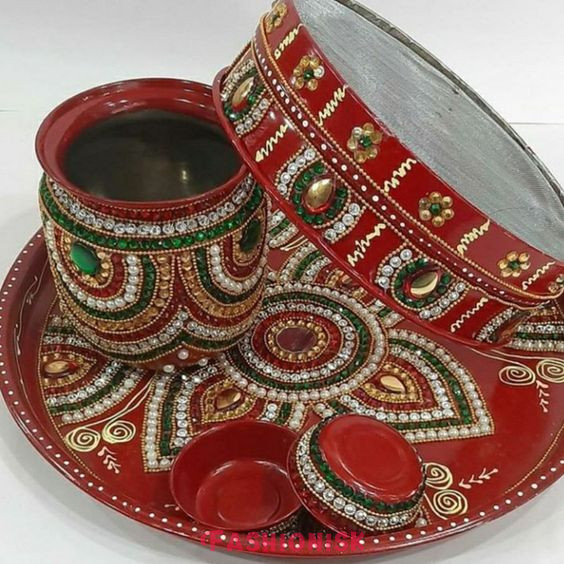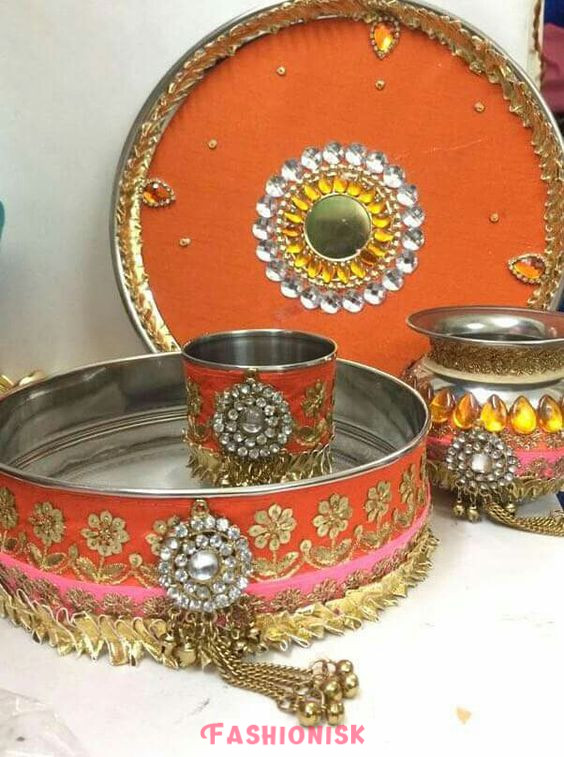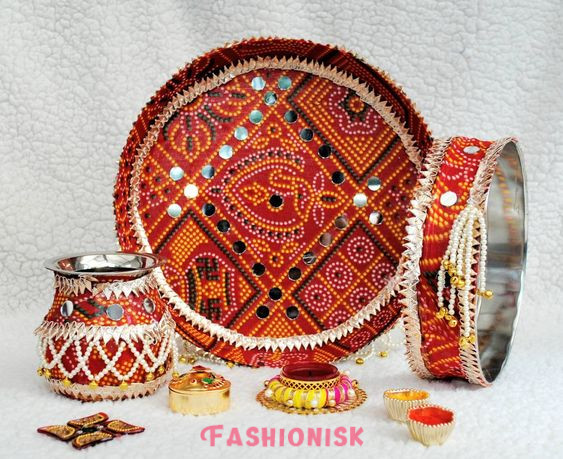 Traditional Motifs
Every tradition has its symbols. Traditional Motifs for Karwa Chauth thali decoration connect us to our roots. They evoke a sense of nostalgia. Think of peacocks. Think of swastikas. These motifs carry deep meanings. They look beautiful on the thali. They remind us of stories and tales from the past. Opting for Traditional Motifs ensures a rich and cultural touch to the celebration.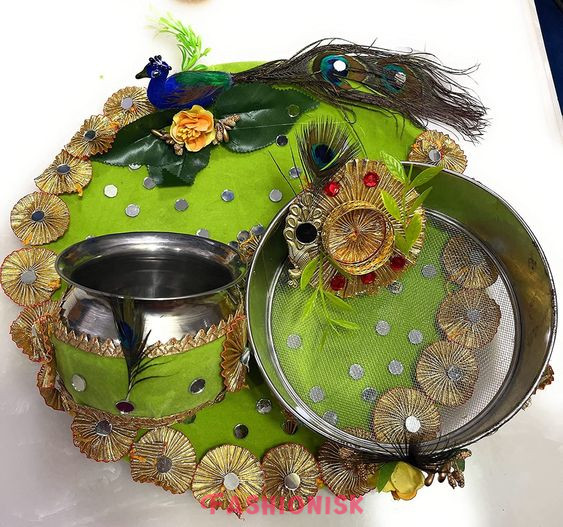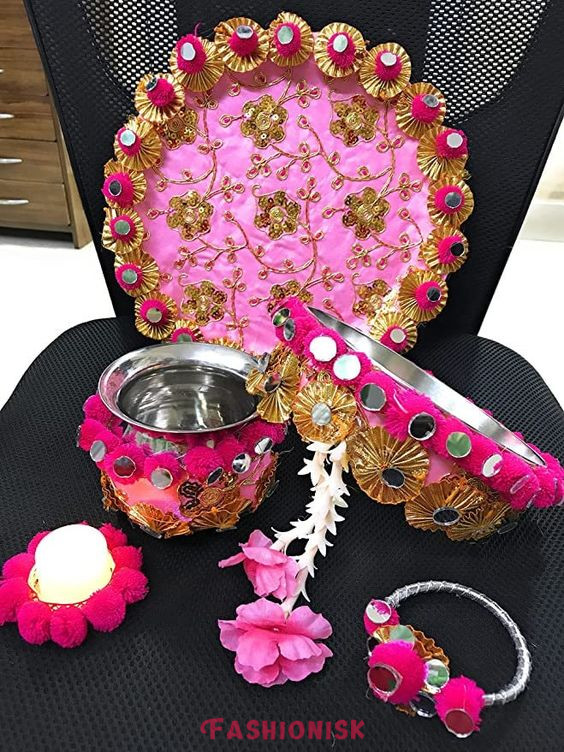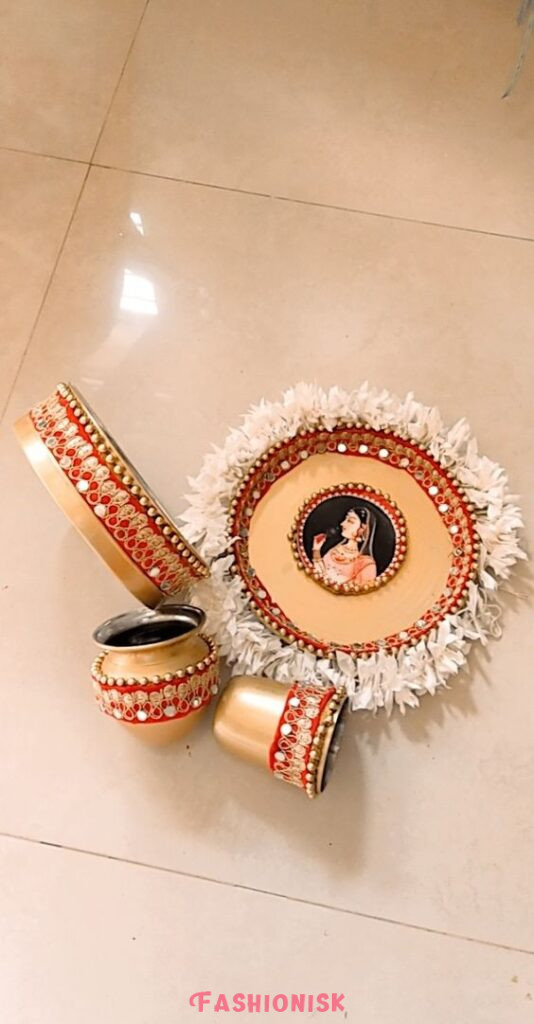 Rangoli Radiance Karwa Chauth Thali Decoration Ideas
Rangoli is an art form. It's colorful. It's vibrant. Rangoli Radiance as a theme means bringing in these colors to the thali. Colored sand or rice can be used to create designs. They are bright and festive. Rangoli designs symbolize joy and celebration. They also welcome prosperity. Rangoli Radiance makes the thali look festive and full of life.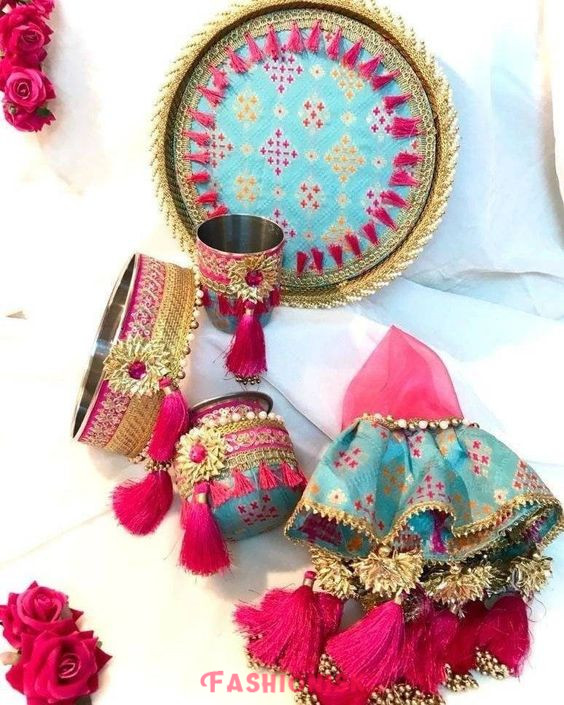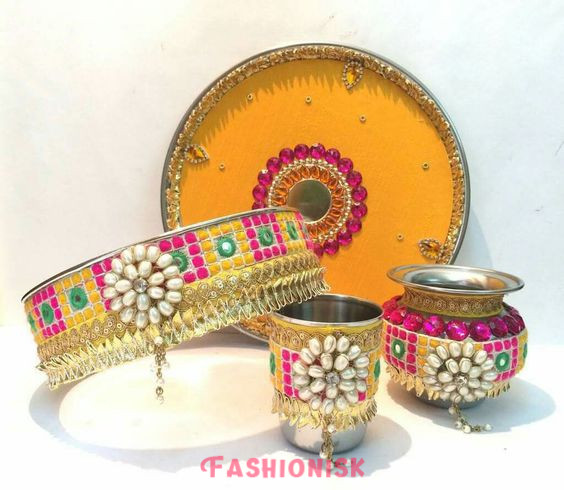 Candlelit Charm
Candles bring warmth. They symbolize hope. Candlelit Charm is about illuminating the thali with candles. Small tealights can be placed around. Their gentle glow adds a serene ambiance. Candles also symbolize the guiding light in our lives. By incorporating Candlelit Charm you bring warmth and luminescence to your Karwa Chauth celebration.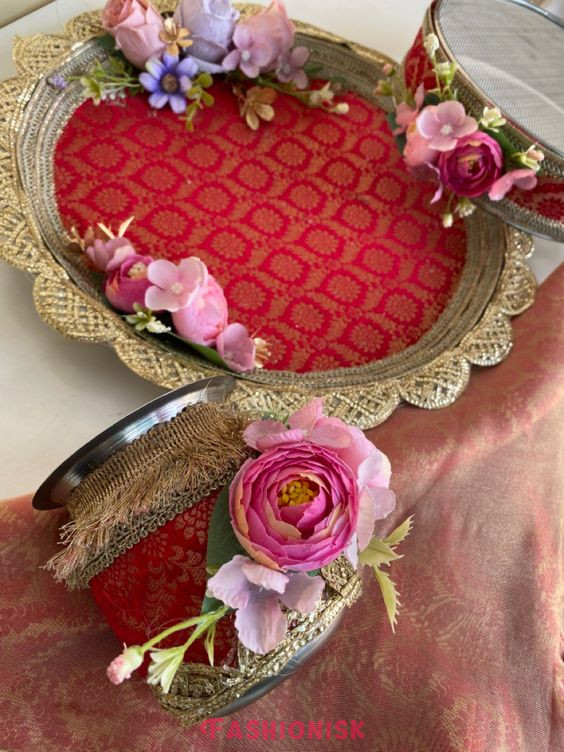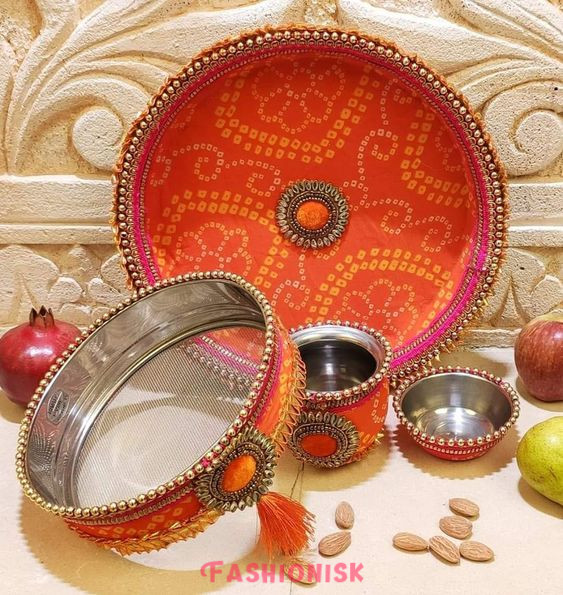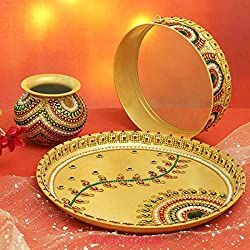 Kundan Craft Karwa Chauth Thali Decoration Ideas
Kundan stones shine bright. They are elegant. Kundan Craft means adding these shimmering stones to the thali. They catch the eye. They bring a regal touch. Kundans are often used in jewelry. Using them in thali decoration means luxury and opulence. Kundan Craft ensures a royal and sophisticated look for the thali.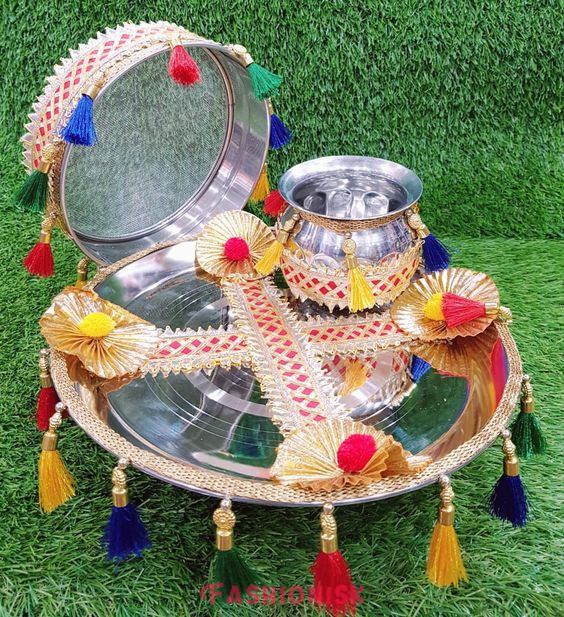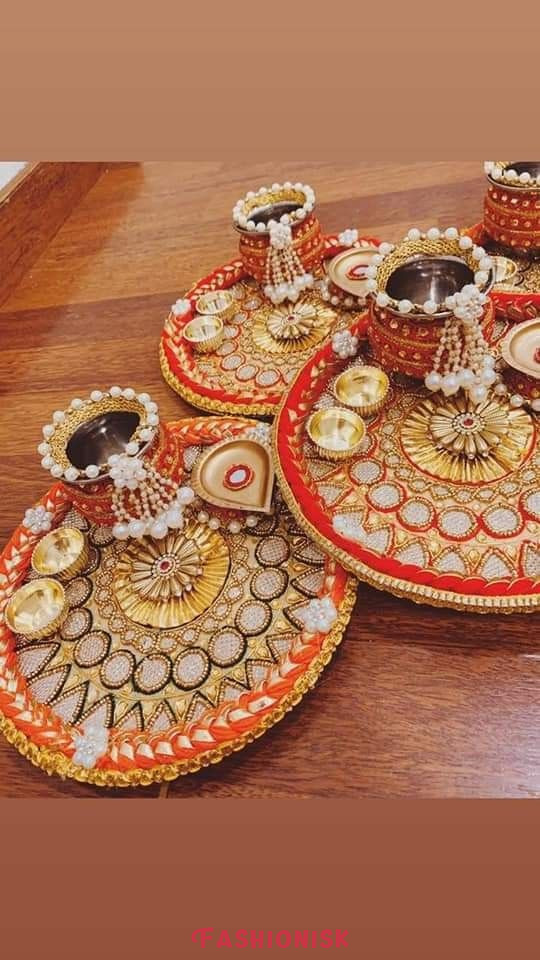 Ribbon Retreat
Ribbons are playful and versatile. They bring color and joy. Ribbon Retreat as a theme means intertwining ribbons. They can form borders or little bows. Ribbons add a tactile element. They are soft to touch. They sway with grace. Ribbons come in various colors and patterns. They can be silky or satiny. With Ribbon Retreat, you introduce whimsy and charm to your Karwa Chauth thali.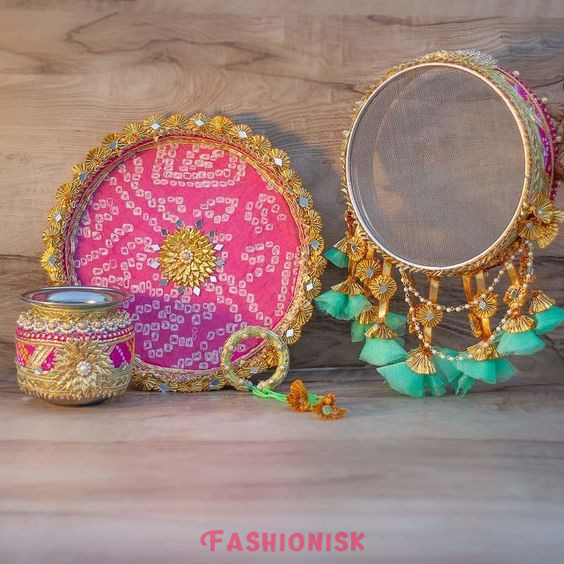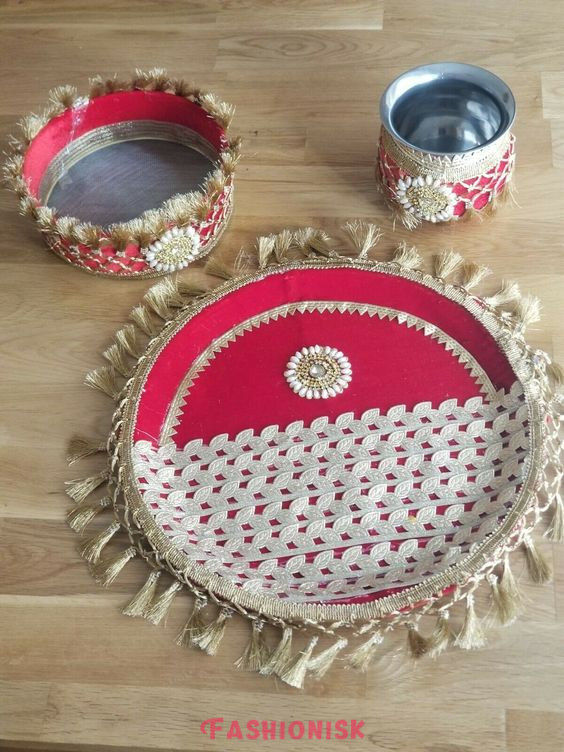 Thali Tales: Keys to Crafting a Captivating Karwa Chauth Thali
Choose a Base: Start with a clean, flat thali. Decide if you want to use a plain steel thali, a silver one, or even a colorful base.
Fabric Foundation: Drape your thali with a piece of vibrant cloth, like red velvet or silk, to enhance its look instantly.
Glimmer and Shine: Incorporate elements that sparkle, such as sequins, glitter, or kundan stones, for that festive glint.
Natural Touch: Adorn your thali with fresh flowers like roses or marigolds. They not only look beautiful but also add a fresh fragrance.
Traditional Tokens: Consider adding traditional symbols like swastikas or painted peacock feathers for a cultural touch.
Illuminate: Use diyas, tealight candles, or even fairy lights to add a glow to your thali.
Rangoli Reverie: Integrate mini rangoli designs using colored sand or rice. It's an age-old art form that's both beautiful and auspicious.
Beaded Borders: Craft an edge with decorative beads or pearls, giving a sophisticated outline to your Karwa Chauth Thali Decoration Ideas.
Mirror Marvel: Attach tiny mirrors to your thali to create reflective patterns and enhance its appearance.
Ribbon Wraps: Intertwine colorful ribbons or use them to tie little bows, introducing a touch of whimsy.
Essential Elements: Don't forget to place the essentials like the sieve, sweets, water pot, and other ritual items in an organized manner.
Personalized Touch: Add something unique, maybe a personal charm or a handwritten note for your partner, to make the thali truly yours.
FAQs on Karwa Chauth Thali Decoration Ideas
What is the significance of decorating the Karwa Chauth thali?
Decorating the thali is a symbolic gesture of love, devotion, and reverence. A beautifully adorned thali adds to the festive spirit and reflects the celebrant's dedication to the rituals.
Which materials can be used for thali decoration at home?
Common materials include colored cloths, sequins, beads, kundan stones, ribbons, fresh flowers, mirrors, paints, and glitter. Many of these items can easily be found at home or purchased from craft stores.
How can I make my Karwa Chauth thali unique?
Infusing your personal touch, using a combination of traditional and modern elements, or even adding a handwritten note or charm specific to your relationship can make your thali stand out.
Is it essential to stick to traditional designs and colors for the thali?
While reds, golds, and greens are traditional colors associated with the festival, there's no hard rule. Feel free to experiment with colors and designs that resonate with you.
Can I use artificial flowers for decorating the thali?
Yes, you can use artificial flowers. They are durable and offer a wide range of design options. However, fresh flowers bring in a natural fragrance and authenticity to the decoration.
Unveiling the Magic
In the world of Karwa Chauth celebrations, the thali stands as a symbol of love and dedication. As we've explored various Karwa Chauth Thali Decoration Ideas, it's clear that creativity knows no bounds. From traditional motifs to modern twists, there's a design for every heart. So dive into the festive spirit. Embellish your thali with passion. Let it echo the love and warmth of this special day. With every bead, flower, and sparkle, you're crafting memories. Memories that will shine bright, just like the moon on Karwa Chauth night. So let's celebrate and let our thalis tell our unique tales of devotion.
People Also Searched For
Comments