#Blog
Diwali Board Decoration: Lighting Up Your Space with Festive Spirit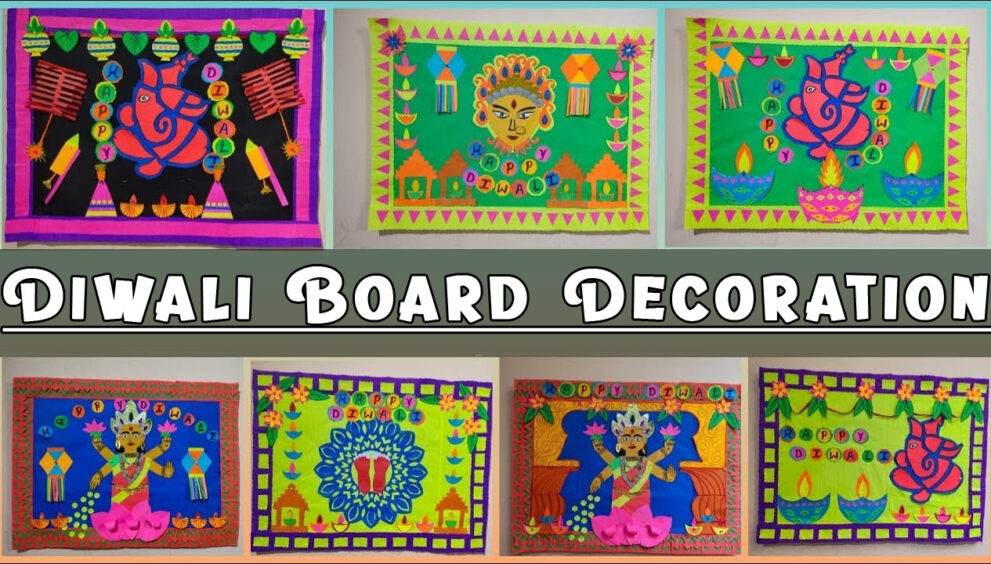 Diwali, often referred to as the "Festival of Lights," is among India's most celebrated festivals. Homes, streets, and temples are adorned with colorful lights, diyas, and lanterns, creating a vibrant ambiance that captivates the senses. With this festival around the corner, many people are on the lookout for creative ways to bring the Diwali spirit into various spaces. Enter the world of Diwali Board Decoration.
Decorating boards, whether in schools, offices, or homes, has become a cherished tradition. These boards act as blank canvases, allowing us to channel our creativity, showcasing our love and enthusiasm for the festival. From glittering motifs of lamps and fireworks to depictions of Lord Rama's return to Ayodhya, there's no limit to the themes and designs one can explore.
Additionally, with the rise of eco-friendly celebrations, many are leaning towards sustainable Diwali Board Decorating ideas. These not only add a touch of festivity but also send out a powerful message about the importance of caring for our environment. Moreover, working on these boards becomes a collaborative effort, often bringing communities, classmates, or colleagues closer.
Incorporating the elements of tradition with modern designs, Diwali Board Decoration serves as a reflection of how we continue to value our roots while adapting to contemporary styles. As we move closer to the festival, let's dive deeper into some captivating board decorating ideas that will surely light up any space with the spirit of Diwali.
Diwali Board Decoration Ideas to Ignite Festive Creativity
Diwali is a festival of lights, colors, and creativity. And what better way to dive into the festive spirit than by decorating boards with vibrant themes? When we think of Diwali board decorations, we envision a mix of tradition and innovation. From radiant diya designs to eco-friendly messages, the options are endless. So, let's embark on this journey and explore ideas that will not only beautify our spaces but also ignite our festive creativity. Dive in, and let the sparks fly!
Diya Designs
Diya designs are central to the Diwali celebration. When you think of Diwali, the first image that often comes to mind is the soft glow of clay lamps illuminating every corner. Decorating boards with diya designs brings that quintessential Diwali charm to any space. Simple cut-outs, glittering outlines, or 3D paper crafts of diyas can capture the festive spirit. They symbolize hope, purity, and the victory of light over darkness.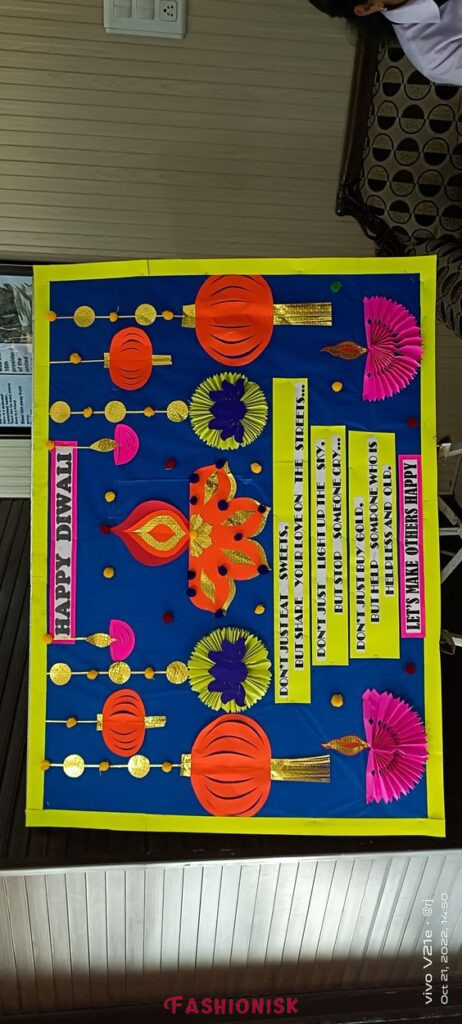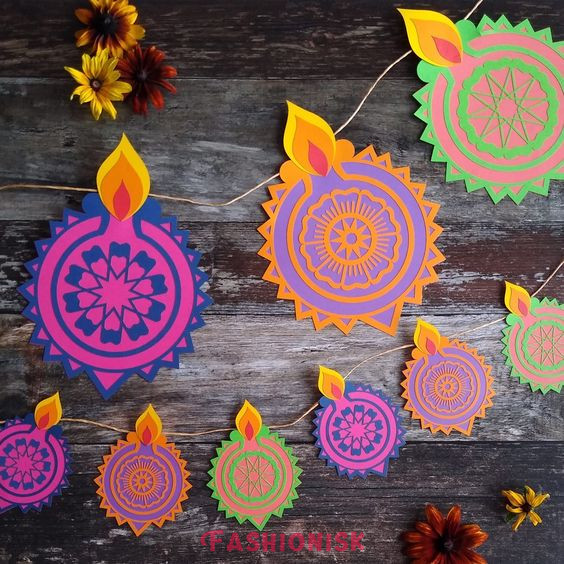 Firework Collage Diwali Board Decoration
Fireworks light up the night sky during Diwali, marking joy, prosperity, and the triumph of good over evil. A firework collage on a board can recreate this magic, using bright papers, sequins, and a dash of creativity. It's a burst of color and a true representation of the festival's liveliness.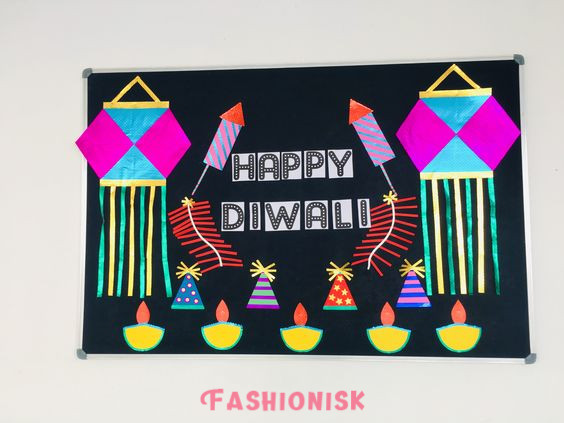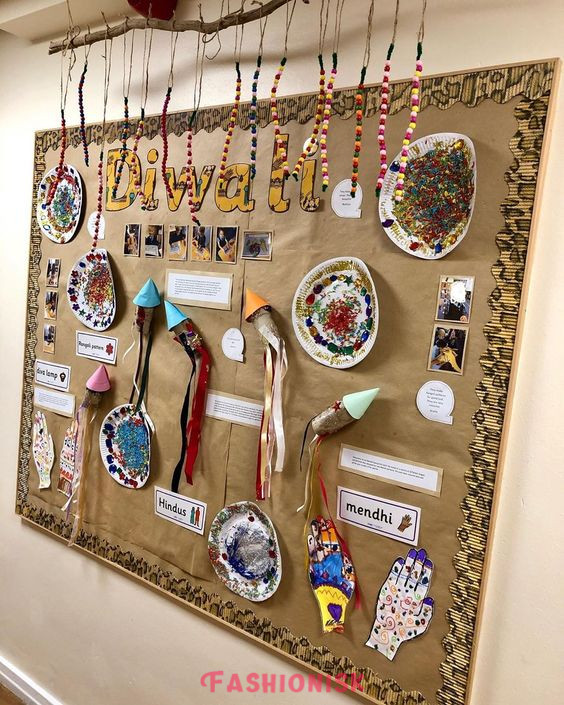 Rangoli Patterns
Rangoli is an ancient art form, created using colored powders, rice, or petals. These intricate patterns, often laid out at doorsteps, invite positivity and good fortune. Translating this art onto a board can be both fun and meaningful. Play with geometric designs, floral motifs, or even freeform patterns. When we bring rangoli patterns to our boards, we welcome a piece of Indian heritage and the festive spirit of Diwali.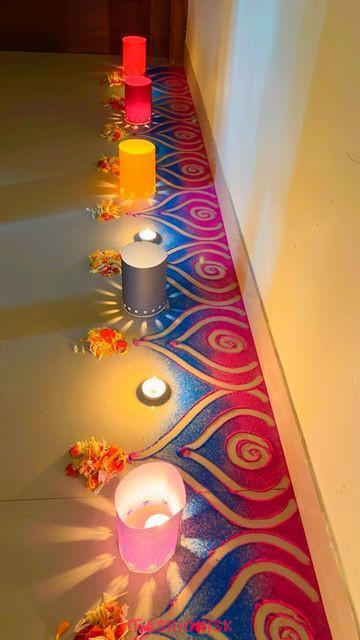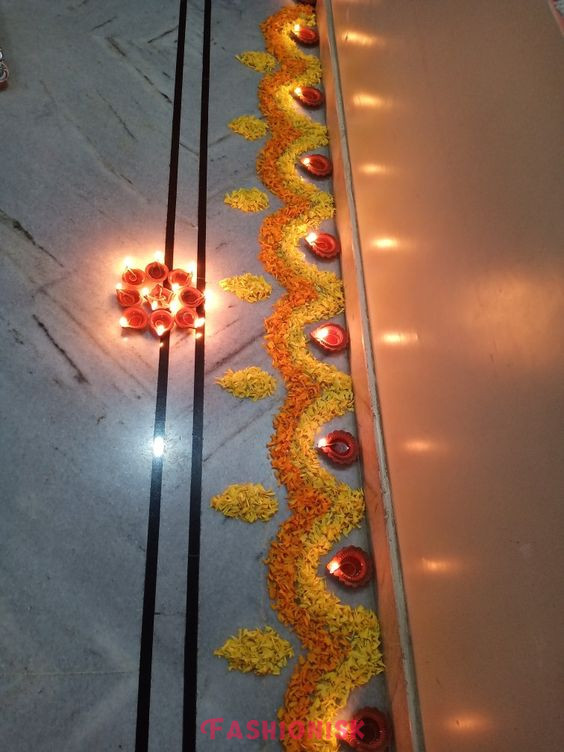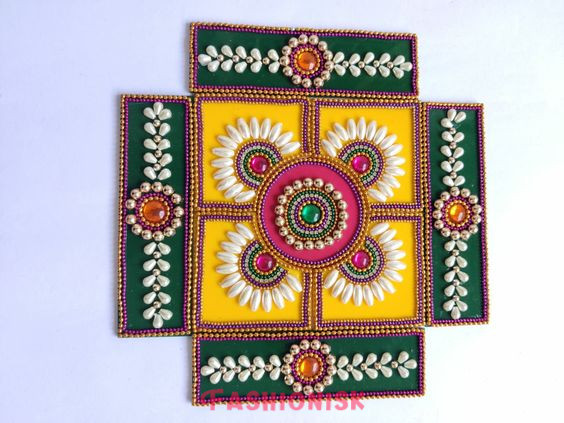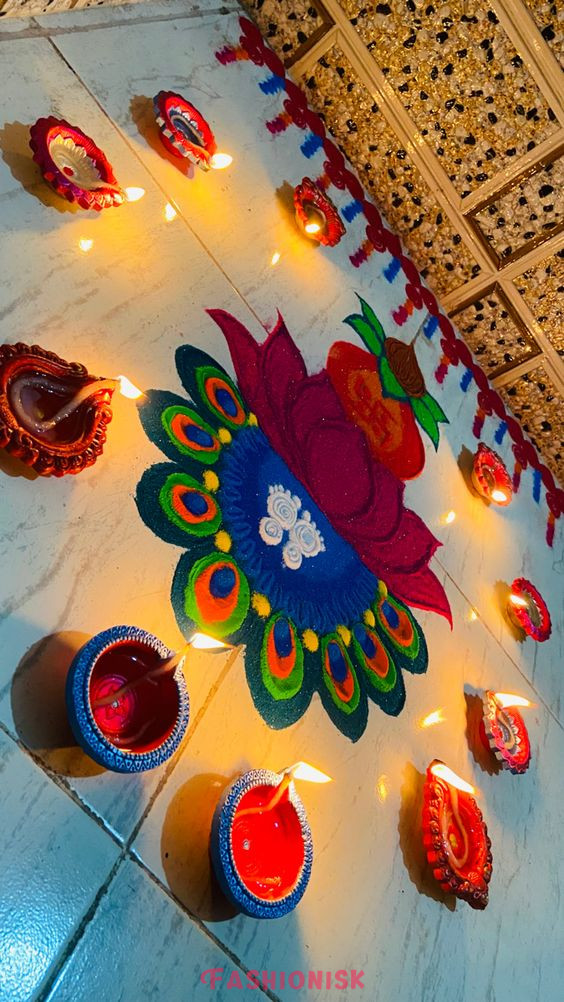 Ramayana Storyboard
The epic tale of Ramayana lies at the heart of Diwali. Lord Rama's return to Ayodhya, after defeating Ravana, marks the reason why Diwali is celebrated with such fervor. A storyboard showcasing this tale educates and engages. Through drawings, captions, and brief narratives, we can make the legendary tale come alive.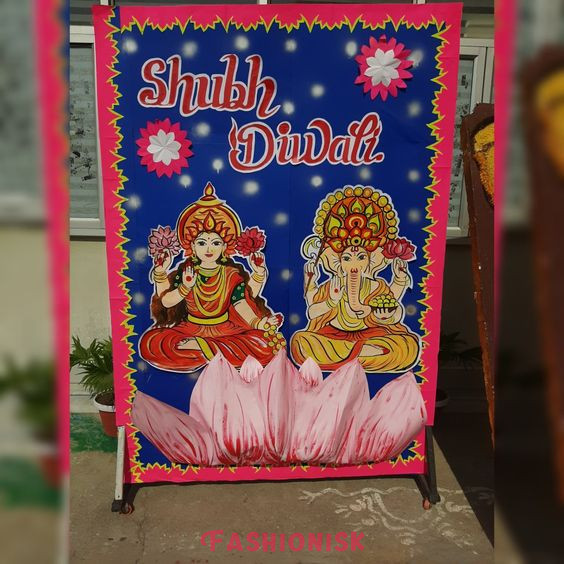 Eco-friendly Message Diwali Board Decoration
Diwali today isn't just about tradition; it's also about sustainability. As the world becomes more conscious of the environment, an eco-friendly message is both relevant and essential. Boards that emphasize a green Diwali, with ideas like recycling or shunning firecrackers, resonate with a modern audience. It's a call to celebrate responsibly.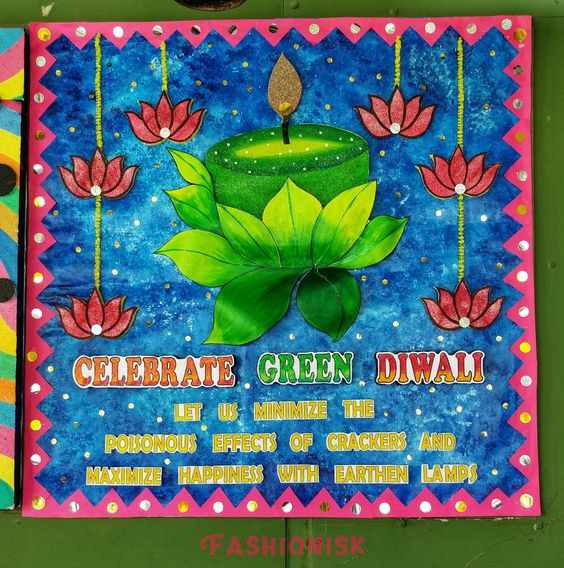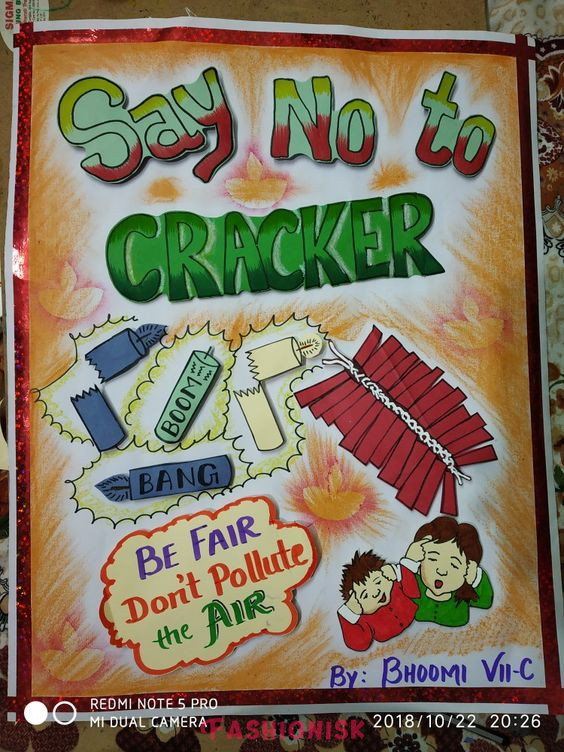 Festival Foods
Diwali is as much about delightful treats as it is about lights. Sweets like laddoos, barfis, and jalebis become the stars of the festival. Savory dishes, too, claim their space on the festive table. So, when we think of a board dedicated to festival foods, we envision a visual spread that makes mouths water. Capturing these delicacies on the board can stir fond memories and even inspire a few culinary experiments.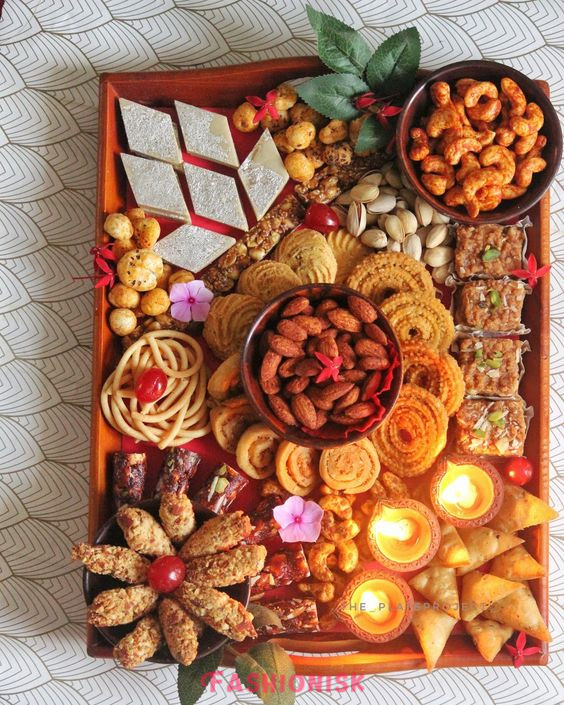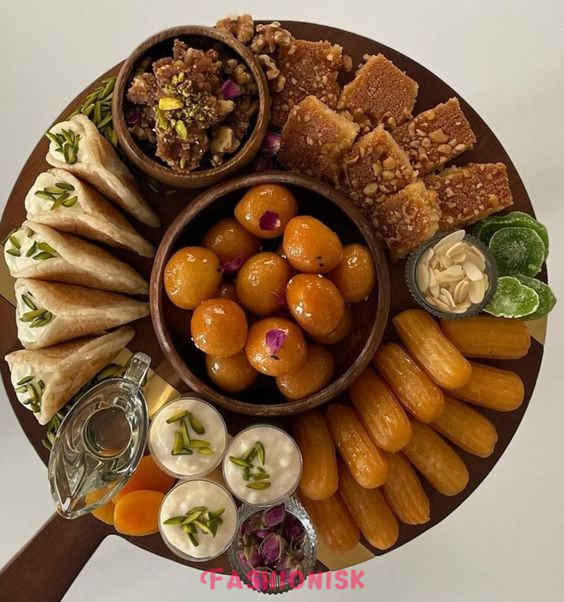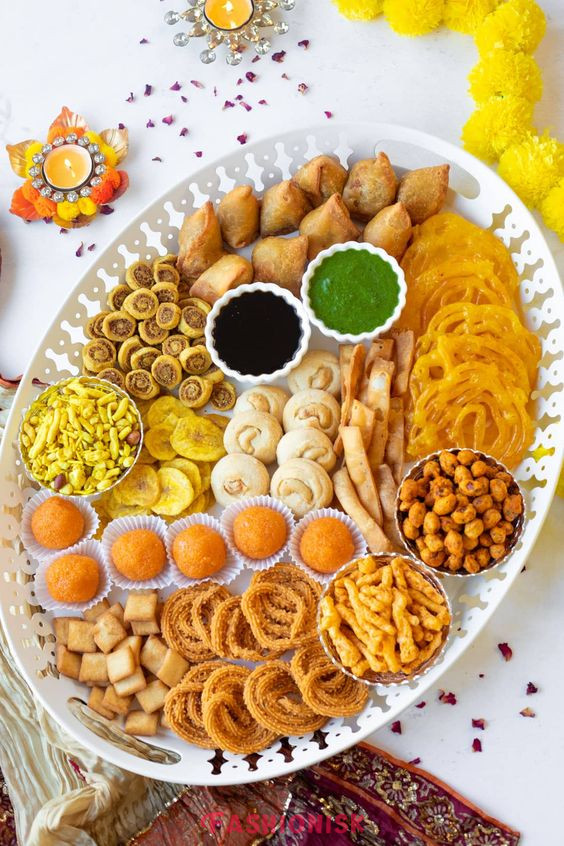 Traditional Attire Showcase
Diwali is a time when traditional attires come out of closets, shining and shimmering. From vibrant sarees to detailed kurtas, the festival sees a display of India's rich textile heritage. A board that showcases these attires takes viewers on a cultural journey. It paints a picture of the diversity and depth of Indian fashion.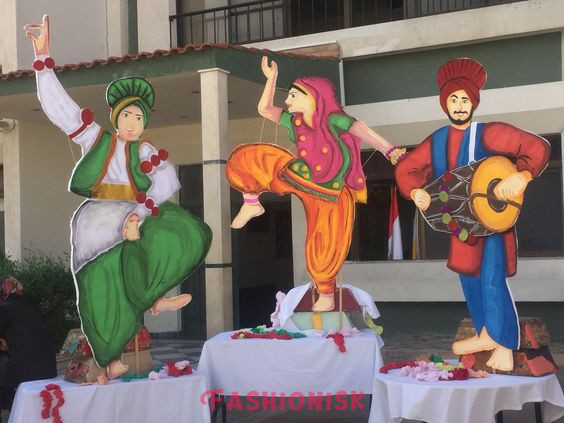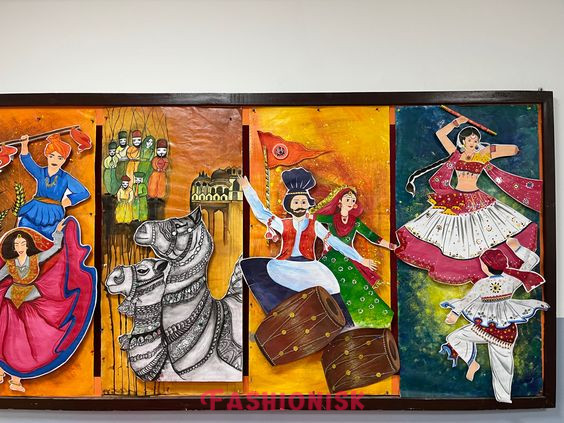 Lantern Luminance Diwali Board Decoration
Lanterns, or "kandeels," are symbolic of hope, lighting up homes and hearts during Diwali. Crafting a board around lantern luminance can transport viewers to a world of soft glows and mesmerizing designs. Using paper lanterns, colored sheets, or even tiny LED lights, you can create a spectacle.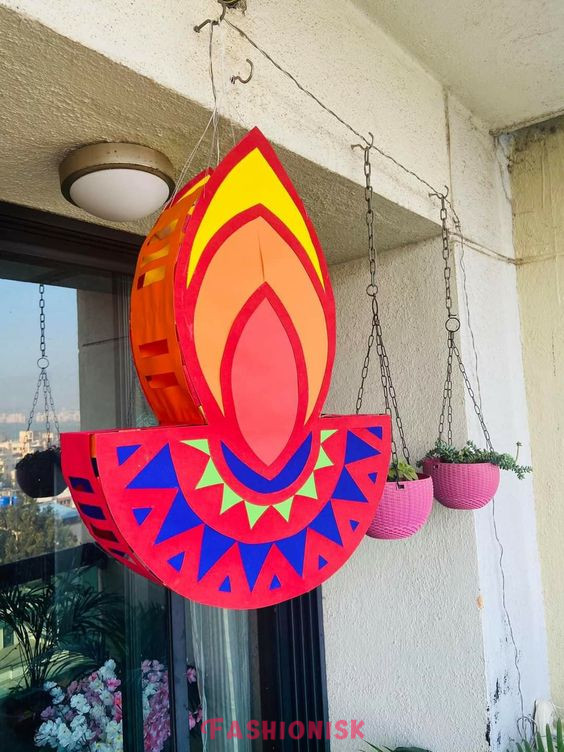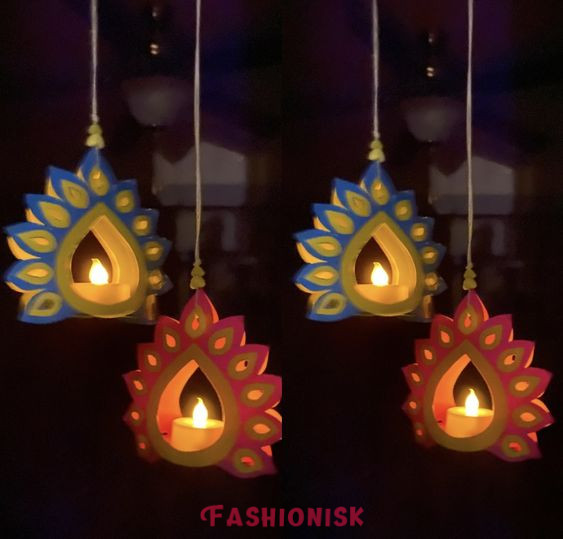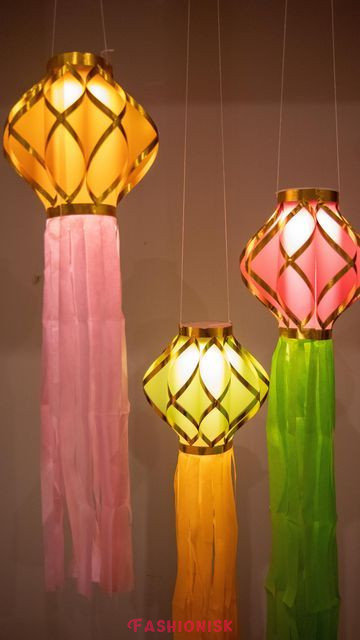 Diwali Poems and Quotes
Words have the power to capture the essence of festivities. Poems and quotes about Diwali resonate with emotions, memories, and hopes tied to the festival. A board adorned with these words becomes a source of inspiration. It reminds us of the deeper meanings and tales behind the celebrations.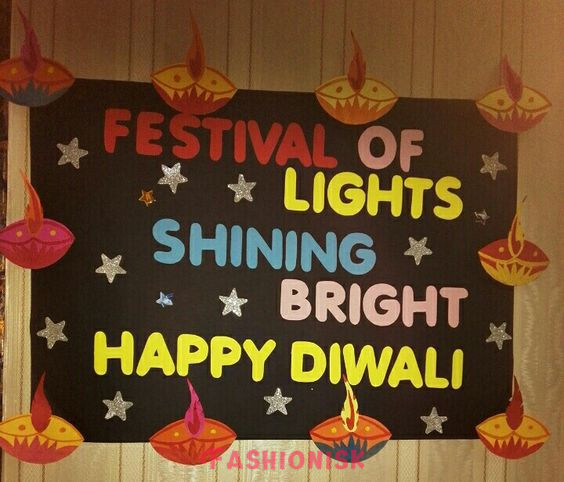 Interactive Diwali Games
Diwali isn't just about lights and prayers; it's also about fun and games. Traditional games infuse an element of playfulness into the celebrations. A board that introduces these games, be it memory matches with Diwali cards or simple board games related to the festival, engages and educates.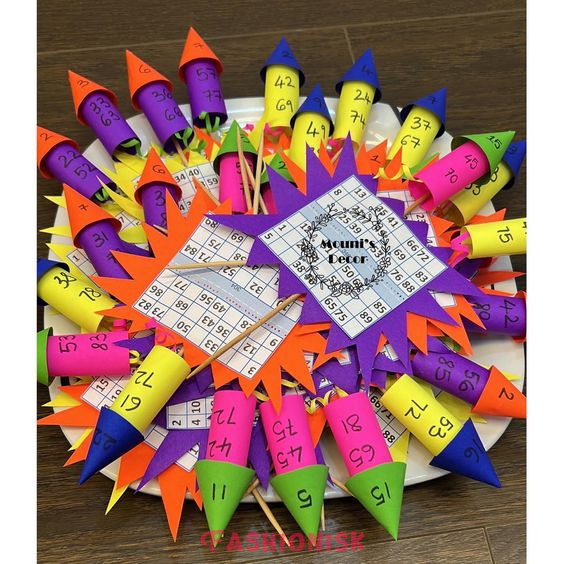 Cultural Map Diwali Board Decoration
India is a mosaic of cultures, and Diwali is the thread that binds these diverse pieces together. From the serene backwaters of Kerala to the bustling lanes of Delhi, Diwali lights up every corner. Imagine a board that offers a map of these celebrations. A cultural map not only shows the regions but also highlights the unique rituals, foods, and customs of each area during Diwali. As you step into this theme, you journey across India, witnessing the unity in diversity.
Handmade Greeting Cards
In a digital age, the charm of a handwritten note or a handmade card remains unparalleled. Diwali, with its messages of love, hope, and prosperity, is a perfect occasion to revisit this art. Picture a board adorned with colorful, heartfelt greeting cards, each telling its own story. These cards, made with love and care, capture personal wishes and artistic expressions. When you venture into this theme, you're not just decorating; you're connecting.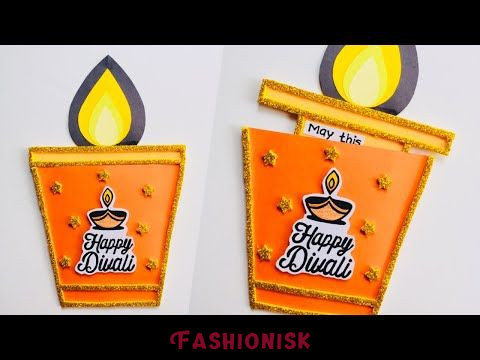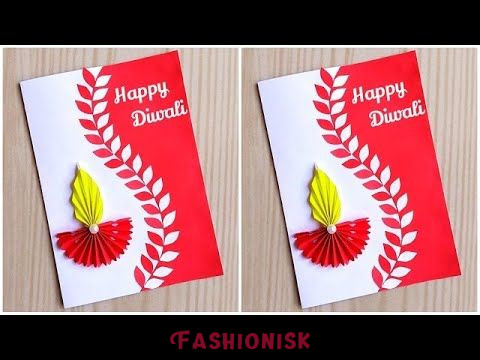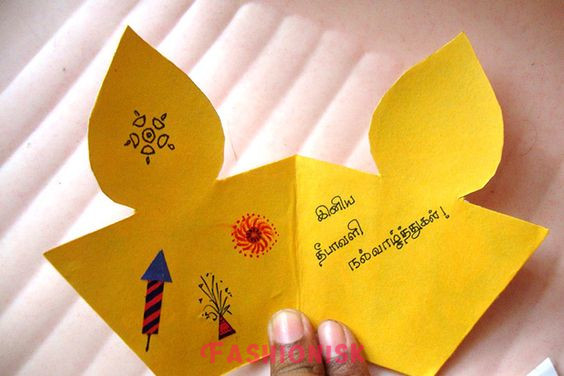 Key Points to Craft a Mesmerizing Diwali School Board
Central Theme: Begin with a clear, central theme. Whether it's the Ramayana, the significance of lights, or the myriad traditions, ensure the board tells a coherent story.
Color Harmony: Use a vibrant yet harmonious color palette. Diwali is about brightness, so opt for golds, reds, greens, and blues to make the board pop.
3D Elements: Add depth to your board. Incorporate crafted diyas, paper lanterns, or even rangoli made with actual colored sand to give a tactile, 3D effect.
Layering: Don't just stick things flat. Layer elements to create depth and intrigue, making the viewer's eyes travel across the board.
Interactive Components: Engage the audience by adding QR codes for Diwali songs or videos, small pockets with Diwali facts, or mini quiz challenges.
LED Lights: Incorporate tiny LED fairy lights. When switched on, they can simulate the twinkling of diyas and stars, adding real luminance.
Cultural Diversity: Highlight how Diwali is celebrated across different regions of India. This adds an educational element and showcases the festival's vastness.
Handmade Touch: Encourage handmade artwork and writings. The personal touch of students' hand-drawn or written elements adds authenticity.
Borders and Framing: Use festive borders to frame pictures, poems, or any other content. This delineates sections and makes the board look structured.
Sustainability Message: With eco-friendly celebrations gaining traction, include messages or elements emphasizing a green Diwali, like using recycled materials.
Feedback Corner: Dedicate a small section where viewers can stick post-it notes with their feedback or their own Diwali wishes.
Maintenance: Ensure the board remains tidy. Replace any faded or worn-out elements to keep it looking fresh throughout the festival.
Unraveling the Most Common Queries!
What is the significance of Diwali Board Decoration?
It celebrates the essence of the Festival of Lights, making spaces vibrant and festive. It reflects the traditions, tales, and themes of Diwali, creating an immersive cultural experience.
Can I use real diyas or candles on the board?
While real diyas and candles capture the true spirit of Diwali, they pose a fire hazard. It's safer to use LED lights or crafted diyas for the same glowing effect without the risk.
How can I make my Diwali board eco-friendly?
Opt for recyclable or biodegradable materials like paper, cardboard, or natural colors. Avoid plastics and promote the message of a green, environmentally-conscious Diwali celebration.
Where can I source materials for my Diwali board decoration?
Most craft stores offer a plethora of materials. For an eco-friendly touch, consider repurposing old fabric, paper, or other household items. Local markets during Diwali season often have special decorative items that can be incorporated.
How can I make my Diwali board more interactive for viewers?
Incorporate QR codes leading to Diwali songs or tales, pockets with trivia cards, or a feedback corner where viewers can share their thoughts and wishes. This not only beautifies the board but also engages the audience actively.
Wrapping up Our Diwali Decor Journey
So, there you have it. We've journeyed through the vibrant world of Diwali Board Decoration. From ideas to tips, we've covered the spectrum. It's clear that these decorations do more than just beautify spaces. They bring communities together, fostering creativity and cultural appreciation. As we wrap up, remember to embrace both tradition and innovation in your designs. Here's to making every corner shine bright this Diwali. Dive in, explore, and let the festive spirit guide your creative flair.
People Also Searched For
Comments