#Women's Fashion
Karwa Chauth Look in Saree: An Elegant Festival Ensemble
Karwa Chauth is not just a celebration of marital love but also a festival of fashion. Every year women eagerly wait for this day. Not just to keep the fast or pray for their husband's longevity. But also to don their best festive attire. And when we talk about elegance, what's better than a Karwa Chauth Look in Saree?
Sarees have always been a symbol of grace in Indian culture. They highlight the beauty of the Indian woman in the most flattering way. In recent years, fashion enthusiasts have blended tradition with modern trends. The outcome? Some fabulous saree looks perfect for Karwa Chauth.
Choosing the right saree for Karwa Chauth can be both exciting and challenging. The market floods with countless designs, fabrics, and colors. From pure silks to soft georgettes, from classic reds to modern pastels, the choices are many. Every saree tells a story. It reflects a mood, a sentiment. On Karwa Chauth, that sentiment is love and devotion.
Pairing the saree with the right accessories is crucial. A statement necklace or chandbali earrings can enhance the look manifold. Don't forget the significance of henna-decorated hands on this day. Intricate mehndi designs go perfectly with the drapes of a saree.
The footwear too plays a role. Whether it's the traditional juttis or the modern heels, pick what complements your saree. The whole ensemble must harmonize in colors, textures, and spirit.
If you're looking for that perfect Karwa Chauth Look in Saree, dive deep into the world of sarees. Explore. Experiment. Embrace the beauty of this timeless attire. Celebrate love, fashion, and tradition, all in one look.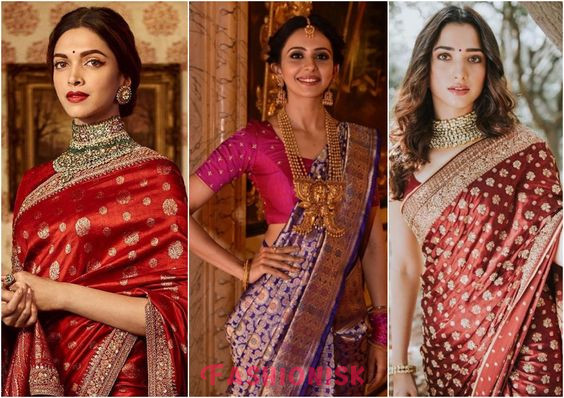 Dazzling Karwa Chauth Look in Saree to Steal the Show!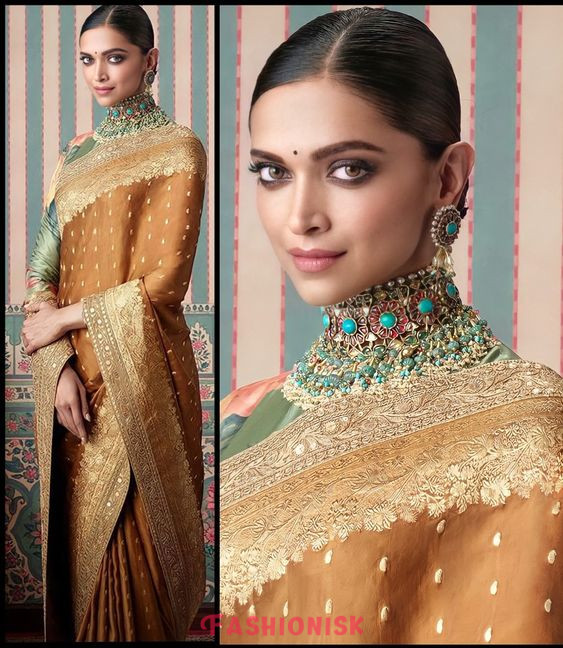 The Classic Red Silk
When we think of Karwa Chauth, the classic red silk saree often takes center stage. This iconic ensemble epitomizes marital bliss and love. Red resonates with passion. When draped in this rich hue, any woman will radiate elegance and tradition. Pairing the classic red silk with gold jewelry is a must. Opt for grand chandbali earrings. A gold kamarband can also accentuate the waistline beautifully. Round off the look with traditional gold bangles and you're all set.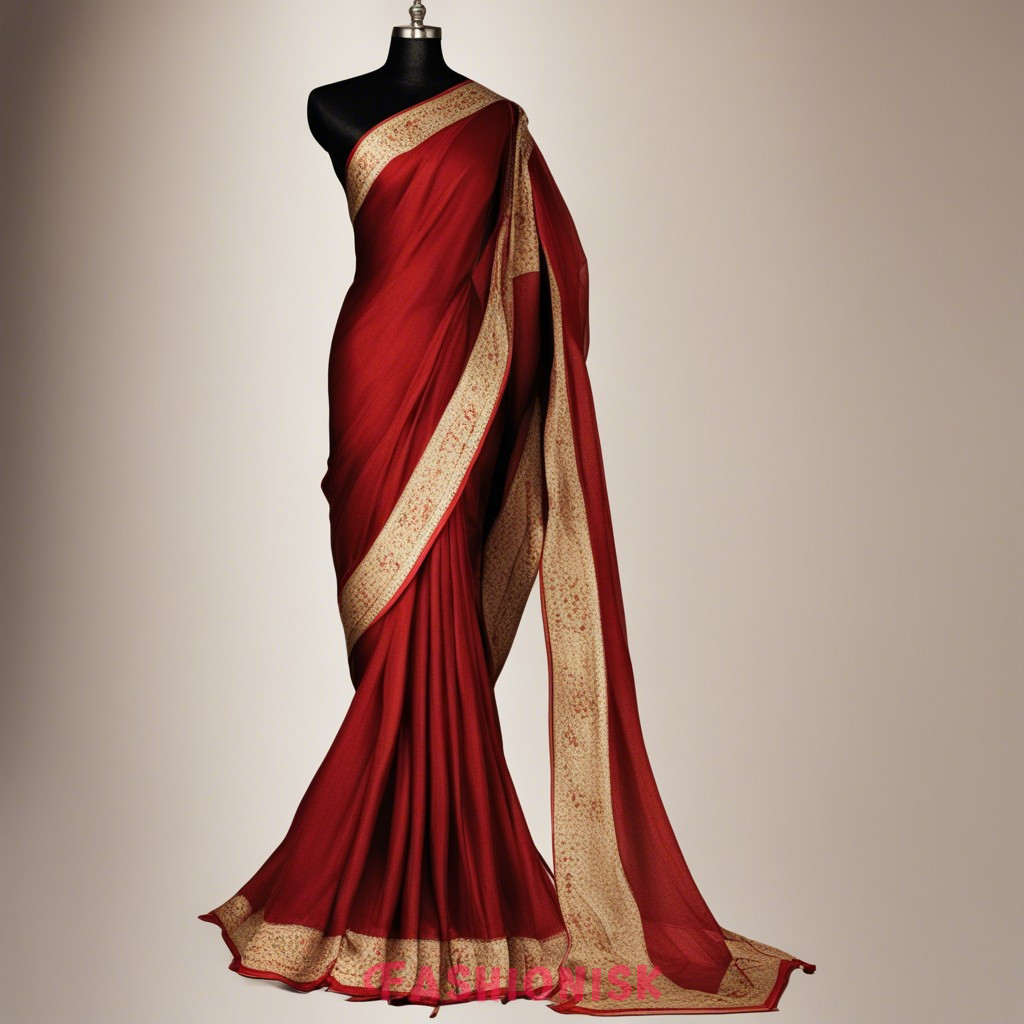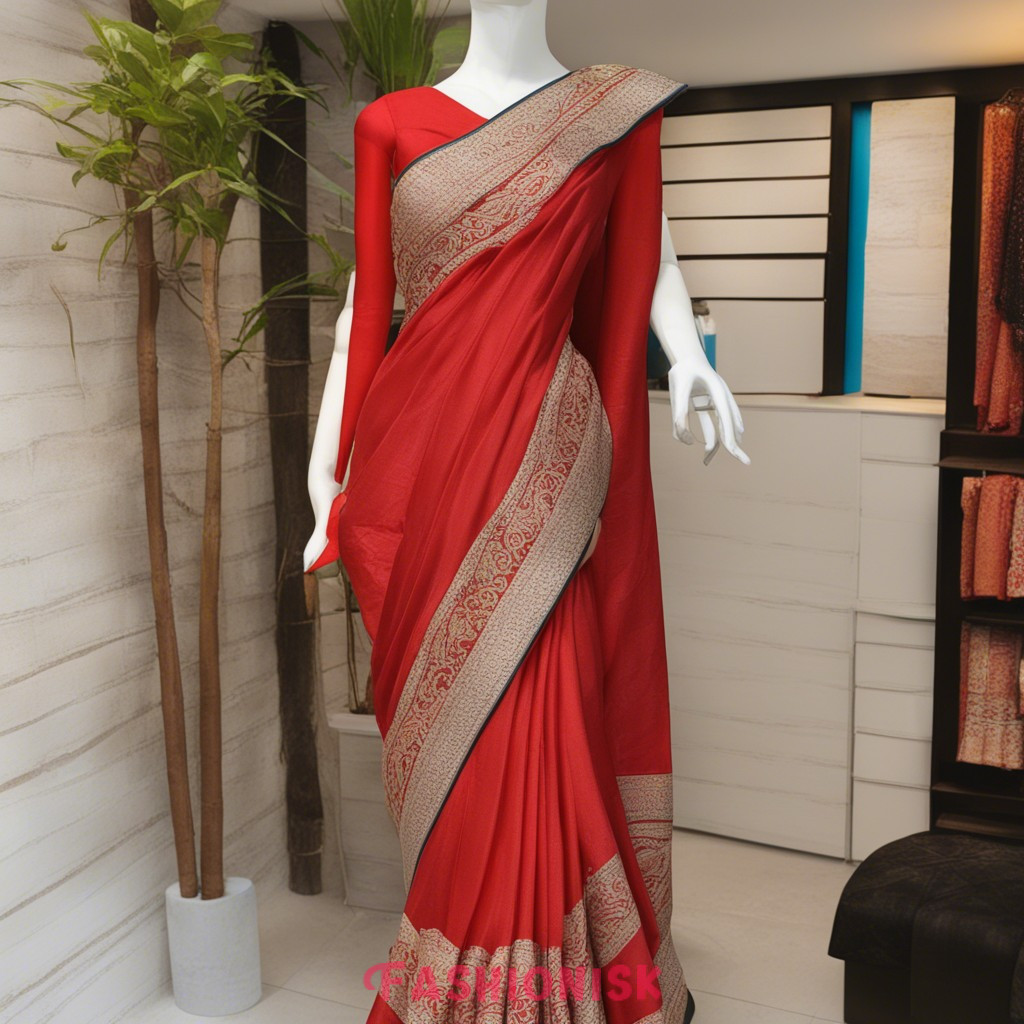 Pastel Perfection Karwa Chauth Look in Saree
Pastels have taken the fashion world by storm. They offer a modern twist to the traditional Karwa Chauth attire. Soft hues like peach or mint green lend a gentle charm to the festive look. To accessorize, crystal-studded jewelry works wonders with pastels. Think delicate bracelets and drop earrings. A silver anklet can also enhance the overall appeal. And don't forget the charm of pearl necklaces with these subtle shades.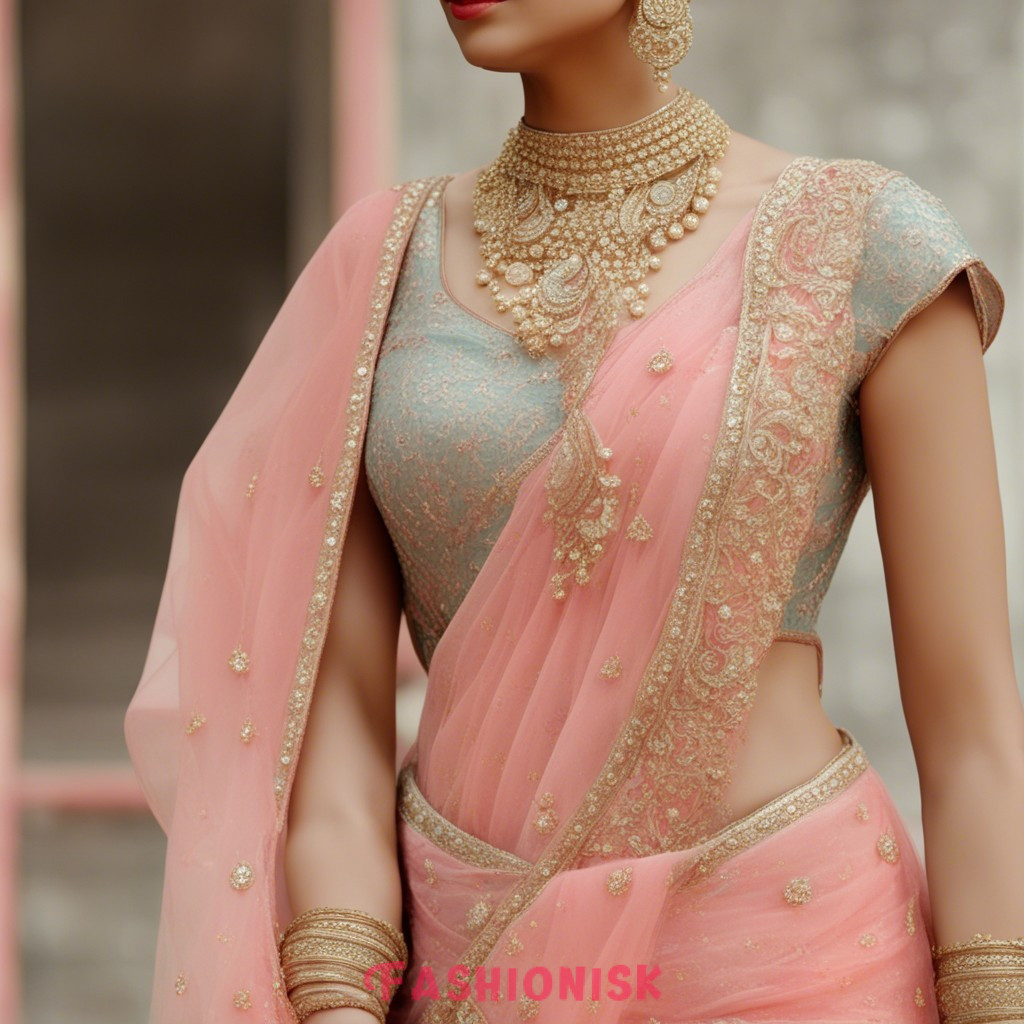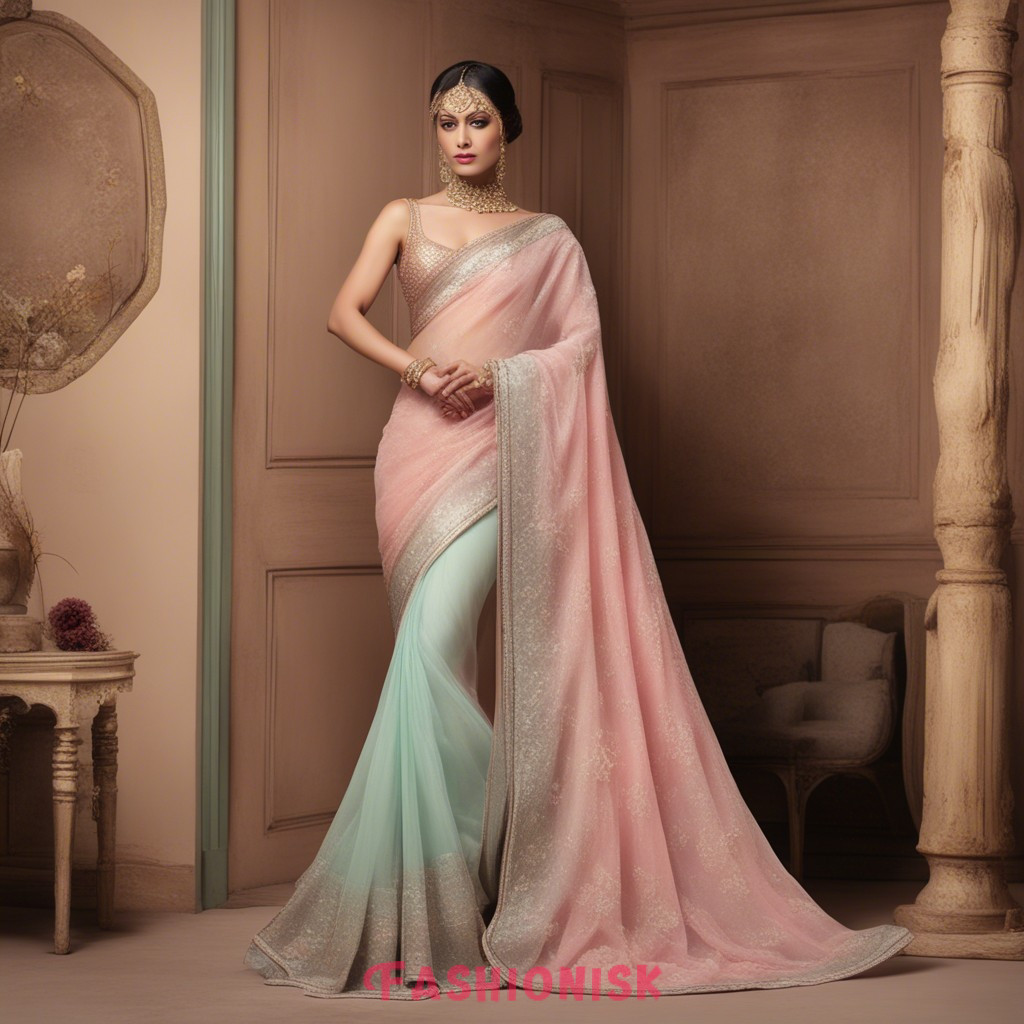 Banarasi Brilliance
Banarasi sarees stand out with their intricate golden weaves. Their regal appearance makes them a favorite for Karwa Chauth Look in Saree. These sarees are synonymous with luxury. Pair them with traditional jhumkas and a statement neckpiece. A heavy bracelet or gold kada elevates the entire look. Opt for an elegant maang tikka on the forehead to complete this majestic ensemble.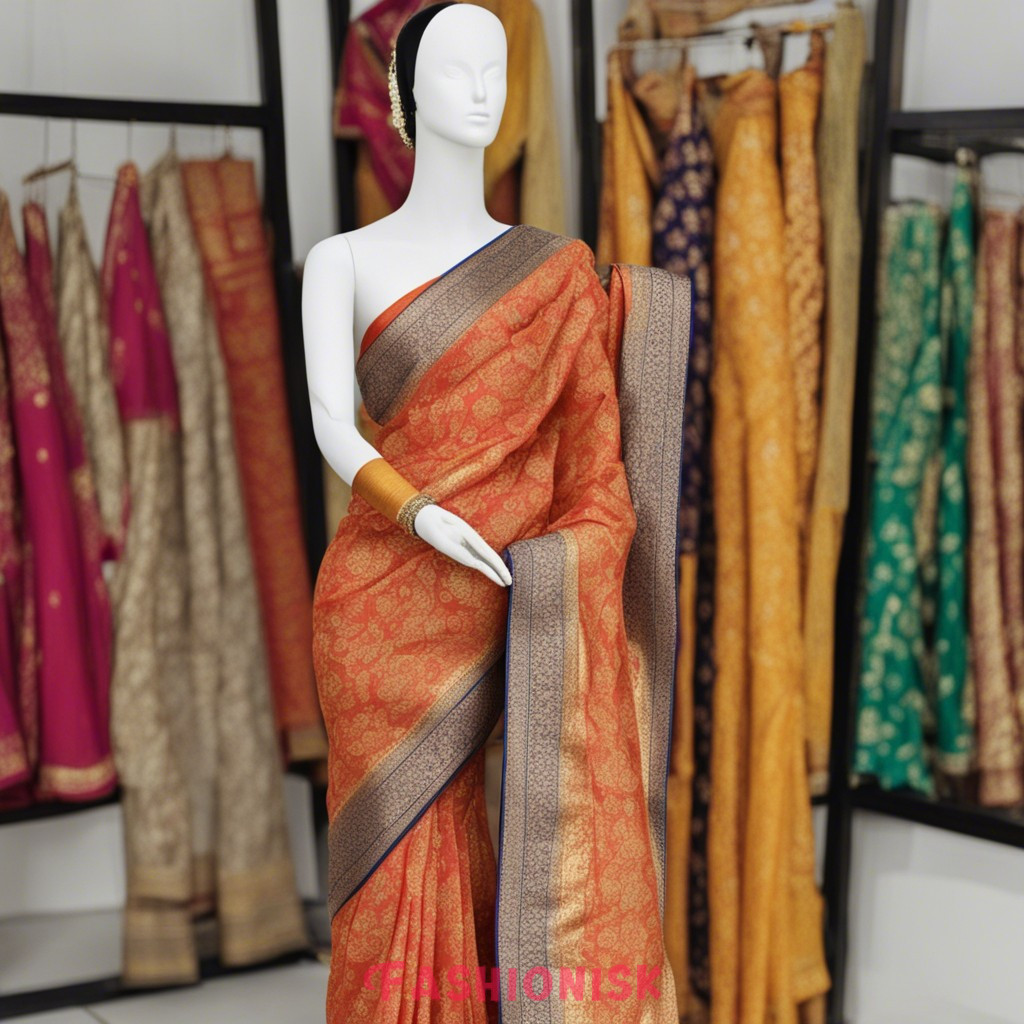 Georgette Glam
Georgette sarees are light and flowy. They strike the right balance between style and comfort. Perfect for those who want to blend tradition with a touch of modernity. Chunky silver jewelry pairs perfectly with georgette. Think bold silver necklaces and oversized rings. Add a pair of mirror work juttis for that added touch of glam. And perhaps a silver clutch to carry those essentials.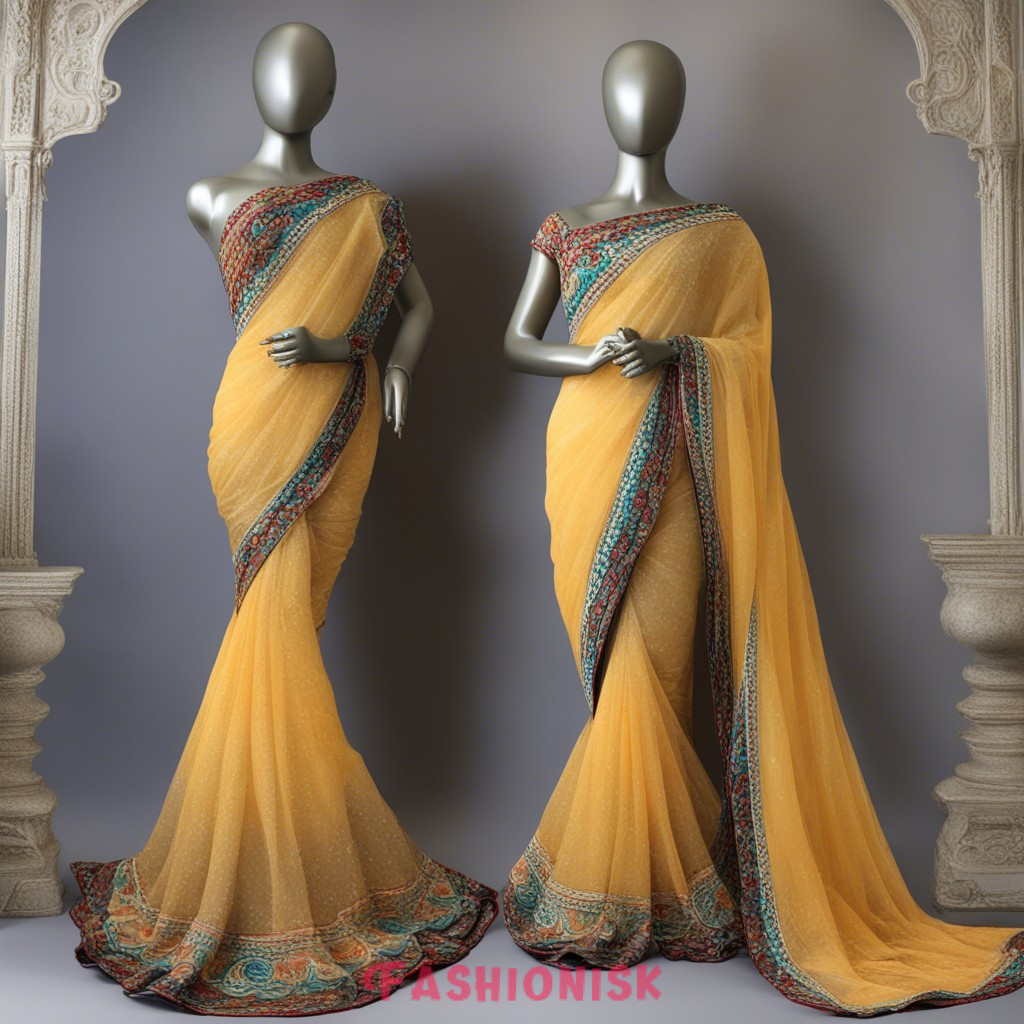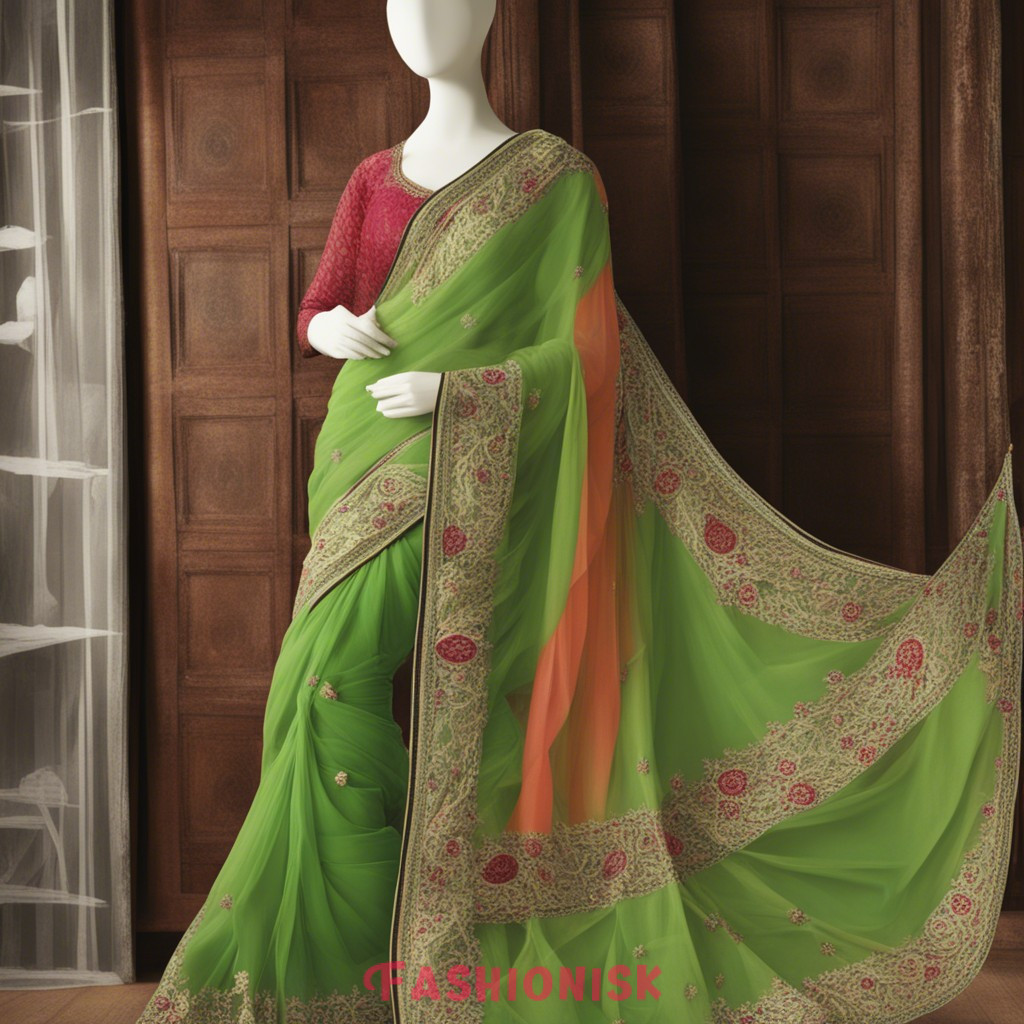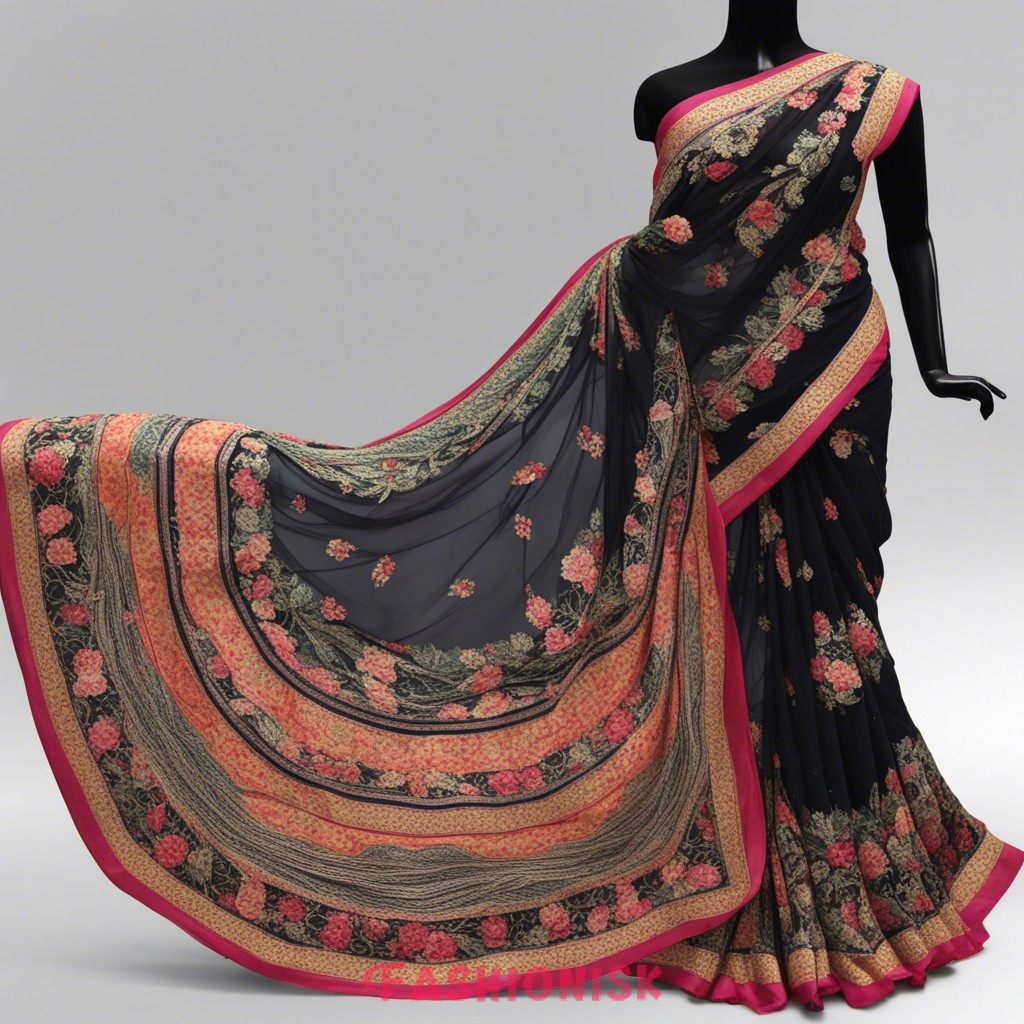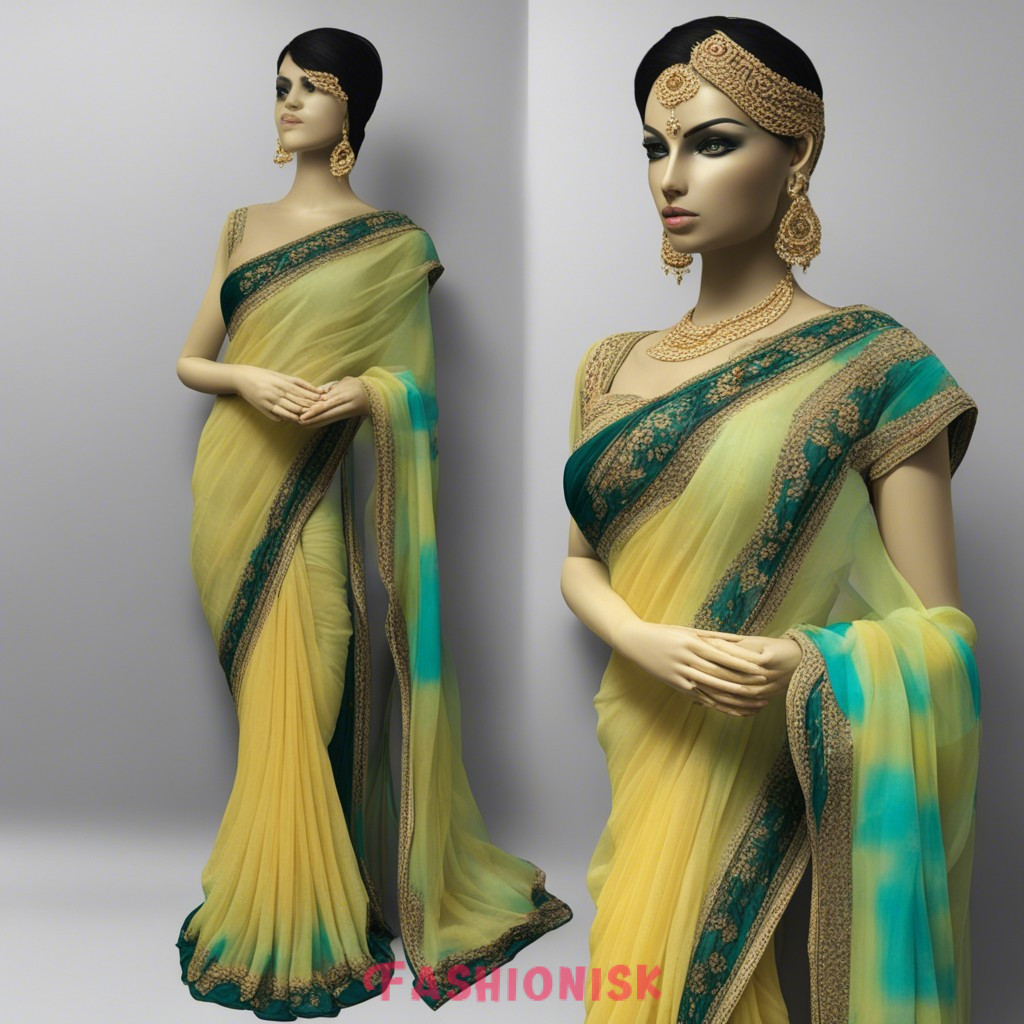 Sequin Sparkle Karwa Chauth Look in Saree
For those who love to shimmer and shine, sequined sarees are the go-to. They bring a contemporary edge to Karwa Chauth fashion. Given their inherent sparkle, it's best to keep accessories minimal. A pair of diamond studs or solitaire rings will do the trick. A subtle bracelet can also complement the glitter of the saree. Finish the look with strappy heels to make a dazzling statement.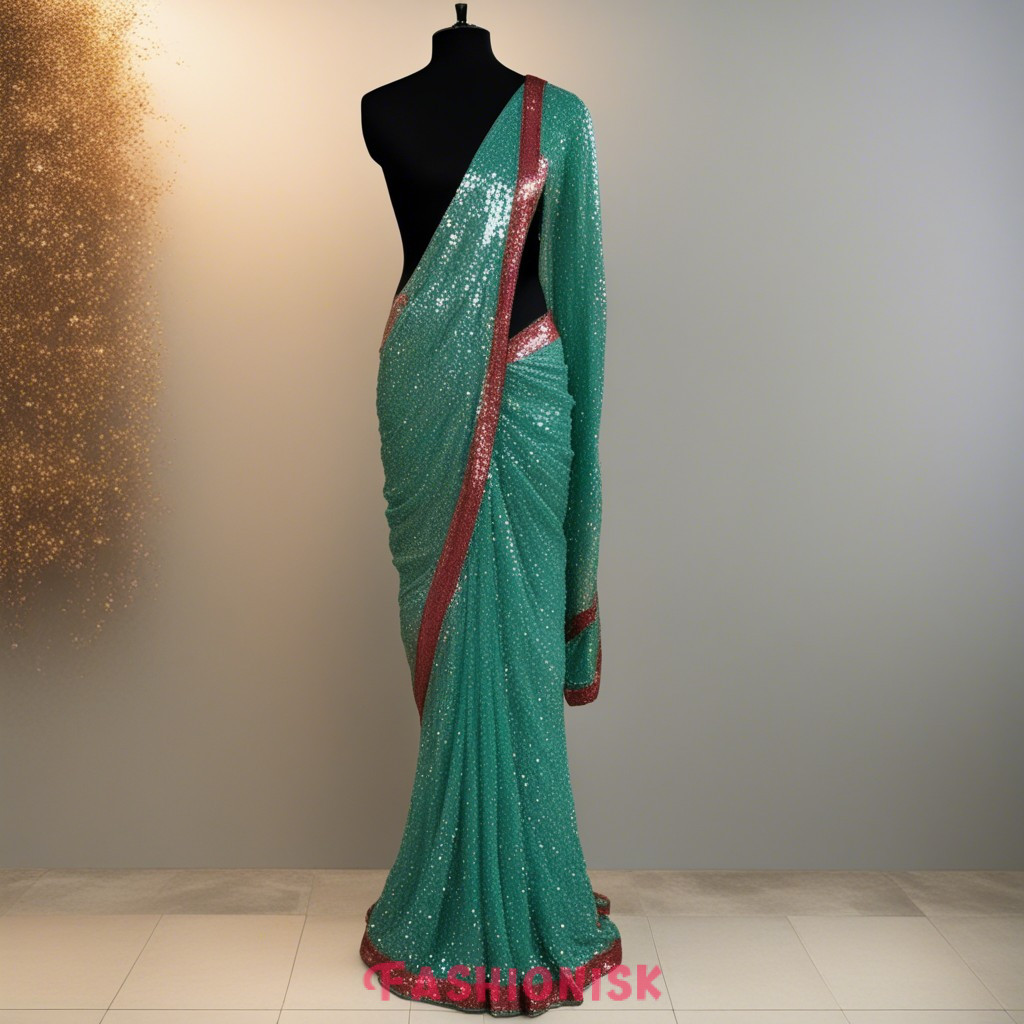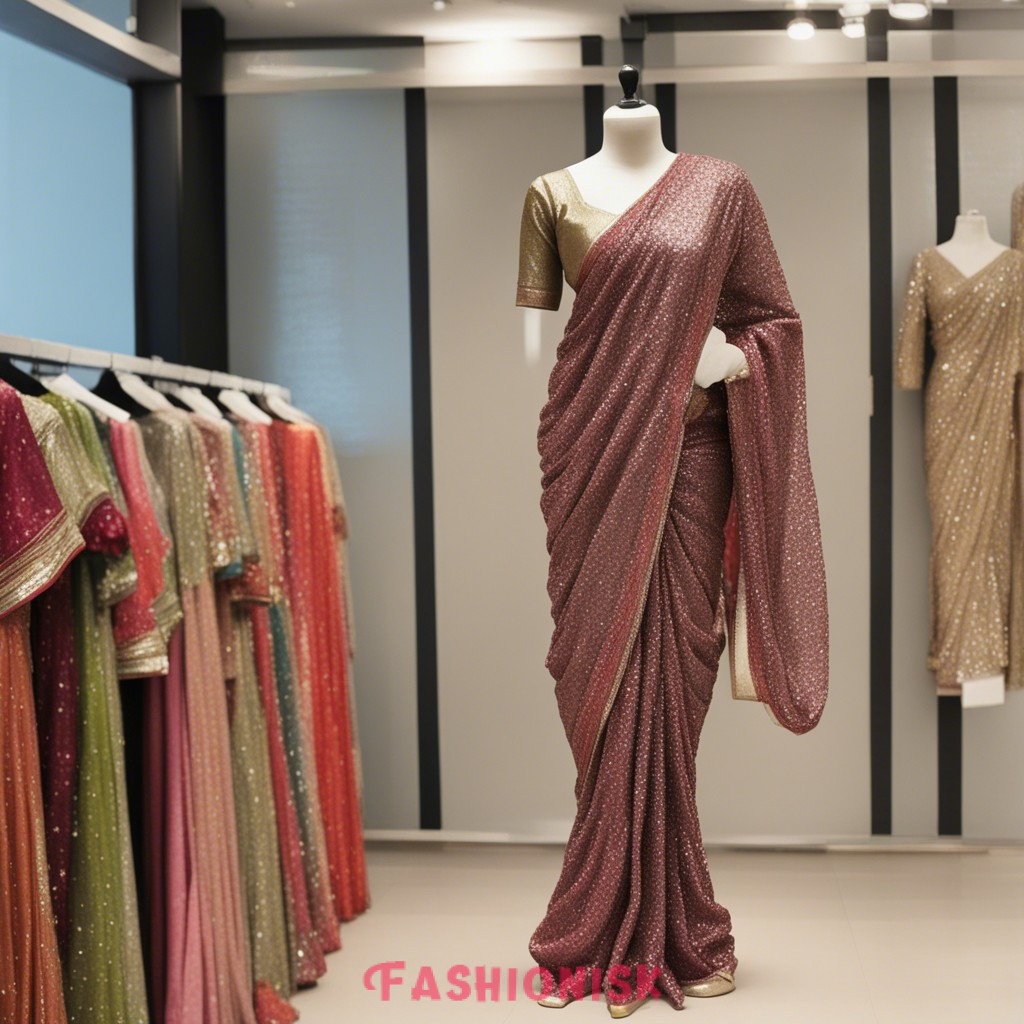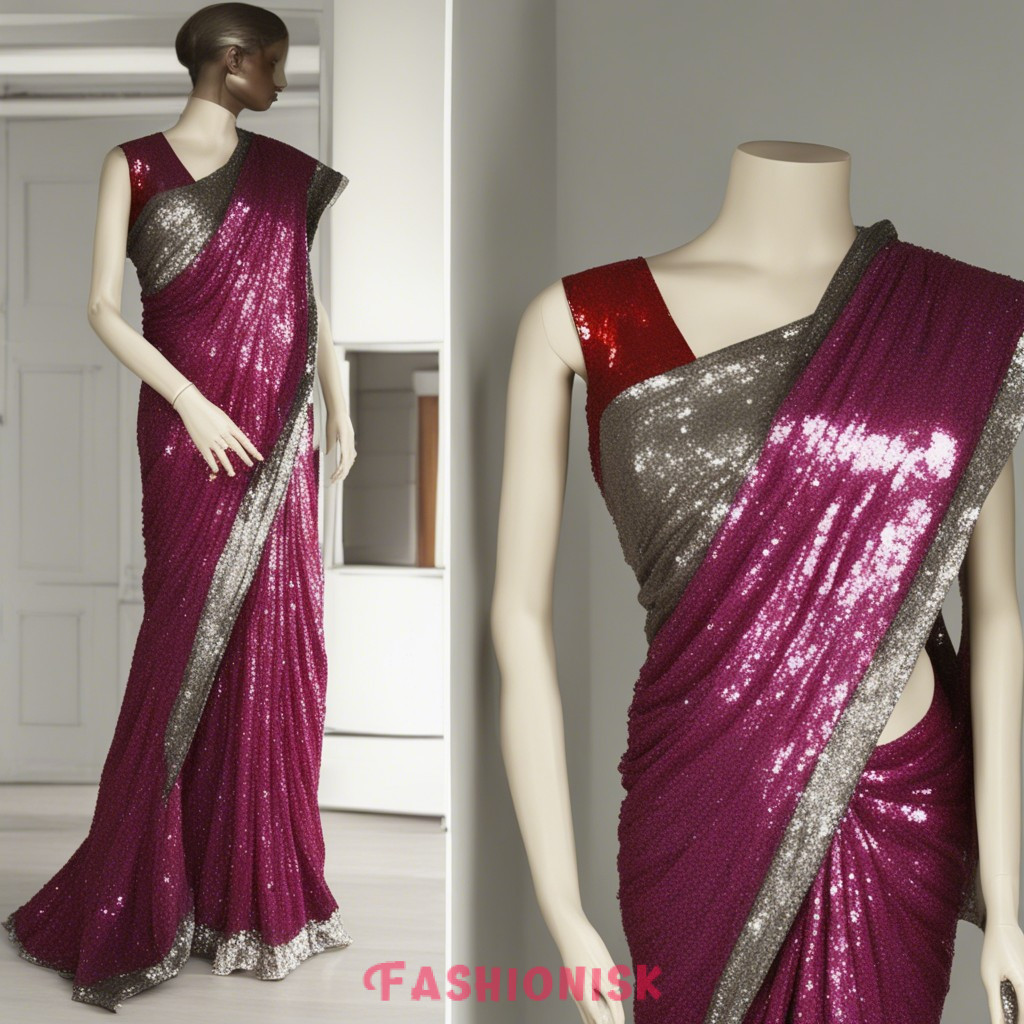 Floral Fancy
Floral motifs breathe life into any attire. A saree adorned with delicate floral patterns is both fresh and feminine. It's the choice for women who want to blend tradition with a dash of playful charm. Floral sarees often have soft and vibrant hues. Pearl jewelry pairs wonderfully with this style. Opt for pearl drop earrings and a matching bracelet. A delicate anklet also adds a whimsical touch to the look. Complete the ensemble with embroidered juttis for that earthy elegance.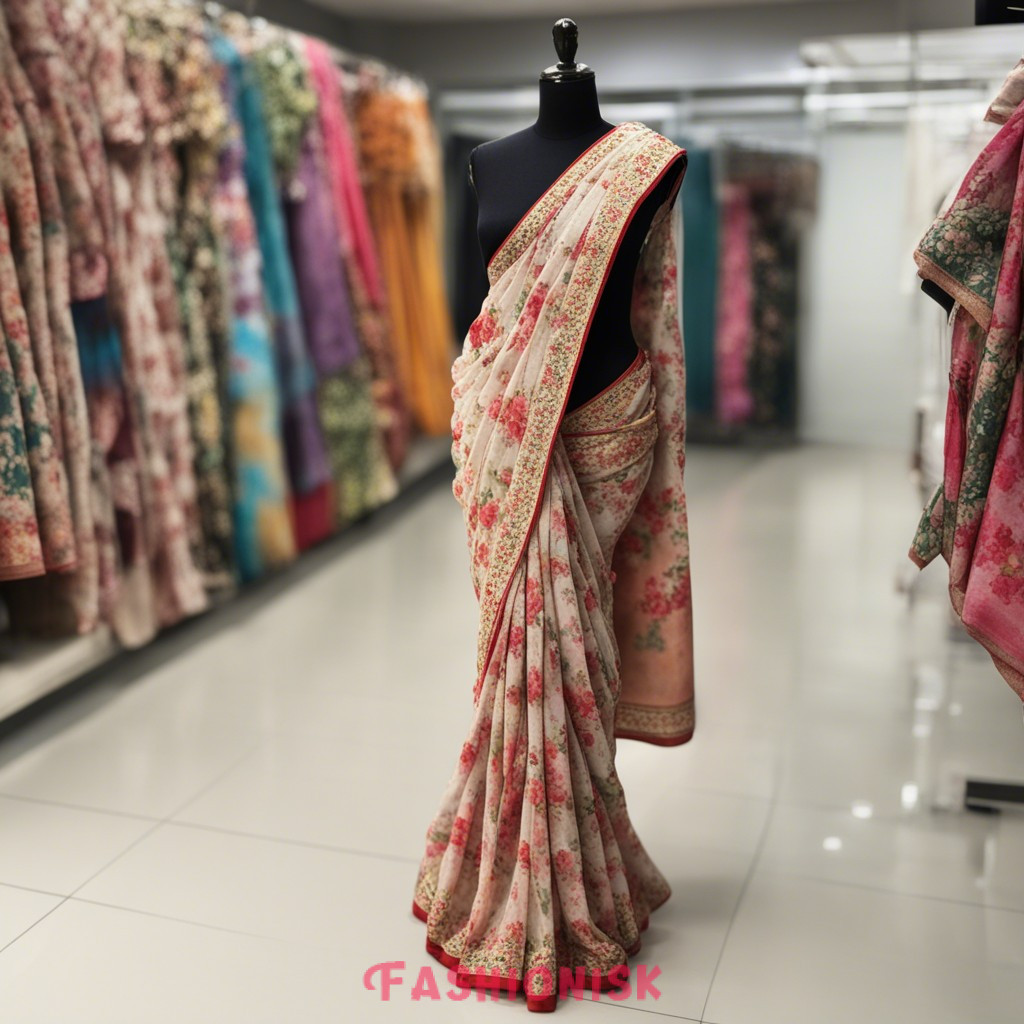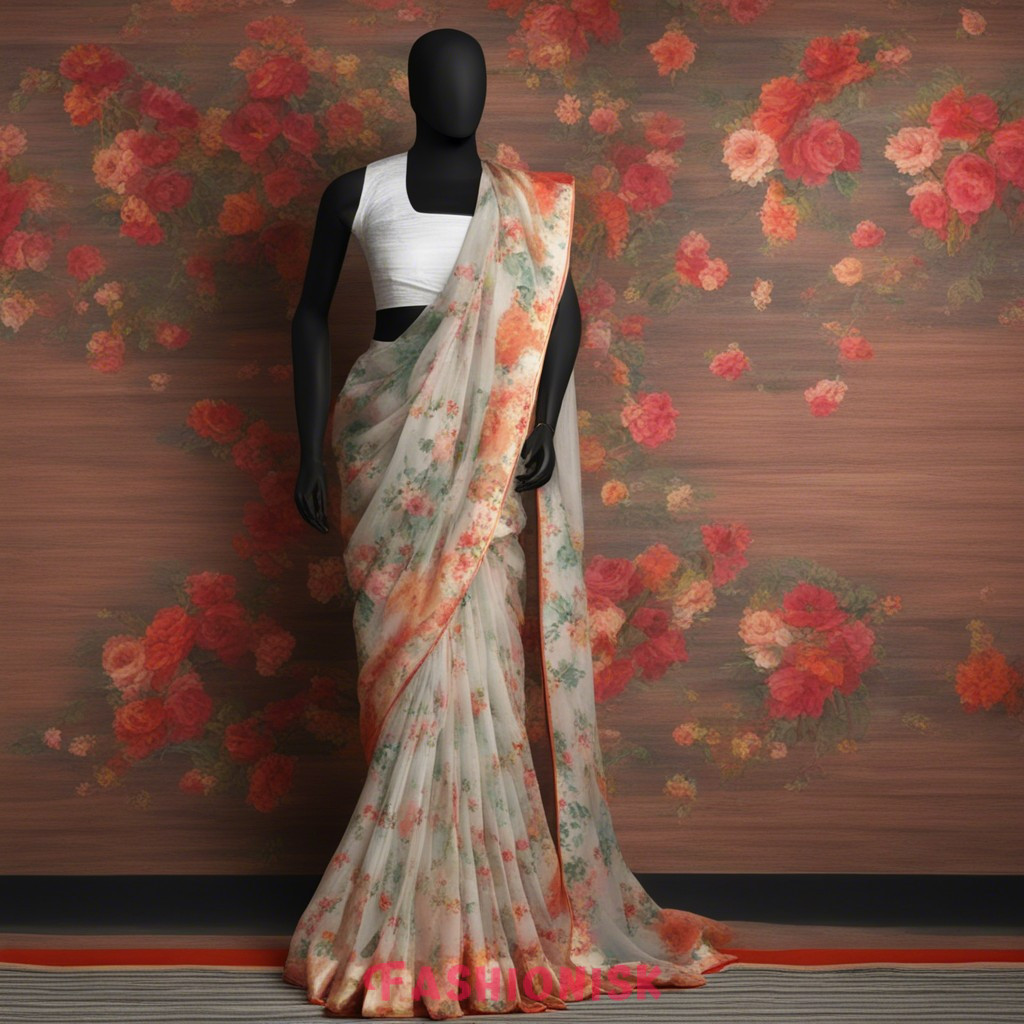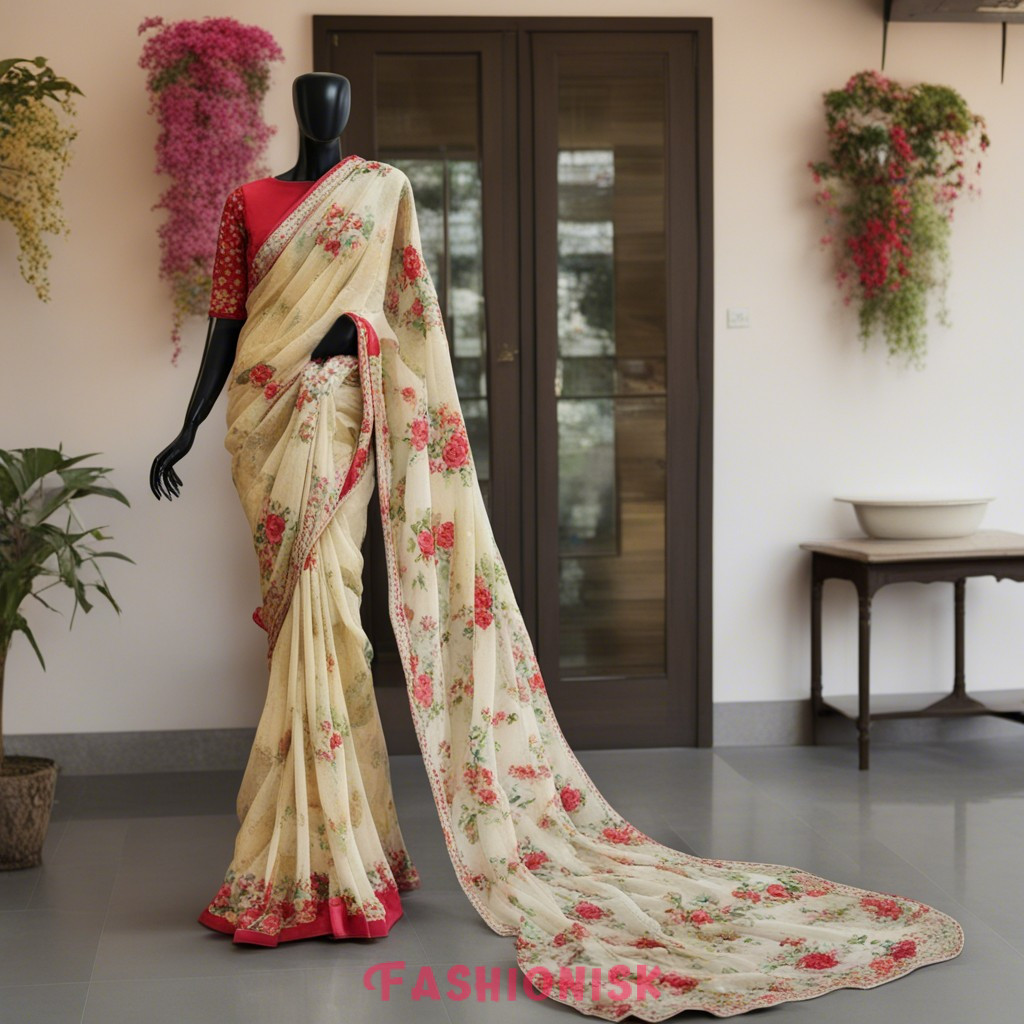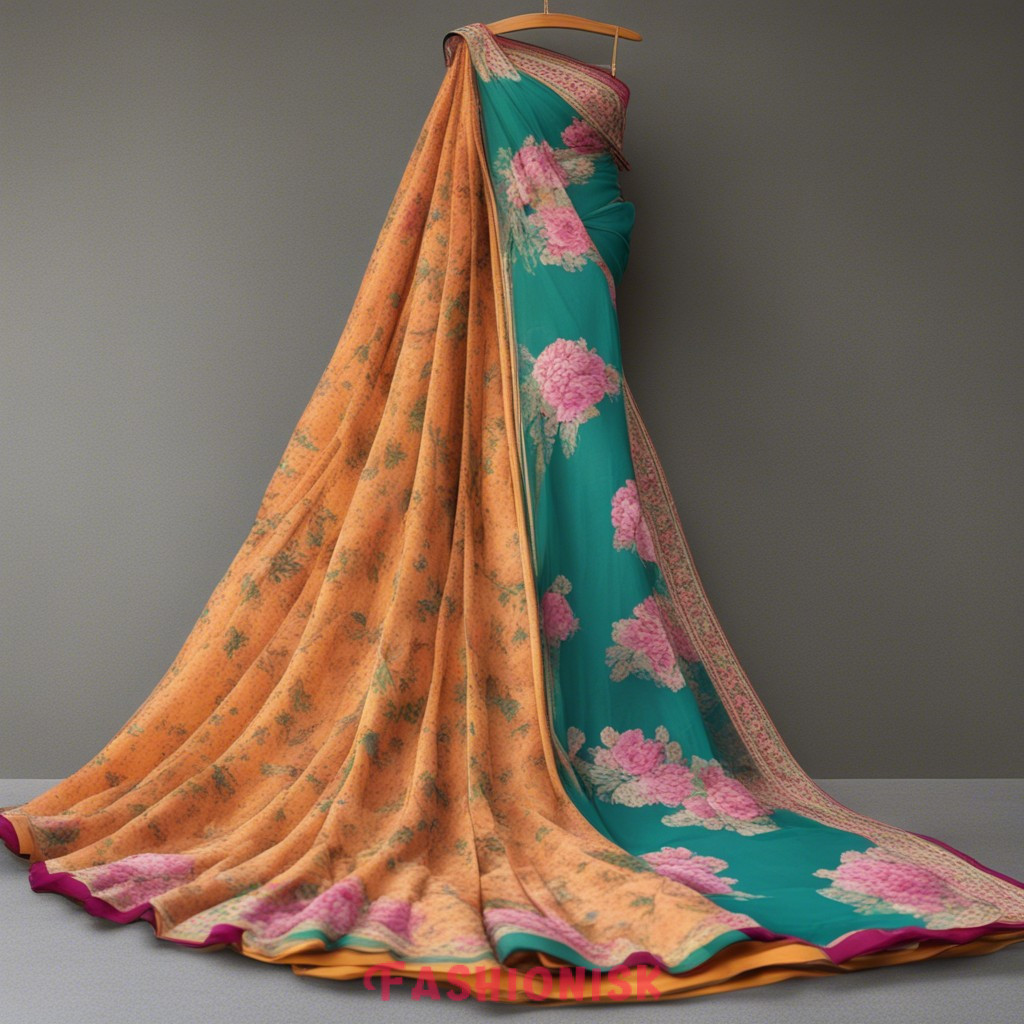 Cotton Comfort
For those who value comfort above all, cotton sarees are a blessing. They're breathable and exude an understated elegance. The simplicity of cotton is its biggest strength. Traditional terracotta jewelry matches the rustic charm of cotton. Wear a terracotta necklace set and perhaps a pair of handcrafted earrings. Kolhapuri chappals or simple sandals will complete this grounded and graceful look.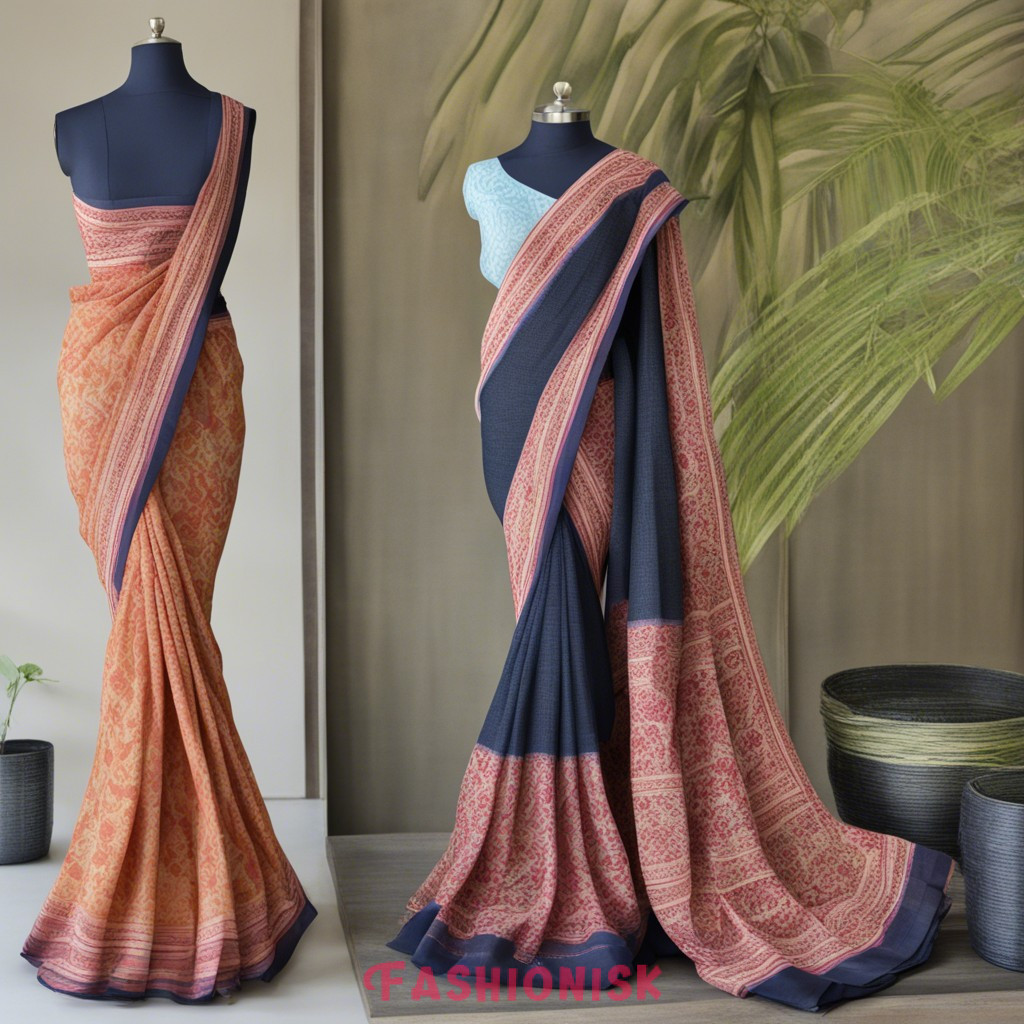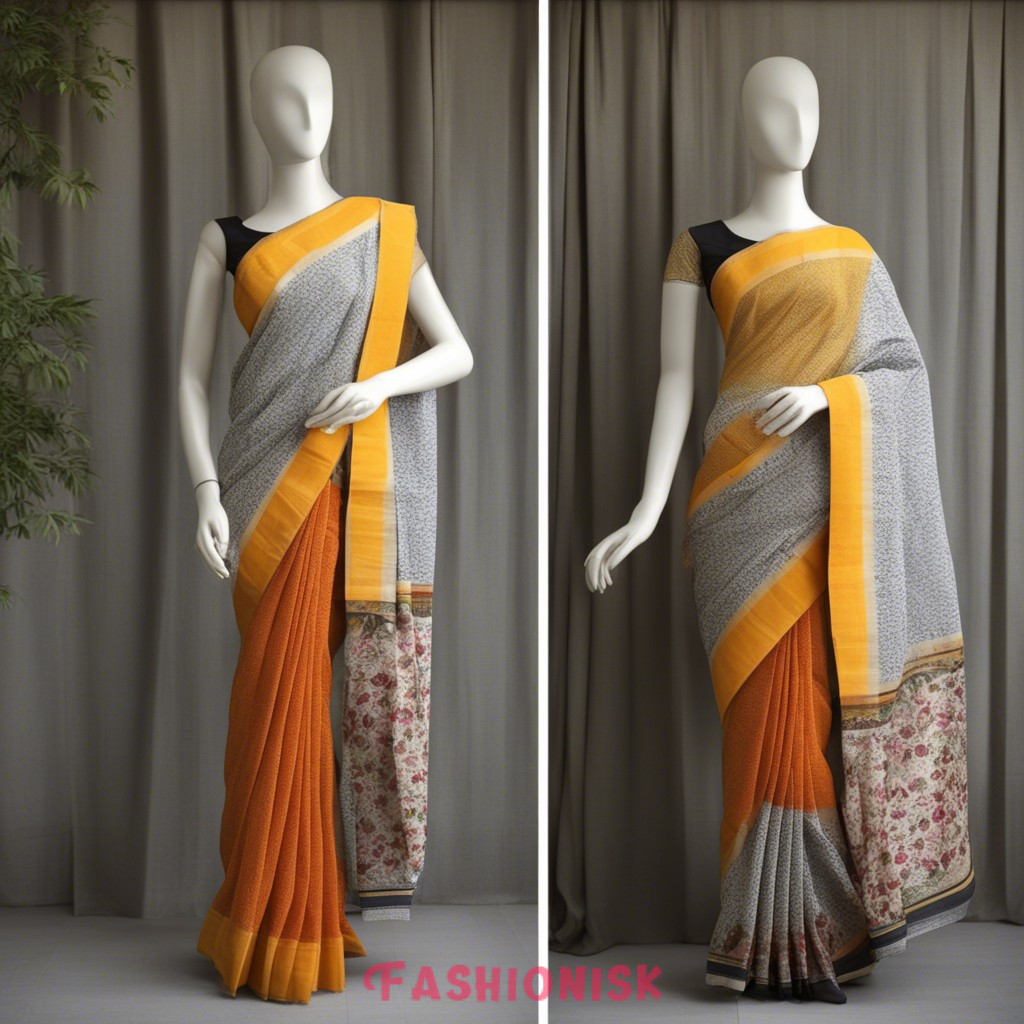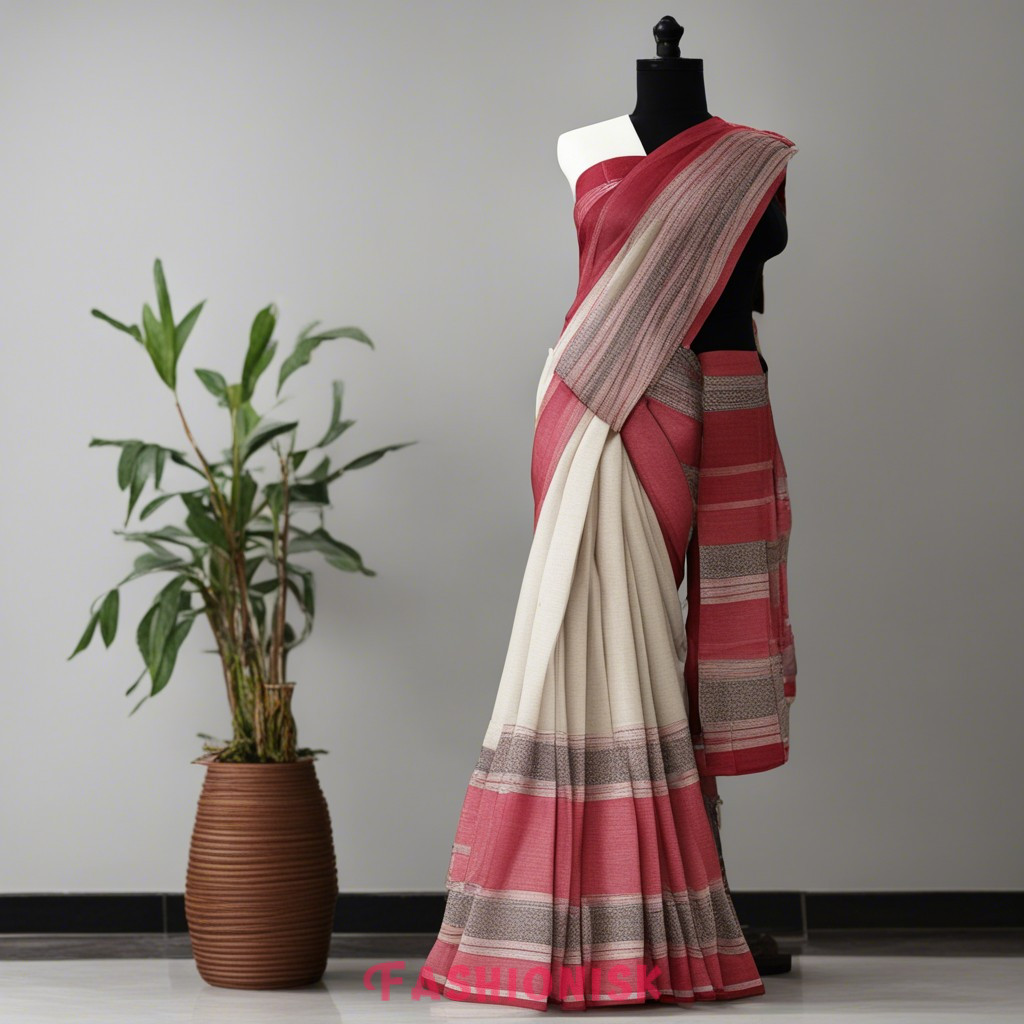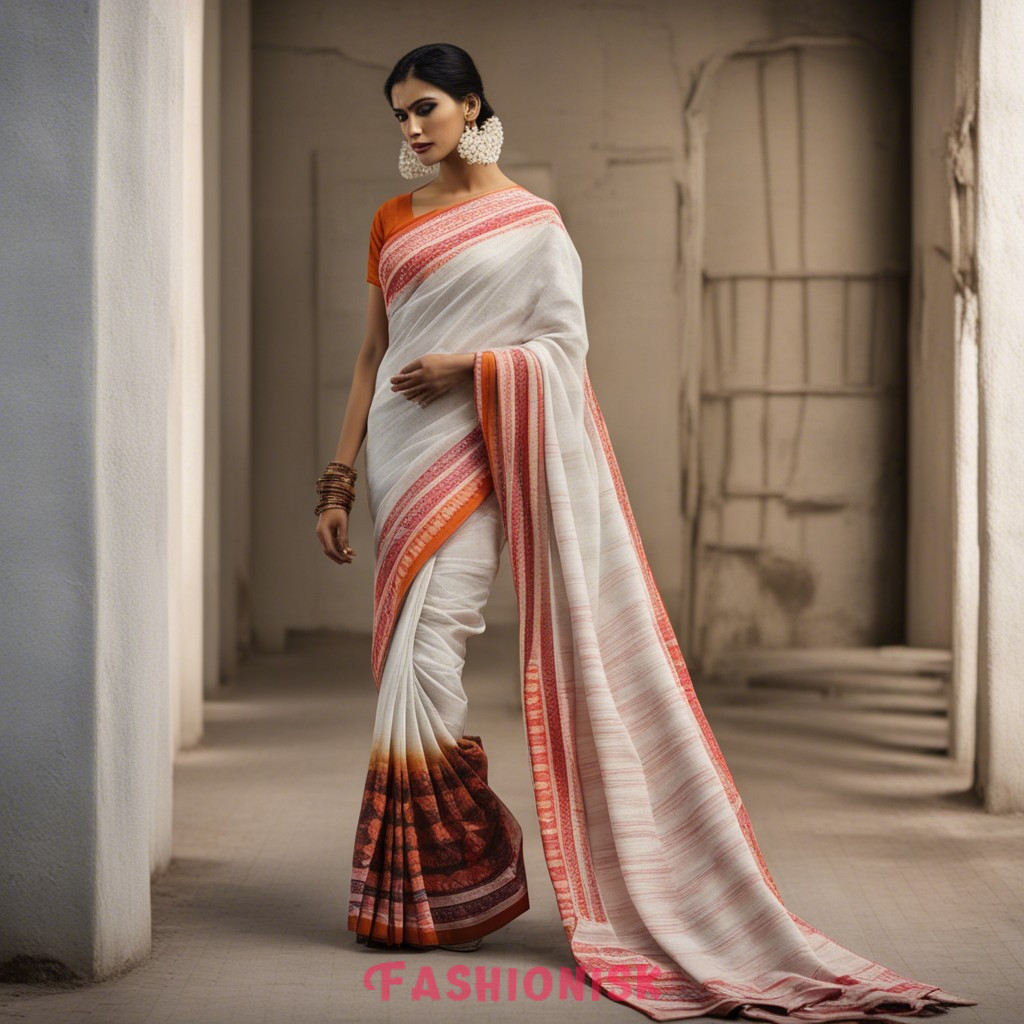 Lace Love Karwa Chauth Look in Saree
Lace sarees spell sophistication. Their intricate patterns and sheer fabric make them perfect for festive occasions. The delicate nature of lace calls for equally elegant accessories. Think of vintage-inspired jewelry. Crystal earrings and delicate chain necklaces suit best. Pair with ballet flats and a lace clutch to embrace the theme fully. The entire look oozes romance and class.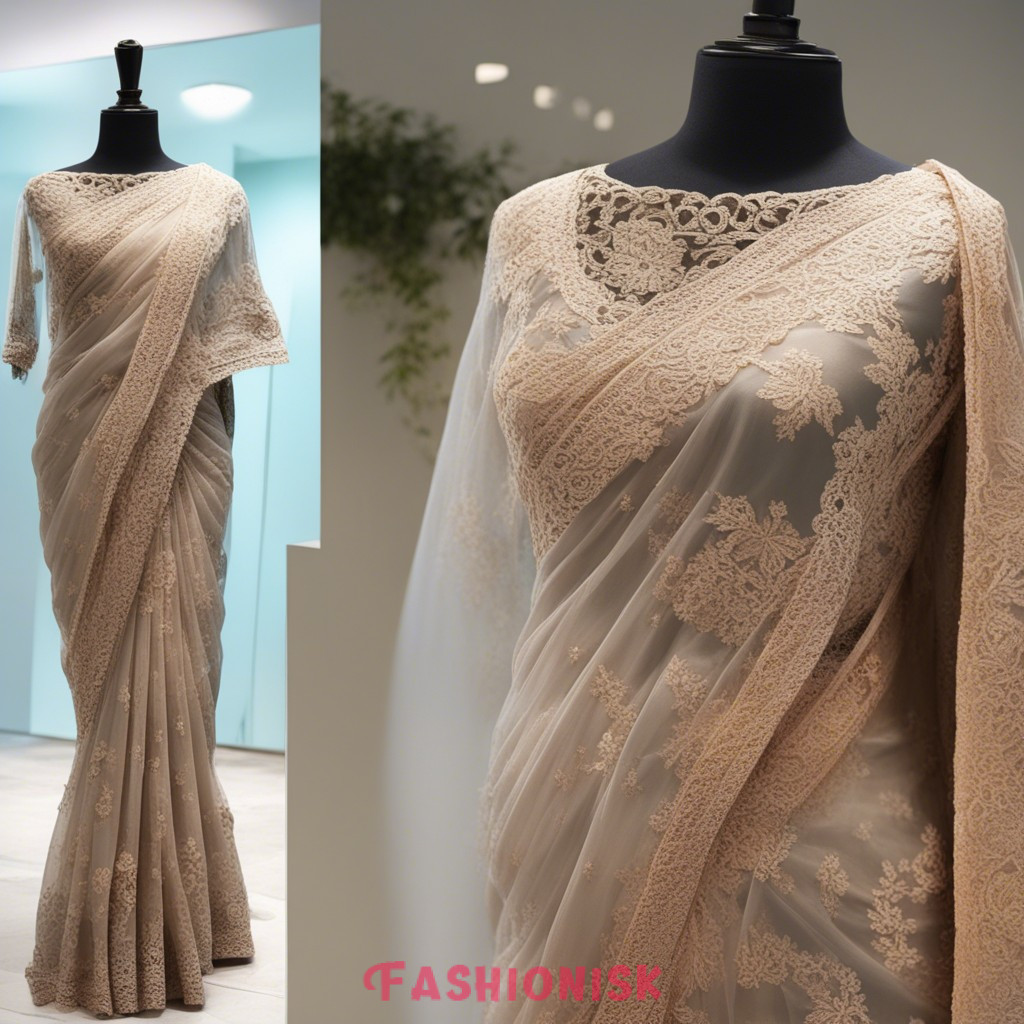 Sheer Elegance
Sarees with sheer fabric like net or organza have a dreamy appeal. They combine tradition with a hint of modern flair. These sarees often come with heavy borders or embroideries. So, it's best to keep accessories minimal. A statement cuff or bracelet is perfect. Pair with studs or small drop earrings to keep the focus on the saree. Heeled sandals can elevate the ensemble, making you feel every bit the festive diva.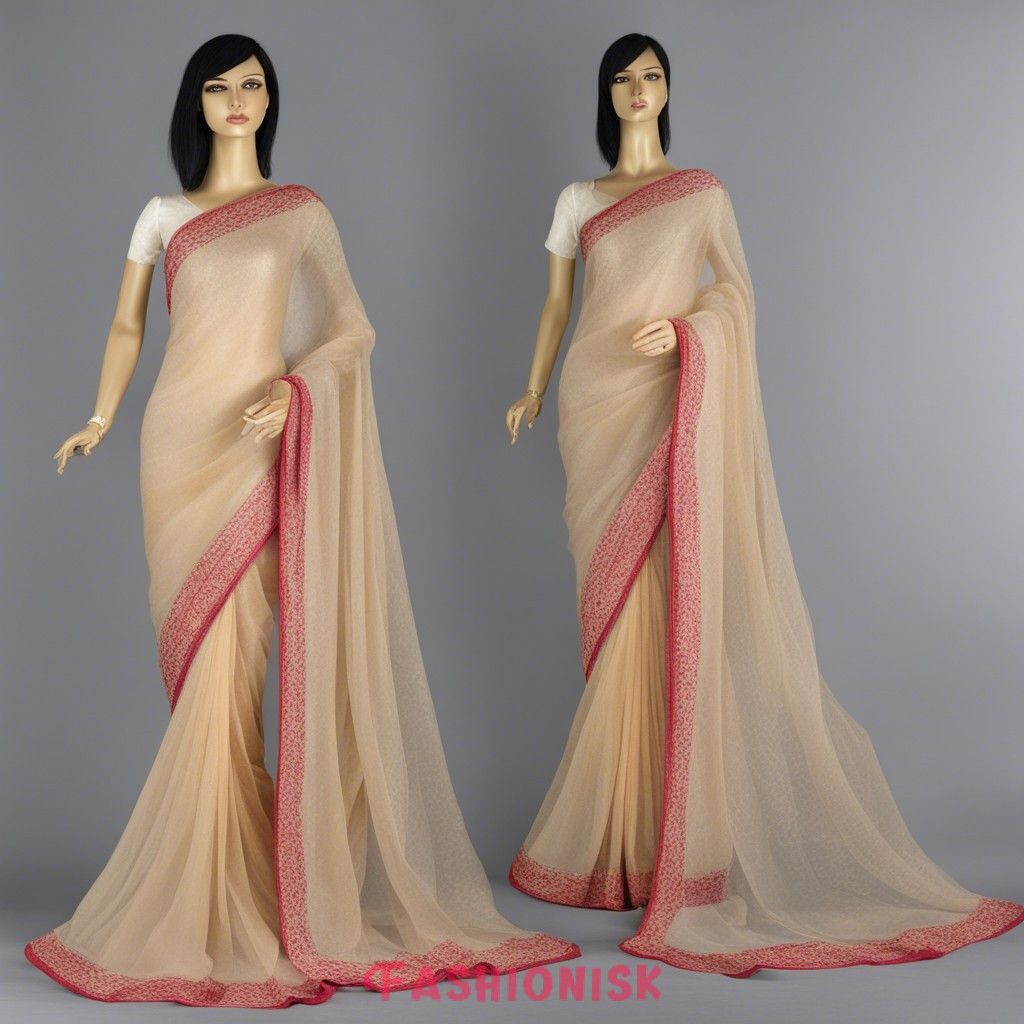 Monochrome Magic
A saree in a singular shade from start to finish has its unique appeal. The power of a monochrome saree is undeniable. It creates an illusion of height and offers unmatched elegance. Bold jewelry pieces stand out with monochrome sarees. Opt for a chunky necklace or a set of layered bangles. Even a statement ring can add a touch of sparkle. Pair with coordinated heels to make a striking impression.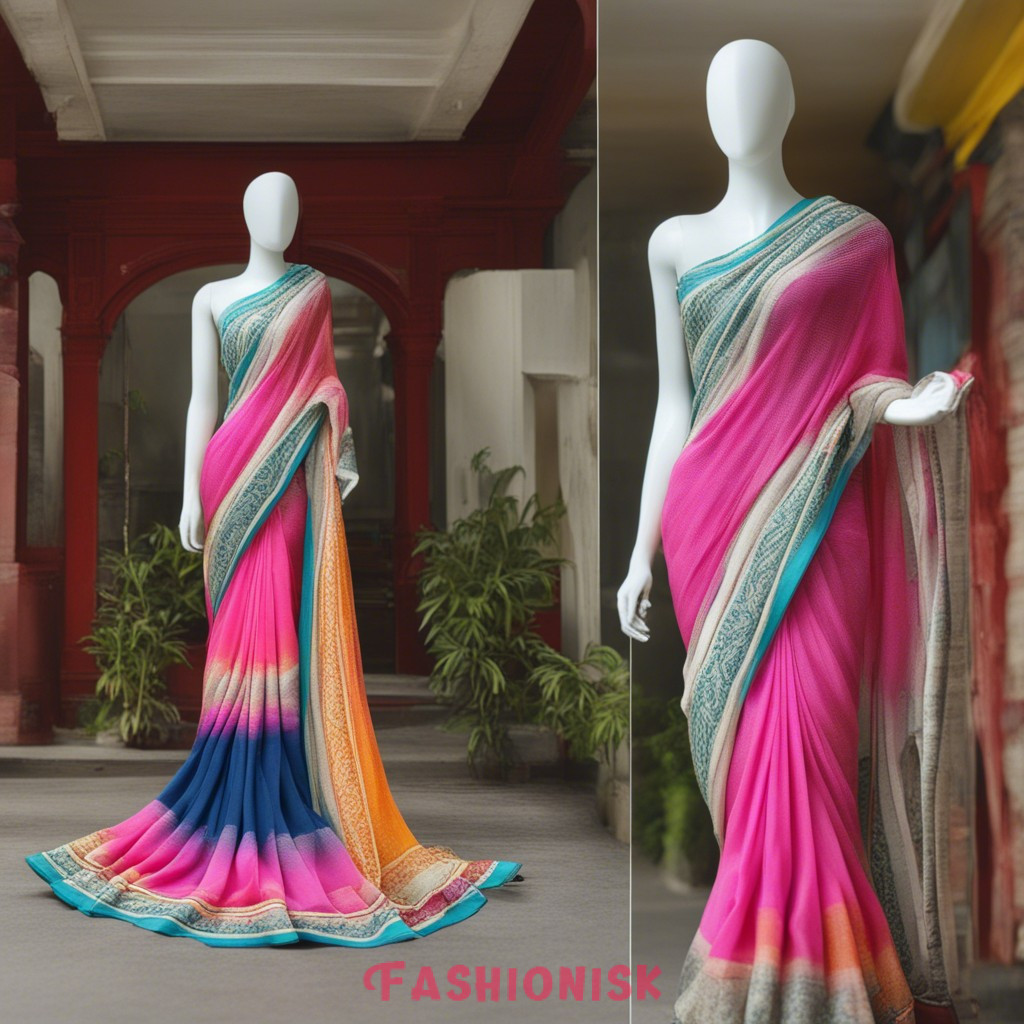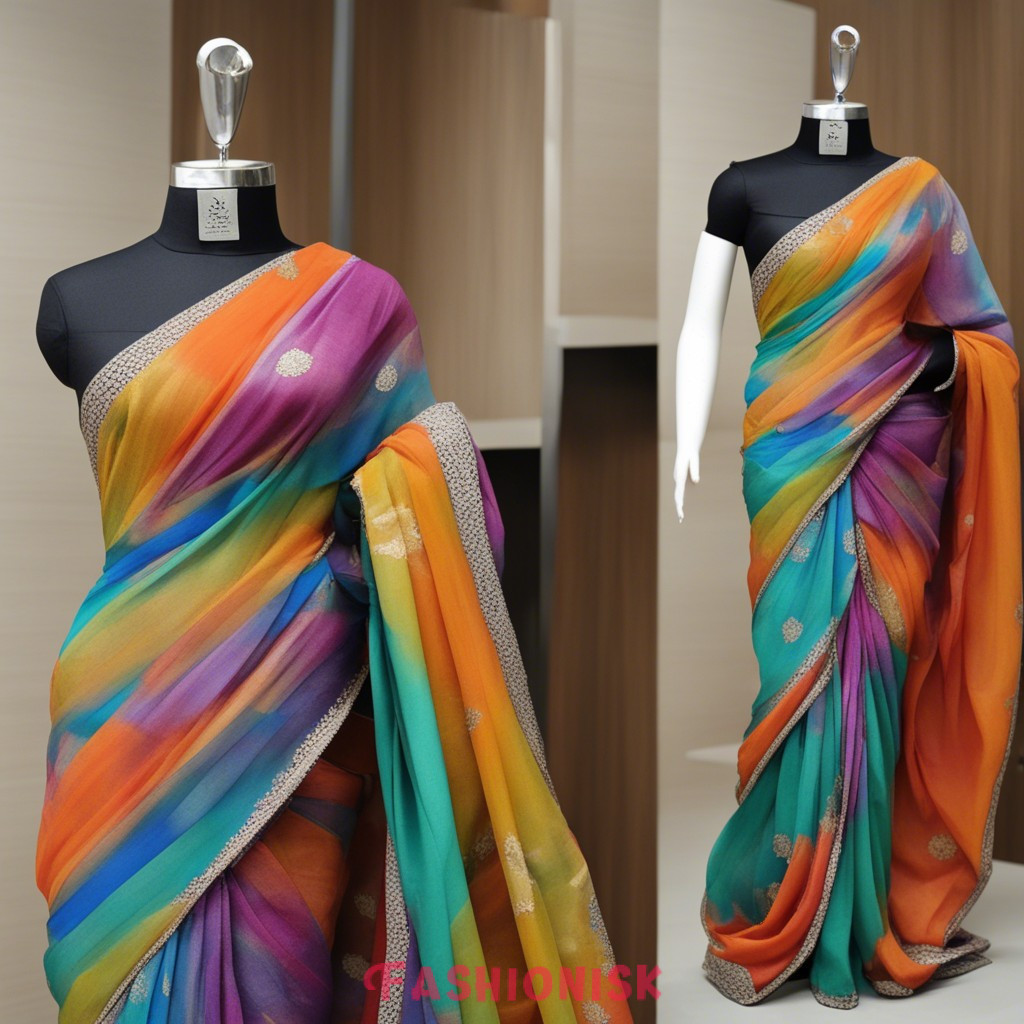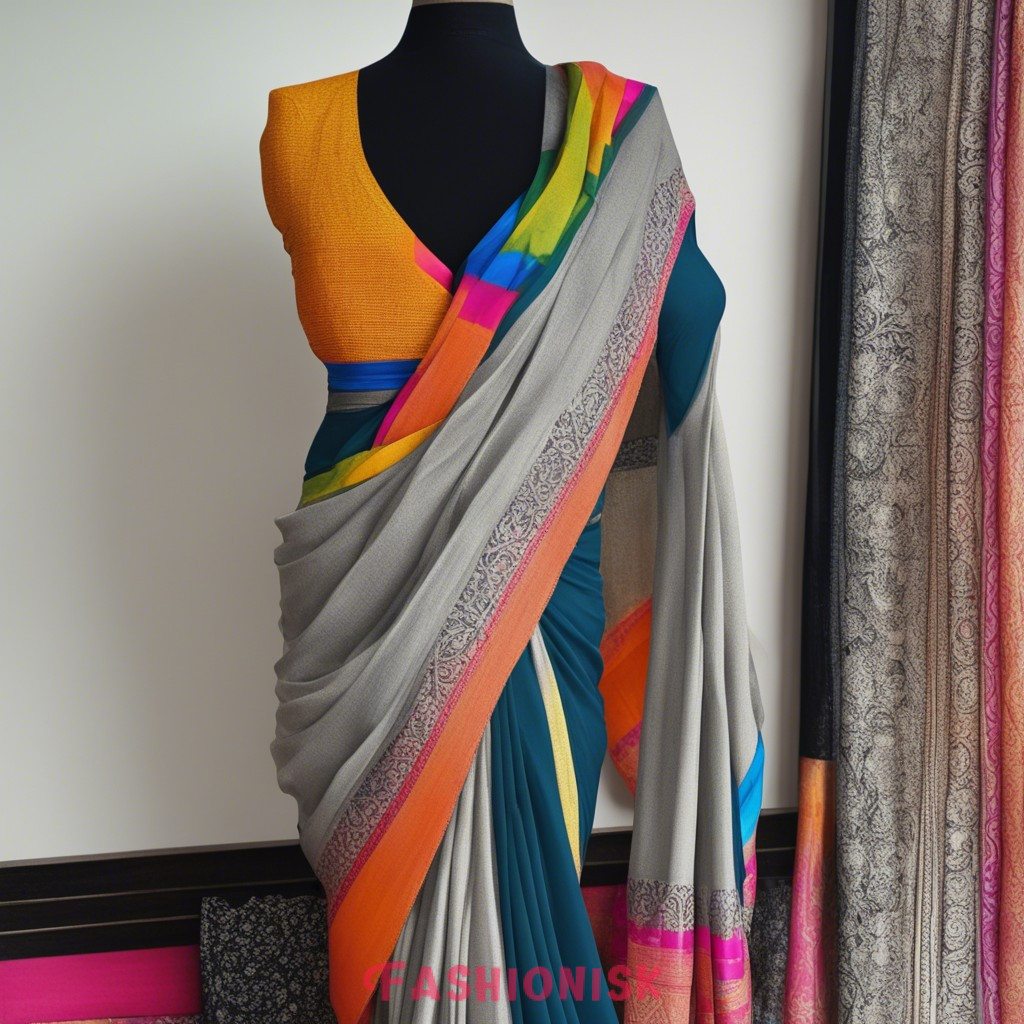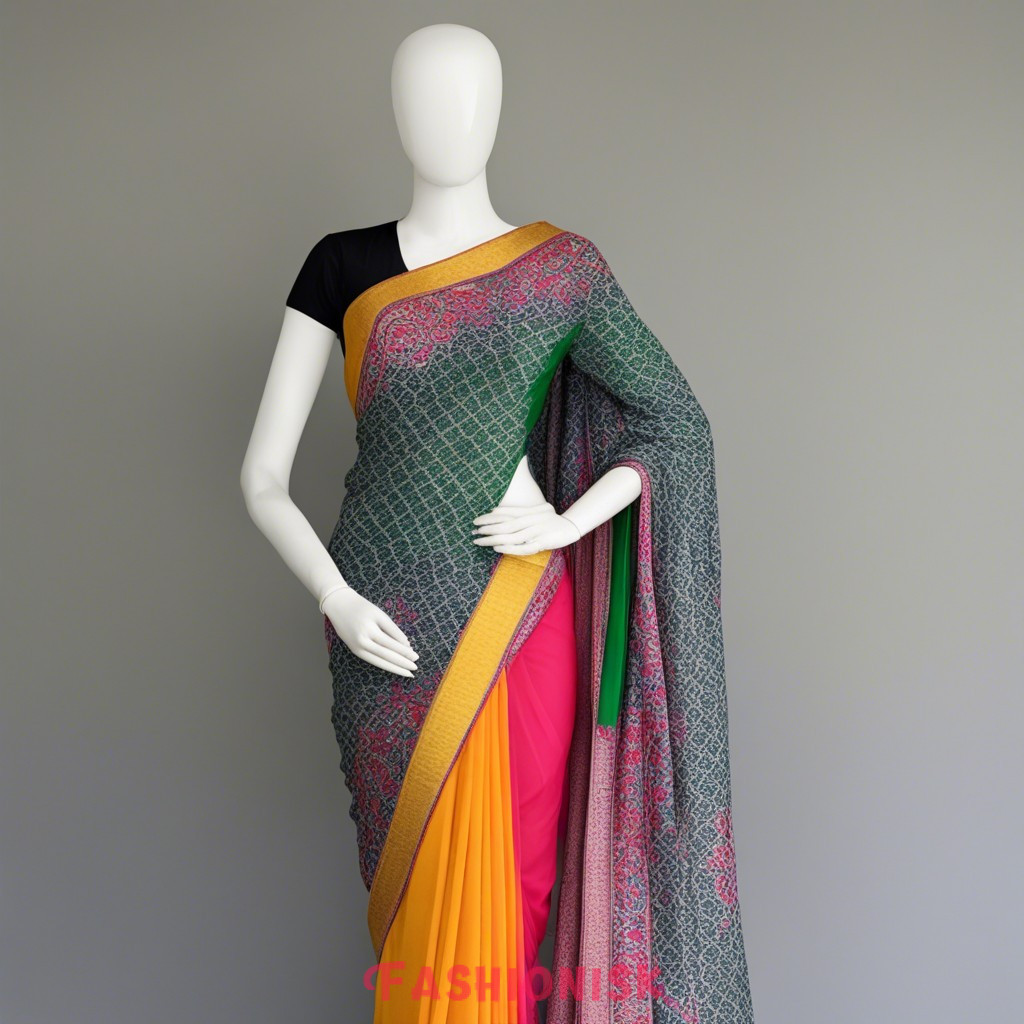 Saree & Sparkle: Accessorizing the Perfect Drape!
Statement Neckpiece: Choose a necklace that complements the saree's neckline and overall design.
Chandbali Earrings: Elevate your look with traditional chandbalis, especially for a festive feel.
Bangles Galore: Stack bangles or kadas on one or both hands, ensuring they harmonize with the saree's color.
Waist Belts: Highlight your waist with traditional gold or silver belts, especially when wearing a plain saree.
Trendy Toe Rings: Add a touch of tradition with toe rings, perfect for showing off with peep-toe heels.
Clutch Coordination: Pick a clutch or potli bag that matches or contrasts with your saree for added finesse.
Majestic Maang Tikka: Choose a maang tikka or matha patti for a royal touch, especially with hair styled in an updo.
Nose Pin Nudge: Adorn with a nose pin or nath for a vintage allure, aligning with the saree's vibe.
Anklet Appeal: Enhance your feet with silver or gold anklets, especially when wearing a saree with a shorter pallu.
Hairstyle Harmony: Choose a hairstyle, be it a bun or braids, that works with your accessories, especially earrings and neckpieces.
Quick Answer To Your Burning Questions
What is the traditional color to wear on Karwa Chauth?
The traditional color for Karwa Chauth is red, symbolizing love and marital bliss, but many women also opt for pinks, oranges, and other bright hues.
How can I style my saree differently for Karwa Chauth?
You can experiment with different draping styles, opt for modern blouse designs, or even accessorize with belts and jewelry to give a contemporary twist to your saree look.
Are there specific fabrics best suited for Karwa Chauth sarees?
While silk and georgette are popular choices, there's no specific fabric rule. It's essential to choose a fabric you're comfortable in and that suits the season and occasion.
How should I accessorize my saree for Karwa Chauth?
Pair your saree with traditional jewelry like chandbali earrings, bangles, and a maang tikka. Consider waist belts, potli bags, and anklets to elevate your festive look.
Can I wear a modern or fusion saree look for Karwa Chauth?
Absolutely! Modern and fusion saree styles, like dhoti sarees or sarees paired with crop tops, are becoming increasingly popular. Ensure it resonates with the festive spirit and your personal comfort.
Saree Splendor: Signing Off on Karwa Chauth Styles!
Karwa Chauth is a day that marries tradition with fashion. Choosing the perfect Karwa Chauth Look in Saree is about blending comfort with style. As we wrap up this blog post remember that your choice of saree speaks volumes. It's not just fabric; it's an expression of love, devotion, and personal flair. So dive into the world of sarees with enthusiasm. Mix and match. Experiment with colors and accessories. And most importantly celebrate the beauty and grace that is uniquely you. Until next time keep draping and dazzling!
People Also Searched For
Comments