#Beauty
50 Classy Short Nail Designs To Elevate Your Petite Nails
There's a common misconception that long nails are the only canvas for creative nail designs. But that's not the case. Short nails can look equally chic and fashionable. Today, I'm excited to dive deep into the world of classy short nail designs that ooze class and sophistication.
Now, you might wonder why opt for short nails? First off, they're super practical. Whether you're typing, cooking, or doing any daily chores, short nails ensure there's minimal interference. Plus, they are less prone to breakage. So, they are a win-win for busy bees who don't want to compromise on style.
But here's the catch. Not every design suits short nails. The trick is to choose designs that complement the limited space and yet stand out. And that's what this post is all about.
Prepare to get inspired. We'll explore minimalist patterns, subtle colors, and innovative techniques. From French tips with a twist to delicate geometric patterns, there's a design for every mood and occasion.
Before we jump in, remember, the key lies in mastering the basics. Proper nail prep, quality products, and a steady hand can take your nail game to the next level. Don't worry if you're a beginner. With practice, you'll perfect these designs in no time.
So, ready to make a statement with your short nails? Let's get started!
Classy Short Nail Designs
Short nails have their charm. Many believe you need long nails for exciting designs. That's a myth! Short nails offer a chic and clean look, perfect for standout designs. With the right colors and patterns, short nails become the ideal canvas. Let's embark on a journey where style meets practicality.
Monochrome Magic
Here's the charm: one color, multiple shades. It's all about creating depth and interest using just one hue. You'd be surprised at how a single color can tell a captivating story on your nails.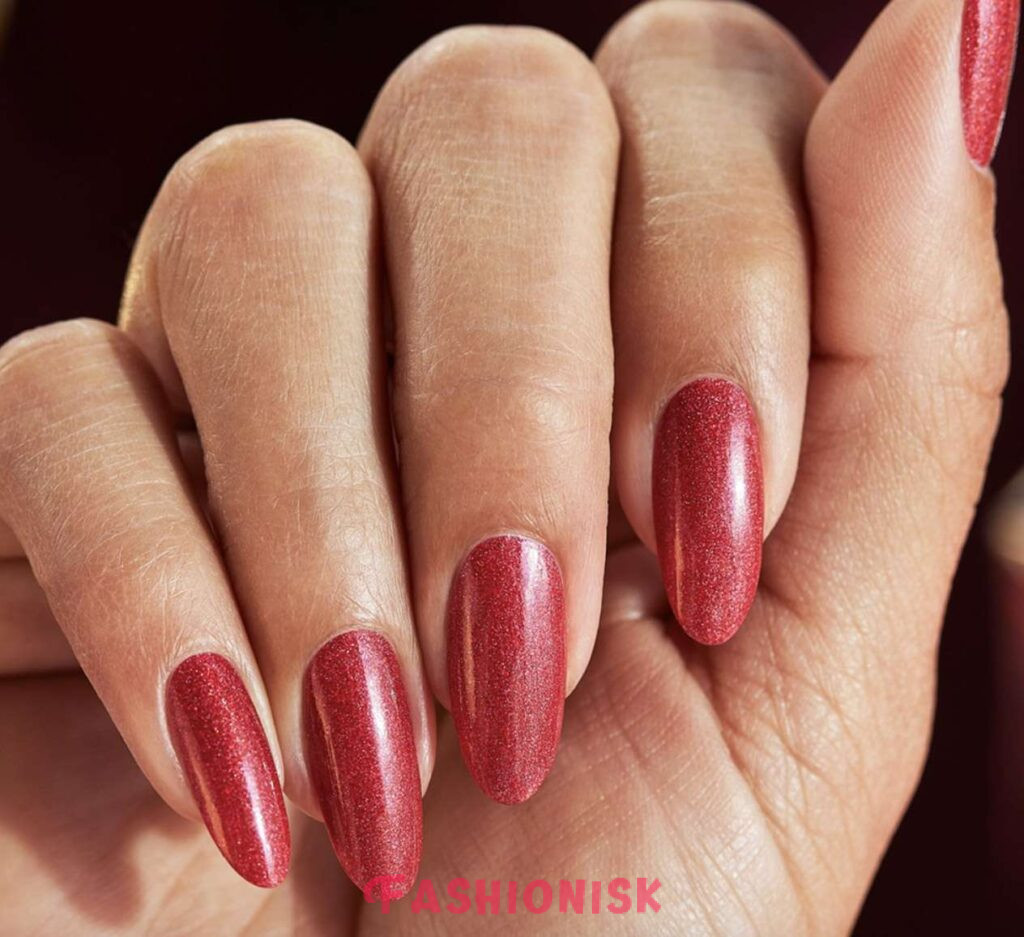 Twisted French Tips
We're redefining the classic. Instead of the usual white tip, think bold colors, unexpected patterns, or even glitter. Reinventing the wheel has never felt so fashionable. So, are you ready to turn heads?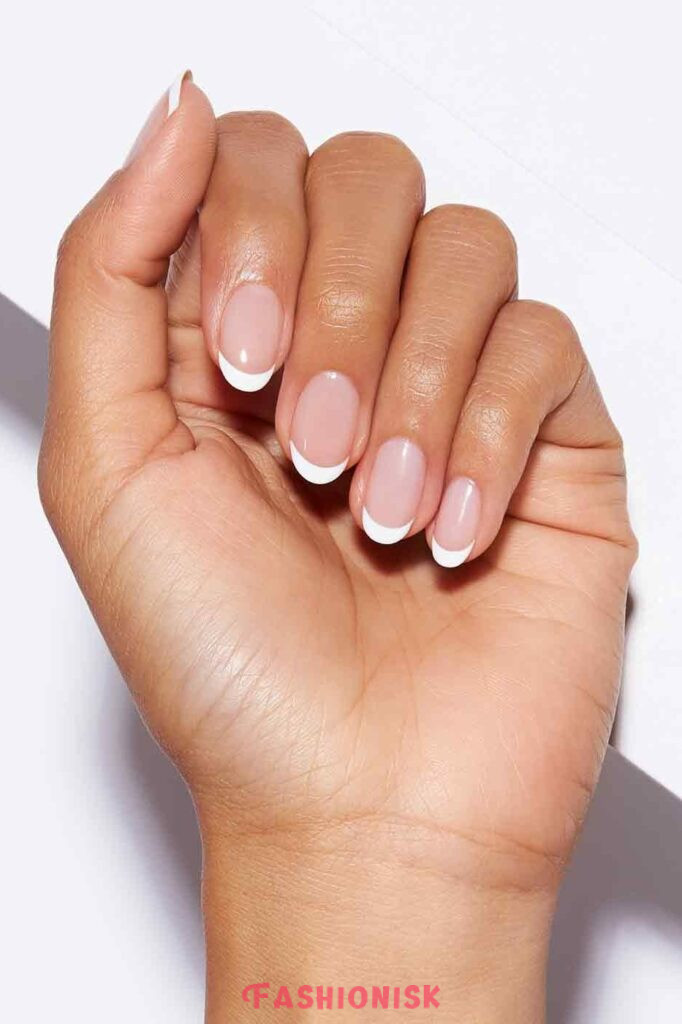 Minimalist Geometrics
Simple shapes create powerful impact. Think dots, lines, triangles, or squares. Less truly becomes more when basic forms take center stage on your nails. Dive in, and let's let geometry do the talking.
Delicate Lace Patterns
They mimic the elegance of the finest fabric on your fingertips. Picture intricate designs, gentle curves, and soft textures. A touch of lace always adds a dash of sophistication. Ready for that classy allure?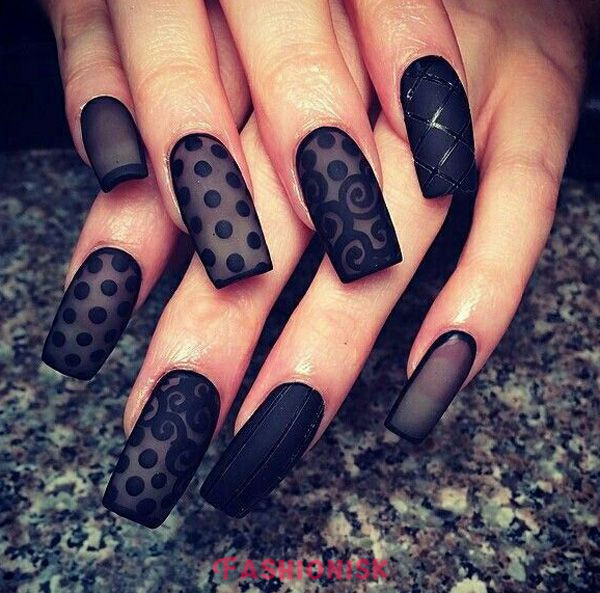 Metallic Accents
A hint of gold, silver, or bronze can elevate even the simplest nail designs. These shimmering touches catch the light, adding a luxe finish. Dive in, and let's shine together.
Ombre Elegance
It's the art of subtle transition. Watch as one color gracefully flows into another, creating a mesmerizing gradient. Whether it's soft pastels or vivid hues, the results are always breathtaking. Let's blend and be enchanted.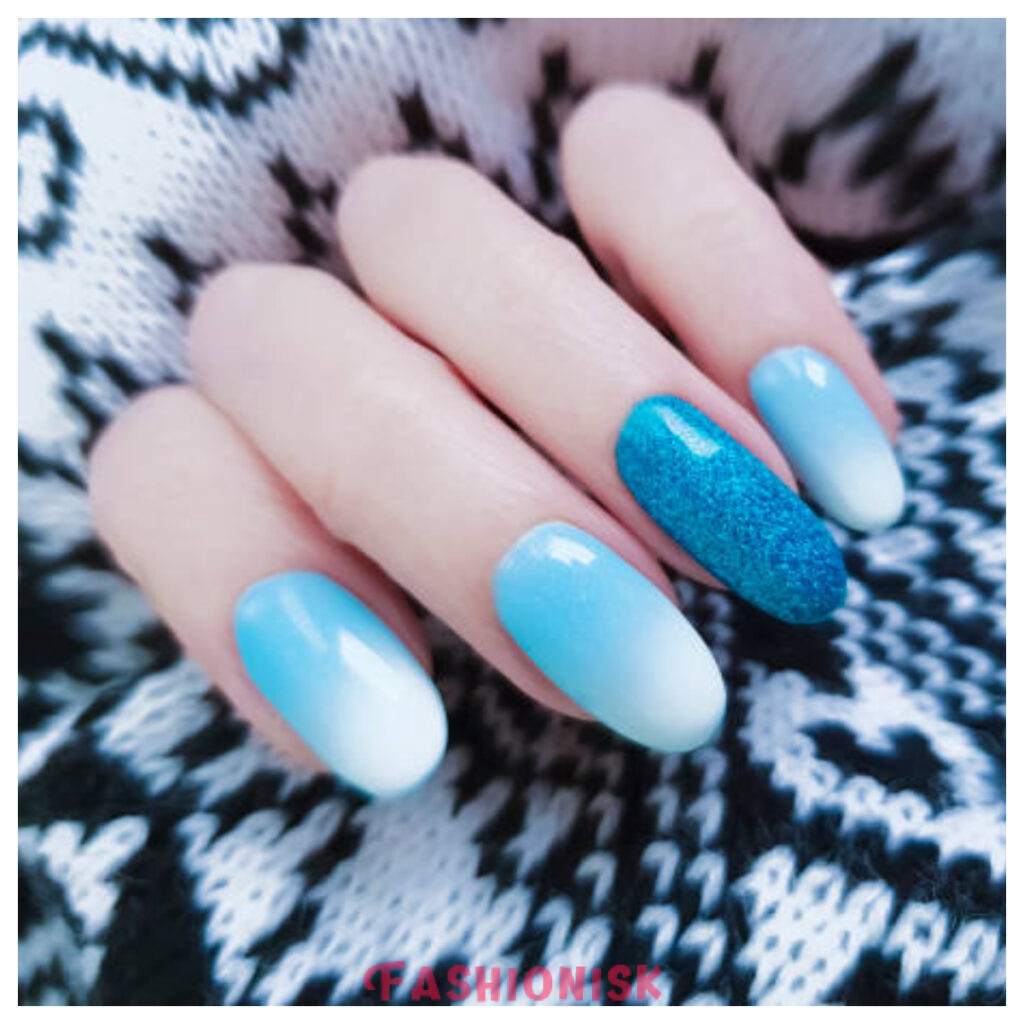 Subtle Shimmer
Think of a gentle sparkle, like morning dew on petals. It's not about being bold, but about adding that slight glint. Dive into designs that twinkle without overpowering. Ready to sparkle just right?
Rose Gold Reverie
This shade sits between luxury and everyday chic. Its soft, rosy hue combined with a metallic sheen is an instant showstopper. Immerse yourself in its charm, and let's revel in rose gold.
Whimsical Watercolors
Your nails become art with gentle washes of color, blending and flowing. It's like holding a masterpiece at your fingertips. Dive in, and let's paint dreams.
Marble Mystique
This design captures the elegance of marble with its swirls and patterns. From deep blacks to ethereal whites, each nail becomes a unique piece of stone art. Ready to rock the look?
Unique Classy Short Nail Designs
If you're a fan of distinct styles, you're in for a treat. Short nails can be a playground for unique patterns. They can range from abstract artsy twists to playful character designs. With short nails, it's all about maximizing impact in minimal space. Ready to be different and dazzle?
Galactic Glimmer
It's not just nail art, it's a cosmic journey. Imagine stars, planets, and nebulas on your fingertips. With every gesture, you'll be touching the stars.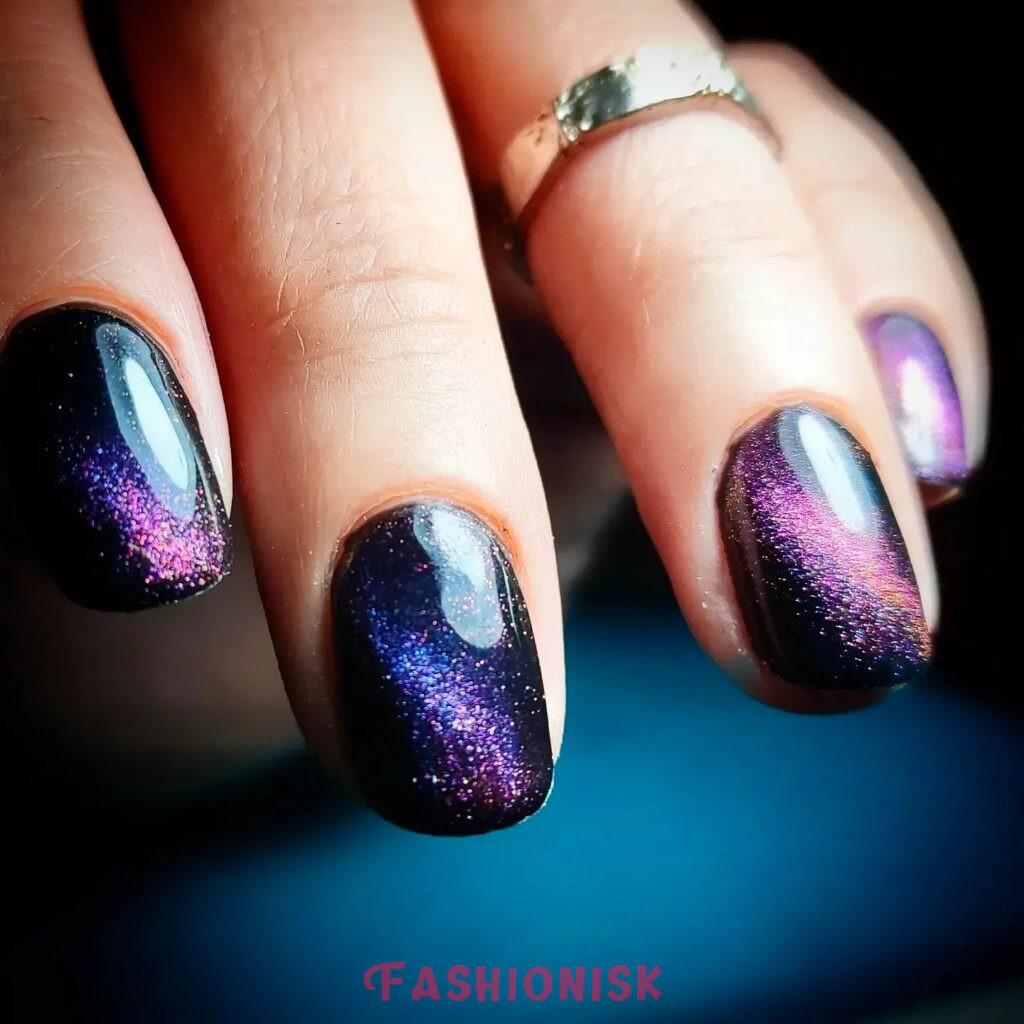 Cacti Corner
Drawing inspiration from the desert, this design is all about tiny cacti illustrations. It's a fun way to bring nature right to your nails.
Checkerboard Charm
Alternating squares in contrasting colors take you back in time. It's vintage but with a modern twist.
Holo Hues
As you move your fingers, watch the colors shift and dance. It's like capturing a rainbow on your nails.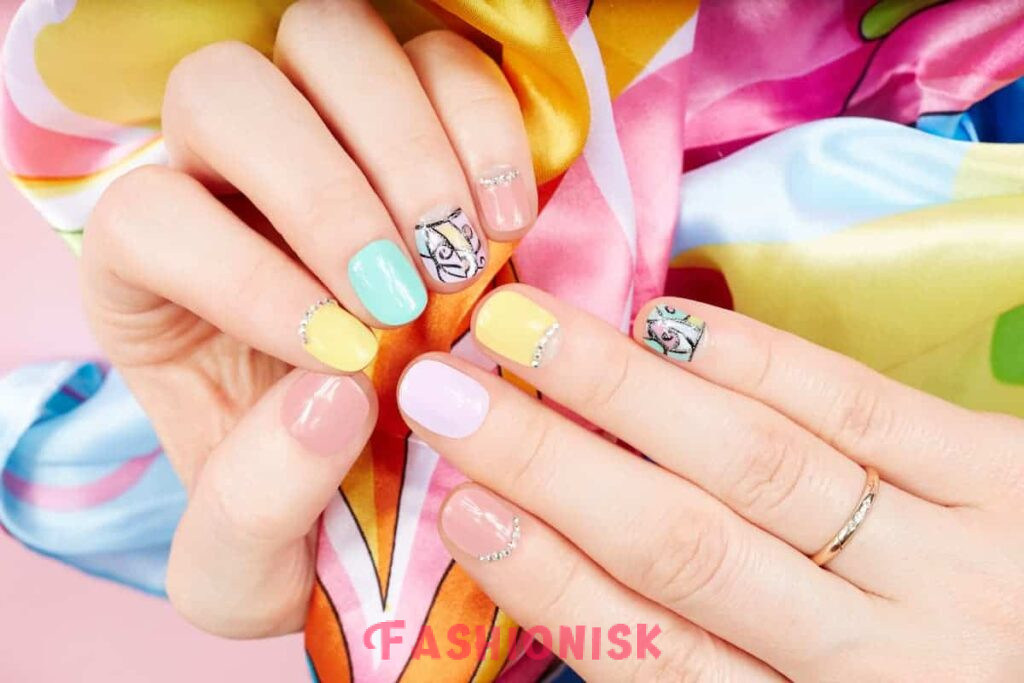 Pop Art Portraits
Think bold, iconic images from comics or art. Each nail tells a vibrant story. Ready to pop some fun into your life?
Polaroid Frames
It's about capturing tiny moments on your nails. Just like those instant photos, but in nail art form. Let's frame our stories.
Paper Plane Trails
Remember folding paper planes as a child? Relive that joy. Tiny planes with dotted trails evoke a sense of nostalgia and adventure. Ready for takeoff?
3D Blossoms
Flowers that you can feel! Imagine petals rising off your nails, creating a lifelike floral scene. Dive into this blooming art.
Pixelated Patterns
Your nails will echo the iconic 8-bit video game graphics. It's a fun mix of tech and art. Ready to pixelate your style?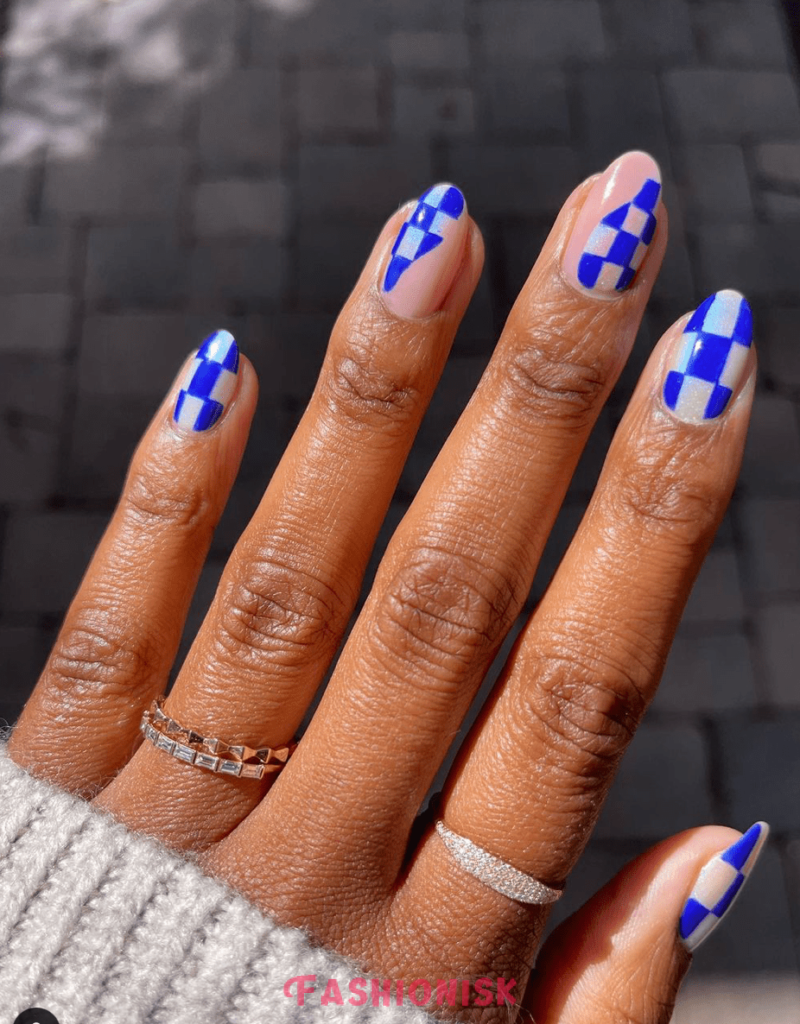 Silhouette Skylines
The shadows of famous cityscapes stretch across your nails. Each skyline tells a tale of adventure and city lights. Let's travel the world, one nail at a time.
Elegant Classy Short Nail Designs
When we think of elegance, we often imagine long, sophisticated nails. But short nails can be just as graceful. With refined patterns and classic shades, short nails can exude pure sophistication. Think soft tones, subtle shimmer, and timeless patterns.
Pearlescent Whites
These designs shimmer with a subtle rainbow glow, akin to the inside of a seashell. Every flicker of light captures a spectrum on your nails. Let's dive into this lustrous beauty.
Nude & Gold Accents
Think soft beige nails with pops of gold. The golden touches elevate the natural tones, making your nails both subtle and sophisticated. Let's blend luxury with simplicity.
Soft Marble Swirls
Gentle swirls of color resemble luxurious marble stone, turning every nail into a tiny masterpiece. Dive into this world of organic patterns and graceful designs.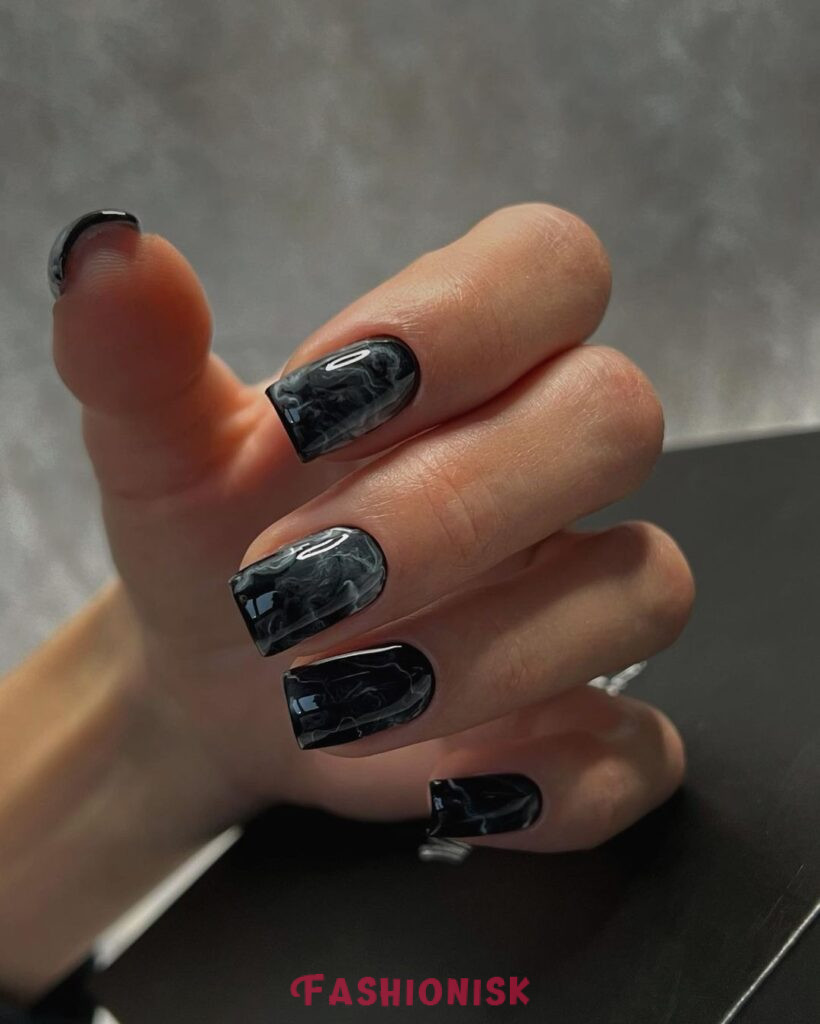 Rose Quartz Inspiration
These designs mimic the natural veins and soft pink hues of rose quartz stones. It's about bringing the healing energy of crystals to your fingertips. Ready to resonate with beauty?
Muted Pastel Tones
Soft shades of lavender, mint, and blush create a calming effect. It's like a breath of fresh spring air for your nails. Let's embrace these gentle hues.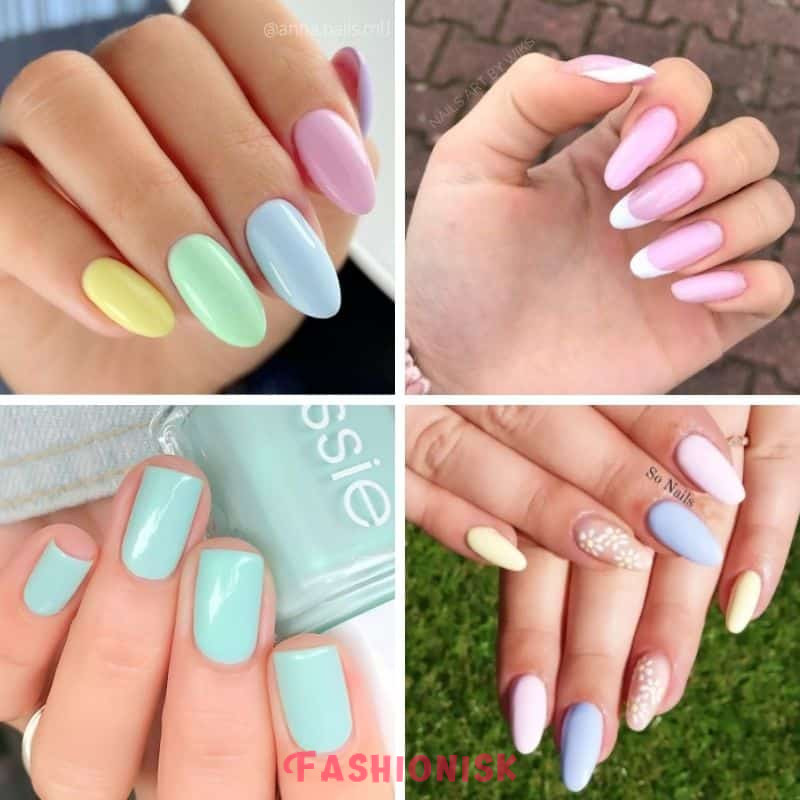 Delicate Filigree Patterns
Thin gold lines form elaborate designs, echoing the art of ancient jewelry. Each nail becomes a canvas of ornate elegance. Ready for that golden touch?
Champagne Shimmer
Think of the golden sparkle in a glass of champagne, captured on your nails. The tiny glitters catch the light, making your fingers dance. Dive in and let's toast to elegance.
Classic French with a Twist
The timeless French tip gets a modern makeover with unexpected colors and patterns. It's familiar yet fresh. Ready for the next evolution of classic?
Jeweled Half-Moons
The base of each nail sparkles with tiny gem embellishments, making your nails shine like the night sky. Dive into this star-studded journey.
Silk Satin Finish
These designs offer a muted shine, just like the surface of luxurious satin fabric. Touchable and soft, every nail feels like a touch of fabric. Let's glide into this silky experience.
Gel Classy Short Nail Designs
Gel polish has revolutionized the nail art scene. And guess what? Short nails and gel are a match made in heaven. They offer a glossy, durable finish that makes any design pop. From bold colors to intricate patterns, gels take short nails to new heights. Ready to shine and last long?
Mirror Chrome
This design offers a high-shine finish, reflecting the world around you just like a mirror. Every movement brings new reflections, making your nails the center of attention. Let's explore this gleaming world.
Cat-Eye Effect
With the use of a special magnet, nail polish particles align to create a striking, moving stripe that mimics a cat's eye. The result? Nails that are both mysterious and captivating. Let's get magnetized.
Mermaid Scales
These designs shimmer with iridescent hues, capturing the magic of mermaid tales. With every flicker of light, your nails dance like sunlit water. Ready to make a splash?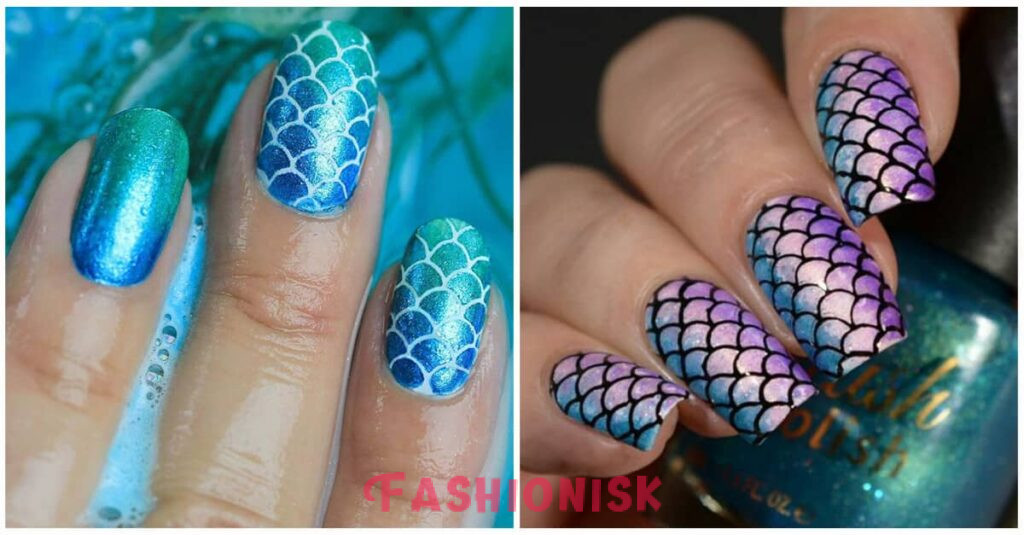 Gel & Glitter Gradient
Here, solid gel hues gracefully transition into a glittering tip. The blend creates a design that's both sophisticated and fun. Let's let our nails shine bright.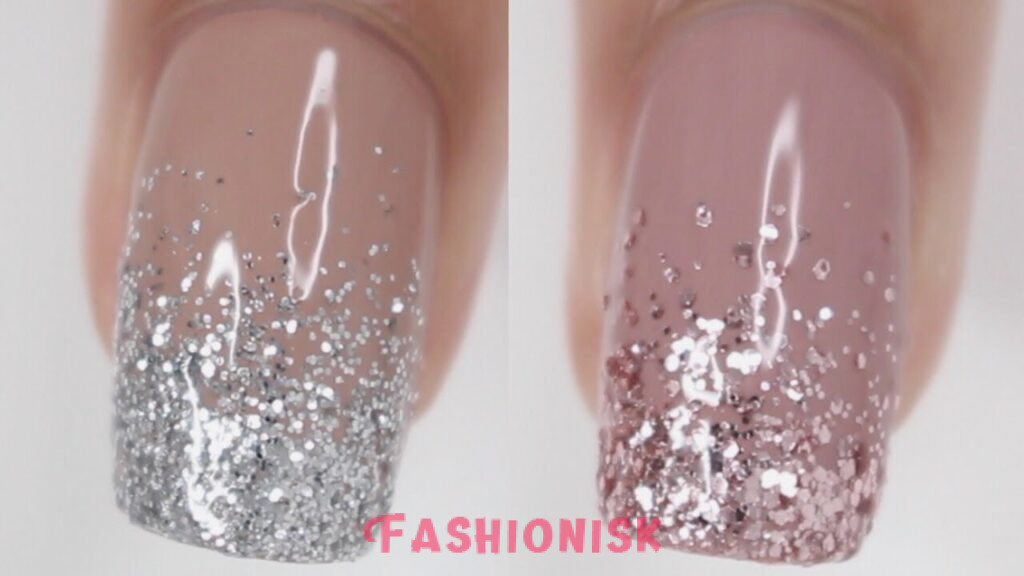 Confetti Party
Colorful flecks adorn your nails like joyous confetti. It's a celebration on your fingertips, ready to bring cheer to any occasion. Let's pop the fun.
Two-Toned Diagonal Split
Nails split diagonally, showcasing two contrasting hues. The result is a modern, edgy look that's bound to turn heads. Ready to redefine chic?
Negative Space Patterns
Clever designs leave parts of the nail bare, creating intriguing patterns and letting your natural nails shine through. It's a fresh take on nail art. Let's play with space.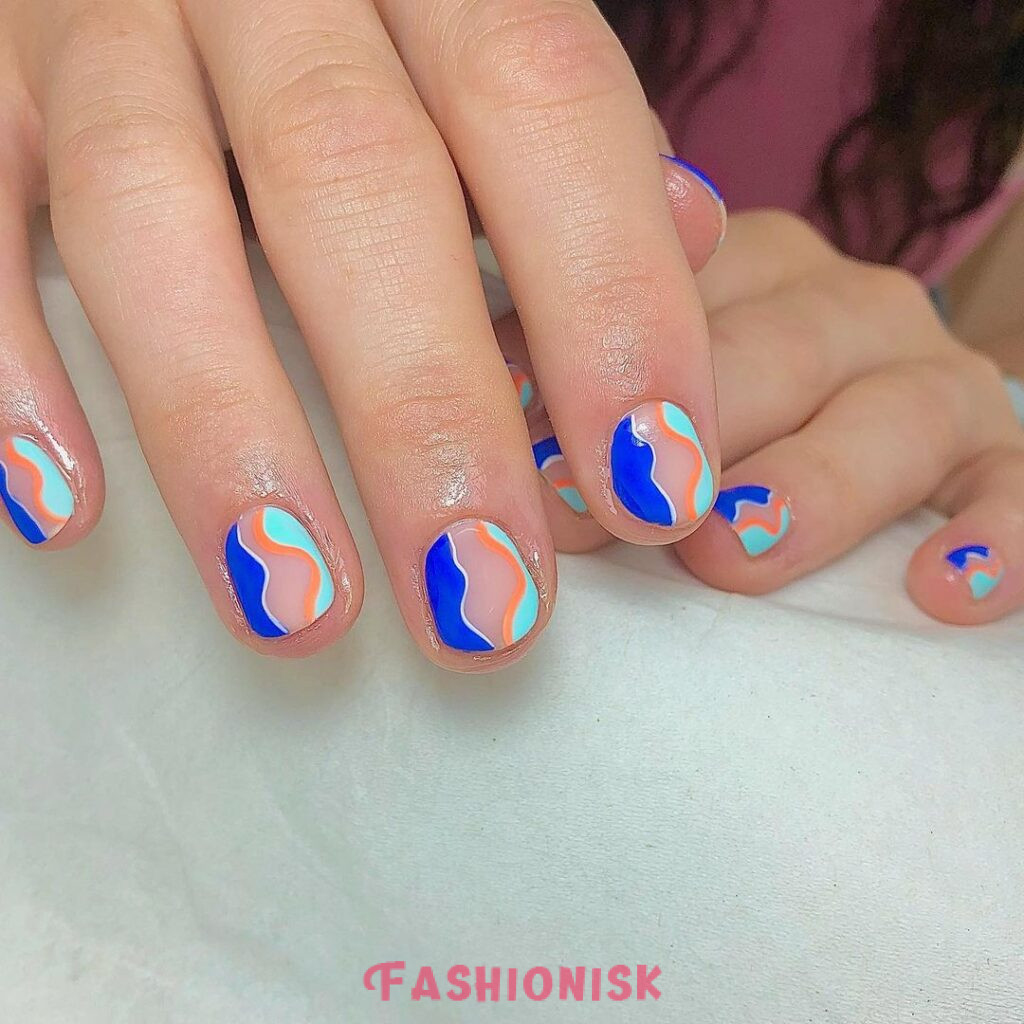 Crystal Encrusted
Tiny rhinestones adorn nails, offering a dazzling 3D effect. Each nail becomes a jewel, catching light and eyes alike. Ready to sparkle?
Lava Lamp Love
Swirling designs mimic the flow of a lava lamp, taking you back in time while staying trendy. It's a playful blend of nostalgia and style. Let's get groovy.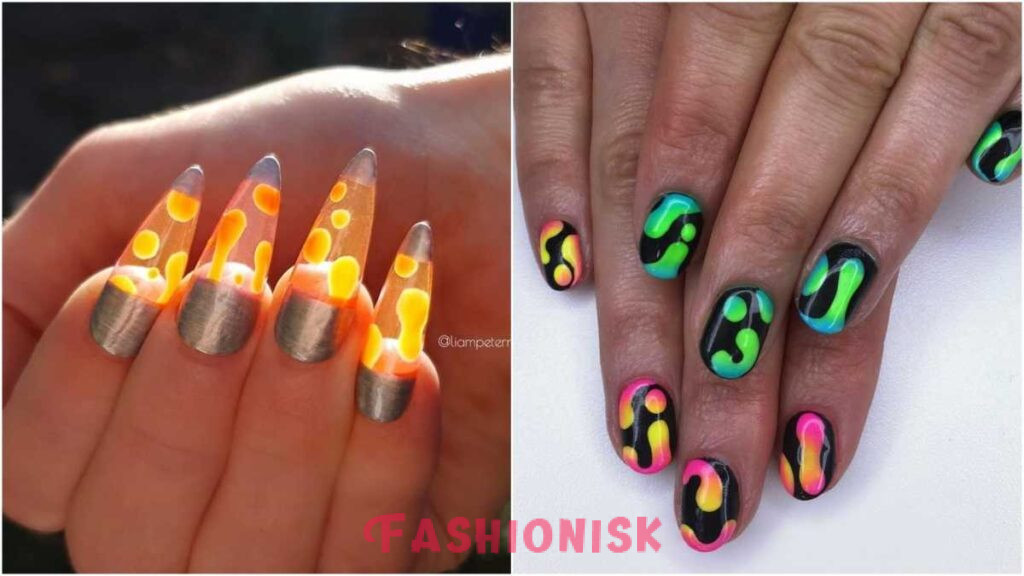 Galactic Glitter
Think of deep space colors, speckled with shimmering glitters resembling distant stars. It's a journey to the cosmos right at your fingertips. Ready to touch the stars?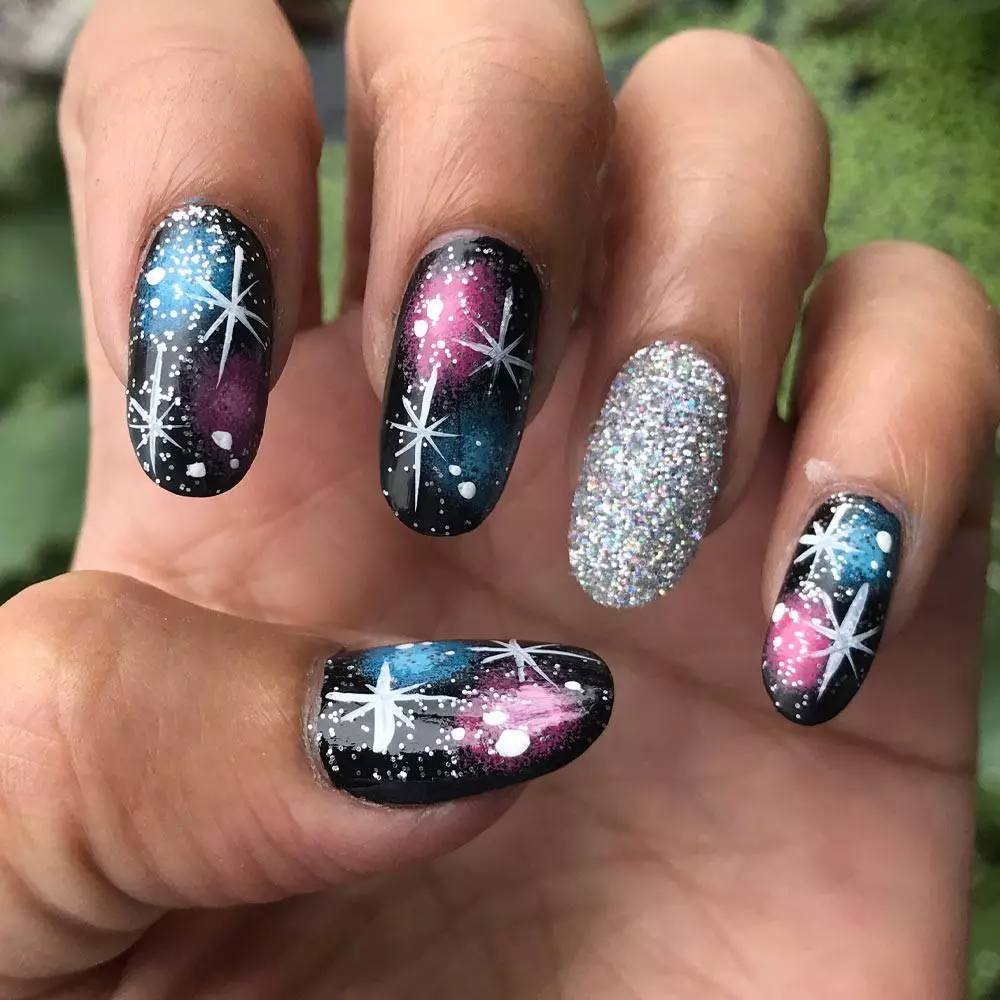 Summer Classy Short Nail Designs
Summer is all about vibrant vibes and refreshing looks. And your nails? They deserve the summer treatment too! Short nails painted with bright, tropical hues, and breezy designs scream beach fun and sun-soaked days. Whether you're poolside or on a summer getaway, your nails will be summer-ready in no time. Dive into the sunniest designs with us!
Tropical Palm Prints
Think vibrant green fronds against soft pastel backgrounds. These designs capture the essence of an island getaway. Each nail is a ticket to a tropical paradise. Let's embark on this sun-kissed journey.
Ocean Waves
These designs mimic the rhythmic flow of the sea. Shades of blue dance, creating a soothing seascape on your fingertips. Let's ride the wave of serenity together.
Citrus Slices
Bright oranges, lemons, and limes come alive, offering a burst of freshness. Each nail is a slice of summer, invigorating and vibrant. Let's squeeze every drop of joy from this design.
Sunflower Fields
Golden petals stretch towards the sun, creating a field of happiness on your nails. It's a design that radiates positivity. Ready to bloom with joy?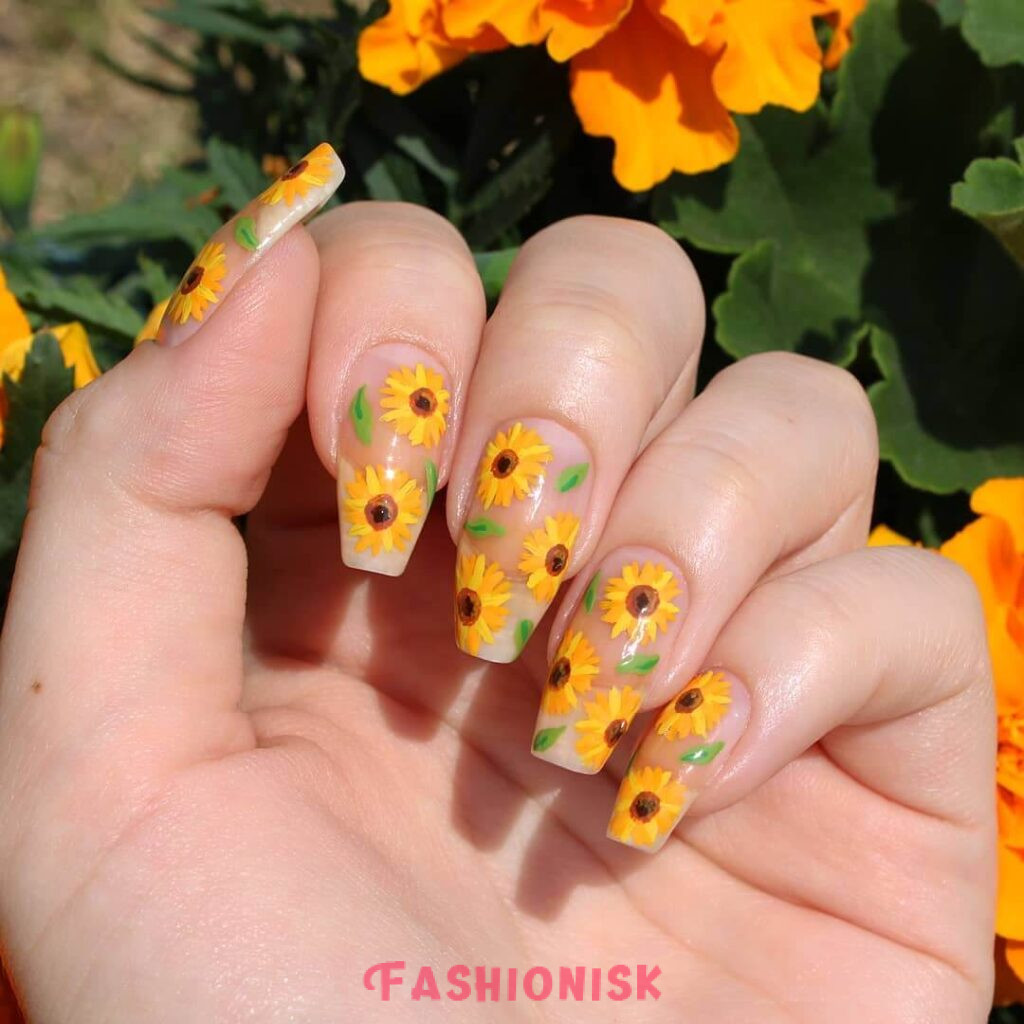 Neon Brights
Bold, neon colors pop, turning your nails into statement pieces. It's a fun, energetic vibe that captures the spirit of summer nights. Let's light up the room.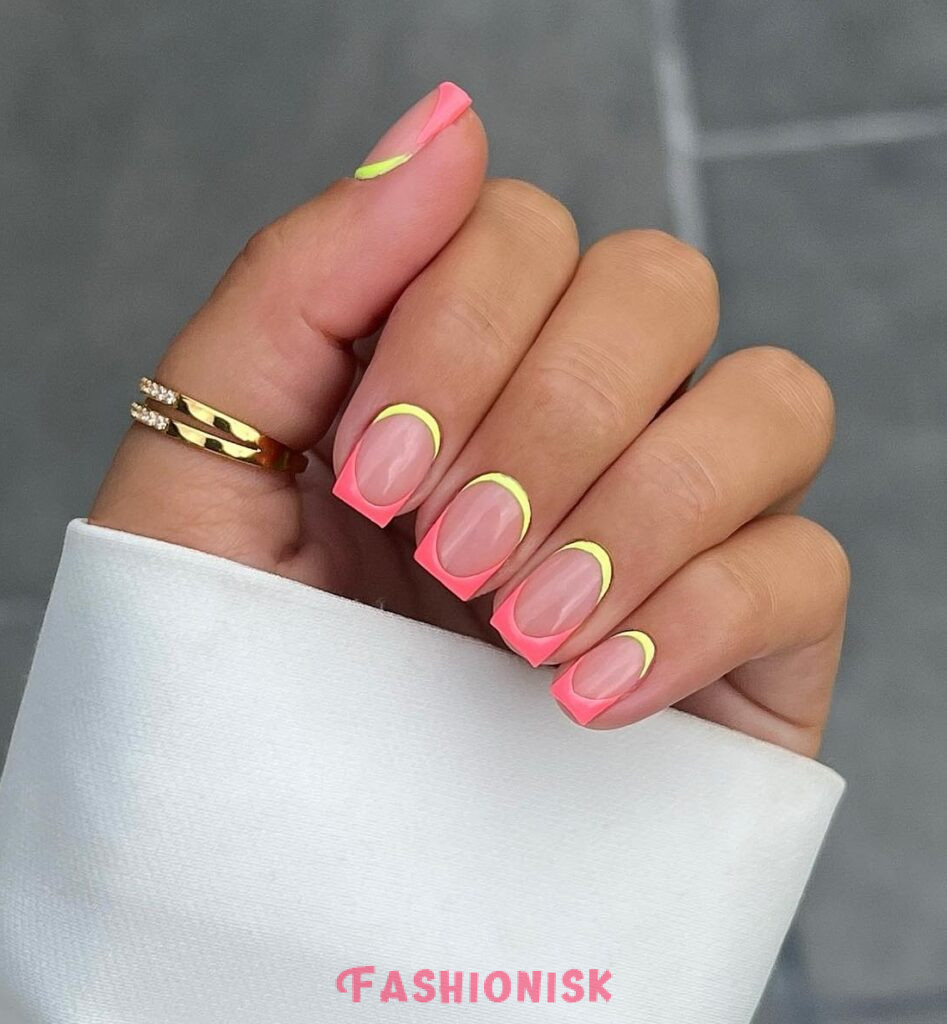 Beachy Sand Texture
These designs capture the grainy feel of sand, giving your nails a tactile, natural finish. It's a reminder of leisurely days spent by the sea. Ready to feel the beach beneath your fingers?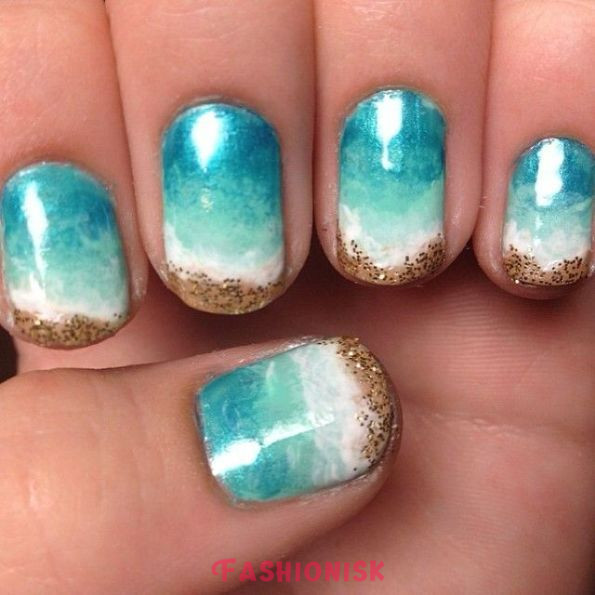 Sea Turtle Trails
Imagine tiny turtle silhouettes navigating azure waters. It's a celebration of marine life, bringing the magic of the ocean to your nails. Let's swim with these graceful creatures.
Watermelon Wonders
Think juicy reds with tiny black seeds, bordered by a hint of green. Each nail is a slice of summertime delight. Ready for a sweet treat?
Golden Sunbursts
Glimmering rays emanate, creating a sunlit effect. It's like capturing dawn's first light on your fingertips. Let's shine bright together.
Coral Reef Dream
Soft corals, blues, and tiny fish patterns come together. Each nail is a window to the vibrant marine world. Ready to explore the ocean's wonders?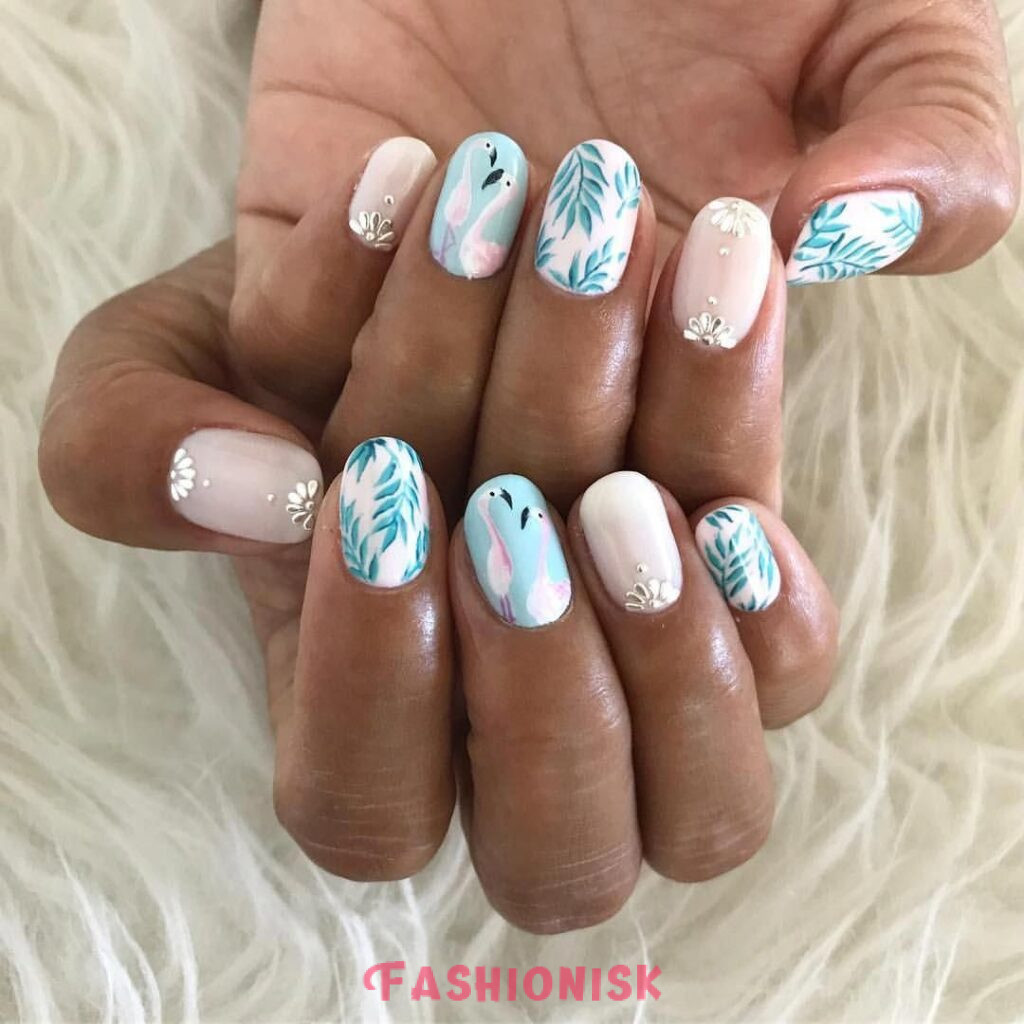 Tips to Choose Designs for Your Short Nails
Choosing the right designs for short nails can make a big difference in how your nails look and feel. Here are some expert tips to help you pick the perfect design for your short nails:
Keep it Simple: Short nails can look overcrowded with overly complicated designs. Opt for minimalist designs or a singular focal point for a clean and elegant look.
Consider Nail Shape: The shape of your nails can influence the design. Rounded or square shapes might look best with certain patterns, so choose designs that complement your nail's shape.
Bold Colors Work Well: Don't shy away from bold colors! A vibrant hue can make your short nails stand out and look chic.
Play with Negative Space: Utilize the natural color of your nails by incorporating negative space into your designs. This can elongate the appearance of your nails.
Use Vertical Patterns: Vertical lines or patterns can make the nails appear longer. Stripes or elongated triangles are great choices.
French Tips with a Twist: The classic French tip can be adapted for short nails. Consider a thin line or play with different colors for a modern twist.
Avoid Overly Large Decorations: Large rhinestones or decorations can overwhelm short nails. If you love embellishments, opt for smaller, delicate ones.
Experiment with Textures: Matte finishes or a touch of sparkle can add depth to your design without making it look cluttered.
Harmonize with Your Skin Tone: Choose colors and designs that complement your skin tone. This can make your nails look more refined and elongated
Opt for Gel or Acrylic: If you want your design to last longer and have a glossy finish, consider gel or acrylic options, which can also provide some added strength.
People Also Asked
What makes a nail design "classy"?
A classy nail design typically features timeless patterns, understated colors, and a polished finish that exudes sophistication.
Can I use metallics in a classy short nail designs?
Absolutely! A subtle touch of metallic, when used sparingly, can elevate a simple design and add an element of elegance.
Are there any specific colors that are best for a classy look on short nails?
Neutral shades like nude, taupe, soft pink, and classic red are often associated with a classy look. However, any color can be classy when paired with the right design.
Can I incorporate gemstones or studs in a classy design?
Yes, but moderation is key. A single gemstone on a nail or a delicate line of tiny studs can enhance the design without making it look too flashy.
How do I maintain the elegance of my classy short nail design for longer?
Use a high-quality topcoat to seal your design, and avoid tasks that might chip or damage your nails. Regular moisturizing and cuticle care can also help maintain a polished appearance.
Wrapping Up
In wrapping up our exploration of classy short nail designs, it's evident that elegance isn't limited to long nails. Short nails offer a unique canvas to showcase timeless beauty. With the right colors, patterns, and techniques, they can make a powerful style statement. So embrace your short nails with pride. Explore the world of chic designs and let your nails do the talking. Every nail, regardless of its length, deserves a touch of class. Happy painting!
People Also Searched For
Comments