#Women's Fashion
From Casual to Glamorous: Discover Different Ways to Wear a Yellow Maxi Dress
Introduction to Yellow Maxi Dresses
Step into the spotlight and embrace the vibrant allure of a yellow maxi dress! With its sunny hue and flowing silhouette, this wardrobe staple is truly a fashion statement that exudes both elegance and playfulness. Whether you're heading to brunch with friends or attending a glamorous evening event, the versatility of a yellow maxi dress knows no bounds.
In this guide, we'll take you on a style journey from casual-chic to red carpet-worthy looks, showcasing different ways to wear and accessorize your favorite yellow maxi dress. Get ready to turn heads and let your inner fashionista shine as we explore various ensembles that will make you fall head over heels for this stunning piece.
Casual Look: Styling a Yellow Maxi Dress for Everyday Wear
When it comes to effortlessly chic and versatile fashion, a yellow maxi dress is a must-have in any stylish woman's wardrobe. This vibrant and sunny hue instantly adds a pop of color to your everyday look, making it perfect for casual occasions.
Pair Your Yellow Maxi Dress with Some Comfy White Sneakers: For a laid-back yet fashionable ensemble, pair your yellow maxi dress with some comfy white sneakers or sandals. The juxtaposition of the casual footwear with the elegant silhouette of the dress creates an interesting contrast that exudes effortless style.
Try Layering a Denim Jacket: If you want to add some dimension to your outfit, try layering a denim jacket or oversized cardigan over your yellow maxi dress. Not only does this add warmth during cooler weather, but it also brings an extra touch of casual coolness to your overall look.
Accessorize with Simple and Dainty Jewelry: To complete your everyday outfit, accessorize with simple and dainty jewelry pieces such as delicate necklaces or hoop earrings. Opt for neutral tones like gold or silver to keep the focus on the boldness of the yellow color.
Beachy Vibes: Transforming a Yellow Maxi Dress into a Swim Cover-Up
When it comes to beach fashion, versatility is key. And what better way to achieve that than by repurposing your trusty yellow maxi dress as a stylish swim cover-up? With its flowing silhouette and vibrant hue, this wardrobe staple effortlessly transitions from everyday wear to beach-ready attire.
Simply Slip on Your Yellow Maxi Dress Over Your Swimsuit: To create the ultimate beachy vibe, simply slip on your yellow dress over your swimsuit of choice. Whether you prefer a classic one-piece or a trendy bikini, the dress adds an extra layer of style and coverage while still allowing you to show off your fabulous swimwear.
Flowy Nature of the Dress: The lightweight fabric of the maxi dress not only keeps you comfortable in the heat but also provides an airy and effortless look as you stroll along the shoreline. The flowy nature of the dress creates beautiful movement with every step, giving off those carefree vacation vibes.
Accessorizing with Some Boho-inspired Pieces: For added flair, consider accessorizing with some boho-inspired pieces like oversized sunglasses, floppy hats, or beaded jewelry. These accessories not only elevate your beach ensemble but also complement the sunny yellow color of your maxi dress perfectly.
Evening Elegance: Dressing Up a Yellow Maxi for Formal Occasions
When it comes to formal occasions, a yellow maxi dress can be the perfect choice to make a statement and stand out from the crowd. With its vibrant color and flowing silhouette, it exudes elegance and charm like no other. To elevate your yellow dress for an evening event, opt for styles that offer a more refined look. A fitted bodice or structured top can add sophistication while still allowing you to show off the flowy skirt. Consider choosing a dress with intricate detailing such as lace or embroidery for added glamour. For those cooler evenings, layering is essential. An embellished jacket or shawl draped over your shoulders adds another layer of sophistication while keeping you warm. Choose accessories that enhance rather than overpower your outfit, ensuring all eyes remain on your stunning yellow maxi dress.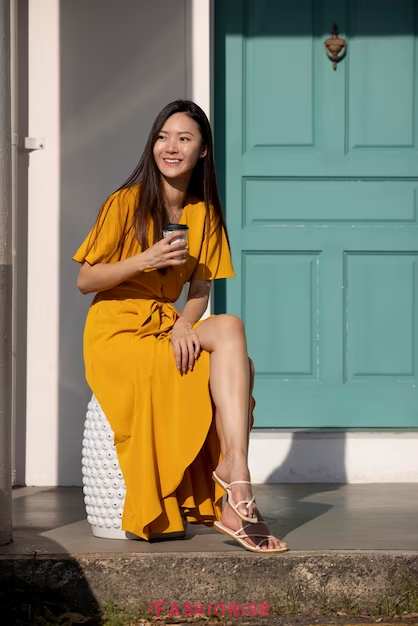 Accessorizing Tips for Wearing a Yellow Maxi Dress
When it comes to styling a yellow maxi dress, the right accessories can take your look from ordinary to extraordinary. Here are some tips to help you accessorize your sunny ensemble.
Add a Statement Belt: Consider adding a statement belt to define your waist and add shape to the flowing silhouette of the dress. Opt for a wide belt in a complementary color such as brown or gold for an extra touch of glamour.
Jewelry: Next, choose jewelry that complements the vibrant hue of the dress. Delicate gold or silver pieces will lend elegance without overpowering the boldness of yellow. Consider wearing shiny pearl necklaces or stackable bracelets for an effortlessly chic look.
Opt for Neutral-colored Shoes: To complete your outfit, opt for neutral-colored shoes that won't compete with the vibrancy of the dress. Nude sandals or wedges will elongate your legs while maintaining focus on the stunning yellow shade.
Handbags: In terms of handbags, consider opting for straw or woven styles which add texture and give off beachy vibes when paired with a yellow maxi dress. Alternatively, choose a structured clutch in a metallic shade like rose gold or silver for an evening event.
Conclusion
A yellow maxi dress is a versatile and chic wardrobe staple that can be worn in so many different ways. Whether you're aiming for a casual look or dressing up for a formal occasion, this vibrant and eye-catching piece will surely turn heads wherever you go. So go ahead and embrace the joyous spirit of summer with a fabulous yellow maxi dress. Whether it's for casual outings, beach getaways, elegant evenings out on the town or urban adventures – let this vibrant hue illuminate your style this season. Yellow prom dresses are not only trendy but also make a bold fashion statement.
Comments