#Accessories
Top 12 Unforgettable Bridal Hand Jewellery Pieces to Own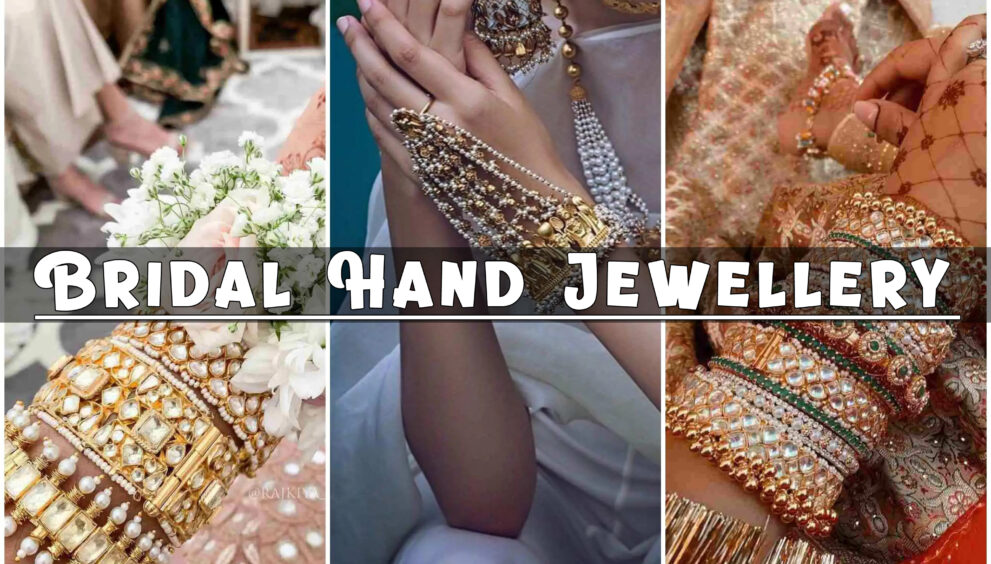 Bridal hand jewellery holds a special place in the wedding festivities. It's not just about adding sparkle to a bride's attire. Instead, it ties the whole look together. Each piece carries a story. It expresses style and oozes sophistication. So are you ready to dive in?
Let's first take a step back. Let's think about the emotions a bride goes through. The joy, the anticipation, the nervousness. Now picture her hands. They may be trembling slightly. But they are adorned with the most stunning pieces of jewellery.
Bridal hand jewellery can be intricate. It can be simple. But it is always beautiful. It is carefully chosen and complements the bride's personality. Also, matches the theme of the wedding.
There are endless options. You have diamond rings, pearl bracelets, hand chains, and more. Then you have traditional pieces. You also have modern twists on classic designs. And let's not forget about heirloom pieces. They are filled with history. They add sentiment to the special day.
As we go further, we will delve into the various types. We will discover their charm, top trends and even look at how to choose the right pieces. So sit back and enjoy the ride. This blog post will open up a world of bridal hand jewellery like never before. And who knows? It might just inspire you for your special day!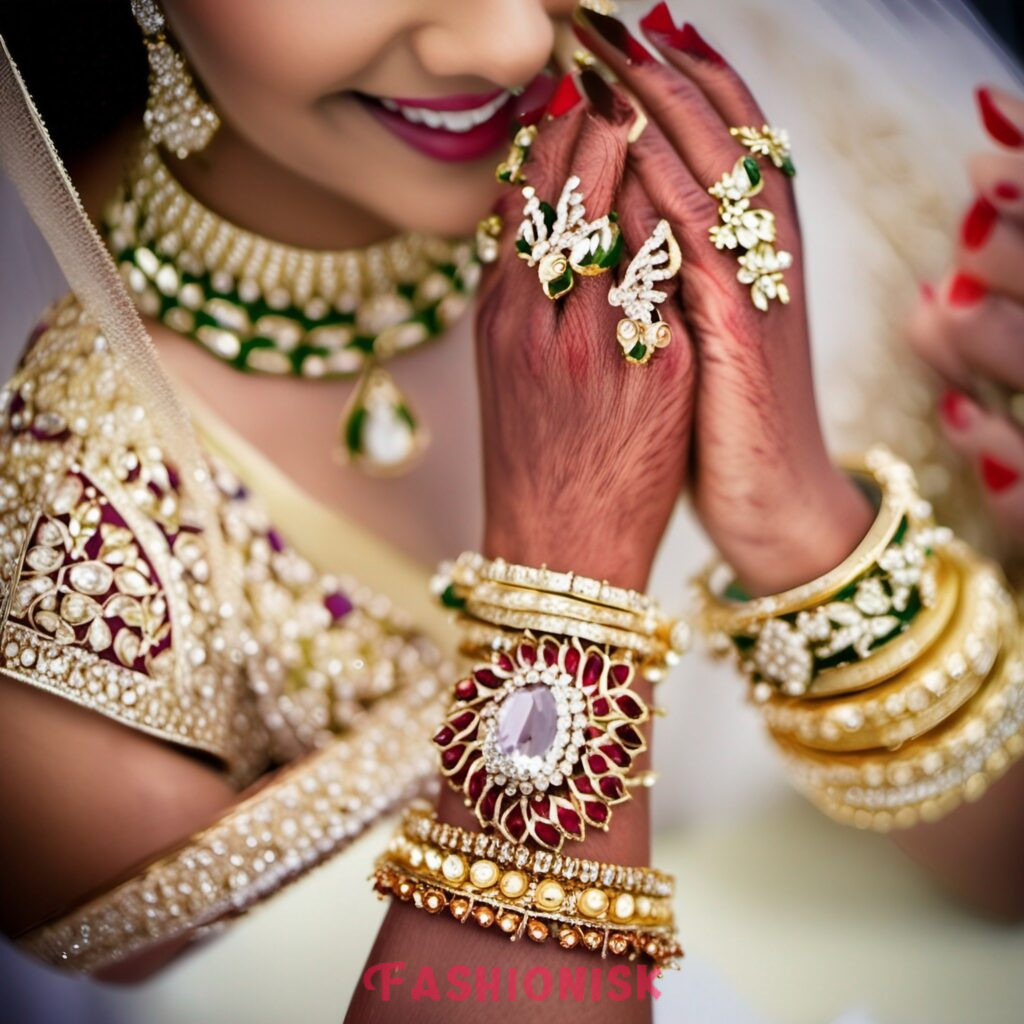 Diamond Rings
The allure of diamond rings is undeniable. It transcends cultures and generations. As a symbol of love and commitment, diamond rings take center stage in a bride's hand jewellery. They come in many shapes and sizes. Each one sparkles in its unique way. From the classic solitaire to the intricate halo design, each style tells a different story. Diamond rings are timeless. They will never go out of fashion.
Wedding Bands
Wedding bands are tokens of love. They're a timeless tradition that binds two souls in marriage. Wedding bands are usually more subtle than engagement rings. They are often made from precious metals like gold or platinum. Some feature diamonds or other precious stones. But their beauty lies in their simplicity. Their charm is in their symbolism. In this blog, we will delve into the significance of wedding bands.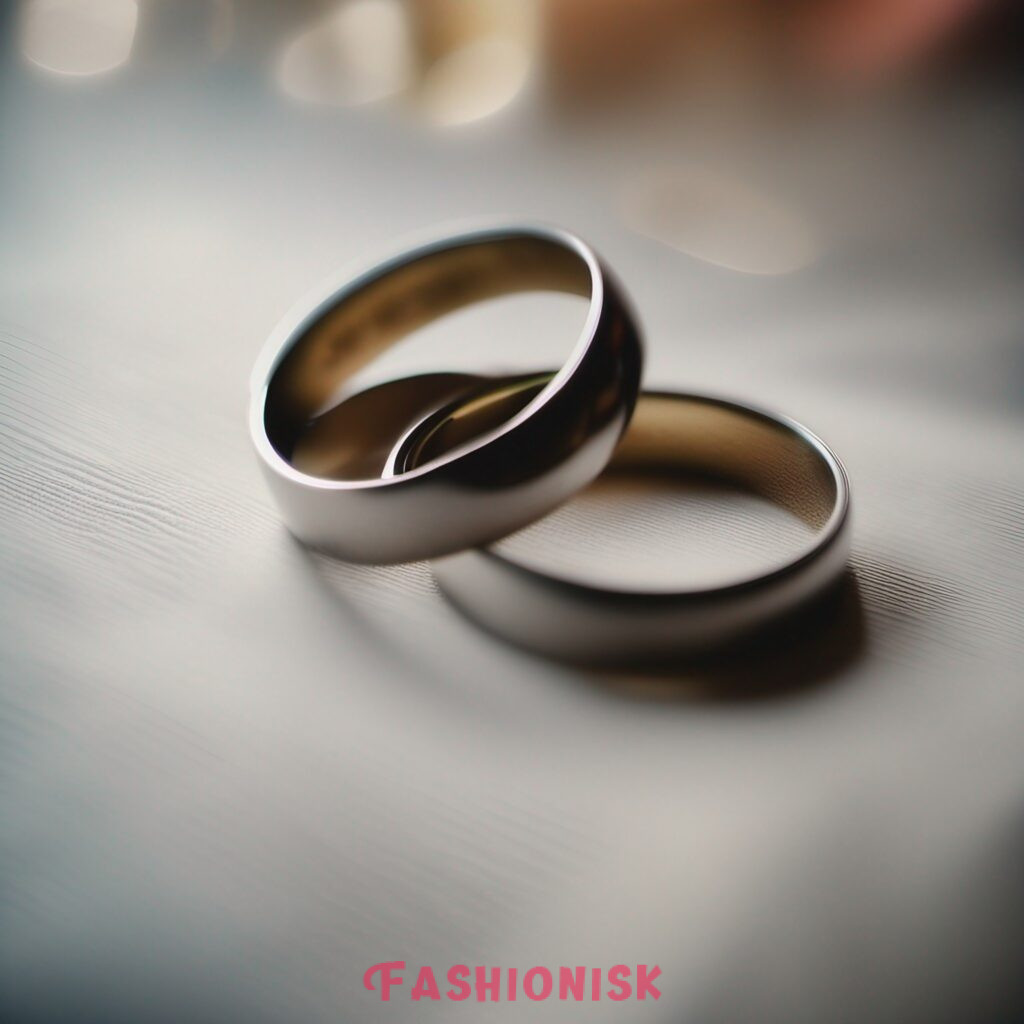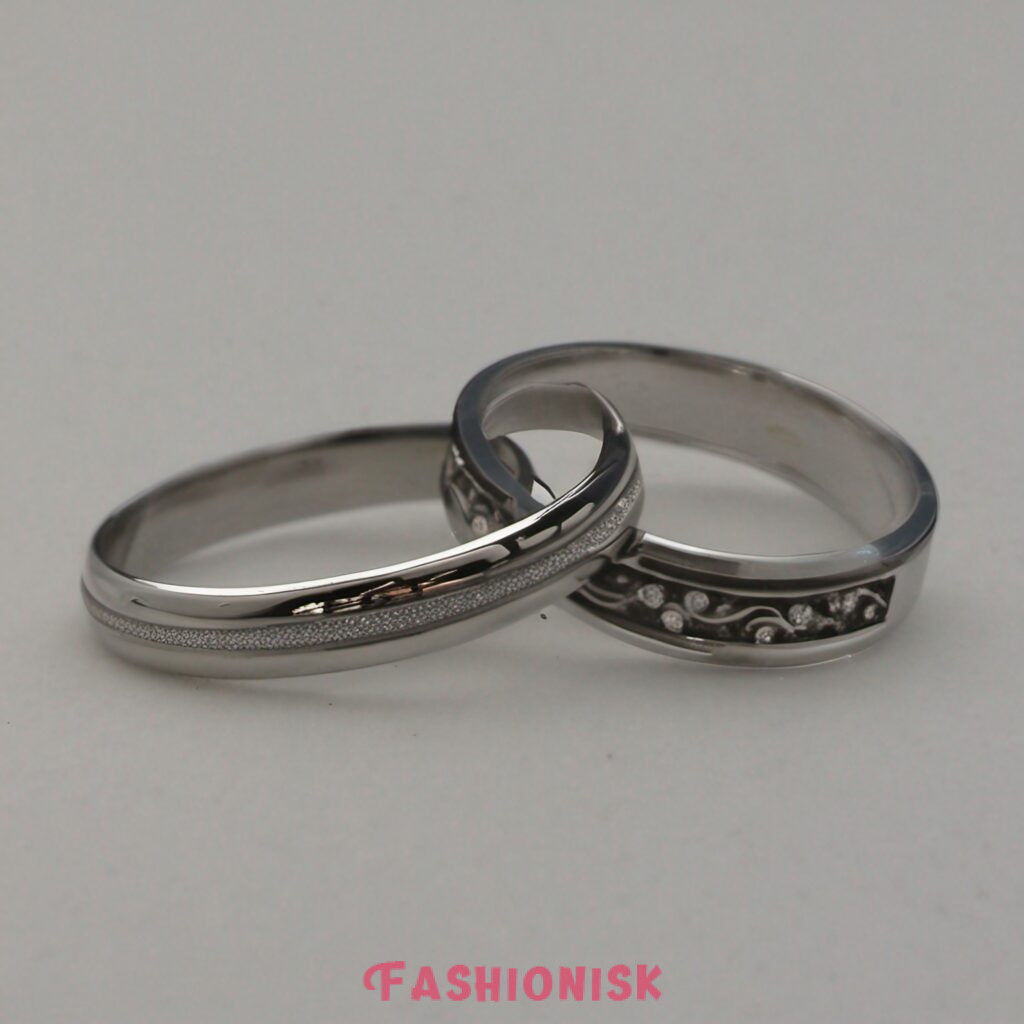 Bracelets
They are a versatile piece of hand jewellery. They can add a touch of elegance to any bridal look. From dainty diamond bracelets to chunky gold ones, there are many styles to explore. Bracelets can be worn alone. Or they can be stacked for a more layered look. With bracelets, the possibilities are endless. In this blog post, we will explore the world of bridal bracelets.
Pearl Rings
Pearl rings evoke a sense of vintage charm. They are elegant and timeless. Pearls symbolize purity and innocence. They are perfect for a bride on her wedding day. A pearl ring can be a classic solitaire. Or it can be paired with diamonds for a more modern look. Either way, they make a beautiful addition to any bridal hand jewellery.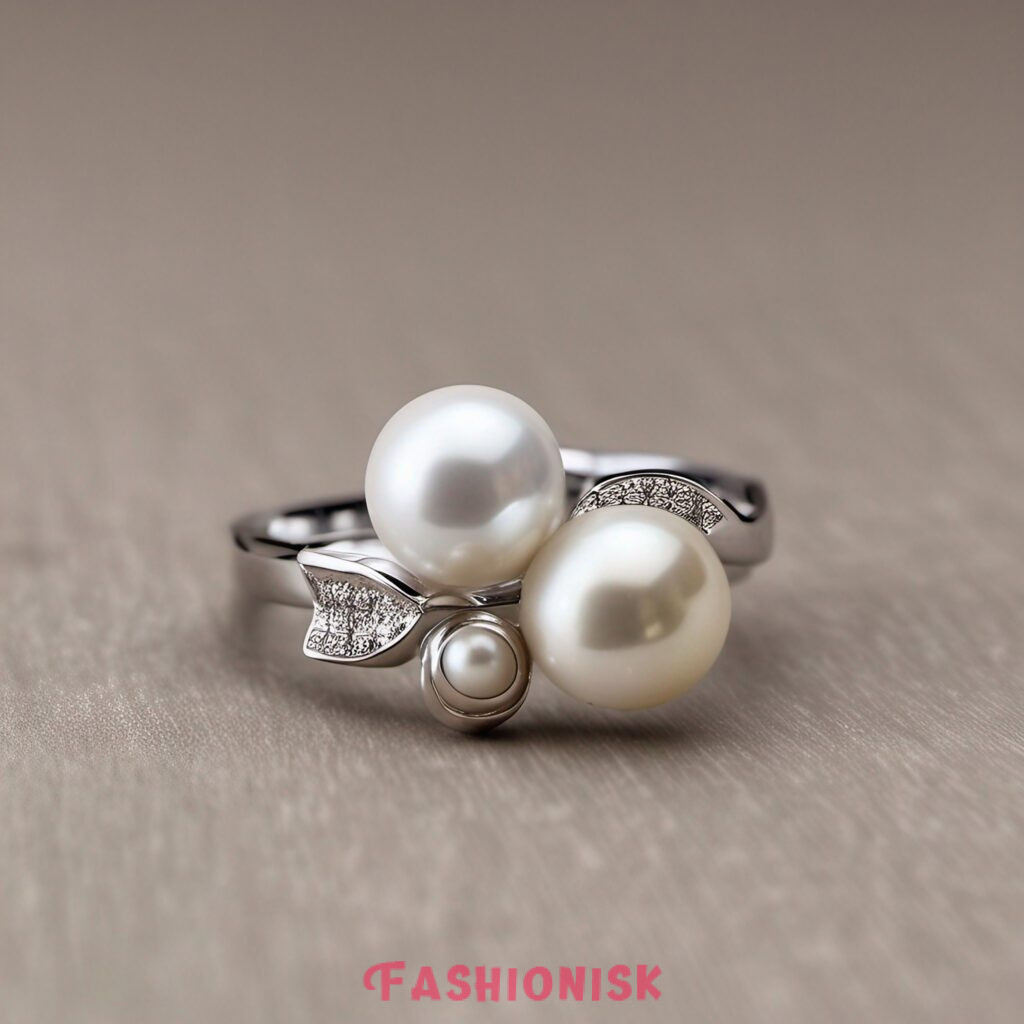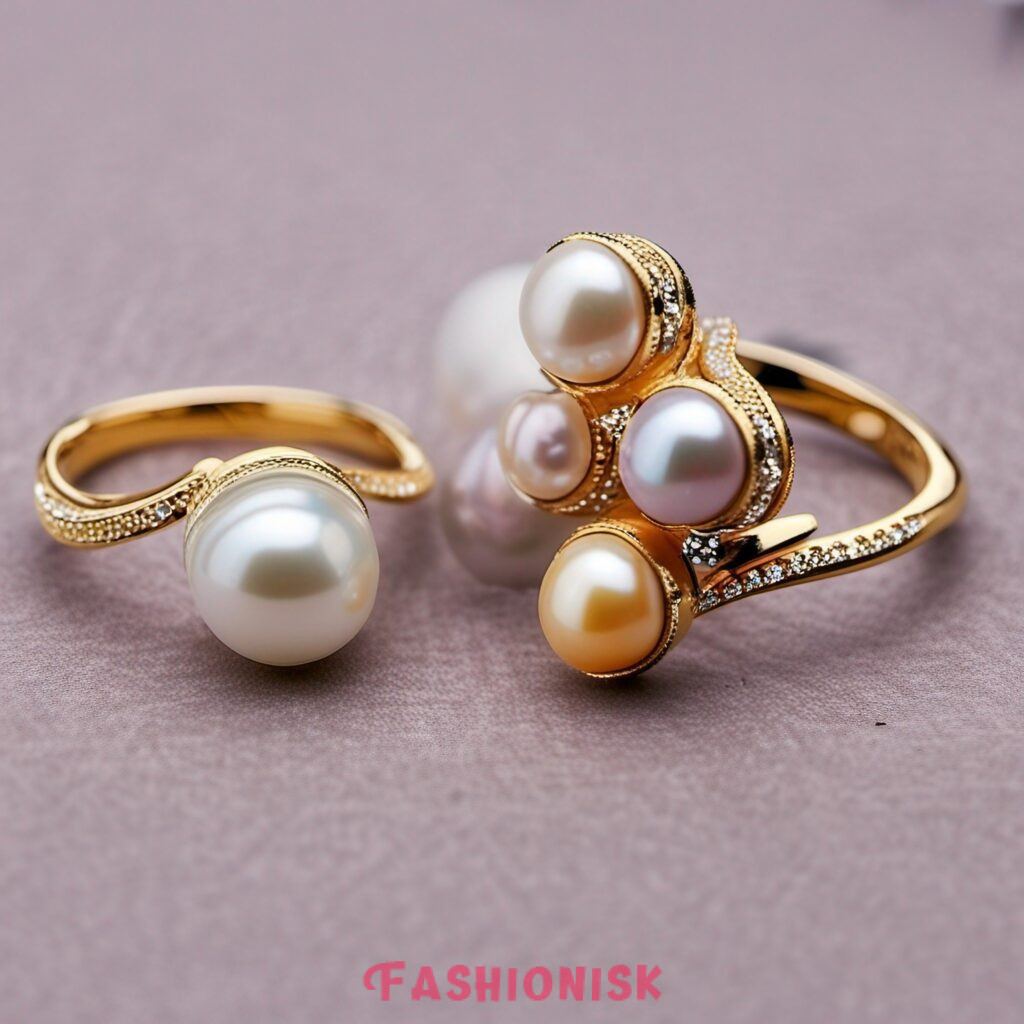 Cuffs Hand Jewellery
hey are statement pieces. They can instantly elevate any bridal look. Cuffs can be simple and elegant. Or they can be intricate and ornate. The choice is yours. In this blog post, we will explore the world of cuffs. We'll talk about the different styles.
Hand Chains
They offer a boho-chic vibe. They connect a ring and a bracelet in one stunning piece. Hand chains can be delicate or bold. They can be made of gold, silver, or adorned with gems. In this post, we will delve into the charm of hand chains.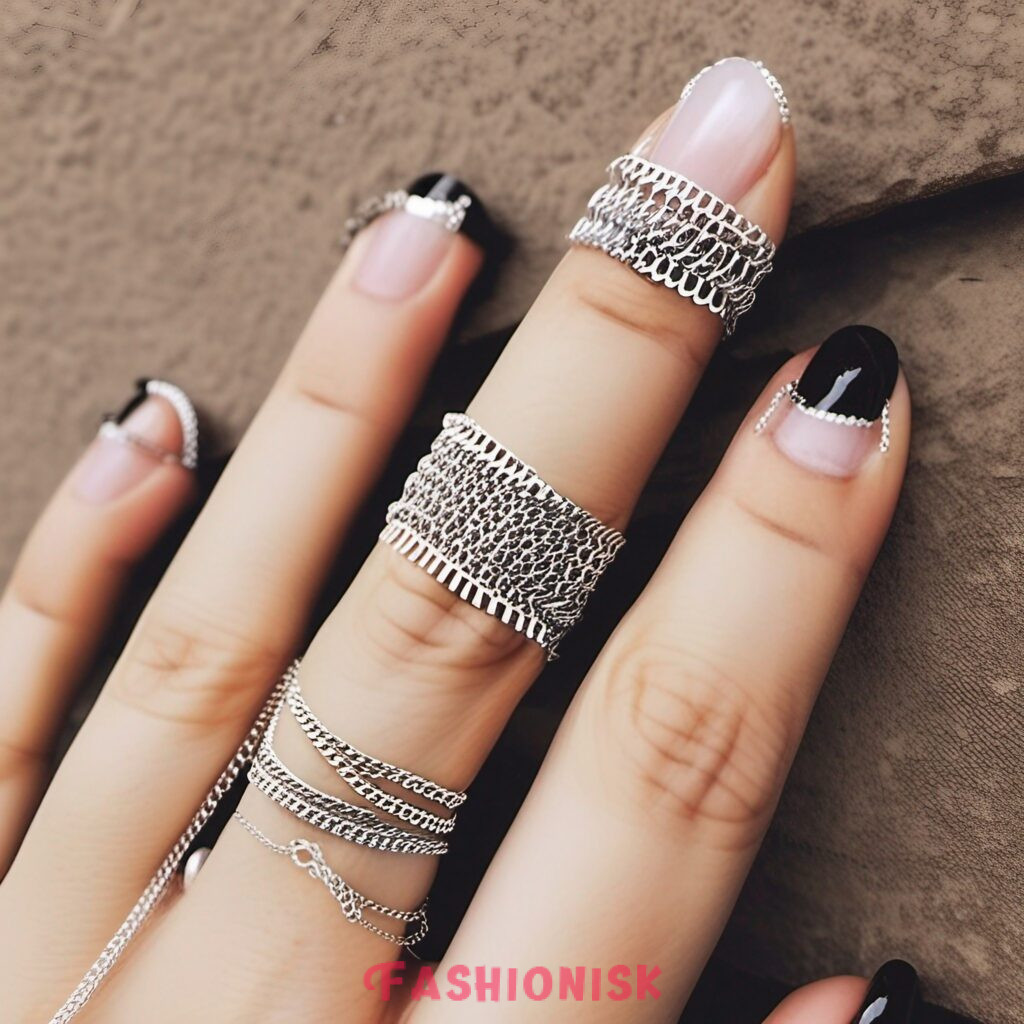 Stacking Rings
When it comes to personal style, stacking rings offer a unique statement. They allow you to mix different ring styles and metals, creating a unique combo. Each ring in a stack contributes to a larger, beautiful design. They can include plain bands, textured ones, or ones with stones. The appeal lies in their versatility and personality.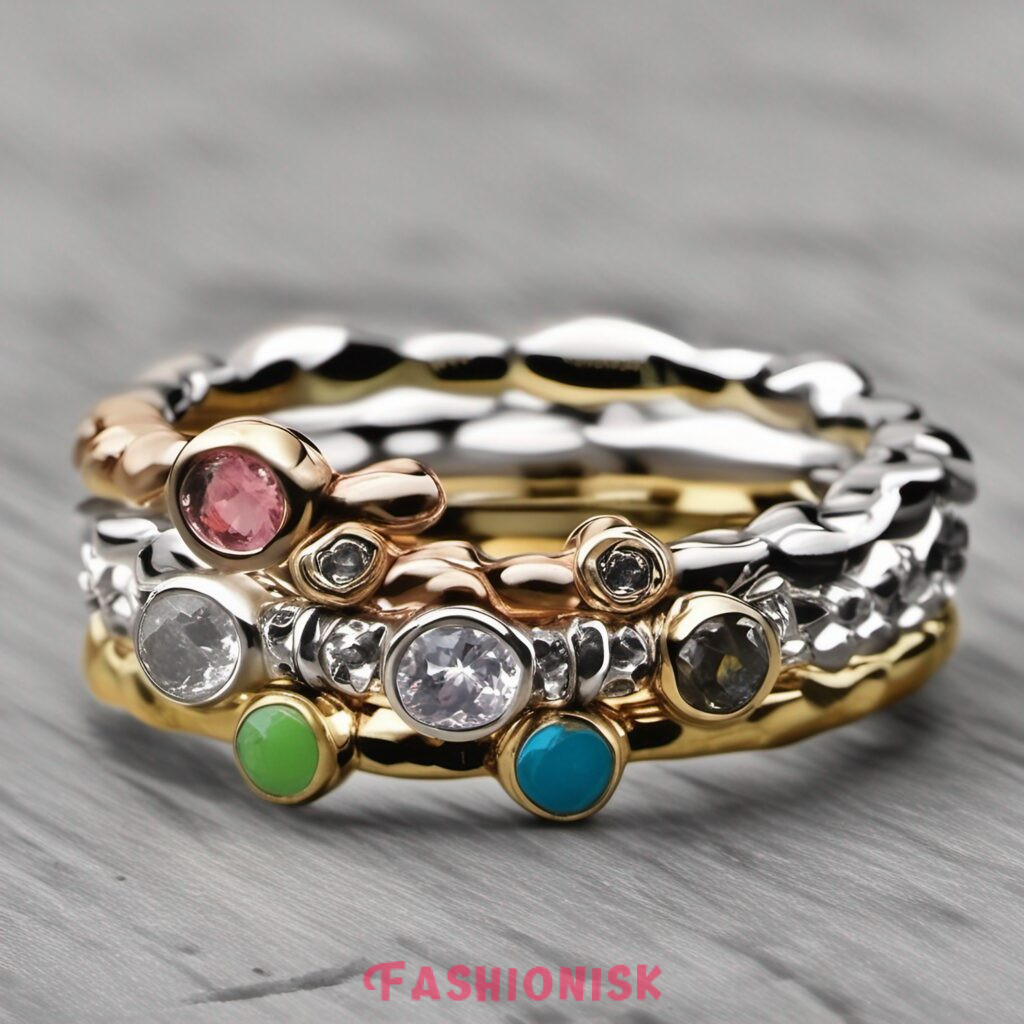 Slave Bracelets Hand Jewellery
Slave bracelets offer a unique blend of tradition and modernity. They connect a ring to a bracelet with an intricate chain. They range from simple designs to ornate ones with gemstones. The charm of slave bracelets is their versatility. They suit both traditional and contemporary bridal looks.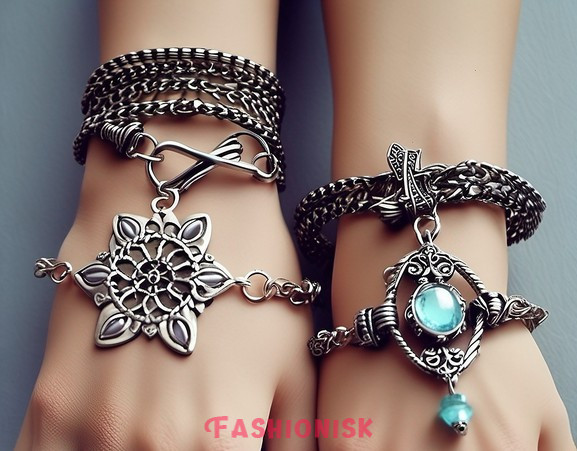 Watch
In addition to telling time, it offers an elegant touch to any outfit. Brides can opt for delicate designs with diamond details for a classy look. Or, for a more modern vibe, sleek metal bands work great.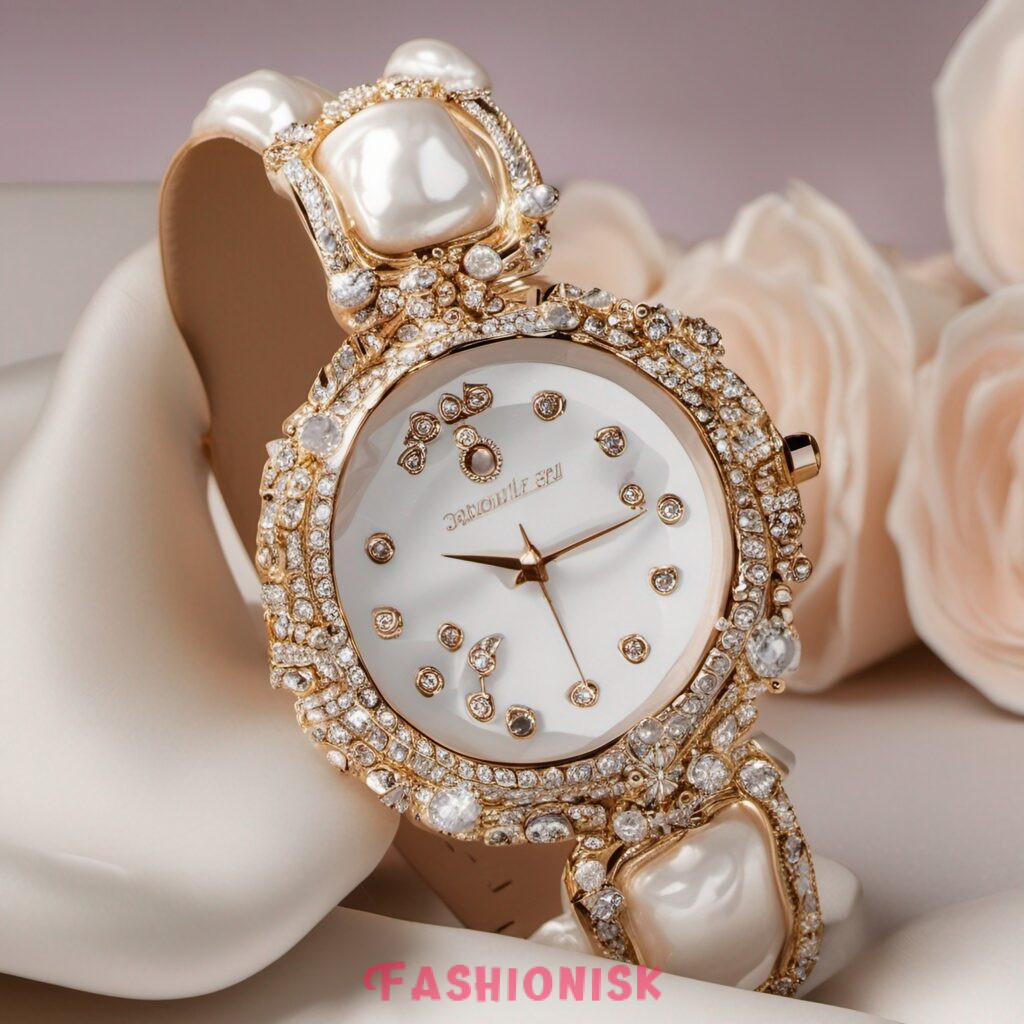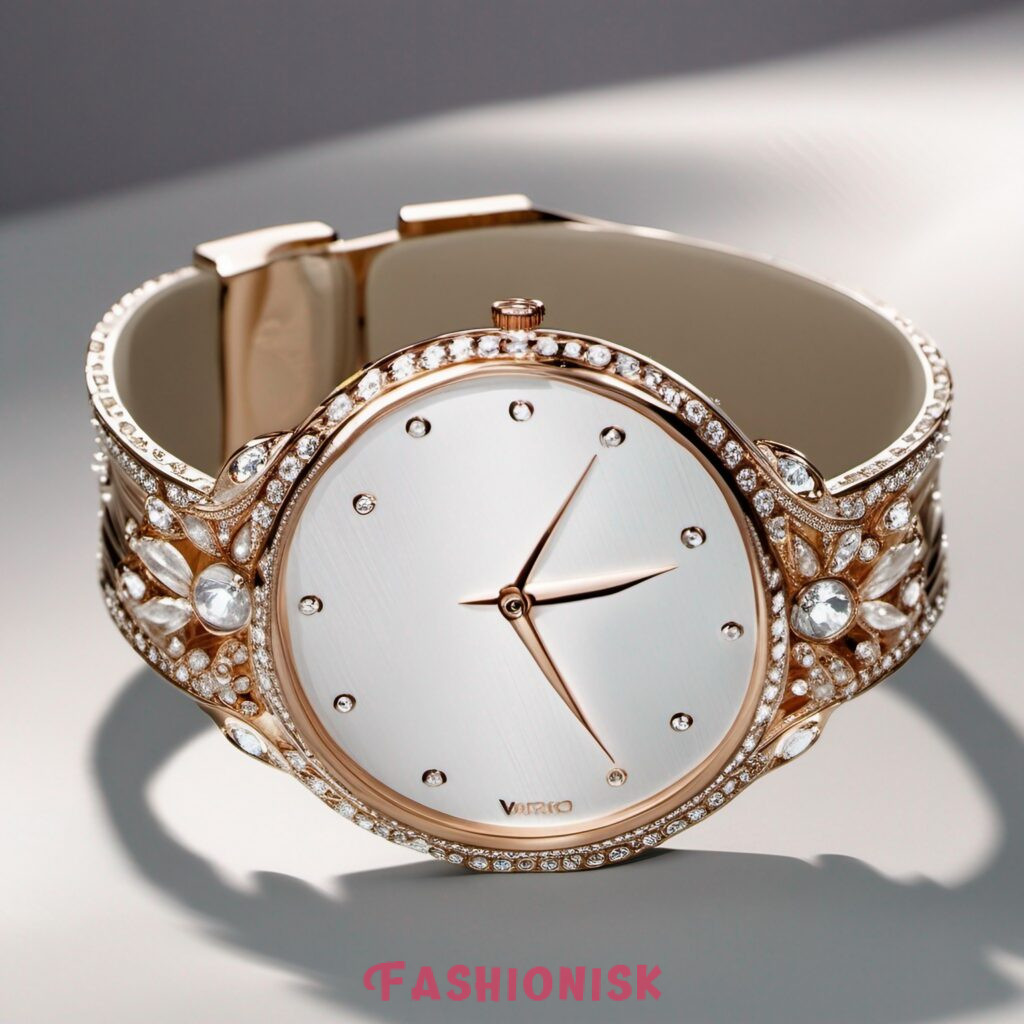 Birthstone Jewelry
Each stone symbolizes a different birth month, and each has its unique qualities. Whether it's a diamond for April or a sapphire for September, birthstone jewelry is meaningful. It creates a personal connection and makes your bridal look uniquely yours.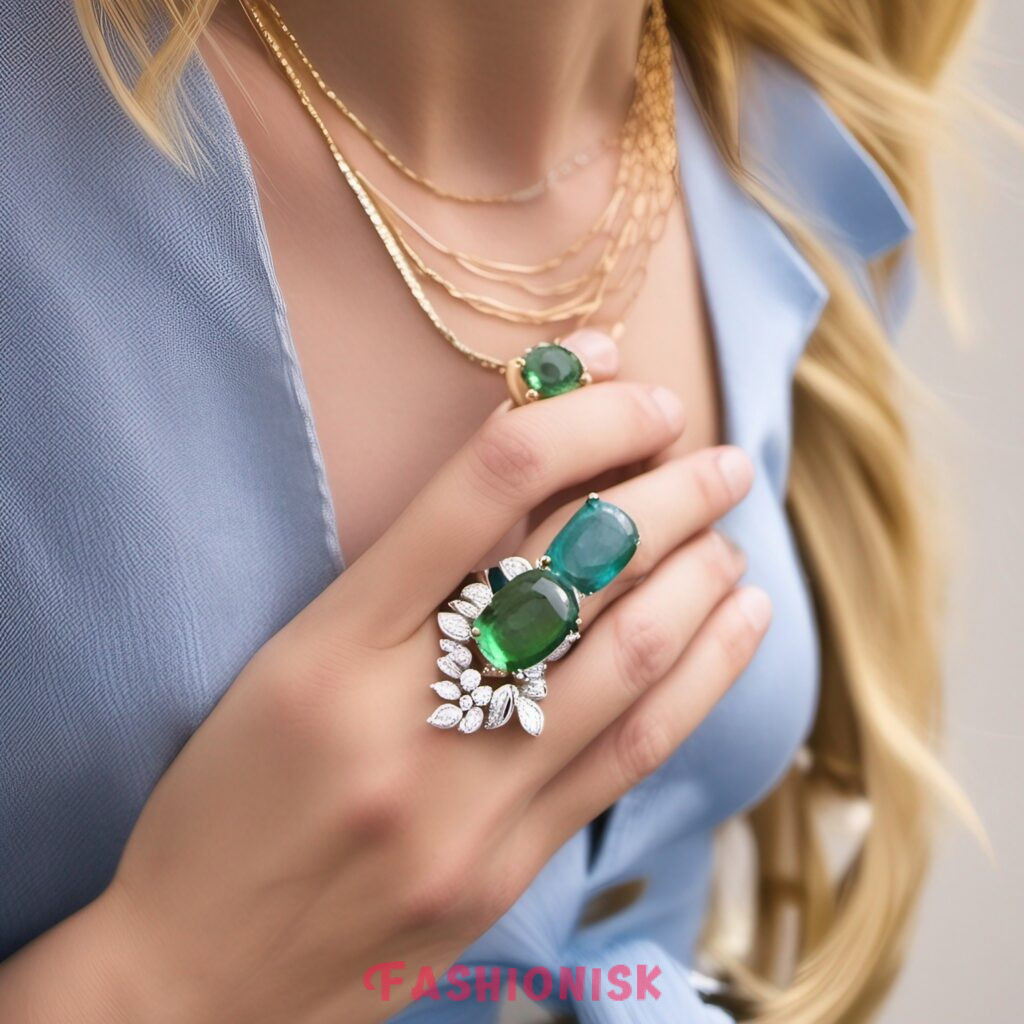 Vintage Hand Jewellery
It harkens back to different eras, each with their unique styles. From Victorian elegance to Art Deco sophistication, vintage pieces are diverse. They can add a classic touch to your bridal look or even set the theme for the whole wedding.
Kalire
These umbrella-shaped ornaments hang from the bride's bangles. They symbolize prosperity and good luck for the couple. Kalire can be simple or adorned with gems, pearls, or other trinkets. They add a unique charm and cultural touch to a bride's ensemble.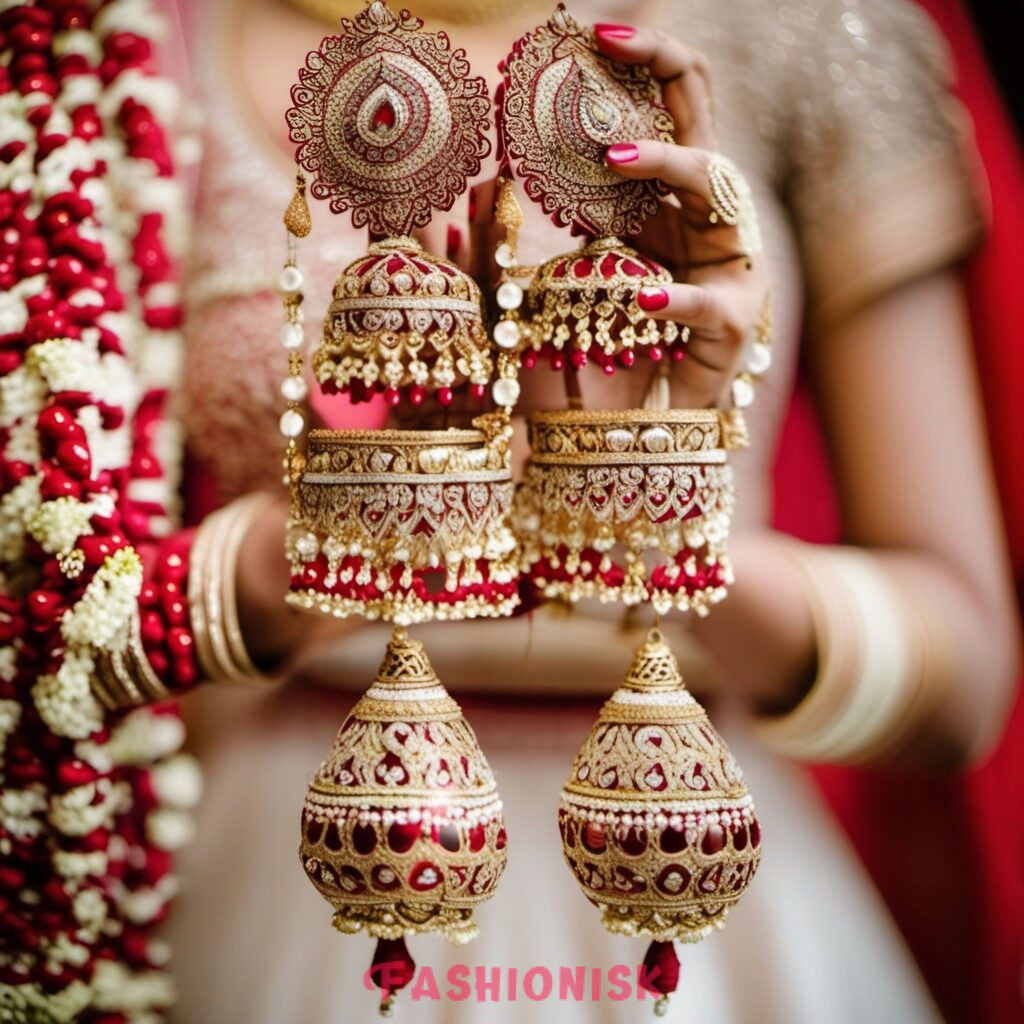 How to choose the right pieces?
Choosing the right pieces of hand jewellery for your wedding, or any occasion for that matter, can feel like a daunting task. Here are some key factors to consider:
1. Personal Style: This should be your guide when picking out your hand jewellery. You should feel comfortable and confident in your chosen pieces. If you're a minimalist, you might prefer delicate, understated pieces. If you're more bold and adventurous, chunky or statement pieces may be more your speed.
2. The Occasion: The event you're dressing for plays a significant role in your choice of hand jewellery. A wedding might call for more elegant and eye-catching pieces while a casual day out might require something simple and subtle.
3. Outfit Coordination: What you're wearing should complement your hand jewellery. For a busy dress with a lot of details, it's better to go for simple hand jewellery. If your outfit is simple, you can opt for statement hand jewellery.
4. Budget: You don't need to break the bank to find beautiful hand jewellery. Set a budget before you start shopping. There are wonderful pieces available at all price points.
5. Quality: This doesn't necessarily mean the most expensive. Look for well-crafted pieces that will stand the test of time.
6. Comfort: You will be wearing these pieces for an extended period, so make sure they are comfortable. A piece might look stunning, but if it's uncomfortable, it's not worth it.
7. Versatility: Consider if the piece can be worn with different outfits and for different occasions. A versatile piece is often a wise investment.
It's about finding pieces that resonate with you and make you feel beautiful. With these tips in mind, you'll be able to find the perfect pieces to enhance your style.
Frequently Asked Questions
How should I care for my hand jewellery?
Always remove your jewellery when washing hands, bathing or swimming. Store it in a clean, dry place. Regularly clean your jewellery with a soft cloth or professional jewellery cleaning solution.
Can I wear different metals together, like gold and silver?
Absolutely, mixing metals can create a unique and stylish look. It's more about the pieces complementing each other than about matching perfectly.
How do I know my ring size?
The best way is to visit a local jeweler and have your finger professionally measured. However, there are also online guides and tools that can help give you a rough estimate.
What is the most popular type of bridal hand jewellery?
This greatly depends on personal taste and cultural traditions. However, diamond rings are commonly seen in many cultures. Other popular pieces include wedding bands, bracelets, and in some cultures, unique items like kalire or henna tattoos.
Ending Words
As we conclude, we hope this journey was insightful. Each piece we discussed adds a unique charm to a bride's look. From traditional diamond rings to intricate hand chains, the options are endless. Remember to keep your personal style at the heart of your choices. These pieces should reflect your personality. They should also resonate with your wedding theme.
People Also Searched For
Comments