#Lifestyle
Ganapati Decoration: Top Themes You Must Try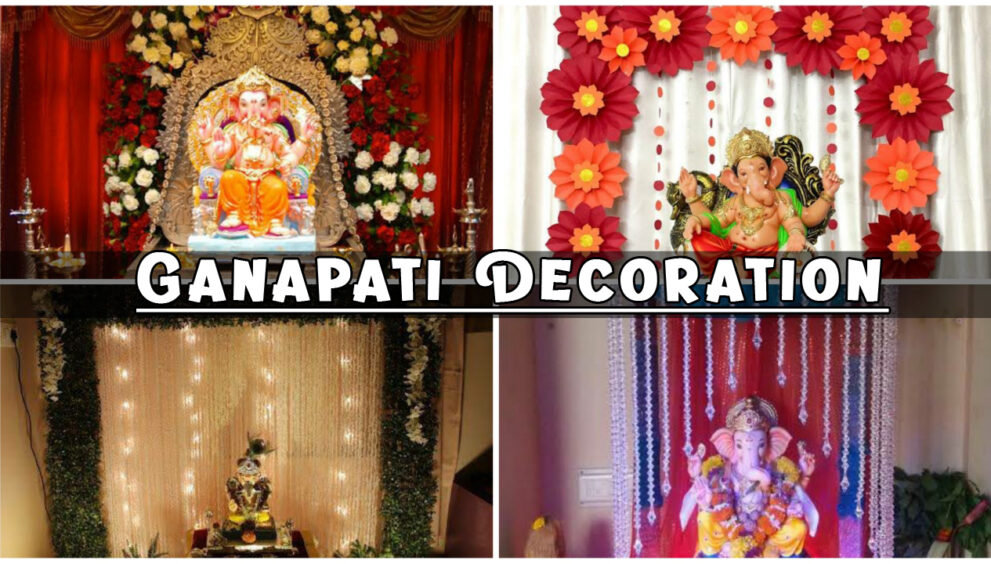 When it comes to Indian festivals, Ganapati is the star of the show. This ten-day celebration is not just about devotion and rituals. It's also about art, creativity, and yes, decorations! So let's get right into the heart of Ganapati decoration.
First off, the idol takes center stage. Most people opt for eco-friendly idols now. So consider decorating around the idol with natural elements. Think fresh flowers, leaves, and maybe even fruits.
Next, the backdrop sets the mood. You can go traditional with silk drapes. Or get innovative with paper crafts. The choices are endless. But remember, the idea is to make Lord Ganesha stand out. So choose colors that complement the idol.
Now let's talk about lighting. Soft LED lights or traditional oil lamps can add a divine glow to your setting. And don't overlook the floor. Rangoli designs can transform the space under your feet into a piece of art.
Furniture plays a role too. Move around chairs and tables to create an inviting space. A small sitting area can encourage friends and family to spend time in the festive atmosphere. And let's not forget the entrance. A decorated doorway sets the tone for what's inside.
Lastly, involve your community. After all, Ganapati is about coming together. Collaborate on themes or exchange decoration items. This way, each house has a unique look, but there's a sense of unity in the neighborhood.
So there you have it. The essence of Ganapati decoration captured in one go. Follow these tips and not only will Lord Ganesha be pleased, but your guests will be in awe too. Stay tuned for more decoration tips and tricks to make your Ganapati celebration a true spectacle. Happy decorating!
Traditional Ganapati Decoration:
It brings a timeless charm to your celebrations. Silk drapes in vibrant colors like red, yellow, and green become the backdrop. Then come the brass lamps and utensils. These items not only enhance the look but also connect us to our roots. Fresh flowers and leaves serve as natural adornments. This style gives a nod to history while celebrating the present. If you love all things vintage, this theme is for you. It brings a sense of comfort and nostalgia that never gets old. So roll out the silk, light up the lamps, and let tradition reign.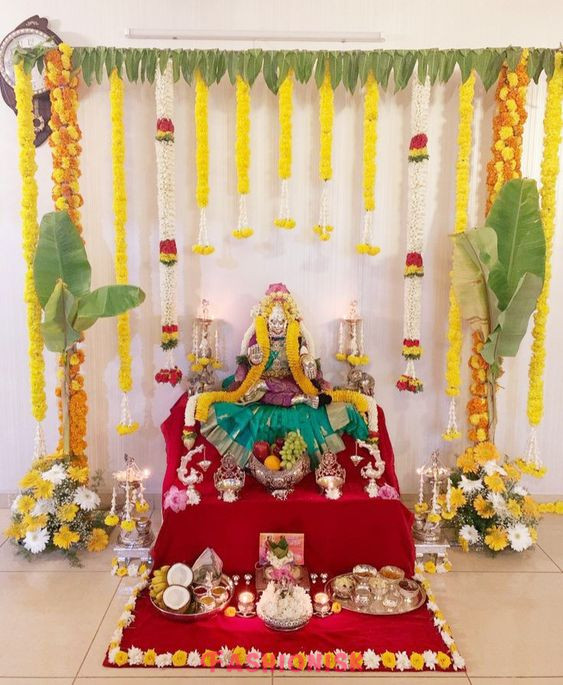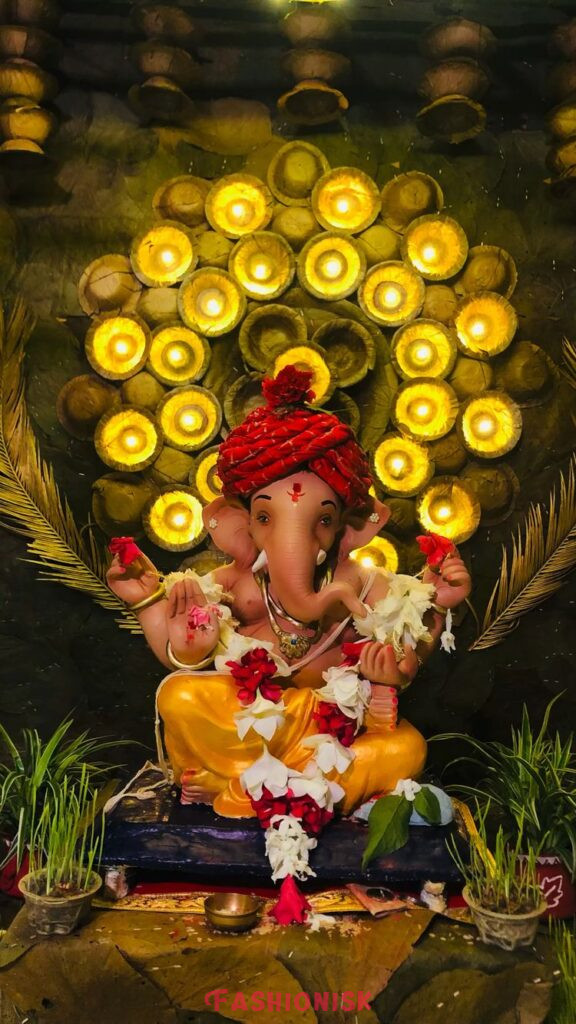 Eco-Friendly Decoration:
Mother Earth deserves a celebration too. Start with an eco-friendly Ganesha idol made of clay. Complement it with natural elements like bamboo, jute, and wood. Swap out plastic items for cloth or paper alternatives. Fresh flowers and leaves can also add a beautiful touch. It's a theme that's not just pleasing to the eyes but also kind to the planet. Make your festival green, and you'll not only impress your guests but also do your part for the environment.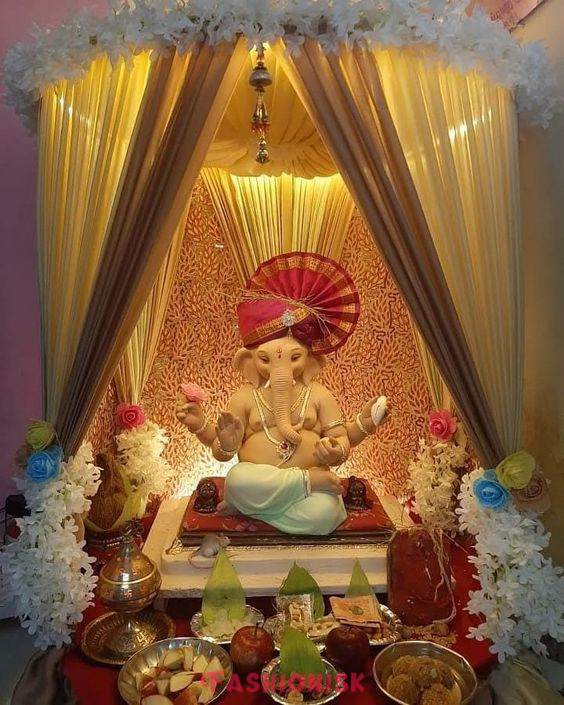 DIY Decoration:
There's nothing like adding a personal touch to your Ganapati decor. Get your family and friends involved. Use simple materials like paper, cardboard, and fabric scraps. Create your own wall hangings, lanterns, or even garlands. The options are endless. Plus, DIY allows you to customize every detail. It's the perfect way to make your celebration truly one of a kind. So grab your craft supplies and let your creativity flow.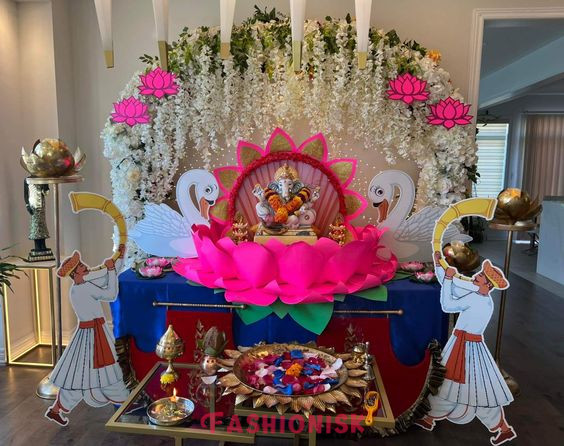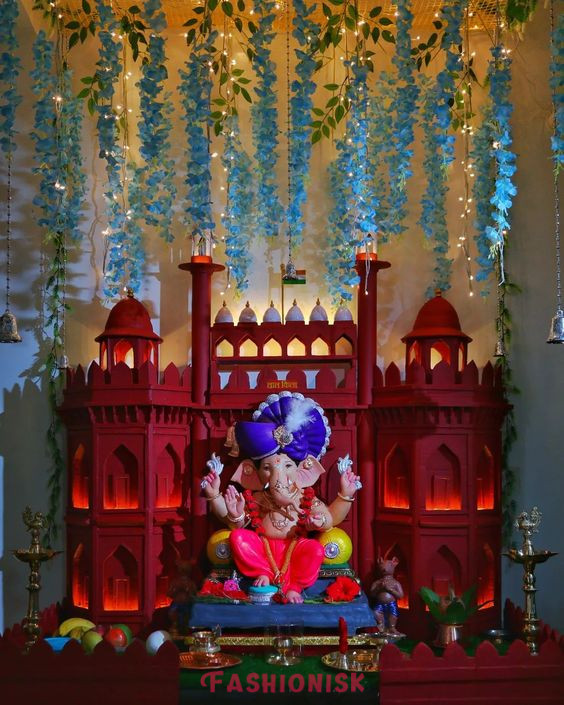 Floral Theme Ganapati Decoration:
Flowers are the heart of any celebration. A floral theme brings freshness and vibrancy to your Ganapati festival. Start with a backdrop of colorful flowers. Create garlands to hang around the room. Use petals to make a beautiful rangoli. The natural aroma will fill your space, adding a sensory delight to the visual beauty. It's a theme that appeals to both the eyes and the nose. So pick your favorite blooms and let them take center stage.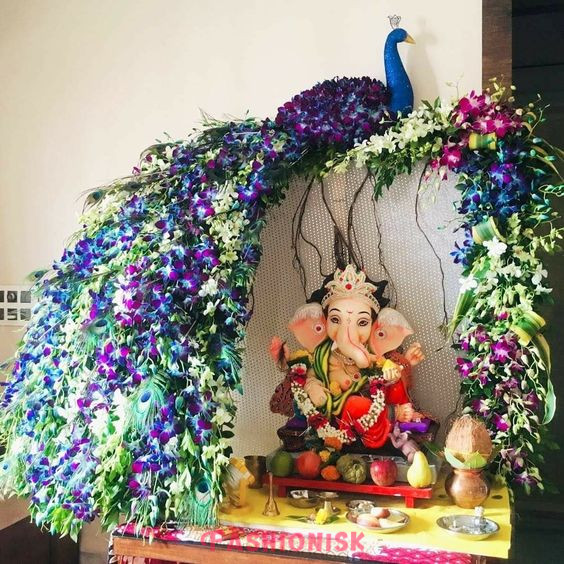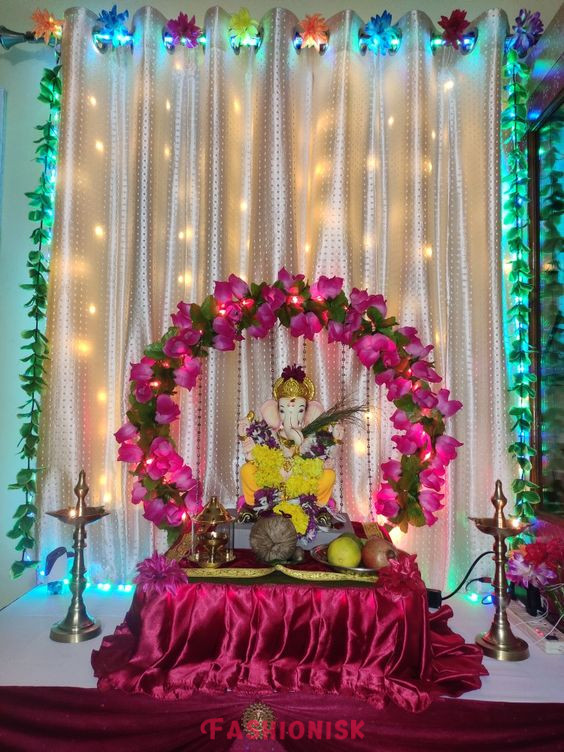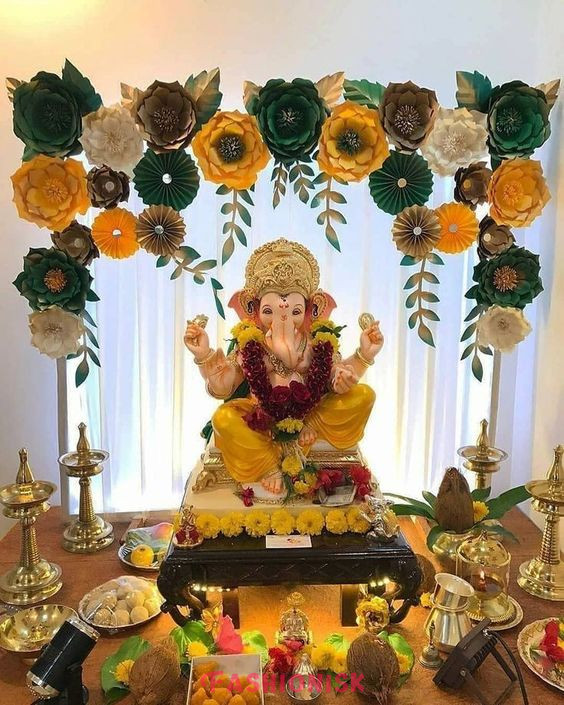 Modern Minimalistic:
Modern minimalistic themes are all about simplicity. Choose a neutral color scheme like white, grey, or beige. The idea is to make the Ganesha idol the main focus. Use simple, clean lines in your decorations. A few well-placed items can make a big impact. Less is more here. If you're a fan of contemporary design, this Ganapati Decoration will fit right in with your aesthetic. It proves that you don't need to go overboard to make a statement. A few key pieces can speak volumes.
Royal Theme:
This style takes your Ganapati celebration to a level of grandeur. Imagine velvet drapes in deep red and gold, setting the stage for the idol. Add in opulent cushions and intricate rugs. Think of golden tableware and antique artifacts. Every detail speaks of luxury and royal elegance. This theme transforms your home into a palace, making Lord Ganesha's visit truly special. If you have a taste for the finer things in life, this is your go-to theme. So drape the velvet, light the aromatic candles, and let the royal celebration begin.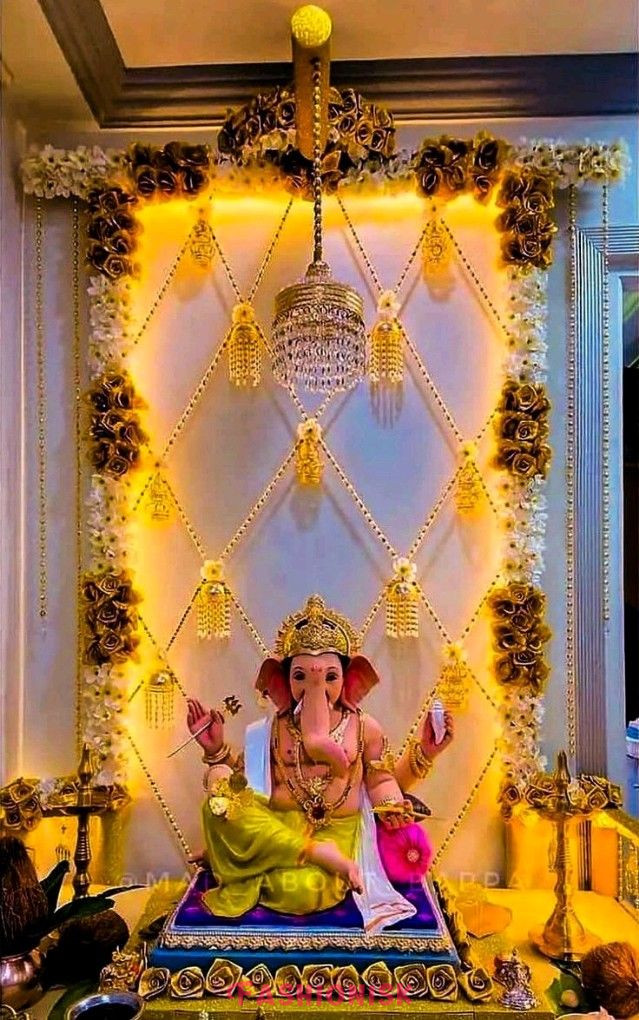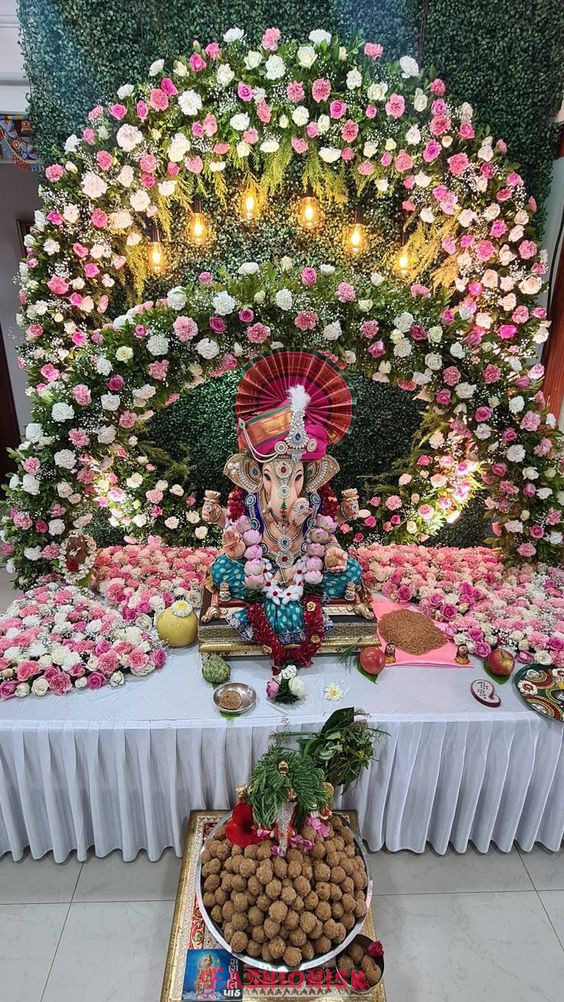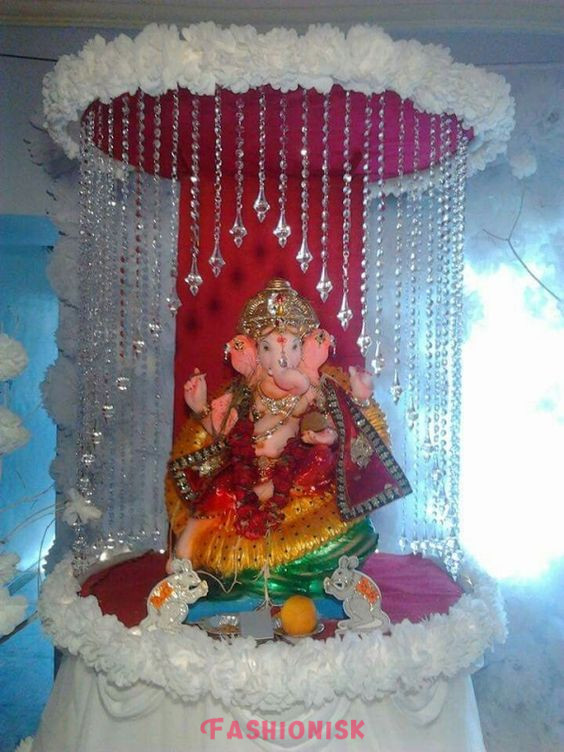 Beach Theme Ganapati Decoration:
If you love the sea, this one's for you. Use colors like turquoise, blue, and sandy beige to set the tone. Decorate with seashells, starfish, and even a sandbox. Create a backdrop that mimics the ocean. Light blue drapes and soft white lights can give the effect of water. This theme transports you and your guests to a serene coastal retreat. You almost hear the waves while you celebrate. So collect those seashells and let the beach festivities roll.
Bollywood Theme:
This theme is as vibrant and lively as the Indian film industry itself. Think bright colors, LED lights, and lots of glam. Use movie posters or film reels as decor items. Add in some disco balls for that cinematic shimmer. You could even play hit Bollywood tracks in the background. This Ganapati Decoration makes your celebration a blockbuster event. So roll out the red carpet, cue the music, and let the show begin.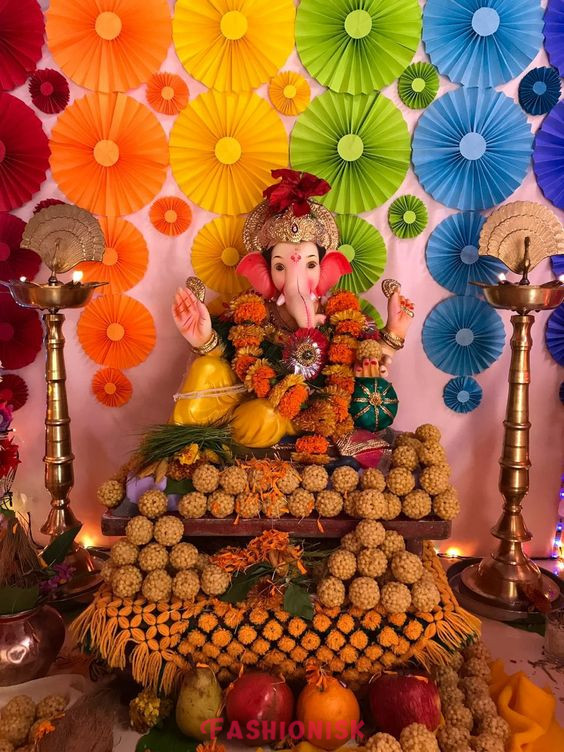 Village Theme:
This theme takes you back to the basics. Imagine a setting with mud pots, wooden furniture, and traditional lamps. Use natural fibers like jute and cotton for drapes and rugs. Create a backdrop with rural landscapes or even a mock hut. This theme brings the simplicity and warmth of village life into your urban setting. It's a heartfelt nod to our roots and traditions. So grab some clay pots and let the village vibes flow.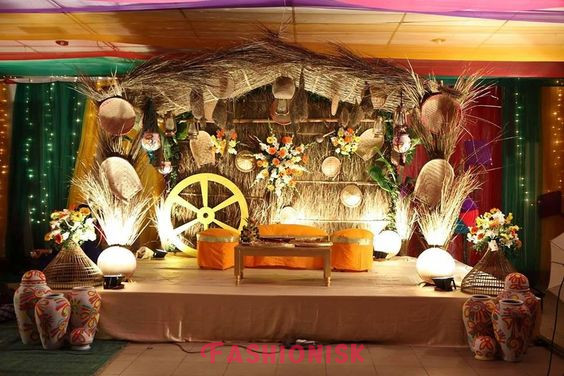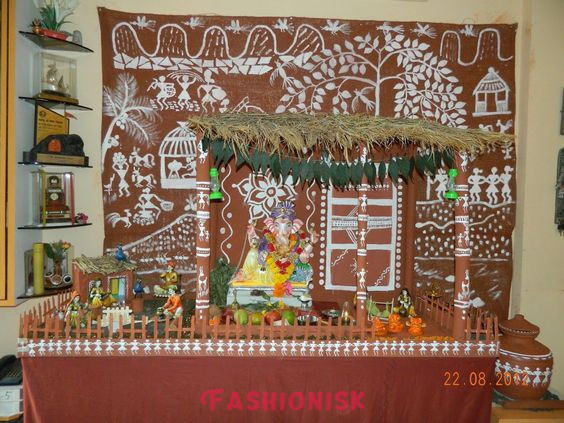 Futuristic Theme Ganapati Decoration:
This is for those who love to be ahead of the curve. Think metallic shades, LED panels, and even some tech gadgets. Use materials like acrylic, glass, or metal for a sleek look. Consider a digital backdrop or a light show. Even the Ganesha idol could be a modern interpretation in this setting. This theme adds a contemporary edge to the traditional celebration. So sync those LEDs, and prepare for a Ganapati festival from the future.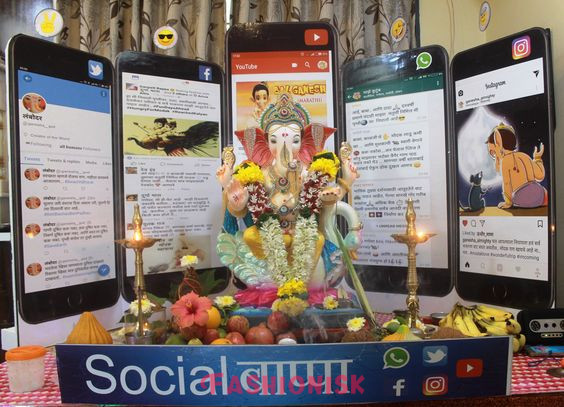 Elevate Your Ganapati Festival With These Decor Hacks!
Opt for an eco-friendly Ganesha idol to start the celebration on a green note.
Pick a central theme to guide all your decor choices, ensuring a cohesive look.
Use an elevated platform for the idol to make it the focal point of the room.
Select a balanced color palette to highlight the idol and decorations.
Layer silk or velvet drapes behind the idol for a royal backdrop.
Incorporate LED lights to give a festive glow to your decor.
Add fresh flowers for a natural, aromatic environment.
Use rangoli designs to beautify the floor and lead the eye to the idol.
Create a decorative archway at the entrance to set the festive mood right from the start.
Dangle small bells or wind chimes to add a pleasant, melodic touch.
Showcase brass or copper utensils to infuse a traditional element.
Arrange cozy seating near the idol to invite guests to stay and absorb the ambiance.
Use mirrors strategically to make the space look bigger and brighter.
Add a runner rug leading up to the idol, accentuating its importance.
Experiment with paper crafts to add whimsical elements like DIY garlands or paper lanterns.
Frequently Asked Questions on Ganapati Decoration
What type of materials can I use for eco-friendly Ganapati decoration?
You can use materials like clay, bamboo, jute, and recycled paper. Fresh flowers and leaves also make for excellent eco-friendly options.
How can I make the idol stand out in my decoration?
Choose a color palette that complements the idol, use spotlights or LED lights to illuminate it, and place it on an elevated platform for visibility.
Can I use artificial flowers for decoration?
Yes, you can use artificial flowers, but consider mixing them with real ones for a natural aroma and texture.
What are some creative yet simple ideas for floor decoration?
Rangoli designs made from colored powders, flower petals, or even pulses can be an eye-catching yet straightforward way to decorate the floor.
How can I involve my community in the Ganapati decoration?
You can collaborate on themes, exchange decorative items, or even organize a small contest to make each house in the community uniquely decorated yet unified.
Wrapping Up
In closing, let's sum up what we've learned. Decorating for Ganapati is not just an act of faith. It's also a showcase of creativity and culture. From traditional to modern styles, the options are endless. You can opt for eco-friendly materials or go all out with a royal theme. Lights, colors, and textures can add layers of meaning to your celebration. So keep these tips in mind. Roll up your sleeves. Grab your Ganapati decoration items. Make this Ganapati festival a spectacle to remember. Stay tuned for more ideas and inspiration to make every celebration a work of art. Happy decorating!
People Also Searched For
Comments