#Women's Fashion
Top Trends in Chudidar Dress Design for 2023
Here we are once again. This time we are going to dive into the world of chudidar dress design. These classic Indian outfits never seem to fade away. Instead they always come back stronger. Filled with new designs. And adorned with a modern touch.
A beautiful Indian woman. Dressed in a vibrant churidar dress. What a sight! Her charm is only enhanced by the intricate design of her outfit. The churidar is her statement. It's her pride. It defines her in the most elegant way possible.
Now picture this. You. Dressed in a similar manner. Donning a stunning churidar dress. Designed by you. Yes, that's right. We're going to help you design your own churidar dress. Isn't that exciting?
Think about the possibilities. The colors. The patterns. The fabrics. All chosen by you. To reflect your style. To express your personality. So, let's explore the myriad of designs. The ones that can turn a simple churidar into a masterpiece. The designs that can make heads turn. Designs that can make you feel beautiful.
So, join us today. We will walk you through every step of the design process. From choosing the right fabric to picking the perfect color. From selecting a pattern to creating the final look. We've got it all covered for you.
Prepare to unleash your creativity. To express your unique fashion sense. To design the most stunning churidar dress. Because every woman deserves to look her best. And with a little guidance, you can do just that.
Stay tuned for this incredible journey. You're about to dive into a world of colors, patterns, and style. Ready? Let's get started.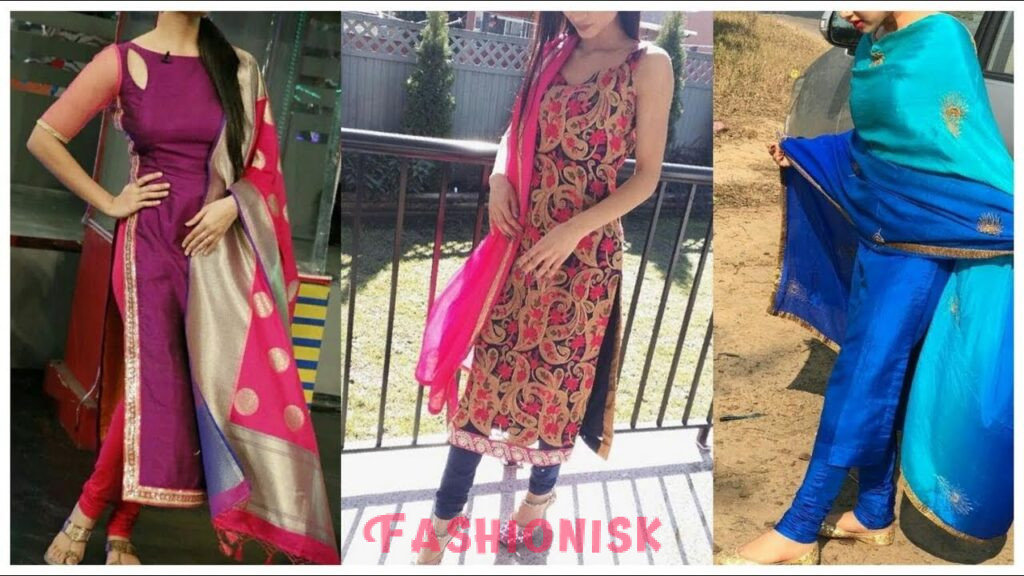 Cotton chudidar dress design
These beautiful pieces blend comfort with style, offering an impeccable look that can take you from day to night. Crafted from breathable, soft cotton, they are ideal for the tropical climate, keeping you fresh throughout the day. Enveloped in diverse colors and patterns, from intricate block prints to bold geometrics, cotton chudidar dresses are a wardrobe essential. To add a contemporary twist, match them with statement accessories.
Chudidar dress neck designs
These designs elevate your ensemble by adding a unique edge. From simple round and V-necks to the more intricate boat, sweetheart, and collar necklines, the options are endless. The neck designs often showcase delicate embroidery, mirror work, or bead embellishments that enhance the garment's charm. It's all about finding the right neck design that not only complements your chudidar dress but also frames your face beautifully.
Pattern chudidar dress design
They are a symphony of prints, motifs, and colors that cater to every style. Geometric designs, floral prints, traditional motifs, or even abstract patterns – you name it, and it's there. These patterned chudidars give an eclectic appeal to your outfit, making it an eye-catcher. Pair them with plain kurtas or matching patterned ones to create a harmonious or bold look, depending on your style mood.
Anarkali Chudidar
Inspired by the grandeur of Mughal courts, this design boasts a long, frock-style top and a slim fitted bottom. The Anarkali is synonymous with grace and opulence, draped in rich fabrics like silk, georgette, or net, adorned with elaborate embroidery or sequin work. It flatters all body types, creating a slender and tall silhouette. Wear it for special occasions, pairing it with traditional jewelry to complete the regal look.
Straight Cut Chudidar
A classic that never goes out of style, the straight cut chudidar is characterized by a long, straight kurta and tightly fitted bottoms. Versatile and easy to style, these suits can be minimalistic or elaborate, adorned with prints, embroidery, or appliqué work. Straight cut chudidars are a perfect choice for office wear or casual outings. Pair them with contrasting dupattas and chic footwear to achieve an effortlessly stylish look.
A-line Chudidar
Delight in the grace of the A-line chudidar, a prominent feature in Indian fashion. Its unique structure, mimicking the 'A' shape, flares gently from the shoulders to the hem, offering a balanced and appealing silhouette. Made in a variety of fabrics from soft cotton to flowy georgette, these chudidars are perfect for any occasion. Embroidered, printed, or plain, their simplicity is their charm. Complement this dress with statement jewelry for a chic ethnic look.
Empire Line Chudidar Dress Design
The empire line chudidar is a style testament to the royal eras of Indian history. Distinguished by its high-waist seam situated just below the bust, it gives a flattering and elongated silhouette. From the waistline, the garment flows freely, camouflaging the midriff area gracefully. Typically adorned with intricate embroidery or sequin work around the bodice and hem, it offers an elegant, ethereal look. Complete your look with a pair of chandbali earrings and traditional mojaris.
Jacket Style Chudidar
Exude a voguish appeal with the jacket style chudidar. As the name suggests, this style comprises a traditional chudidar paired with a stylish jacket. The jacket, either short or long, adds a layer of sophistication to your attire. They can be adorned with embroidery, mirror work, or can be kept simple, depending on the desired look. The jacket style chudidar creates a versatile outfit, taking you from festive occasions to evening soirees.
Asymmetric Chudidar
Bold and modern, the asymmetric chudidar is a trendy addition to the Indian fashion scene. Known for its uneven hemline, this design adds an unconventional twist to the traditional chudidar. This deviation from the straight hemline lends a dynamic and contemporary flair to your look. Crafted in various fabrics and adorned with vibrant prints or subtle embellishments, the asymmetric chudidar is a perfect choice for those who love to experiment with their style. Finish your ensemble with high heels and modern jewelry.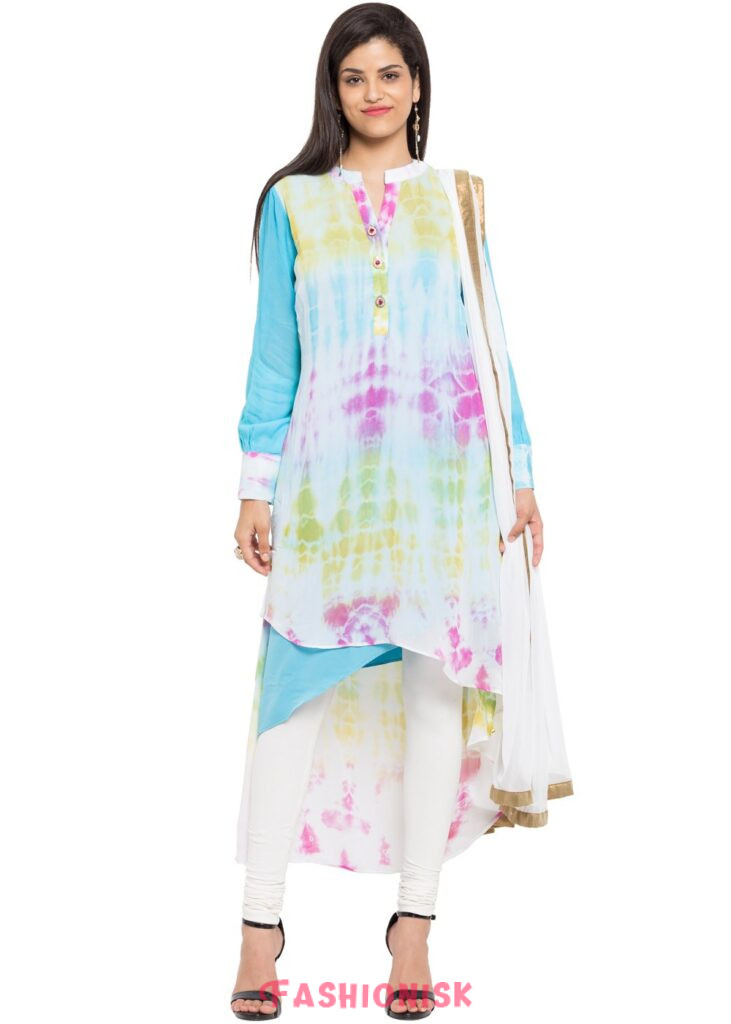 Pakistani Style Chudidar Dress Design
Immerse in the cross-cultural elegance of the Pakistani style chudidar. Known for its long, loose kurta paired with narrow bottoms, it is a blend of comfort and sophistication. The kurta often features detailed embroidery or print work, while the chudidar remains simple. Made in fabrics like cotton, silk, or chiffon, it offers an elegant silhouette. A hit for casual outings or festive occasions, the Pakistani style chudidar can be paired with a beautiful pair of jhumkas and strappy sandals for a complete look.
Layered Chudidar
Step into the realm of innovative fashion with layered chudidars. Layering, often seen as a technique for creating depth and volume, is not only limited to western wear. In a layered chudidar, the kurta boasts multiple layers of fabric, adding an interesting dimension to the ensemble. Whether the layers are symmetrical or asymmetrical, they always manage to add a whimsical charm. Match these with simple, fitted chudidars to let the layered kurta steal the show.
Printed Chudidar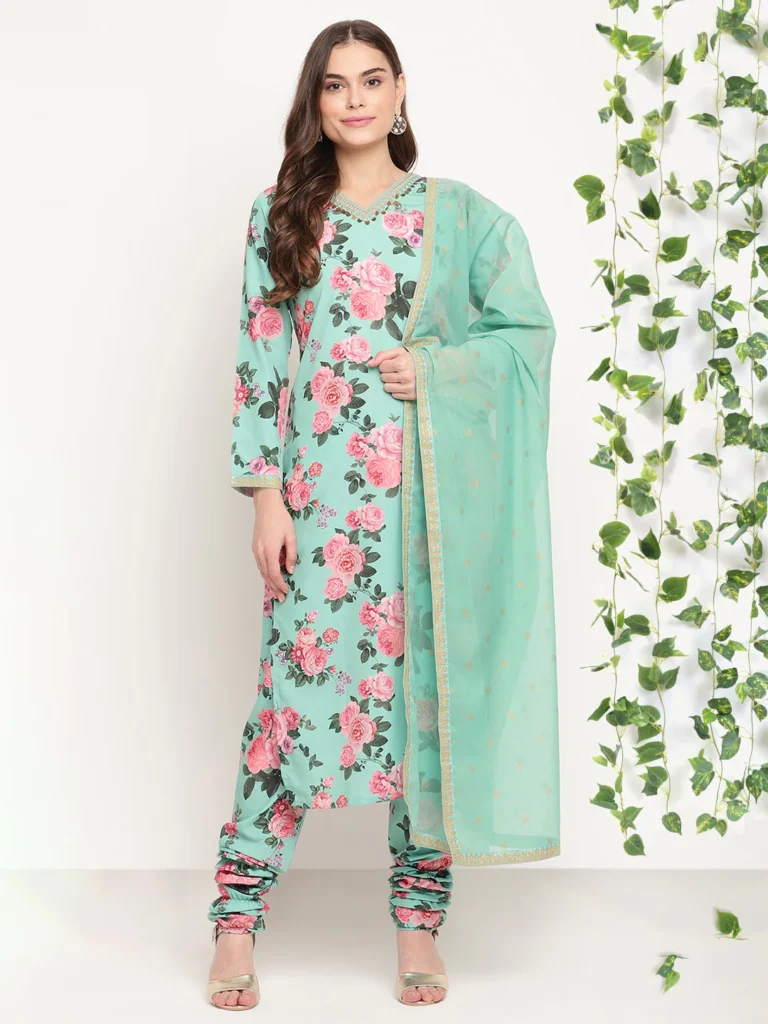 Embrace the world of colors and patterns with printed chudidars. Infused with prints ranging from traditional block prints, floral motifs to modern abstract and geometric designs, they create a vibrant style statement. These chudidars bring a fresh and casual feel to your attire, making them a go-to choice for everyday wear or casual outings. Pair these lively pieces with solid-colored kurtas to create a well-balanced, chic look.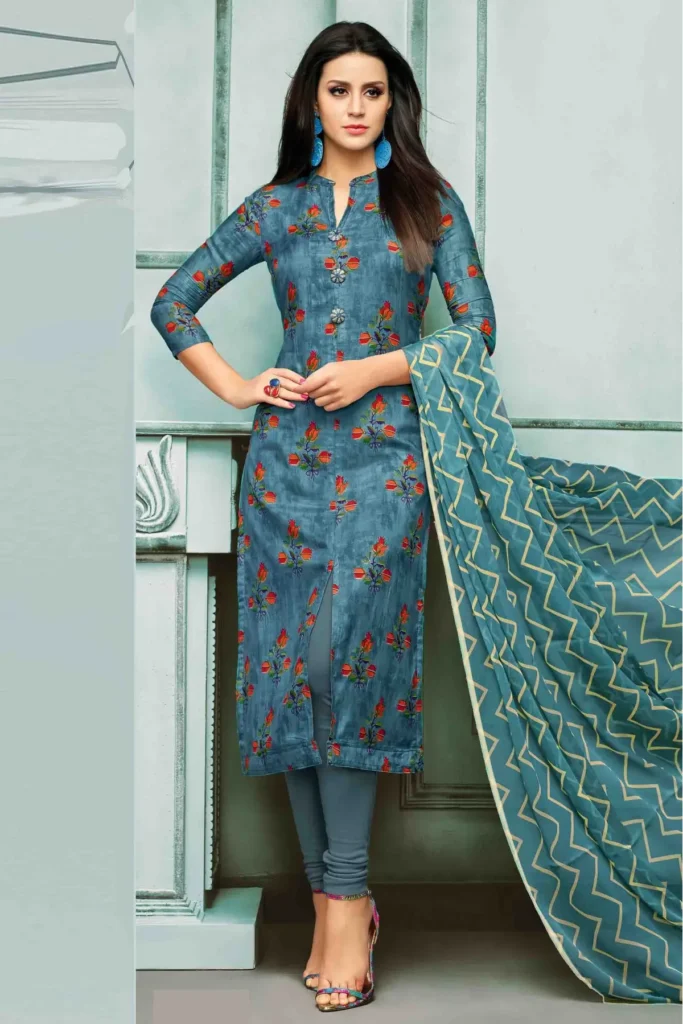 Embroidered Chudidar
Experience the meticulous craftsmanship of embroidered chudidars. Embroidery, an age-old art form, lends a luxurious and refined appeal to these outfits. Be it delicate thread work, glamorous sequins, or traditional zari work, the embroidery enhances the charm of the chudidar manifold. Perfect for festive occasions and weddings, these chudidars showcase India's rich cultural heritage. Enhance your look with traditional jewelry and a pair of embellished sandals.
Kaftan Style Chudidar Dress Design
Unveil the fusion of tradition and comfort with the Kaftan style chudidar. Inspired by the Middle Eastern kaftan, this style features a loose, flowing kurta with a fitted chudidar bottom. With wide sleeves and a relaxed silhouette, it ensures comfort without compromising on style. These kurtas can be adorned with bold prints, subtle embroidery, or even a hint of sparkle. Pair this outfit with statement earrings and a clutch for a perfect party look.
Cape Style Chudidar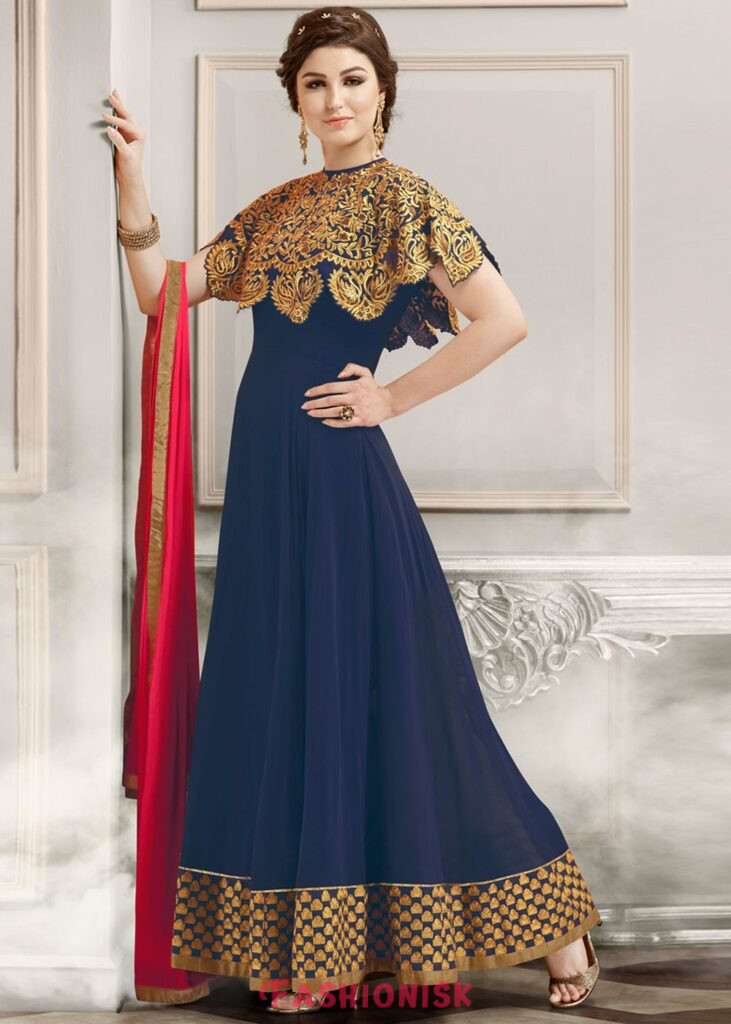 Venture into the dramatic world of fashion with cape style chudidars. This trend-setting style features a regular chudidar paired with an overlayer or cape. The cape, which could be sheer or opaque, adds an element of surprise and drama to the look. It can be plain, printed, or heavily embellished, depending on the occasion. Perfect for fashion-forward women, cape style chudidars add a modern twist to traditional Indian wear. Pair this look with high heels and minimalist jewelry for a standout look.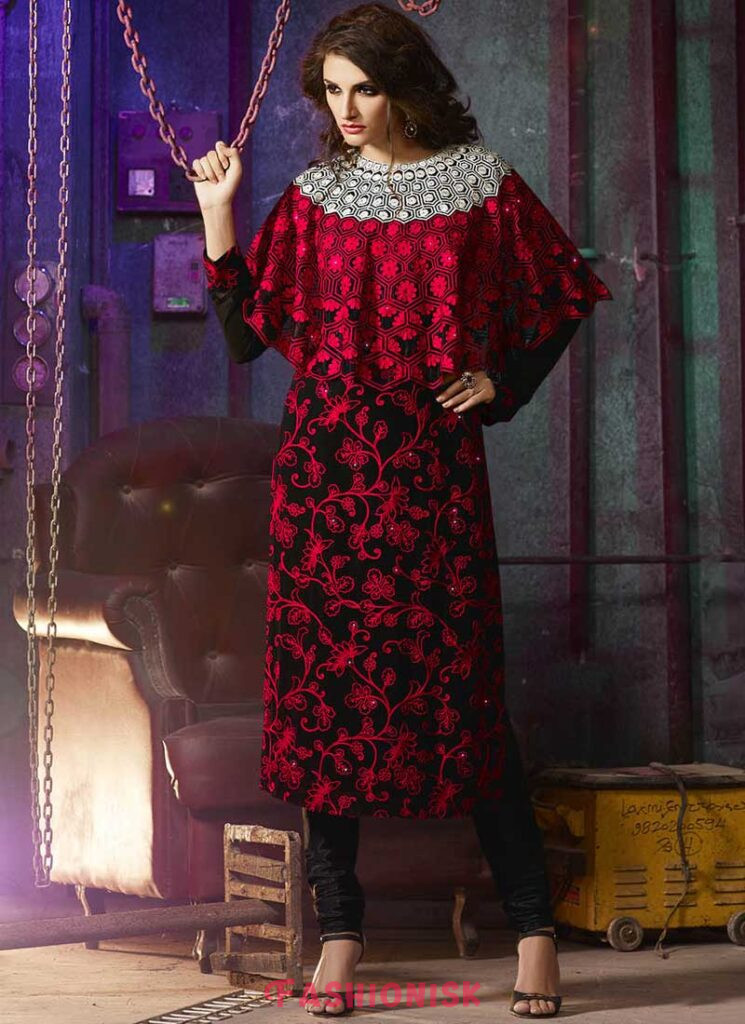 Dhoti Style Chudidar
Discover the blend of tradition and modernity with the Dhoti style chudidar. With roots in ancient Indian attire, the Dhoti style chudidar incorporates the design of a traditional dhoti into a pair of chudidar bottoms. The draped, pleated look creates a unique and eye-catching silhouette. Paired with a stylish kurta, this chudidar design stands out as a comfortable yet trendy choice. Consider this ensemble for festive occasions or for a distinct casual look.
Off-Shoulder Chudidar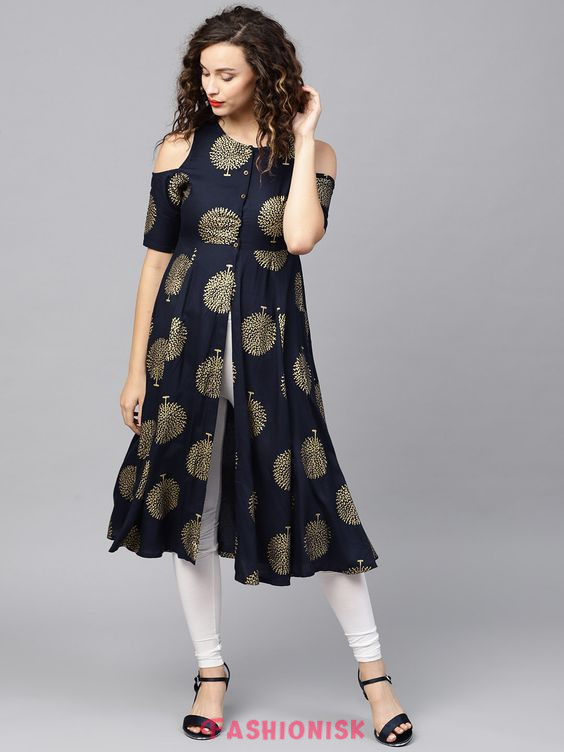 Immerse in the fusion of western and Indian styles with the off-shoulder chudidar. This contemporary design exposes the shoulders, lending a feminine and chic vibe to your attire. The off-shoulder kurta can be simple, printed, or adorned with beautiful embroidery. Ideal for parties or casual hangouts, this style pairs well with statement necklaces that enhance the bare neckline. Remember to pair it with high heels to complete the modern look.
Peplum Chudidar Dress Design
Enter the realm of flirty fashion with the peplum chudidar. Drawing from western fashion, this design features a short flared peplum top paired with a tight chudidar bottom. The cinched waist and the flared hem of the kurta create a playful, yet elegant silhouette. Peplum chudidars can be plain, printed, or embroidered, catering to various styles. To complete the look, pair it with jhumkas and a pair of stylish mojaris.
Cowl Style Chudidar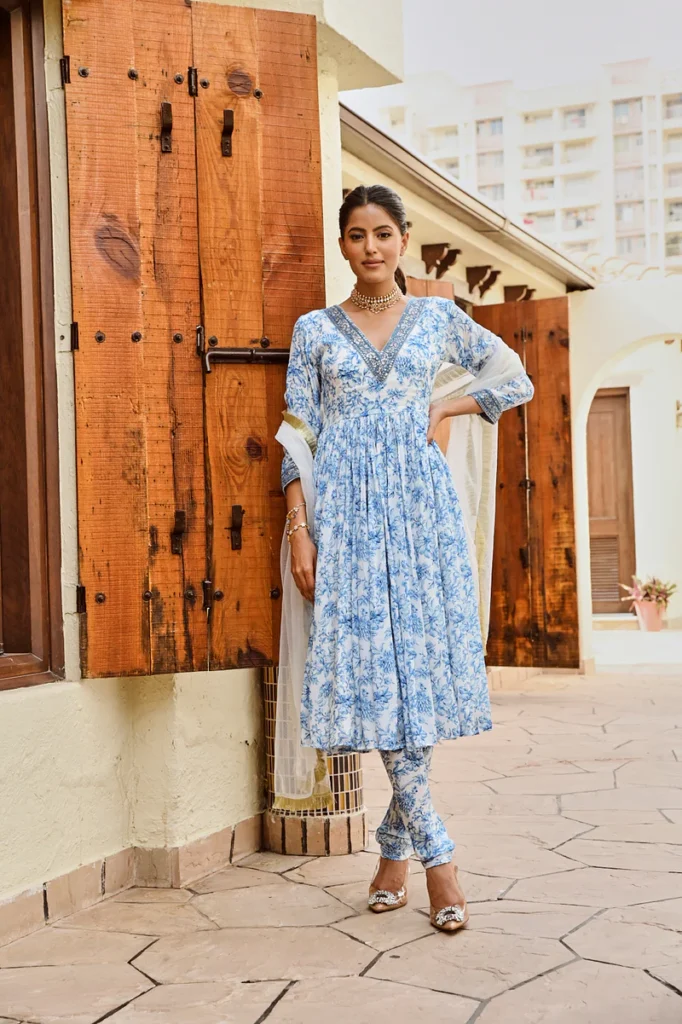 Indulge in the experimental edge of Indian fashion with the cowl style chudidar. This innovative design introduces a cowl-like drape in the kurta or the chudidar, adding a modern and chic twist. The fluid drapes add a touch of elegance and uniqueness to your ensemble. Made in a variety of fabrics and adorned with diverse designs, the cowl style chudidar is a trendsetter. Accessorize with contemporary jewelry and stilettos for a chic look.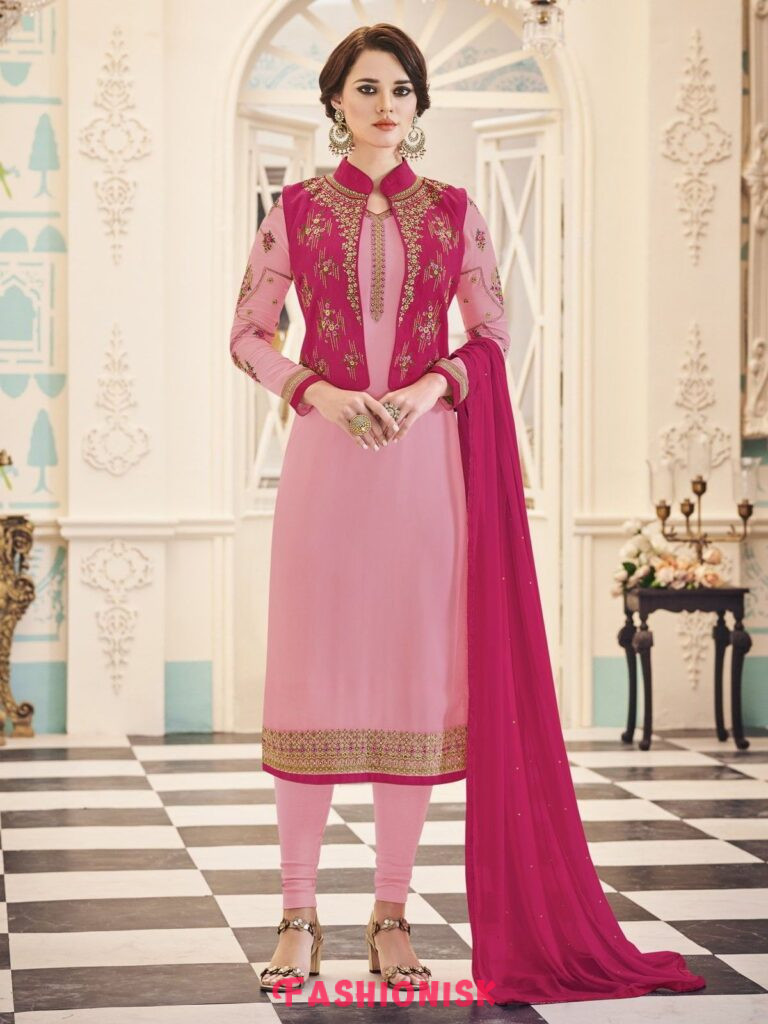 Front Slit Chudidar Dress Design
Explore the bold and stylish side of Indian wear with the front slit chudidar. Unlike traditional kurtas, this style features a slit in the front, starting at the waistline. This design not only adds a contemporary edge but also allows you to flaunt your stylish chudidar or palazzo bottoms. Whether you prefer solid colors, vibrant prints, or intricate embroidery, the front slit chudidar is a game-changer. Pair it with high heels and a statement clutch for a stylish ensemble.
Frequently Asked Questions
What is a chudidar dress?
A chudidar dress is a traditional Indian outfit that consists of a long top or "kurta," tight-fitting trousers known as "chudidar," and a scarf or "dupatta." The trousers are distinctive due to their design, which features a snug fit on the thighs and a bunching effect at the ankles, resembling churis or bangles.
What materials are used to make chudidar dresses?
Chudidar dresses are made from a wide range of fabrics, including cotton, silk, georgette, crepe, net, and chiffon. The choice of material depends on the occasion and the desired comfort level. For instance, cotton chudidars are preferred for daily wear due to their breathability, while silk or georgette ones are worn on special occasions.
How can I style a chudidar dress?
Styling a chudidar dress depends on the occasion. For a casual look, pair a simple cotton chudidar with minimal accessories. For a festive or formal event, an embroidered or embellished chudidar can be paired with statement jewelry, a matching clutch, and high heels. Always remember, the dupatta can also be styled in numerous ways to add a unique touch.
Final Thoughts
In conclusion, chudidar dress designs truly reflect the essence of Indian fashion. They harmoniously blend tradition and innovation to create a distinct style statement. From simple printed chudidars for daily wear to elaborate embroidered pieces for festive occasions, there's a design for every taste. Be it the chic off-shoulder style, the playful peplum look, or the dramatic dhoti style, every design adds a unique charm to your ensemble. Ultimately, the beauty of chudidar dress design lies in its versatility and adaptability. It continually evolves and embraces new trends while staying true to its roots.
So why wait? Explore the world of chudidar dress design and let your style speak for you.
People Also Searched For
Comments