#Accessories
How to Make a Bold Fashion Statement with Your Men's Watch?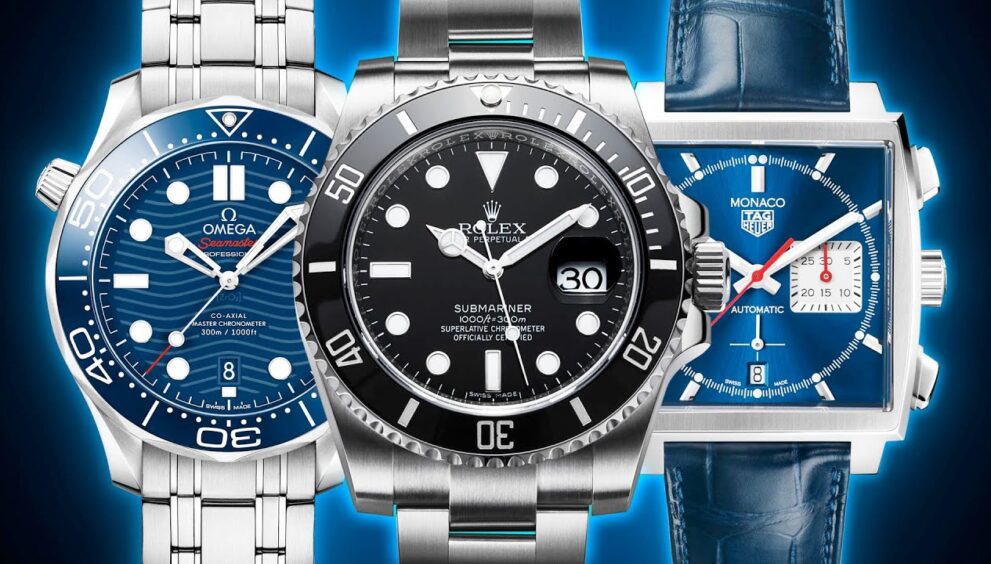 Have you ever wondered how a watch can be more than just a timekeeper? In this digital age dominated by smartphones, these timepieces are not only surviving but thriving as expressions of fashion and remarkable accessories for men.
So the question arises: can they elevate any outfit, whether casual jeans, a t-shirt, or a sophisticated three-piece suit? Join us as we explore the captivating world of men's watches that seamlessly blend class and style.
Do Men Need Watches at All?
Before we convince you to utilize watches to exhibit your style, we want to check in and see if you even like watches.
Think about it! Beyond their aesthetic appeal, have you ever thought about how these watches can become storytellers of your life? How can they capture the essence of your unique moments and experiences?
A good watch not only transcends time but also becomes a symbol of lasting elegance and heirlooms that bridge the past, present, and future. And, after all, men's watches promise to blend the best of style, substance, and sophistication.
Tips To Tailor Your Watch Style
Elevate your style with the perfect wristwatch. Why, you may ask? Because it's about making a strong, sophisticated statement that exudes confidence and charisma. Here are some style tips tailored just for you to help you master the art of pairing wristwatches with your outfits and boost your fashion game:
Master Your Look:
Gentlemen, it's time to master your looks. When selecting a wristwatch, consider how it can complement your attire. For a touch of sophistication and refinement in formal or business settings, consider a silver or gold watch. Let this elegant timepiece speak volumes about your confidence and attention to detail.
However, when keeping it casual with jeans and a well-pressed shirt, opt for a leather-strapped watch – the epitome of understated charm conveys you're a man of style.
Architect of Elegance:
Crafting a well-balanced look is the foundation of standing out with confidence. Your wristwatch plays a pivotal role. Ensure the band and the face harmonize perfectly. For a timeless, classic appearance that aligns with your tailored suits and business casual attire, go for a leather band watch.
On the other hand, if you're aiming for a modern, urban vibe, a watch with a metal band is your trusted ally. Don't overlook the importance of selecting a watch face color that compliments the color scheme of your outfit, guaranteeing a consistent and harmonious style that grabs attention.
Affordable Elegance:
Flaunting amazing style doesn't require emptying your wallet; it's about making astute choices. For our budget-conscious gentlemen, there's a multitude of stylish options available. Men's watches embody style and practicality that won't strain your budget. These watches have features like water resistance, multiple time zones, and even fitness tracking capabilities, giving you an edge without excessive expenditure. It's all about maintaining your edge while keeping your finances in check.
Key Elements to Remember When Selecting the Watch
Selecting the correct watch is a personal style statement, reflecting your taste and lifestyle. To make an informed choice, consider these key elements:
Grasp Your Personal Style:
Determine if you lean towards classic, trendy, or unique designs, and think about color preferences. Match your watch to different occasions.
Understand Your Lifestyle:
Your lifestyle impacts your watch choice. Choose durability for an active lifestyle, sophistication for a professional setting, and versatility for casual wear.
Determine the Purpose:
Decide if your watch is for daily wear, special occasions, or sports and adventure.
Consider the Features:
Think about size, material, and movement options that suit your style and needs best.
Mix and Match with Outfits:
Ensure your watch complements formal, casual, and business attire for a consistent look.
Accessorizing with Your Watch:
Coordinate your watch with other accessories to enhance your overall style.
Watch Features:
Choose a design that matches your preference, whether simple and sleek, bold and eye-catching, or unique in both design and material.
How To Style Your Watch?
Your watch is more than a timepiece; it reflects your personality and a critical element of your style. By considering these factors, you can pick a watch that aligns with your style, lifestyle, and overall look, extending your unique personality. It's a way to elevate your look, express your personality, and add those distinctive touches to your outfit. Let's explore a concise guide filled with questions:
Which Style Reflects You?
When it comes to watches, there are many options to choose from, whether you lean towards an athletic, futuristic, elegant, or classic style. Have you ever thought about how your watch could be your signature piece, matching your unique style? And how does your choice differ based on the occasion and your personal fashion sense?
What's Your Color and Band Choice?
Coordinating the color of your watch with your attire is essential for a polished look, but have you considered how the right hue can accentuate your outfit? Do you prefer subdued shades for formal wear or bold hues for casual outfits? And what about the watch band – do you prefer the timeless elegance of leather or the modern edge of a metal strap?
Are You Into Accessories?
Elevating your style is all about the details. Have you ever thought about pairing your watch with complementary accessories? How does adding a matching bracelet or leather wristband sound? Can you envision the sense of cohesion it brings to your overall look, showcasing your attention to detail?
Are You Ready to Mix and Match?
The versatility of watches allows for creative combinations. But have you ever dared to experiment with different styles and materials? What do you think about pairing a contemporary watch with a classic leather band? And how about giving a sporty watch an edgier, industrial look with a metal strap?
Final Word:
In men's fashion, watches are more than just their timekeeping function – they make a statement. By exploring your style choices, coordinating colors and bands, embracing accessories, and experimenting with various combinations, your watch can become a versatile and expressive accessory that effortlessly enhances your outfit and personality. So, start today and see how it can transform your look with every tick.
Comments